As the Azerbaijani-Armenian conflict over Nagorno-Karabakh flared up in late September, reports started coming of "Syrian mercenaries" fighting for Azerbaijan. Azerbaijan and their ally Turkey have denied the presence of mercenaries in the conflict area: for example, this was denied by Azerbaijan's president Ilham Aliyev in a France 24 interview. Turkey's Recep Tayyip Erdogan, in turn, denied it in his address to Parliament. However, this information was reported not only by pro-Armenian accounts, but also by independent Syria experts, many Western media journalists interviewing Syrian sources, and even officially claimed by many countries, including France's President Macron.
Meanwhile, several videos were posted online showing the alleged mercenaries and often even uploaded by them. In the videos, the fighters can be heard speaking Arabic, although they are wearing green uniforms of Azerbaijan's State Border Guard Service without insignia, and also bulletproof vests in another camo pattern that are used by Azerbaijan's Ground Forces.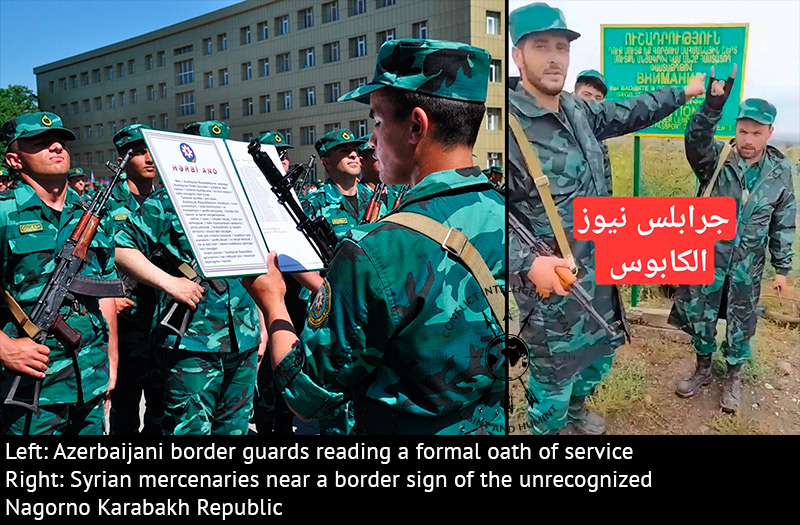 Social media users have geolocated these videos, thus confirming that they were indeed filmed both in areas controlled by Baku prior to the current offensive and in areas of the self-proclaimed Nagorno-Karabakh Republic captured by Azerbaijani forces. The Syrians were seen, in particular, in the southern part of the frontline which saw heavy fighting and an Azerbaijani advance up to 10 kilometers from the Armenian border (zones of control via LiveUaMap).
(zones of control via LiveUaMap)
Thus, open source data shows there are indeed Syrian fighters in Karabakh, despite Azerbaijani and Turkish claims to the contrary. Recently major media outlets have published information that allows to better understand the mercenaries' composition and training, as well as the timeline and objectives of their deployment in South Caucasus.
Virtually all Syrians fighting in Karabakh have been recruited in northwestern Syria. Apart from locals, this area is inhabited by many internally displaced Syrians who fled from Damascus-controlled areas of the country. These territories are largely controlled by Turkish forces which have been expanding their presence in Syria, in part relying on armed groups recruited from Syrians.
The Turkish forces have shielded a part of Syria from Bashar al-Assad's regime, but this part of the country did not escape the nationwide economic collapse and rampant unemployment, caused by the war and the recent twofold slump of the Syrian pound. A Syria researcher Elizabeth Tsurkov wrote that during the 9-year old conflict, a generation of young Syrians grew up with virtually no skills apart from combat, who even struggle to read or write. According to The Guardian, the rank-and-file pro-Turkish fighters in Syria get 450 to 550 Turkish liras (~$70) a month which is barely enough to make ends meet. This produces a fertile ground for hiring mercenaries who are ready to fight for Turkish interests in Libya and now in Azerbaijan.
Back in July, during the previous heating up of the conflict (it should be noted that late July - early August also saw joint Turkish-Azerbaijani exercises), The Independent learned about plans to use Syrians in the South Caucasus conflict. According to Tsurkov, the first middlemen, who later started hiring mercenaries, appeared in Syria's Afrin back in early August. The Syrians who spoke to the Guardian told that they signed their contracts on September 13 and 18. The deployment of fighters already started in mid-September, WSJ wrote. Finally, on September 23 (four days before the war started) a little-known anonymous media outlet SyriacPress told about members of one of the pro-Turkish groups being sent to Azerbaijan. The details in their piece matched those in Western media articles that came out later. These and other data is why we believe that the current military operation was prepared by the Azerbaijani and Turkish side in advance and did not grow out of yet another random flair of violence.
Russian military and diplomatic sources told Kommersant that the hiring process was run, among others, by SADAT PMC, which is connected to Turkish authorities. The Independent's source mentioned a "private Turkish security firm", but did not specify its name.
Mercenaries and their acquaintances gave similar payment figures to various media. According to Kommersant, the Syrians were promised up to $1500 up front and over $2000 monthly. BBC Arabic service gives a figure of $2000, SyriacPress — $1800, Reuters cites $1500 a month (same as CNN). The Independent's and The Guardian's figure is $1000 (7000 Liras) or more. Tsurkov mentioned a wage range from $600 to $2500, and L'Express have $1000. We believe there are two possible reasons for the discrepancy in wages: firstly, the wages should depend on military specialization and rank, secondly, according to The Guardian, some Syrian rebel commanders pocket up to 20% of their subordinates' wages. Apart from that, the mercenaries' families told Foreign Policy that they were promised 60,000 liras ($7800) in the event of the fighters' deaths, provided that they keep their names secret.
Any of the amounts cited is a very large sum of money compared to poverty-level wages of Syrian civilians and pro-Turkish fighters. However, the mercenaries are not only driven by mercantile interests or a desire to feed their families: for example, one fighter told AFP that he and his comrades in arms are grateful to Turkey for protecting them from Russia in Syria and are ready to fight for Turkey in return.
According to Kommersant's sources, the mercenaries had their papers and personal communication devices confiscated. The Times also wrote that the mercenaries were hard to contact because they had their phones confiscated. Finally, according to BBC Arabic, during training in Turkey the Syrians had not only phones, but clothes and cash money taken from them, so that their nationality could not be identified. However, these measures failed to fully prevent leaks of videos showing the mercs' deployment, and the Azerbaijani-Turkish side has now resorted to claiming those videos were faked. However, after October 11 there have been no new videos uploaded by the Syrians: probably what worked was a threat to throw one of the video posters in jail, as reported on October 12 by Jordan-based Syria Direct.
The estimates of the mercenaries' numbers vary: for example, Reuters learned of 1000 fighters being deployed, Kommersant reported 1300 in the first week alone, and Foreign Policy cited a figure of up to 1500. At the same time, Armenia's ambassador in Moscow Vardan Toganyan told RIA Novosti of 4000 Syrian fighters, but this number is clearly exaggerated.
Many fighters said that during the recruitment (which, as mentioned earlier, happened before the war started), they were deceived about the objectives of their deployment. For example, Syria Direct cited mercenaries who were hired to guard "Turkish bases" or "Turkish installations", The Guardian's sources mentioned guarding "observation posts and oil and gas facilities", while BBC, SyriacPress and Foreign Policy learned that the fighters were to be "manning guard posts along border demarcation lines" (it bears recalling that the Syrians in the video were wearing Azerbaijani border guard uniforms).
However, the Syrians, who arrived ostensibly for guard duty, were almost immediately sent into battle, and the mercenaries sustained rather heavy losses: on October 5, Foreign Policy reported 55 dead; according to Tsurkov, this was the number of bodies transferred at the Turkish-Syrian border during the night of October 4. We did not manage to find newer data (although Tsurkova did mention a planned transfer of 50 more bodies on October 12). However, given the heavy fighting on the southern axis, the number must have grown even more.
Many mercenaries told the media that they wanted to go home: WSJ sources estimate the number of those would-be returnees as at least 200. Friends and relatives of the fighters told The Independent that upon hearing of mass casualties they started an awareness campaign, warning young men against going to fight in Azerbaijan.
Interestingly, a fighter's friend told Syria Direct that his acquaintance complained that he'd come to Azerbaijan as a border guard, not a fighter, and expressed unwillingness to keep on fighting together with Shia Muslim Azerbaijanis, while in Syria Assad's Shia regime genocides the Sunni population. Other Syrians told The Independent and The Times that this was the reason why they ultimately decided against signing the contract.
However, the Syrian fighters can hardly be called religious fanatics, as the Armenian side does. For example, the fighters who Tsurkova talked to used to serve in Libya before Azerbaijan and took alcohol and even drugs there. The Daily Beast accused one of the pro-Turkish commanders of being a former "Islamic State" militant. However, as Syria researcher Aymen al-Tamimi explains, at most he participated in a 2013 joint operation of the Syrian rebels and the IS (back then still called "Islamic State of Iraq and al-Sham") against Kurdish militias in northeastern Syria. Later, IS cleared their former allies of convenience from Deir al-Zawr and Raqqa provinces.
It should be mentioned that pro-Turkish and pro-Azerbaijani social media users have responded to allegations of Syrian mercenary presence in Karabakh with counter-allegations of Iraqi fighters allegedly fighting for Armenia, including members of the Kurdistan Workers' Party (which is a designated terrorist organization in Turkey and many Western countries). However, their are few if any confirmations of this. The most often cited piece of evidence is a photograph of camo-clad fighters with an Armenian flag and other flags with symbols often used by the Yazidi ethno-religious group, many of whom live in Iraq. The photograph was posted by Rustam Bakoyan, a member of the Armenian parliament from the ruling "My Step" party, who calls himself a representative of the Armenian Yazidi community (officially, Yazidi Armenians number around 40 thousand). Before that, soon after the fighting started, Bakoyan announced the creation of a Yazidi Armenian militia unit that would take part in the fighting.
#YazidiArmenians are defending our borders from the #Turkish and #Azerbaijani invasion and making history on the frontlines of #Artsakh/#Karabakh.#Yazidis #ArmeniaAgainstTerrorism #StopAzerbaijaniAggresion #ArtsakhStrong #ՀԱՂԹԵԼՈՒԵՆՔ pic.twitter.com/sviL6PL3FP

— Rustam Bakoyan (@BakoyanRustam) October 15, 2020
The Syrians in the conflict area are just one aspect of the assistance provided by Turkey to Azerbaijan. Turkish Bayraktar TB2 drones, that have previously been used in Syria and Libya, are now striking Armenian vehicles and soldiers. Officially they were transferred to Azerbaijan in July, but there is little doubt that they are being manned by Turkish operators, not Azerbaijanis, who couldn't have been trained in such a short time period. Apart from that, a New York Times investigation showed that there were (likely Turkish) F-16 fighter jets in Azerbaijan. Earlier, Armenian military officials claimed one of those fighters show down an Armenian Su-25 ground attack aircraft. After the investigation was published, Aliyev had to admit that there indeed were F-16s in Azerbaijan. However, he claimed they weren't used in Karabakh.
If you have something to add to our article, point out any mistakes or give your criticism, please contact us via e-mail [email protected] or via @leviev on Telegram.