Читать этот пост на русском
Four weeks have passed since out previous update on the concentration of Russian troops near the Ukrainian border and in Crimea. Since then, Russia's Vladimir Putin has held talks with Joe Biden, and Russia issued a list of demands to NATO. However, as new virtual summits and talks with the US, NATO and OSCE are being announced, Russian forces keep arriving into border regions. Open source data shows how the earlier discovered camps are growing, new camps are set up, while tanks and howitzers are joined by sophisticated air defense systems.
Apart from that, measures have been taken against gathering information on troop transports. Trains carrying military cargo have effectively disappeared from the Russian Railways database (that feeds data to railcar tracker services), thus often we can only find out the origin and destination of a train using some indirect information. Experienced users of Russian Railways databases suggested to us that the military vehicle trains, as well as several railway stations could be moved to a "separate circuit" on orders from Russia's counterintelligence agencies. However, it is impossible to ban posting videos with military vehicles on social media, which is why the "raw data" is still available to us and other researchers (such as Twitter users @GirkinGirkinб @4emberlen and galandecZP), whose findings, among other data, we have used for this post.
During the past month, troops and/or vehicles were being transferred more actively into regions to the north-east of Ukraine. It bears repeating that those regions do not border the "rebel" territories in Eastern Ukraine outside government control, which is why the transfer can hardly be explained by a recent threat to counter "provocations" by Ukrainian forces in the Donbas area.
The Russian forces are being concentrated in various areas, including Klintsy and Klimovo in Bryansk region, less than 50 km and 10 km respectively from the Ukrainian border. A satellite image posted by Swiss OSINT analyst COUPSURE does not show significant changes in one of the Klintsy concentration areas since November 1: by that time, a large number of vehicles had arrived there since September, as seen in publically available Google Earth imagery.

September November December
However, this researcher also analyzed public radar imagery and found what likely is another camp in the woods west of Klintsy which only recently started filling up with military vehicles. The camp is based in an abandoned "military town" of a artillery munition storage unit that was disbanded in 2013.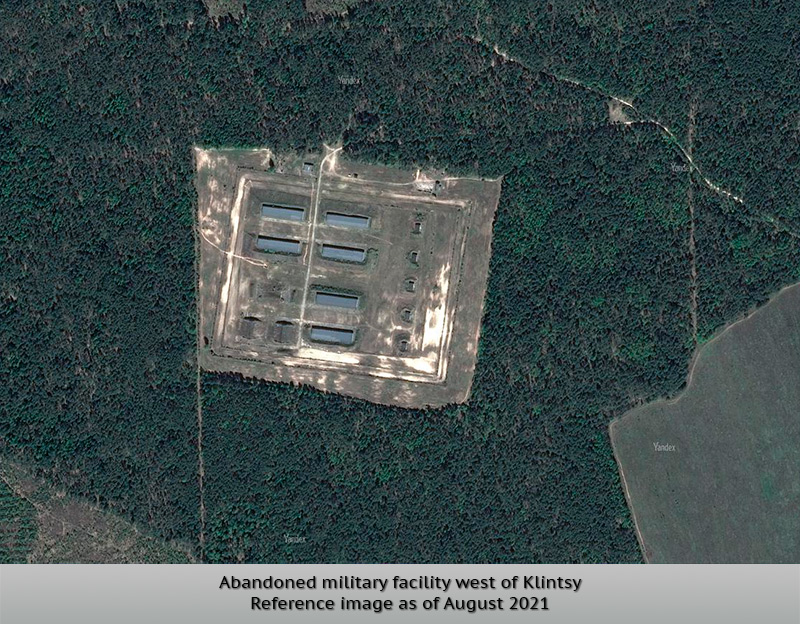 August December 7th December 22nd
Radar imagery also shows a concentration of vehicles south of Klimovo at the former 1329th Central Communication Equipment Base next to the Klimovo airstrip. The airstrip was abandoned in late 1990s, but in March 2014, after Crimea's annexation but before the start of active fighting in Eastern Ukraine, it was on the news again. The Ukrainians were concerned with 4th Guards "Kantemirovskaya" Tank Division being transferred to this airstrip. Russian military officials back then explained the vehicle arrivals with plans to restore the airstrip.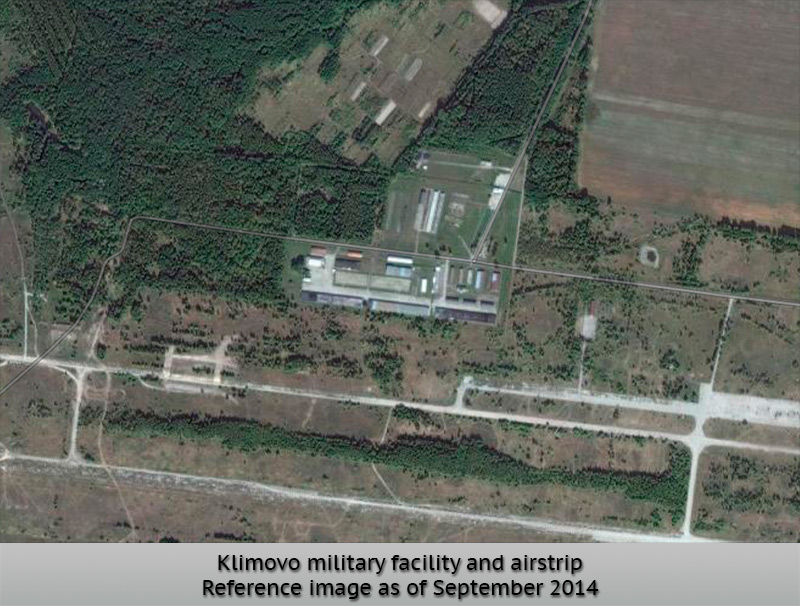 September 2014 November 4th, 2021 December 28th, 2021
The vehicles amassing at Klintsy and Klimovo are apparently being unloaded at various railway stations in the region (such as Novozybkov and Kletnya), from where they move by road to the staging areas. It is quite hard to find out what specific units have been concentrating in the area. Janes' analyst Tom Bullock suggests that one of the trains filmed going to Klintsy carried the vehicles of the 35th Motorized Rifle Brigade of the 41st Combined Arms Army of the Central Military District (a large part of the 41st Army's vehicles are located to the north, near the town of Yelnya in Smolensk region). This is indirectly confirmed by database information — a train seen in Bryansk in late December was most likely heading from Aleyskaya railway station in the Republic of Altay, where the 35th Brigade is permanently based. Yet another train moving "towards Bryansk" could have set off from Totskaya station, close to the base of the 21st Motorized Rifle Brigade of the 2nd Combined Arms Army of the Central Military District (we remind that this district covers Siberia, the Urals and parts of the Volga basin and does not border Ukraine).
There have been indications of army-level air defense assets moving to Bryansk region: on December 28, 9T229 transport vehicles used to carry Buk-M1 anti-air missiles were filmed in Bryansk.

The Pogonovo training ground south of Voronezh also saw a significant increase in vehicle concentrations over the past month. The vehicles, as we mentioned in our previous post, belong to the 1st Guard Tank Army (GTA) of the Western Military District. It also saw the arrival of what looks like a full Buk anti-air defense system, which includes several launchers, a command vehicle and likely a radar. This is an army-level air defense asset, which suggests that the Pogonovo training ground holds not just several battalion tactical groups of the 1st GTA, but the transfer likely includes if not the whole army then at least all higher readiness units of that army.

October November December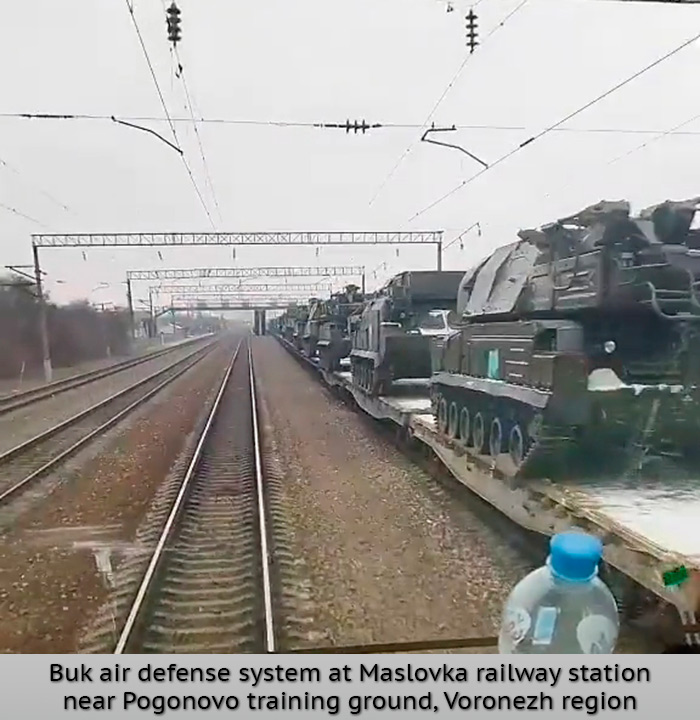 However, it should be noted that relatively new satellite imagery of the training ground does not show the same concentration of tents as in April 2021, during the previous troop transfer. This suggests that most of the 1st GTA's personnel is still at their permanent bases. However, if the need arises, they could join their vehicles within days.
Apart from the staging areas that were discovered earlier, at least one new area has been pointed out at the Postoyalye Dvory training ground in Kursk region. We and other researchers determined that at least several trains carried vehicles to the nearby Otreshkovo railway station from the Leningrad region, where the 6th Combined Arms Army of the Western military district is based. Notably, at least one serviceman posted a video of himself on a train and wrote that he was going on a "business trip" from Leningrad Oblast to the Kursk area. Another of his videos shows what looks like a patch of the 138th Motorized Rifle Brigade, which belongs to the 6th Army.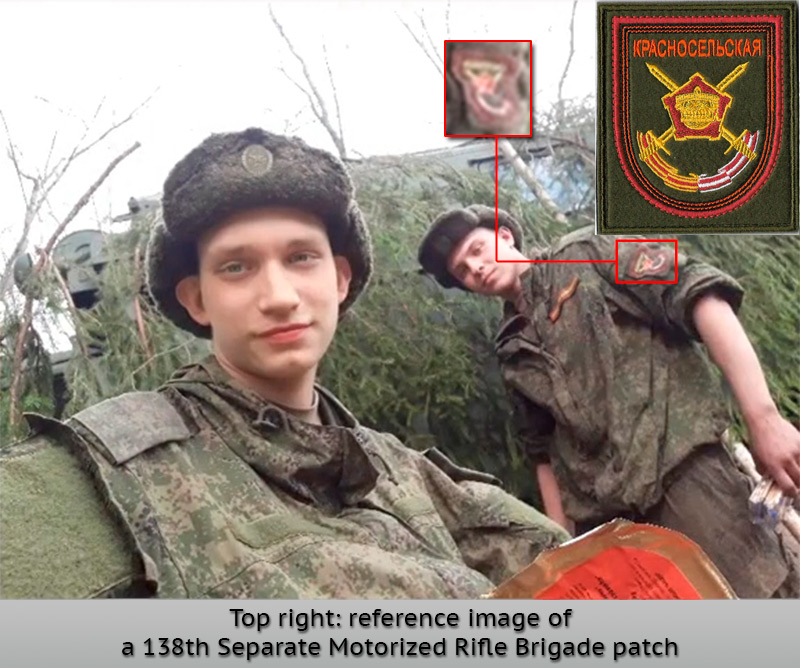 Military vehicles and tents can be seen at Postoyalye Dvory in a December 23 satellite image. It is also seen in a video report by a French public TV channel France Télévisions. Interestingly, it also shows GAZ-3344 Aleut and DT-30 Vityaz all-terrain vehicles, which are not fielded by the 6th army, but, according to researcher Robert Lee, are present in the 80th and 200th Motorized Rifle Brigades of the North Fleet.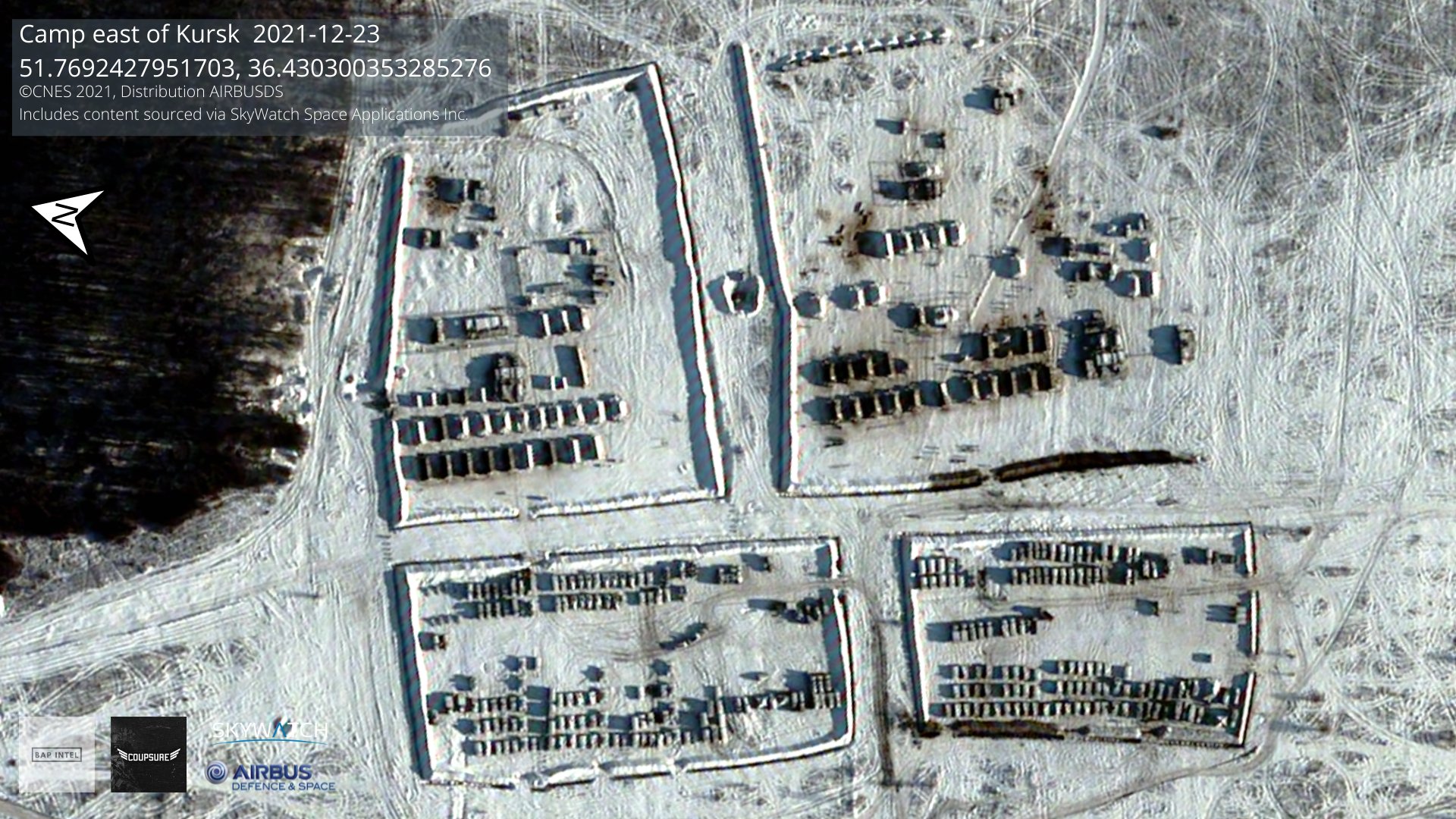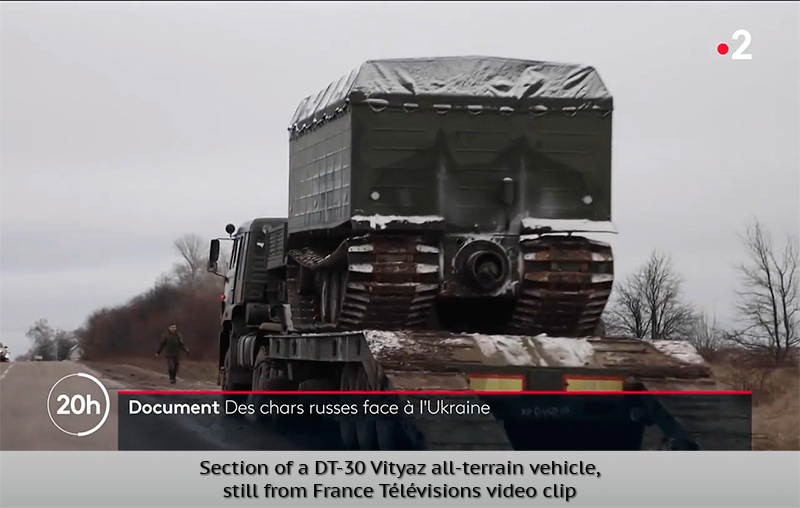 An increase of vehicle concentrations is also noted near Valuyki, Belgorod region (10 kilometers from the Ukrainian border). A December 24 satellite image shows that a staging ground north of the town now holds more vehicles than seen in a December 5 image. The number of vehicles also grew from September to December at a base near Soloti, northwest of Valuyki. It should be noted, however, that earlier we have seen trains from a vehicle storage base in Buy, Kostroma region, arriving to Valuyki, so the new vehicles could at least partially be explained by supplies to the 3rd Motorized Rifle Division that is permanently based in Valuyki and Boguchar.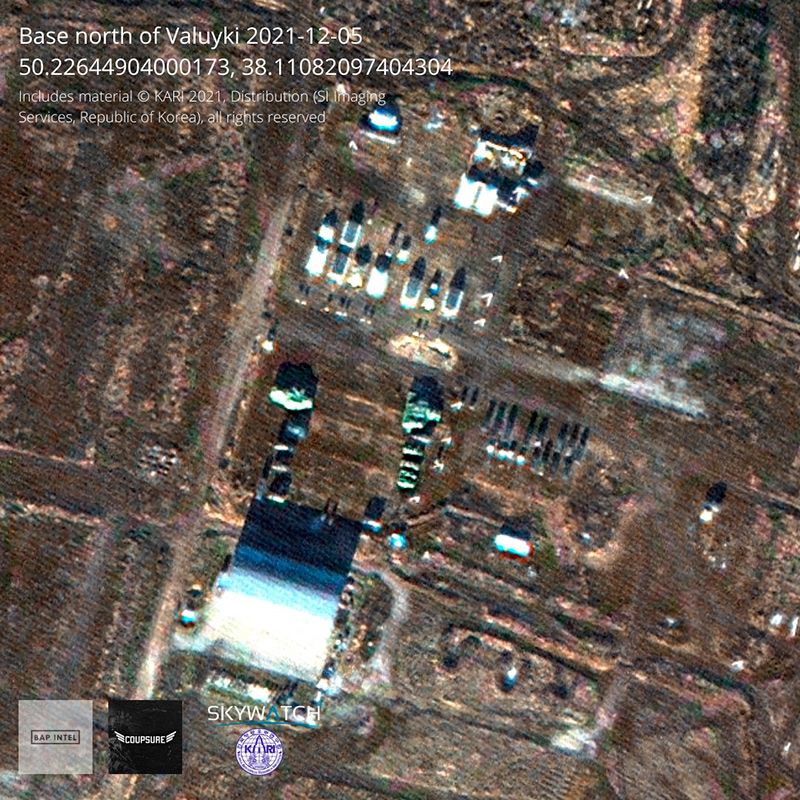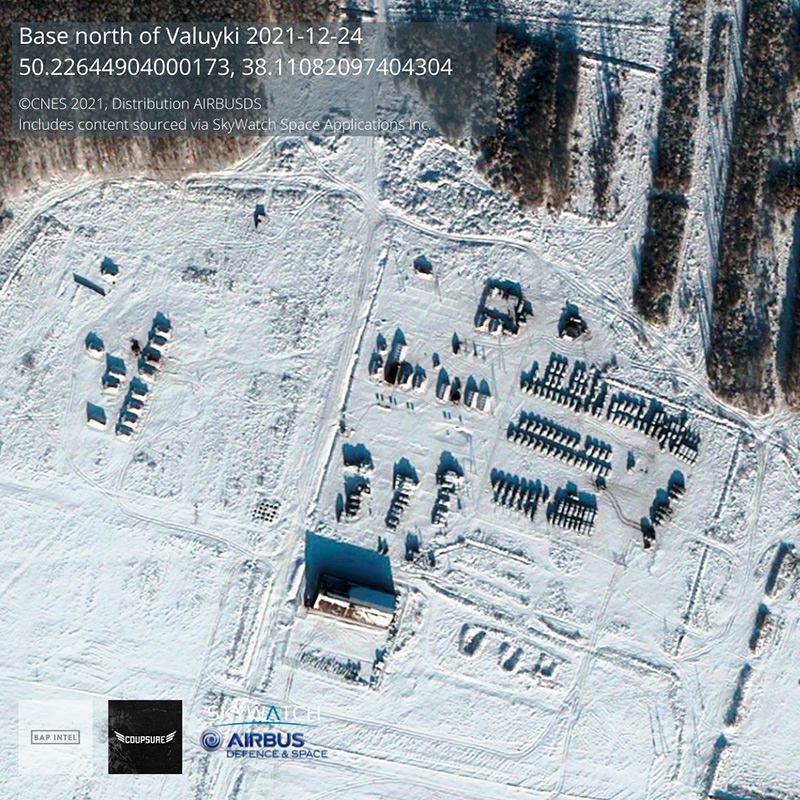 September December 5th
Finally, there has also been an increase of Russian forces presence in Crimea. In early December, Maxar Technologies distributed a satellite image of a vehicle storage area in Novoozerne, 100 kilometers from Ukraine-controlled territory. Most likely in June it received the vehicles of the 58th Army what was transferred from North Caucasus for exercises in April this year. According to radar imagery, from December 4 to 8 the concentration of vehicles in the area increased, but by December 28 it started decreasing, which suggests that the vehicles are being transferred to another, yet unknown area.

April 2019 May 31st, 2021 December 4th, 2021 December 28th, 2021
Other Maxar imagery shows that during the period from October to December 13 vehicles arrived to the 133rd Materiel and Technical Support Brigade base in Bakhchisaray (160 km from Ukraine-controlled territory). Researcher Konrad Muzyka believes that these vehicles belong to the 136th Motorized Rifle Brigade of the 58th Army. Interestingly, a former or current serviceman of this unit filmed a military train, according to railway databases, in Kerch in eastern Crimea Peninsula.
On the train we noticed a 9T243M transporter and loader vehicle of the Buk-M3 air defence missile system. These newer vehicles are fielded, for example, by the 67th Anti-Air Missile Brigade of the 58th Army. This suggests that army-level anti-air assets are also being transferred to Crimea, same as to Voronezh and Bryansk regions. On December 25th, a train carrying another air defence system, likely an S-350, was spotted moving in Krasnodar towards Crimea. However, this could be explained by planned deliveries to anti-air units based in the peninsula.

Buk-M3 transporter and loader vehicle on a train in Kerch and in a reference image
All of these new developments lead us to a conclusion that by the New Year the concentration of vehicles near Ukraine's borders and in Crimea has reached an unprecedented scale, most likely surpassing the April figures. Back then, forces largely from two armies were involved (the 41st and the 58th), and now they've been joined by units from up to three other armies (1st Tank, 2nd, and 6th), as well as, most likely, the North Fleet ground forces. Apart from tanks, artillery and other combat vehicles, we see the transfer of anti-air systems and auxiliary vehicles. Given the increasingly alarming rhetoric of the Russian officials, this suggests a distinct possibility that an order to begin an operation in Ukraine-controlled territory could be given in the coming weeks.
However, there are also signs that the operation has not yet been fully prepared, and that, should it start, it will not be as massive in scope as certain analysts and opinion writers have suggested. Firstly, we've seen relatively little movement of airborne unit vehicles, apart from one train of the 76th Airborne Assault Division, another train likely from the 31st Separate Airborne Assault Brigade, as well as an unidentified train in eastern Crimea, the latter possibly explained by a military exercise involving paratroopers). In April we saw the movement of airborne units on a much larger scale. Those units would probably play an important role in a massive offensive deep into Ukrainian territory. Secondly, if Ukrainian assessments are to be believed, then the numbers of Russian troops in the border areas (figures recently mentioned vary in the range of 100 — 120 thousand soldiers), even adding the Eastern Ukrainian "separatist" formations (up to 35,000 personnel), are still rather smaller than the total peacetime numbers of Ukraine's Ground Forces (up to 169,000) and National Guard (50,000 as of 2017). One should also consider that the estimates of Russian troops most likely include drafted soldiers that are serving their compulsory 1-year terms in units based close to the Ukrainian border, but are unlikely to be used in an operation in Ukraine.
Moreover, we see no signs of a mass mobilization in Russia. The recent footage of reservist exercises most likely is related to the recently instituted BARS higher readiness reserve force. It is being formed on a voluntary contract basis and is unlikely to reach the estimated 100,000 personnel at least in the coming months. Those reservists, one should add, are intended for rapid reinforcement of regular units and forming the basis of a general mobilization, not for occupation duties. The latter task is better suited for military police units (that have received relevant experience in Syria) and National Guard troops (that have also been deployed to Syria and have experience suppressing protest actions). However, so far we have observed little to no movement of those units.
All of the above indicates that the planned operation is unlikely to entail a capture of large areas or big cities of Ukraine, let alone a drive to the Dnipro river and an occupation of the entire eastern half of the country. We believe the most realistic scenario would be an attempt to deliver a rapid and sound defeat to a large grouping of the Ukrainian Armed Forces in the border area, possibly in the Joint Forces Operation zone in the Donbas. Such an operation would apparently demonstrate Russia's resolve in protecting itself from the "NATO threat" (as opposed to the Alliance members' reluctance to render direct military aid to Ukraine) and allow to hold talks from a stronger position.
Whatever scenario (if any) may play out, we continue monitoring the situation and kindly ask you to send any information or evidence via e-mail to [email protected] or via Telegram to @leviev.