Читать этот пост на русском.
During the past few days, we have been closely monitoring the routes of Russian military vehicles moving into Crimea and towards Ukraine's border. In our analysis, we rely on videos and photos from social media, as well as Gdevagon railcar tracking service. The concentration of Russian troops at the Ukrainian border is unprecedented since 2015 (for more, please refer to our review for Russian investigative media The Insider).
We have noticed that the convoy video filming locations and vehicle train destination points, apart from Crimea, are concentrated in Russia's southwestern region of Voronezh. The Voronezh region borders Ukraine, specifically the northern part of Luhansk region which is controlled by Ukrainian forces. Our research of the evidence of troops arrivals to Voronezh region has shown that they are concentrated in a field camp just to the south of Voronezh — in about 250 km (155 miles) drive from the Ukrainian border, and possibly near the town of Ostrogozhsk — 150 km (93 miles) from the border. A large part of the vehicles seen in social media footage belong to the Russia's Central Military District (CMD), which means they travelled hundreds or even thousands of kilometers to reach Voronezh.
The analysis of CMD units' railroad transfer to the border by us and other researchers showed that they are unloading at Maslovka and Tresvyatskaya railway stations close to the city of Voronezh. While Tresvyatskaya station is relatively remote, Maslovka is almost within Voronezh city limits, which is why several videos posted online were filmed near the latter station. One example is a TikTok video filmed by a Voronezh local that shows military low loader trailers carrying a TOS heavy flamethrower and BMP infantry fighting vehicles. It also shows a large vehicle ground directly at Maslovka railway station. The trailers' number plates have various two-digit codes denoting a military district, such as 50 (Western military district that includes Voronezh), 87 and 76 (the codes of Siberian and Volga-Ural military districts respectively, that were merged into the Central Military District in 2010). We used Google Streetview to confirm that the video was indeed filmed in the vicinity of Maslovka railway station, the low loader convoy moving south.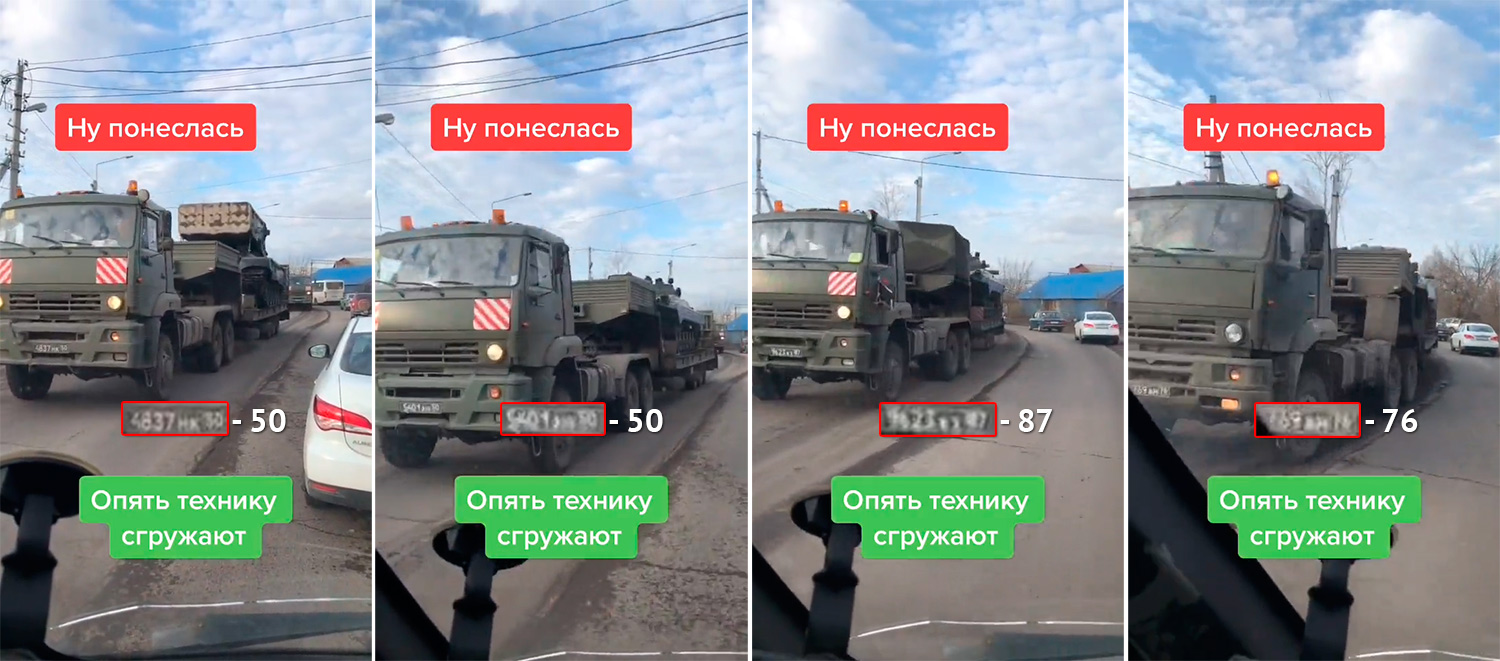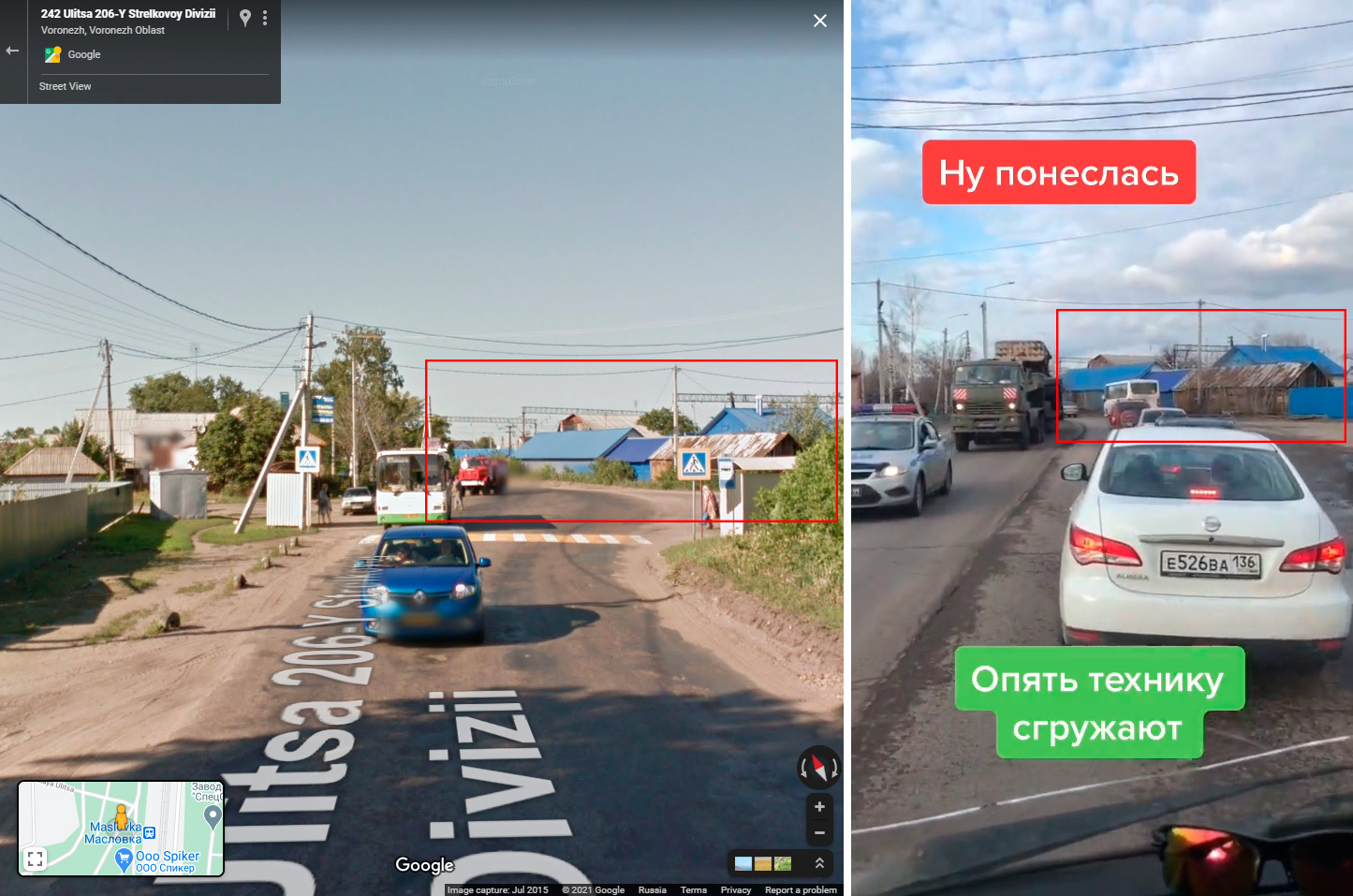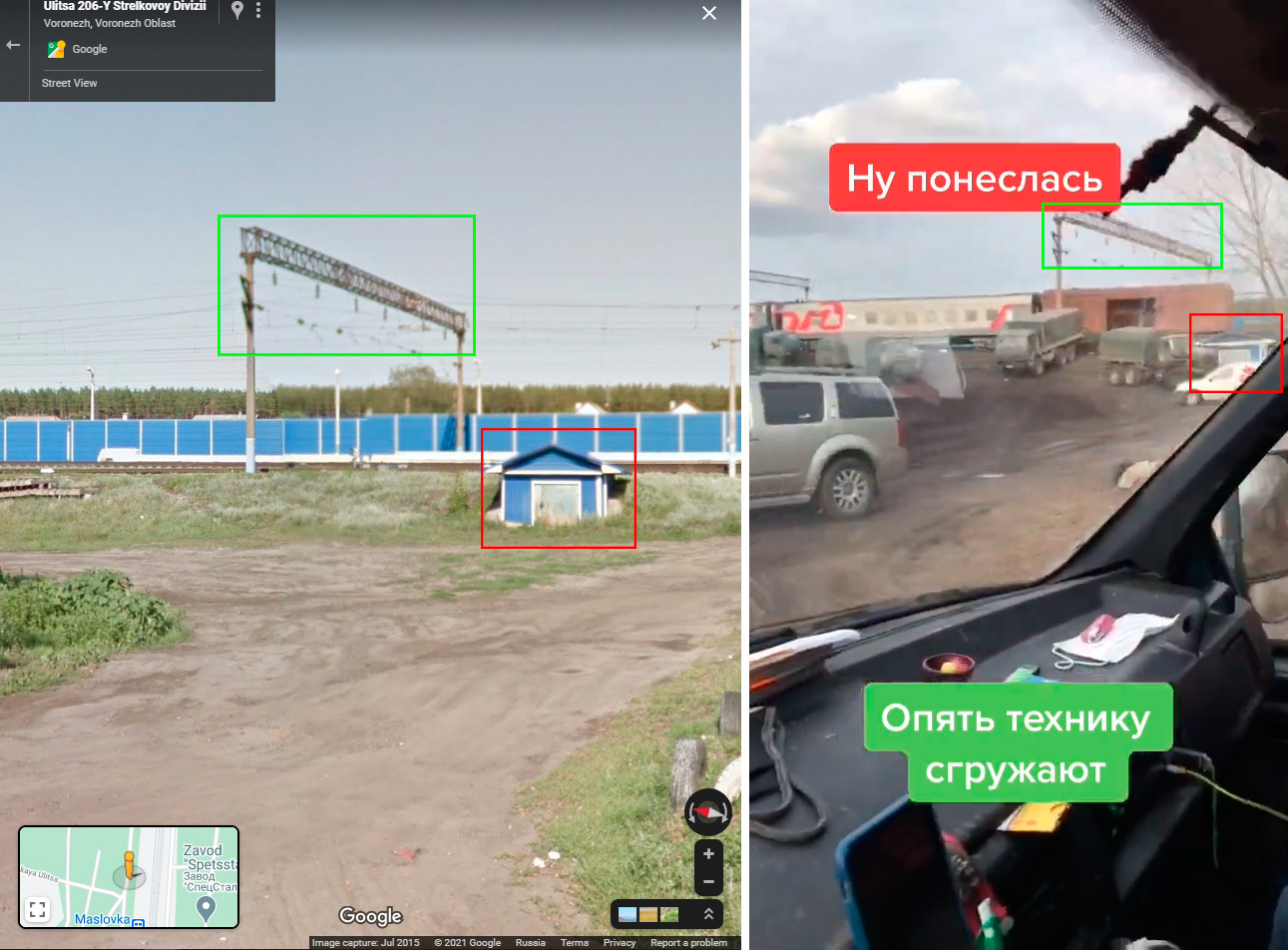 While we haven't seen any videos from Tresvyatskaya station itself, we and out colleagues have found several videos and photographs filmed near that station. A tiktok showing a similar convoy of BMP-carrying trailers was filmed to the southwest of Tresvyatskaya, the convoy driving towards Novaya Usman' village. Similar convoys were filmed and photographed in Novaya Usman' itself (the last photo, showing a T-72B3 tank, was filmed around a recently erected monument to Novaya Usman's founder Boris Sobakin).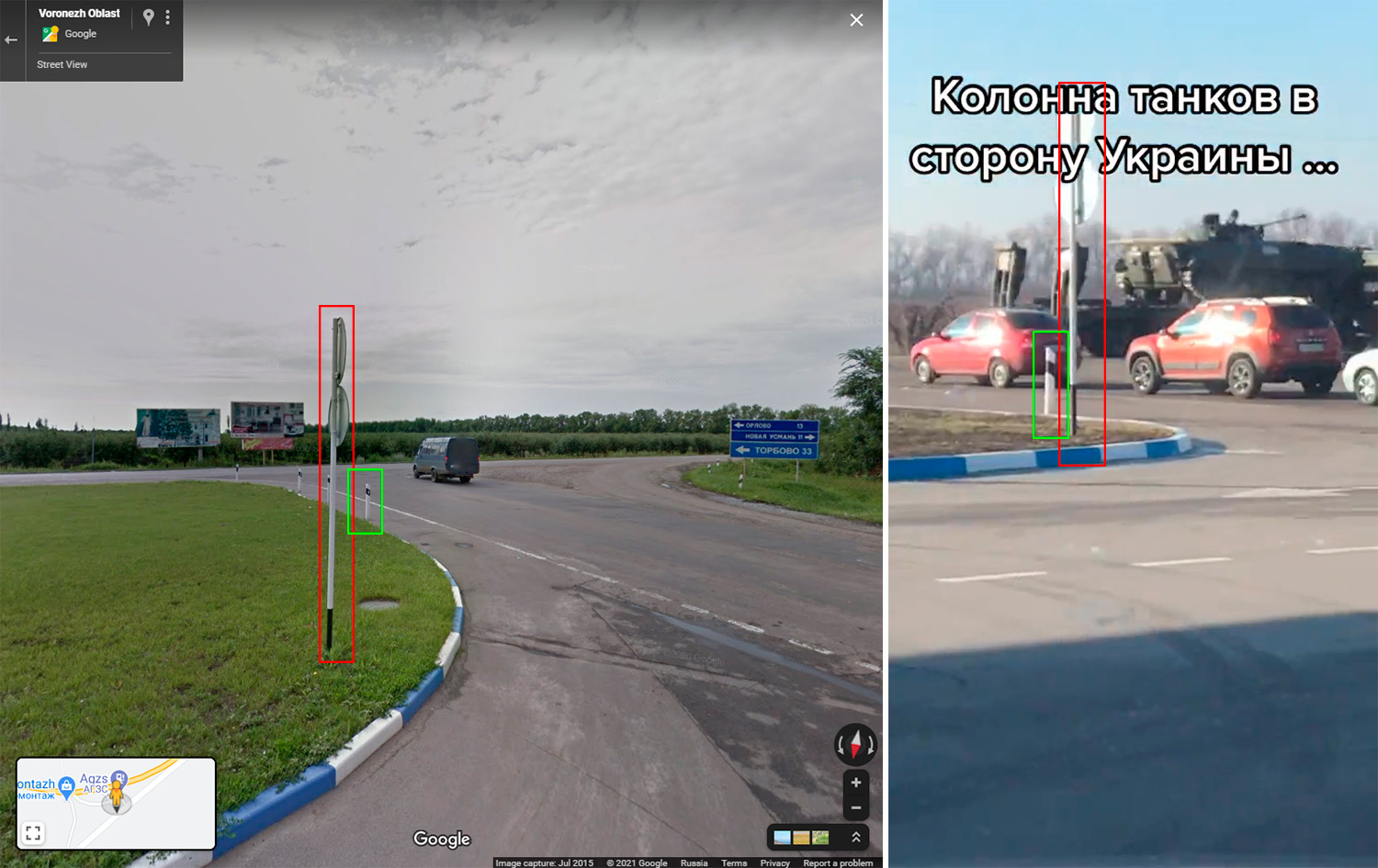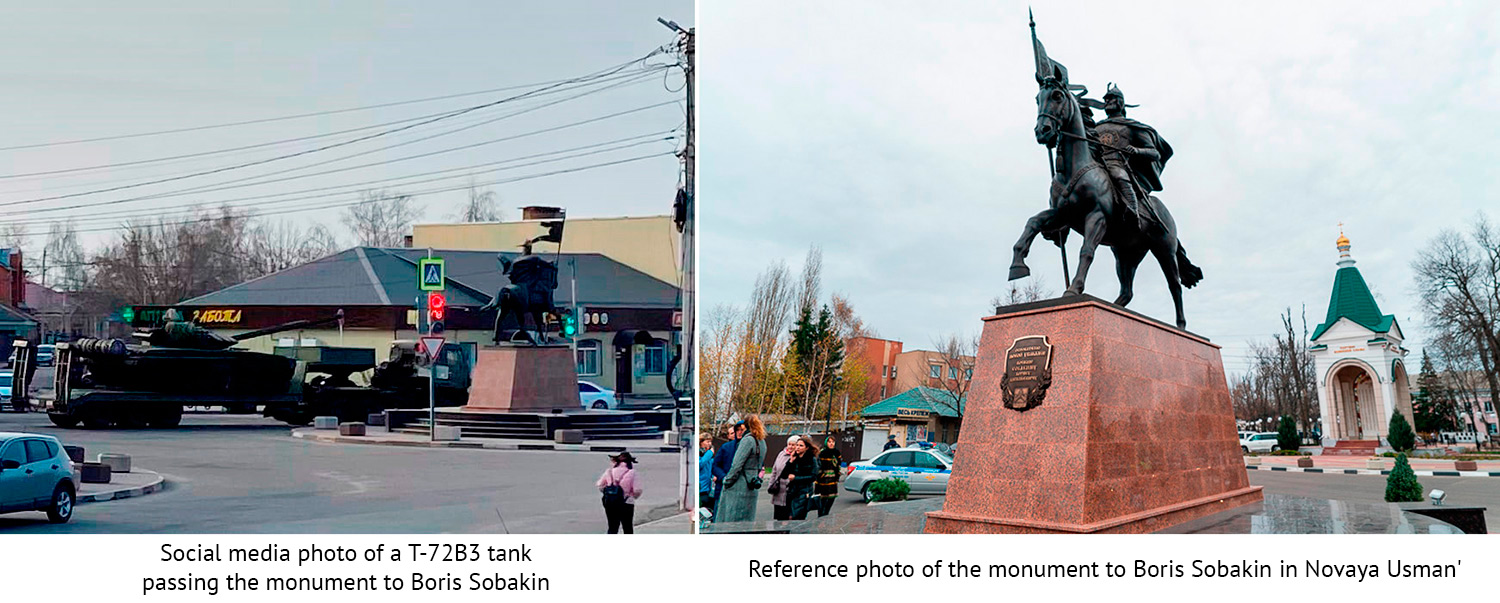 Yet another tiktok shows a convoy of Uragan multi-launching rocket systems, their number plates bearing the Central Military District code (76). These vehicles most likely belong to the 120th Artillery Brigade from Yurga, Siberia, which, as we found out earlier, was heading to Tresvyatskaya railway station. The video itself was filmed on the R193 highway, the convoy moving towards Voronezh. We should note that we have seen no Uragan convoy videos from Voronezh city itself, which is strange given the convoy's size. A clue is offered in a complaint in a local Novaya Usman' group on a Russian social network VKontakte. The April 1 post says that military convoys are constantly moving through Otradnoe township south of the R193 highway, which suggests the convoy could have turned south before it reached Voronezh.
Searching VK for keywords, we found posts from a local with a video and photographs of a military camp, including vehicles, tents (one of which has red cross markings, suggesting a field hospital) and a field kitchen. One of the posts says that the videos were filmed in Beryozka «near Maslovka». A video showing low-loaders (with CMD number plates) carrying vehicles was indeed filmed south of Maslovka around Beryozka country house cooperative. The trailers are driving from the north-east (the direction of Maslovka) and turning south.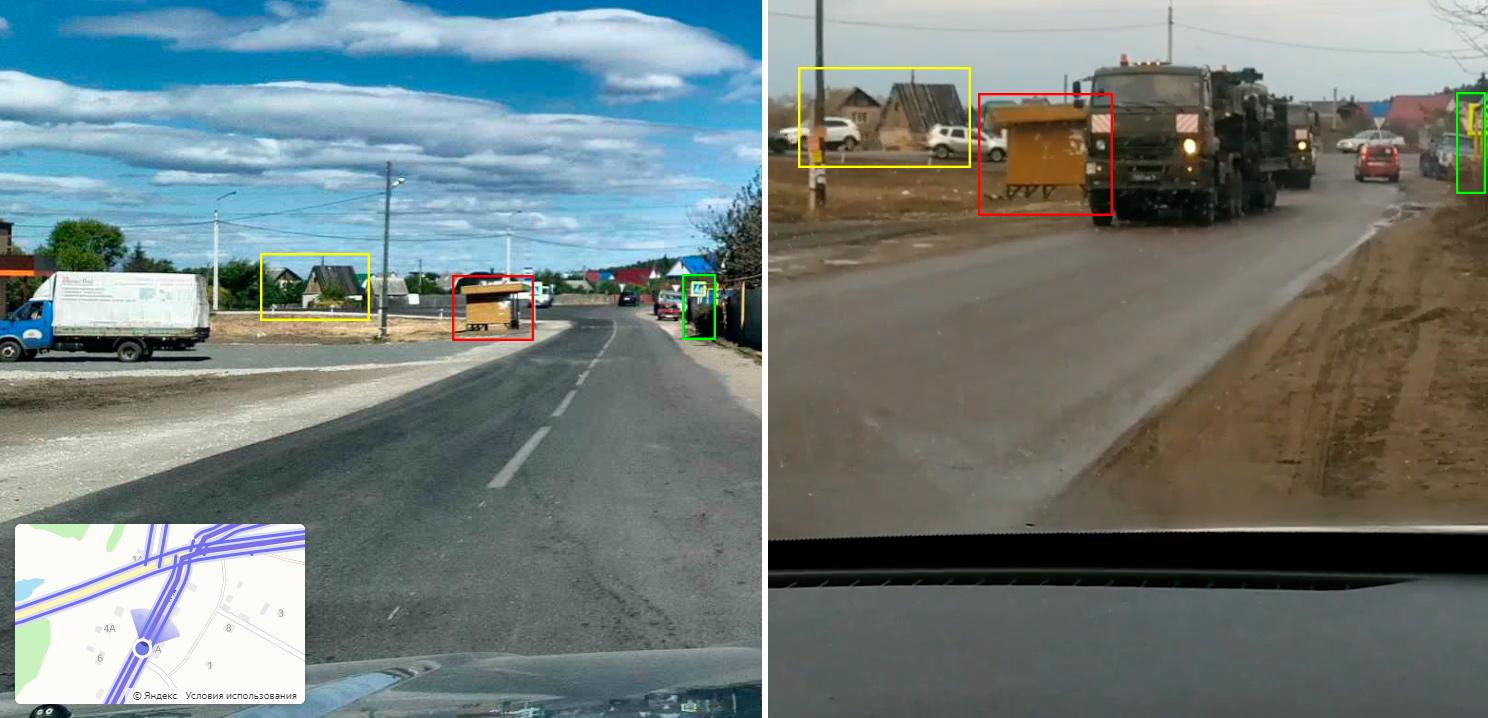 We were unable to geolocate photographs and videos of the camp itself, but we believe it is situated at the Pogonovo military training ground south of Beryozka. This is where convoys could be heading both from Maslovka and Tresvyatskaya railway stations (through Novaya Usman' and Otradnoe in the latter case).
The information about soldiers and vehicles arriving to the Pogonovo training ground appeared in local media back in late March. In an angry comment to the article, a local complains that the soldiers, who set up their camp "in a field next to residential houses", were "felling trees with armored carriers and trucks" and "put sentries" around the camp.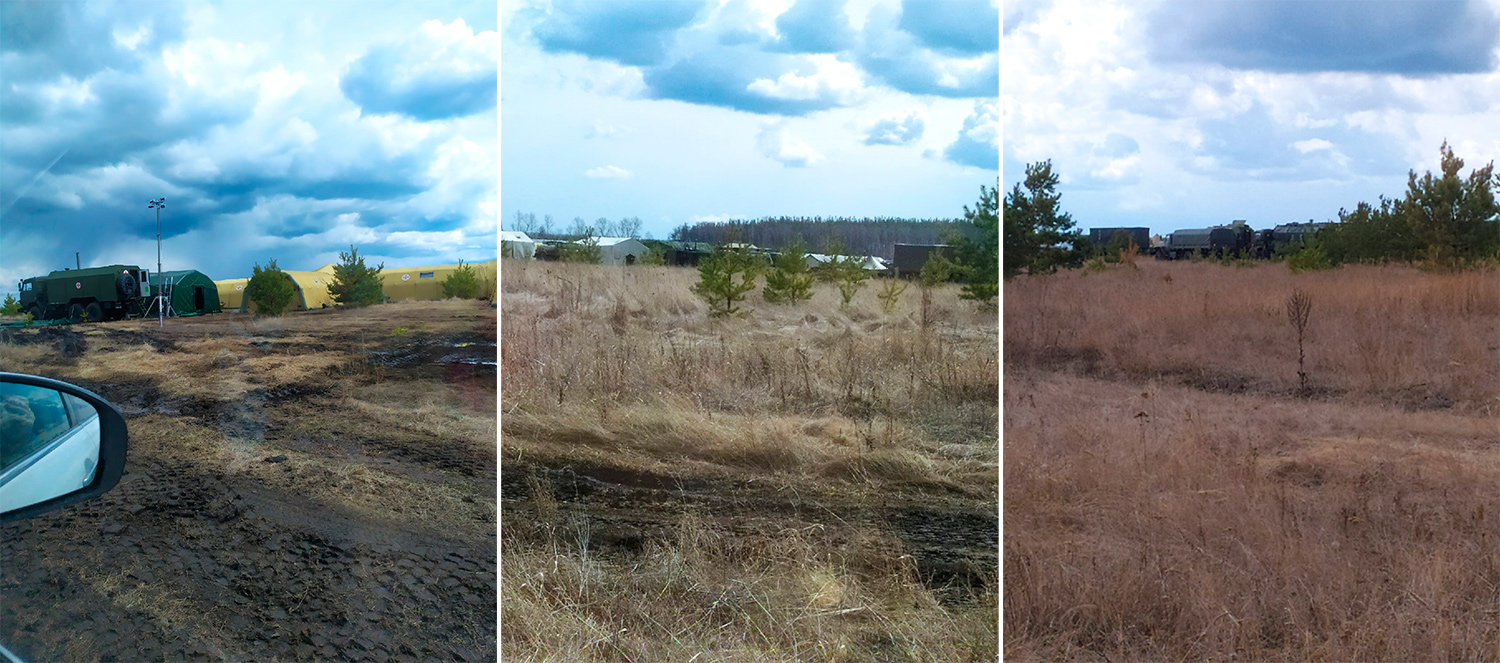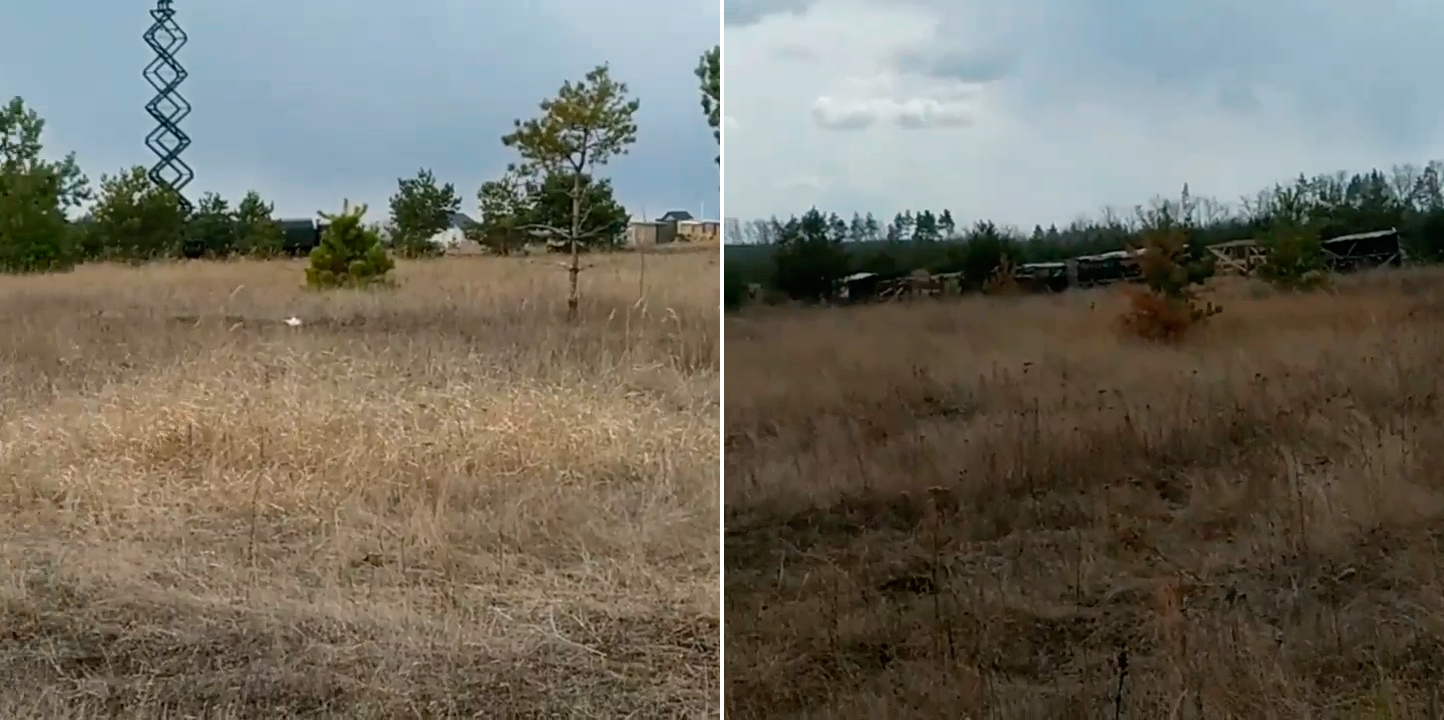 The Maslovka camp is around 250 kilometers (155 miles) drive from the Ukrainian border. In 2014 and 2015, when Russian regular troops actively fought in Eastern Ukraine, their base camps were situated much closer to the border. However, there is also evidence that Russian vehicles may be based further to the south — around Ostrogozhsk, Voronezh region. Yet another tiktok, posted by an Ostrogozhsk local, shows a convoy of military trucks and GAZ-Tigr armored cars with Central Military District number plates. People behind the camera can be heard suggesting that the convoy had just unloaded "from the trains". We have geolocated the video to a road intersection 800 m from the Ostrogozhsk railway station, the convoy turns (this is visible closer to the end of the video) from Vokzalnaya Street, which leads to the station, to the roadway 20N-47-19 and proceeds in southern direction.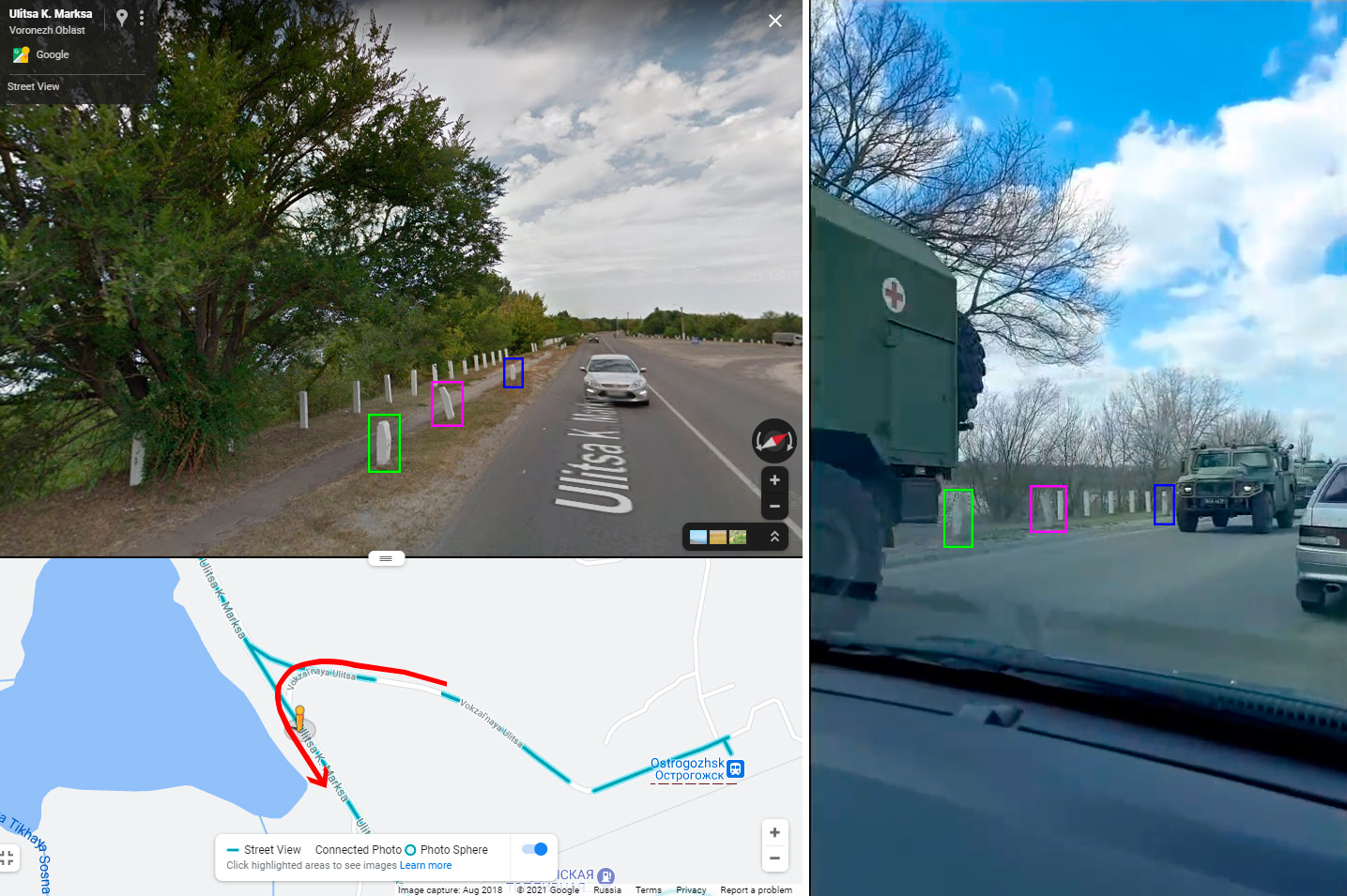 OSINT analyst Tom Bullock told CIT that Tigr armored cars with no tactical markings suggest either a Main Intelligence Directorate (GRU) special forces Brigade or a reconnaissance detachment, such as a recon battalion of a motorized rifle brigade. While we are currently unaware of this convoy's destination, it would seem logical to send a recon unit or special forces closer to the border ahead of the main force — Ostrogozhsk is about 100 kilometers drive from Maslovka towards the border.
The Russian deployment in Voronezh region is concerning primarily because not only can't it be explained with exercises, but it is just as unlikely that it is done in preparation to a "Ukrainian offensive", which the Russia-backed separatists in Eastern Ukraine keep announcing. As we wrote in our review for The Insider, Voronezh region does not border either Donetsk or Luhansk "people's republics"; instead, it borders Kyiv-controlled territories of Ukraine. It is inconceivable that the Ukrainian forces would attack across the border with Russia itself. In case the Russian forces were preparing to enter Eastern Ukraine and reinforce the "rebel" units, it would make more sense to deploy them not to Voronezh, but to Rostov region to the south. Thus, the Russian military posture at least in Voronezh region is rather offensive than defensive.
However, there is still no certainty that a Russian invasion of Ukraine-controlled territory is imminent. If it is indeed the Kremlin's goal to put pressure on Kyiv and Washington, then it would be logical to deploy the Russian troops in a sufficiently threatening manner — such as across the border from Ukraine's Kharkiv and northern Luhansk regions.
Update: our colleagues at Bellingcat and the New York Times video investigation team have obtained satellite imagery of the military camp at Pogonovo training ground south of Voronezh. Bellingcat's Aric Toler posted a Planet imagery comparison that shows tents appearing in the fields in late March or early April. The NYT's Christian Triebert posted a higher-resolution image that shows hundreds of military vehicles
A new Russian Army camp was set up in the Voronezh region bordering Ukraine, @CITeam_en reports. High-resolution satellite imagery obtained by Visual Investigations indeed reveals hundreds of military vehicles at recently formed staging areas. 🛰️📸: @Maxar https://t.co/GW2p4dcxhy pic.twitter.com/GlW9u9Xb4Q

— Christiaan Triebert (@trbrtc) April 8, 2021
We will continue to monitor the situation closely, regardless of how it may develop. [email protected]