This post is also available in:

Русский
Table of contents
• Shipment of aircrafts and personnel
• Russian air force in Syrian skies
• Syrian air force
• The first Russian air strikes in Syria
• The Talbiseh air strike
• Who controls Talbiseh
• The Al-Latmenah air strike
• What bombs are used by the Russian air force?
• How long have Russian troops been operating in Syria?
• Afterword
After our previous investigation on the Russian troops in Syria, the situation on the ground has changed significantly. The Kremlin's official position on our troops in Syria changed just as rapidly. When we published our investigation, one of the marines of the 810th brigade featured in our report, Yuriy Artamonov, was urgently shipped back to Crimea. A TV piece was shot with him telling no one had sent him anywhere and his wife's account had been hacked to plant information on him being sent to Syria. The piece was aired on Russian national TV channel "Russia 24".

Shipment of aircrafts and personnel
Mere days later, the official stance changed into "yes, there are our soldiers at the Latakia airbase, but they are just guarding it and preparing it to receive humanitarian cargo." Since 2013, Russia indeed has been shipping humanitarian aid to Syria from time to time, as evidenced by state contract data. However, the humanitarian aid was shipped by Russia's Ministry of Emergencies aircraft, namely Il-76 Candids (which are often used to deliver humanitarian cargo), not An-124 Condors (generally used for shipments of heavy vehicles and equipment); the flights went out of Domodedovo and Ramenskoe airports in Moscow. The fact that humanitarian cargo was previously shipped by the Ministry of Emergencies is also evident from this news piece:
Since September 7, aviation enthusiasts who listen to pilots and air traffic controllers on the radio, as well as track plane routes, started noticing the flights of heavy An-124 Condor cargo planes from Russia to Syria. These planes belong to the 224th air squadron — an affiliate company of Russian Ministry of Defense, which means they are registered as Russian Air Force aircraft.
The following aircraft were spotted flying to Syria:
RA-82039 (once again, and again, again, yet again, once more, again), RA-82035 (previously it flew to Pskov to load; back to Syria, once more, once more, once more, once more, once more, once more), RA-82040 (once more, once more, once more, once more), RA-82041.
Unlike the Ministry of Emergencies humanitarian mission that ended in 2014, these An-124 aircraft flew to Syria from airbases in Krymsk (in 30 kilometers from the Novorossiysk seaport); An-124 photographed in Krymsk) and in Mozdok (North Caucasus).
At the same time Russian military transport Il-76 Candids started arriving to Mozdok. This type of aircraft is often used to transport paratroopers and their vehicles. Before flying to Mozdok, they landed in cities housing Russian paratrooper units, such as Ryazan.
Like many others, we voiced our suspicion, that these An-124s were actually transporting military equipment such as attack helicopters and fighter jets. On September 8, having the same suspicions, Bulgaria closed its airspace for Russia's military aircraft.
To convince everyone that these planes are indeed used to deliver humanitarian cargo, a news piece was shot and broadcast on Russian national TV. The dispatch showed the loading of 2 An-124s with humanitarian cargo (see also Russia's Channel 1 report). Two things stood out in the news piece. First of all, it's obvious that the humanitarian cargo has small dimensions:

Why would one need to use gigantic An-124s to transport it, not Il-76s commonly used for that?
Secondly, the photos posted by Russia's Ministry of Defense can be geolocated as shot at the military airbase in Chkalovskiy:

This is also supported by further tracking of these two An-124s from Chkalovskiy to Latakia: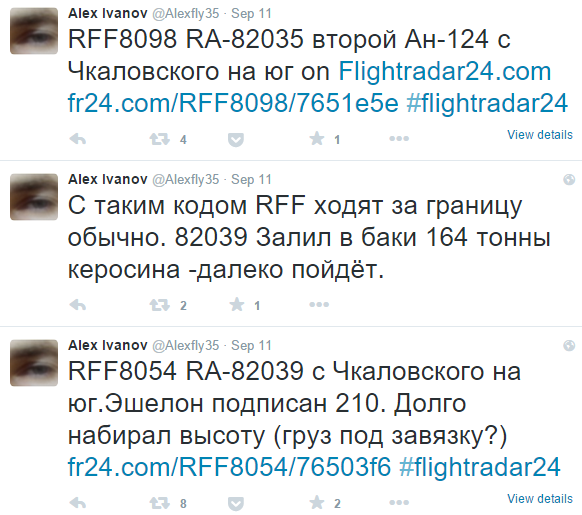 Russian aviation enthusiast Alex Ivanov monitoring An-124 Condor departures from Chkalovskiy
The question is: Why did only these two An-124s load and take off from Chkalovskiy airbase near Moscow, yet all the other An-124s (before and after the report) were loaded and set off from Krymsk and Mozdok airbases in Southern Russia?
We remind that, unlike Il-76s, An-124s can ship attack helicopters and fighter jets: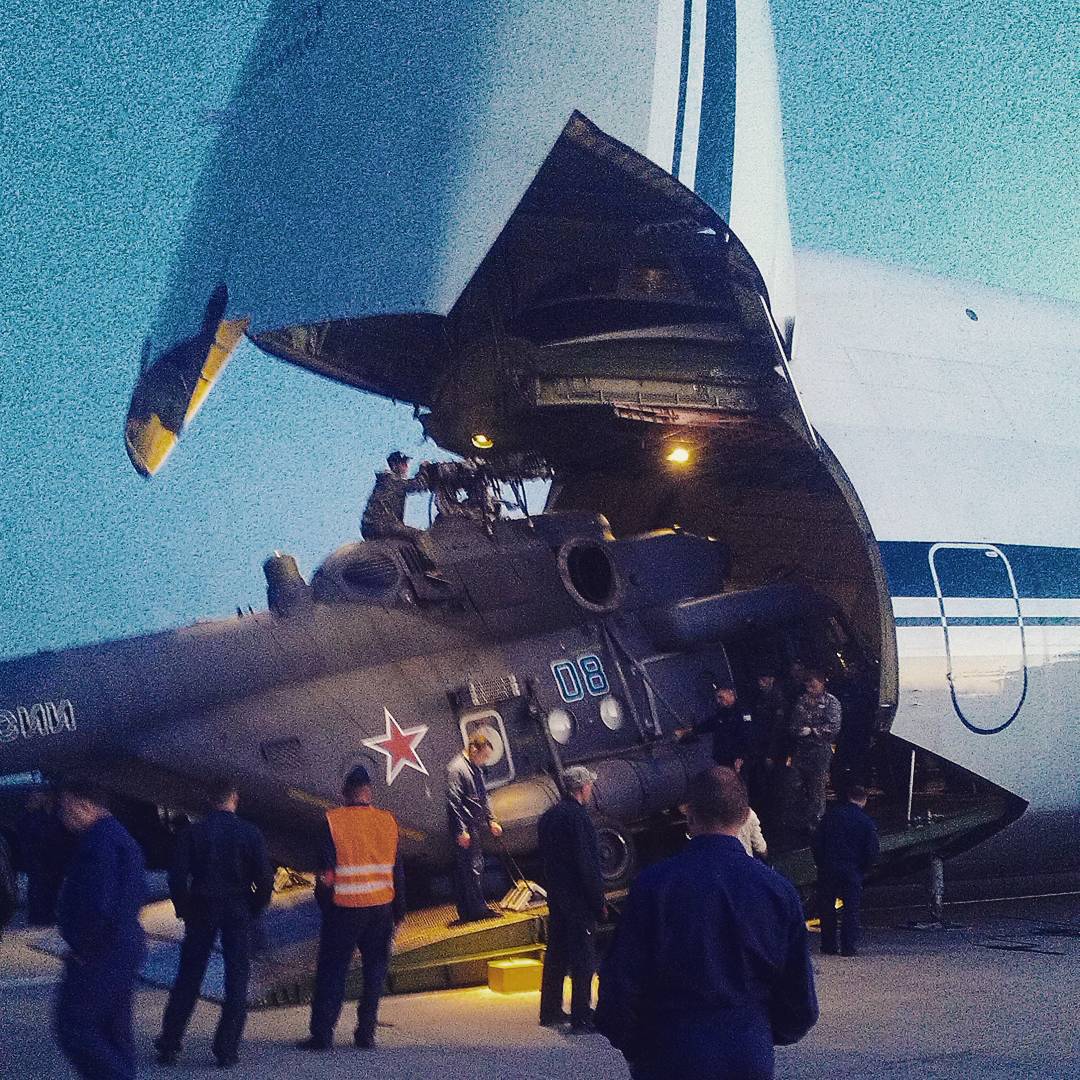 Example of an An-124 loaded at an airbase in Russia

Later, more proof emerged that the An-124s were carrying military equipment. Namely, on September 17 an An-124 numbered RA-82035 was spotted at the Novosibirsk airport loading attack helicopters: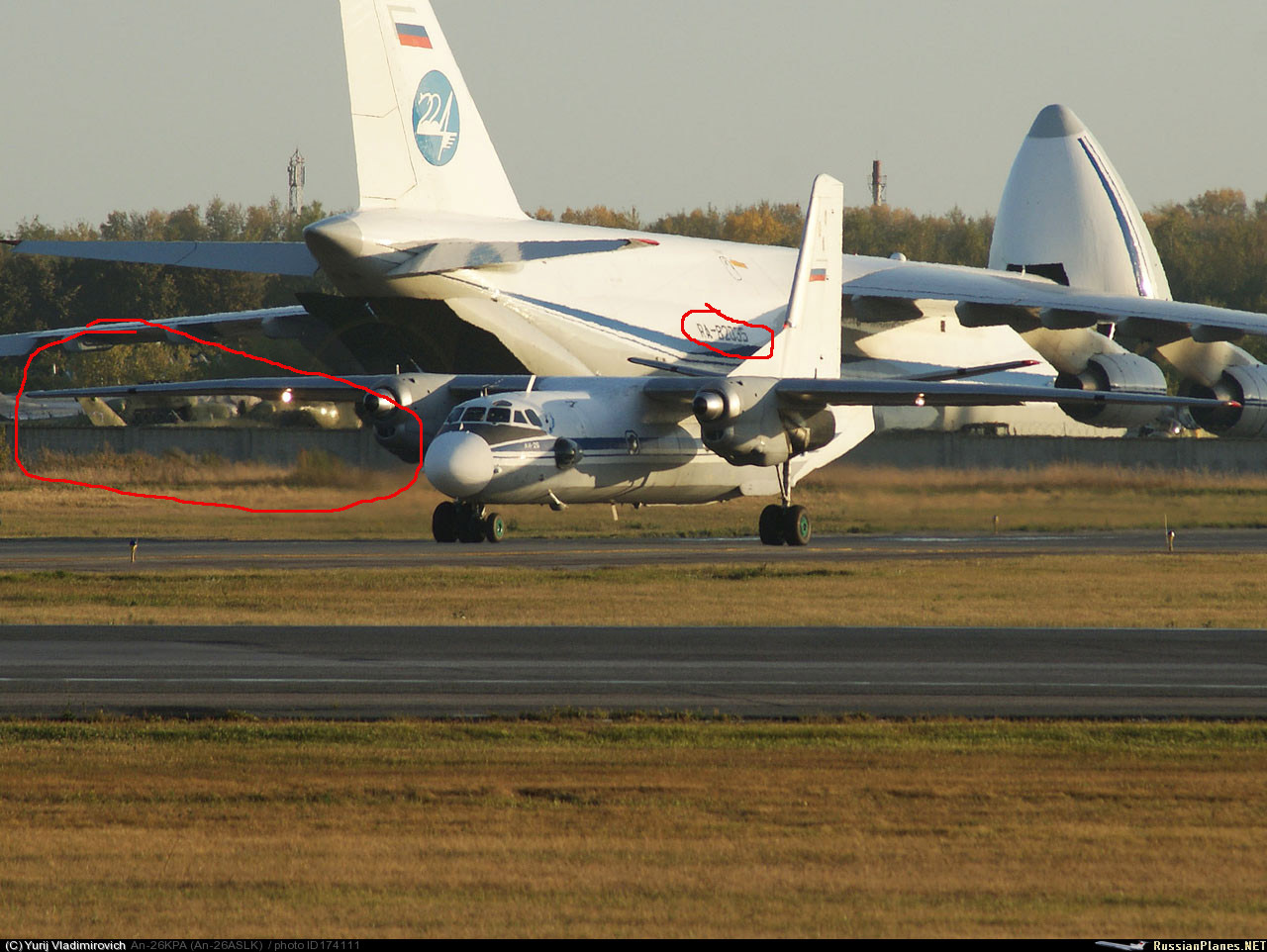 Photo by: Yuriy Vladimirovich
RA-82035 was spotted many times flying to Syria.
In mid-September, satellite images emerged showing that Russia's combat planes had indeed been shipped to Syria. In the images we can see four Su-30SM Flanker-C fighters (designed for air recon, destroying surface targets and guiding a fighter group) and 12 Su-25 Frogfoot close air support jets.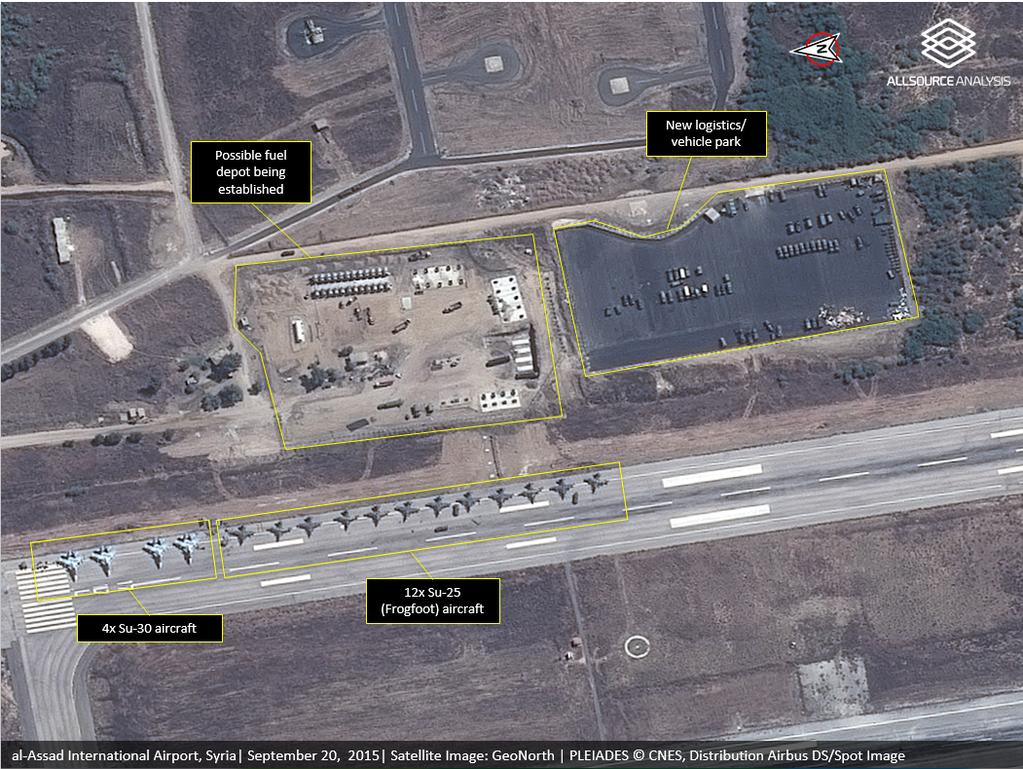 These Su-30SMs were photographed on September 14 in Novosibirsk airport (27 red, 28 red, 29 red), where later the An-124 RA-82035 was photographed loading combat helicopters to ship them to Latakia. The Su-30SMs marked 27, 28, and 29 red belong to the 120th mixed air regiment of the 303rd Guards mixed air division, 3rd Air Force and Air Defense command, Eastern military district, based at the Domna airbase in the Russian Far East (military unit No 63559).
Several days later, new satellite images of the Hmeimim airbase (the one close to Latakia) emerged, with added 12 Su-24 Fencer bombers:
Russian air force in Syrian skies
Su-24s were spotted arriving to the Hmeimim airbase close to Latakia by the Syrian opposition members on September 20:
On September 24, Su-24s flying in pairs were filmed over Idlib governorate (opposition-controlled):
On that very day, photos emerged from the Hmeimim airbase, showing an An-124 of the 224th air squadron and two Su-24s:
On September 26, Russian locals witnessed modern Su-34 Fullback frontline bombers departing from Mozdok:
On September 28, they were spotted at the Hmeimim airbase:
Starting in mid-September, aviation bloggers started noticing Russian Airforce Il-76 Candids and Tu-154 Careless making regular flights to Syria. At the same time, Syrian opposition accounts posted photos and videos of groups of Russian combat jets following a "leader": an Il-76 or a Tu-154. A similar group of combat jets, led by a Tu-154, were filmed flying over Hama on the day of the Su-34's arrival to the Hmeimim airbase, which drove Oryx (a known blogger on Middle Eastern conflicts) to the conclusion that six Su-34s in total arrived to Latakia.
Also on September 28, French TF1 channel aired footage of Russian equipment at the Hmeimim airbase. There we can see a Russian Airforce An-124 and Su-24 bombers covered with camo netting: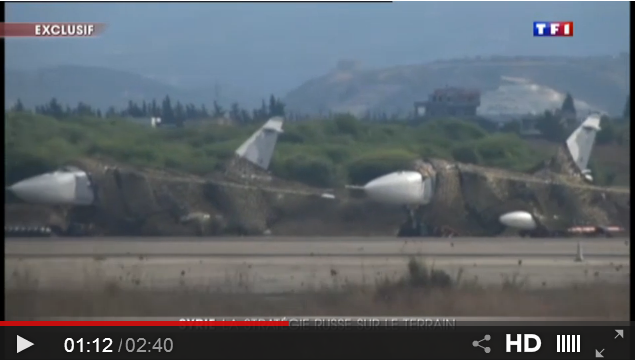 We also can see combat helicopters, one of which (a Mi-24 Hind) is numbered "22 yellow":
A Russian Mi-24 numbered "22 yellow" is registered as RF-91860 and based at the 562nd Army aviation airbase of the Central military district (military unit No12739, Tolmachevo airbase housing combat Mi-24s and Novosibirsk's Tolmachevo civilian airport are situated in the same area). This July, it took part in an annual air show at Mochishe, close to Novosibirsk.
While researching this helicopter, we came across an interesting news piece dated June 2014 about An-124s transporting Mi-24s from this airbase to Yekaterinburg for exercises:
We remind that on September 14, spotters captured Su-30SMs (later deployed to Hmeimim) at the Novosibirsk airport, while on September 17 an An-124 was photographed at the same Novosibirsk airport being loaded with combat helicopters.
On September 28, Su-25s were spotted flying over the Hmeimim airbase: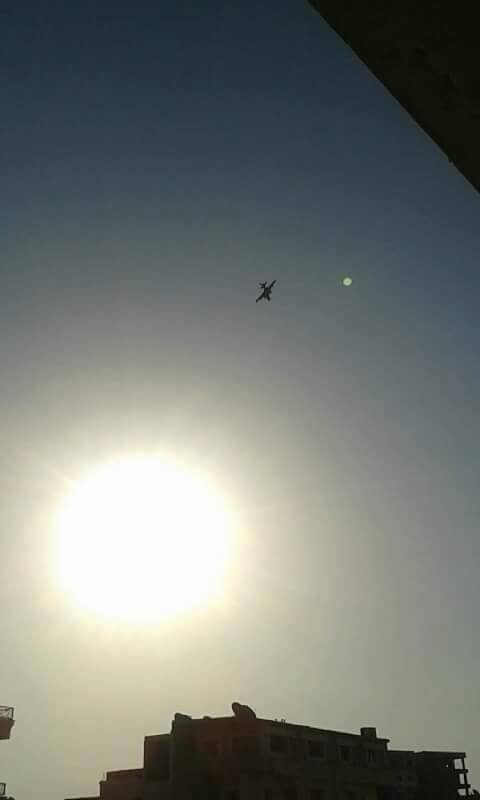 Source
On September 29, a day before the first Russian air strikes, what is likely an Il-20 / Il-22 recon plane was filmed over Homs (don't mix it up with Hama, these are two different cities):
On the day of the first Russian air strikes in Syria, a pair of Su-24s was filmed flying over Al-Lataminah, Hama Governorate (which, according to opposition sources, is unlikely for Syrian air force pilots, who fly solo):
Syrian Air Force
The following comprises Russia's combat aircraft list in Syria: 4 Su-30SM Flanker-C, 4-6 Su-34 Fullback bombers (at least two returned to Russia on October 1, copy of the video), 12 Su-25 Frogfoot close air support jets, 12 Su-24 Fencer bombers, 4-6 Mi-24 Hind helicopters. Which of the above aircraft spotted in Syria aren't used by the (government) Syrian Arab Air Force? From this list, the SyAAF fields only Su-24 Fencers and Mi-24 Hinds (the export variant Mi-25 Hind D).
SyAAF Su-24s:
Russian Air Force Su-24s, now in Syria: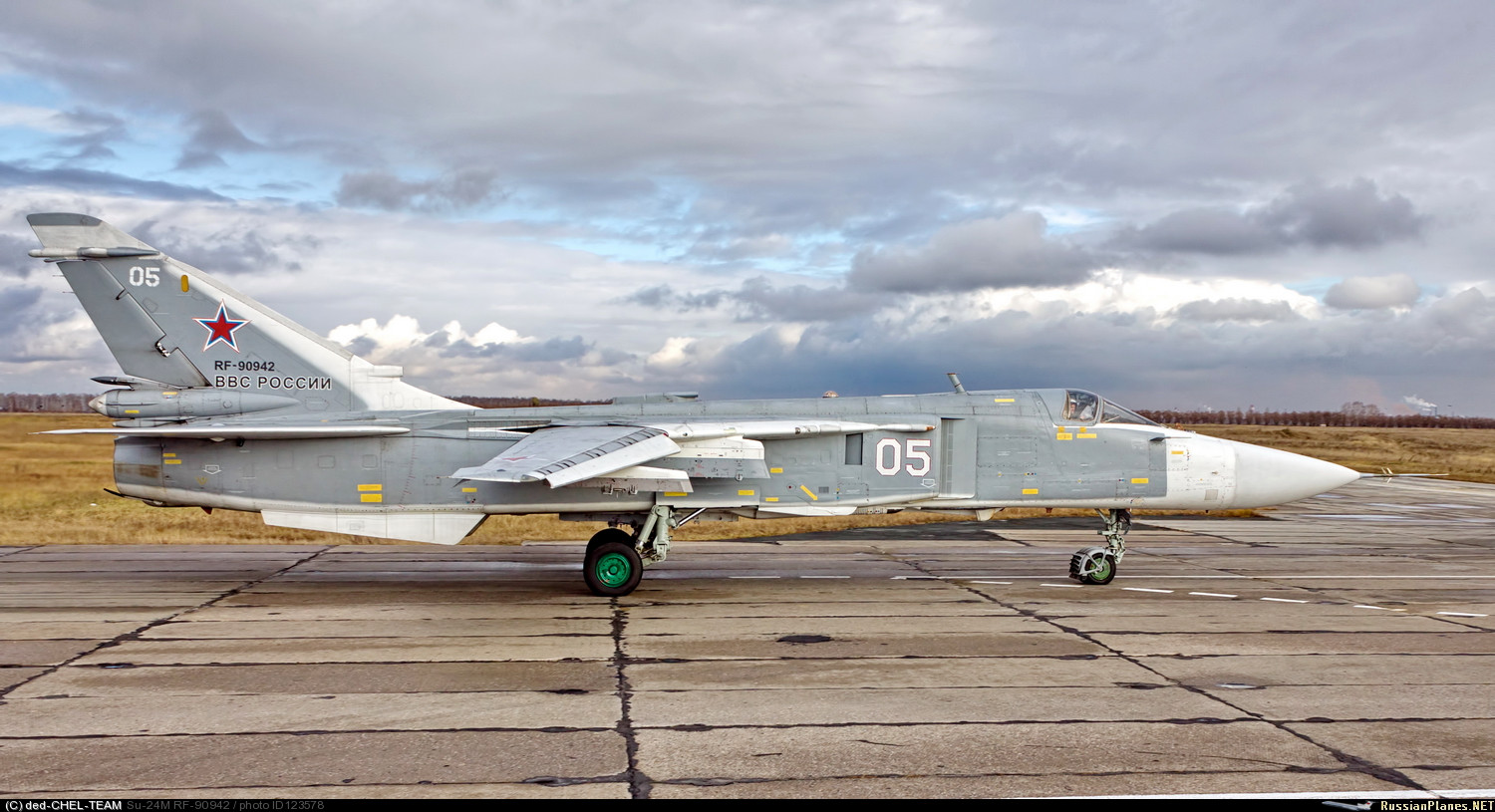 Photo by: "АндрюхиН Челябинск", posted on russianplanes.net
SyAAF Mi-25s:
Russian Air Force Mi-24, now in Syria: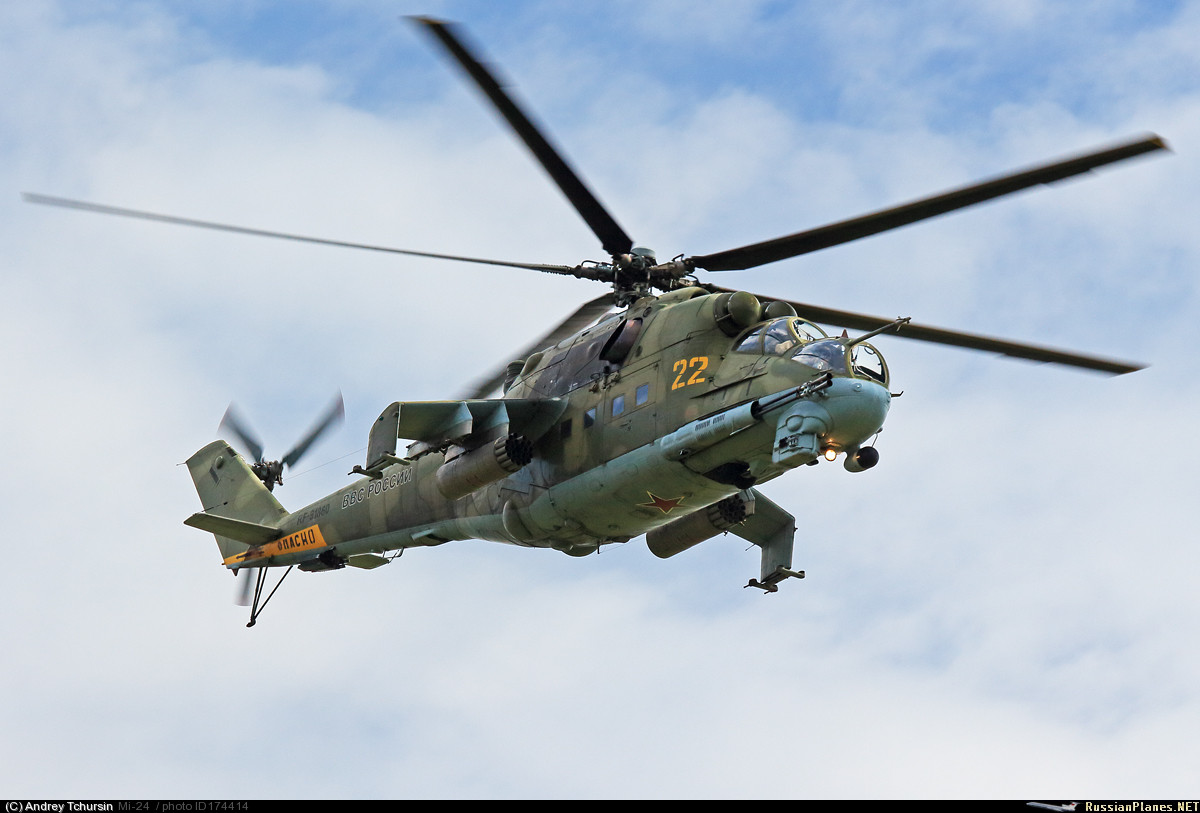 Photo by: Andrei Chursin
All the other aircraft (Su-25, Su-30SM, Su-34) has never been operated by the Syrian government. Moreover, new jets can't just be transferred to the SyAAF — someone needs to fly them, and pilot retraining is a lengthy process.

The first Russian air strike in Syria
As of September 30, the situation map looked like this: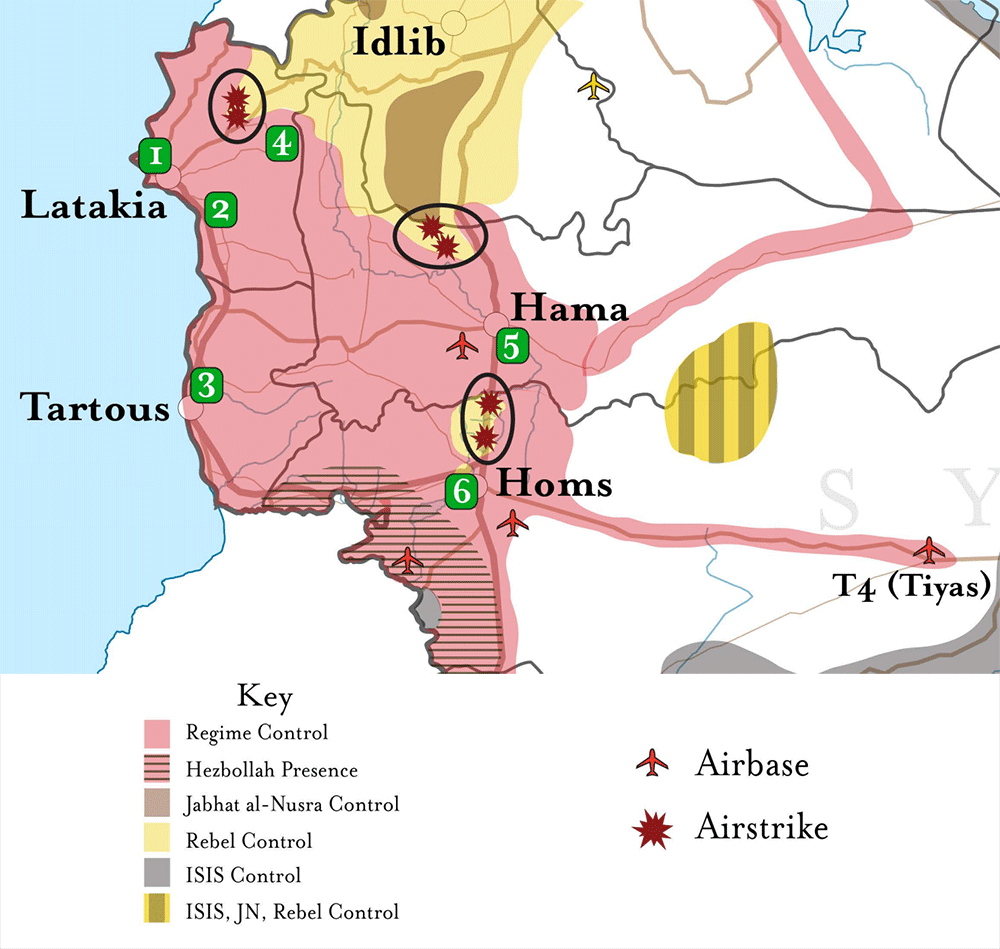 You can see that while the city of Homs itself is government-controlled, there are opposition-controlled territories directly to the north of it. A lot further to the east of Homs lie ISIS-controlled territories. You can also see that the most part of Idlib province and parts of northern Hama province are opposition controlled, with some territories held by an-Nusra (Al Qaeda).
On 10:50 AM Moscow time (7:50 AM GMT), Russia's Federation Council unanimously approved the use of Russian troops outside Russia.
On September 30, the Russian Air Force bombed Al Rastan (Homs governorate), Talbiseh (Homs governorate), Alzaafaranah (Homs governorate), al-Tolol al-Humr (Homs governorate), Aydon (Homs governorate), Deir Foul (Homs governorate), Al-Lataminah (Hama governorate) and an area surrounding Salamiyah (Hama governorate).
During the air strikes, two Russian Su-25s were spotted over Hama:
During the Homs air strikes, the following pilot radio communications were recorded:

— 5-5-4, please tell me the air pressure
— it was 755,6 in the area
— thank you

The Talbiseh air strike
Talbisah's YouTube channel published a video showing the results of an air strike on a residential area:
To prove this really is Talbiseh, we can compare it with another Talbiseh video, showing a SyAAF Mi-25 dropping barrel bombs on Talbiseh (the description says it is an air strike against rebels, not ISIS):


Left: RuAF air strike, 30.09.2015, right: SyAAF air strike, 03.05.2015
The RuAF airstrike on Talbiseh was also reported by a Syrian pro-government news agency. After the YouTube videos from Talbiseh were published, many pro-Kremlin bloggers alleged the channel was created the day before, but actually it was created in 2011: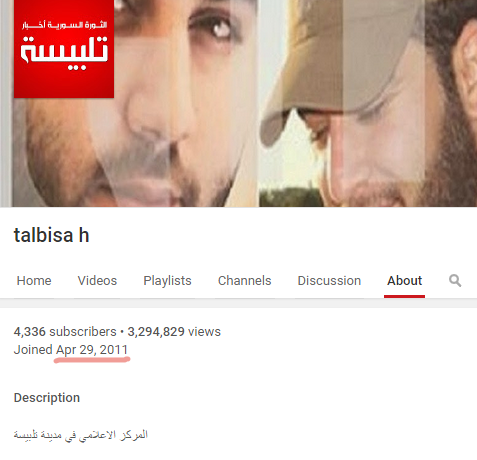 Many of them also wrote wrote that the videos published were allegedly shot in 2011: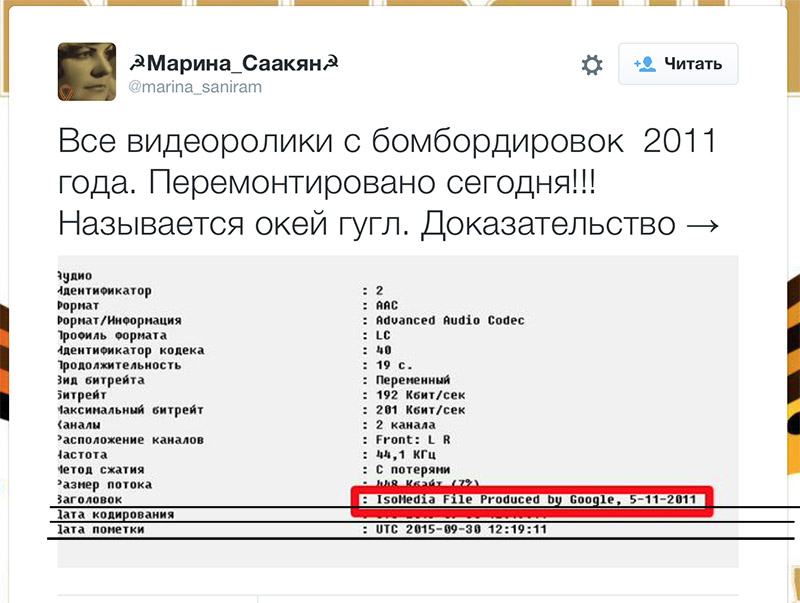 But actually, the footage date is shown in the metadata as "Дата кодирования" (Encoding date) and "Дата пометки" (Marking date), while the line "IsoMedia File produced by Google, 5-11-2011" just shows the IsoMedia File format, used for all YouTube videos. If you download any YouTube video and view its metadata, you will see the same line. Bloggers have recorded a debunking video, showing that any video downloaded from YouTube will contain the same metadata line.
The Talbiseh airstrike is also confirmed by a news piece by "Russia 24" TV channel, where it is explicitly stated that Russian planes bombed Talbiseh: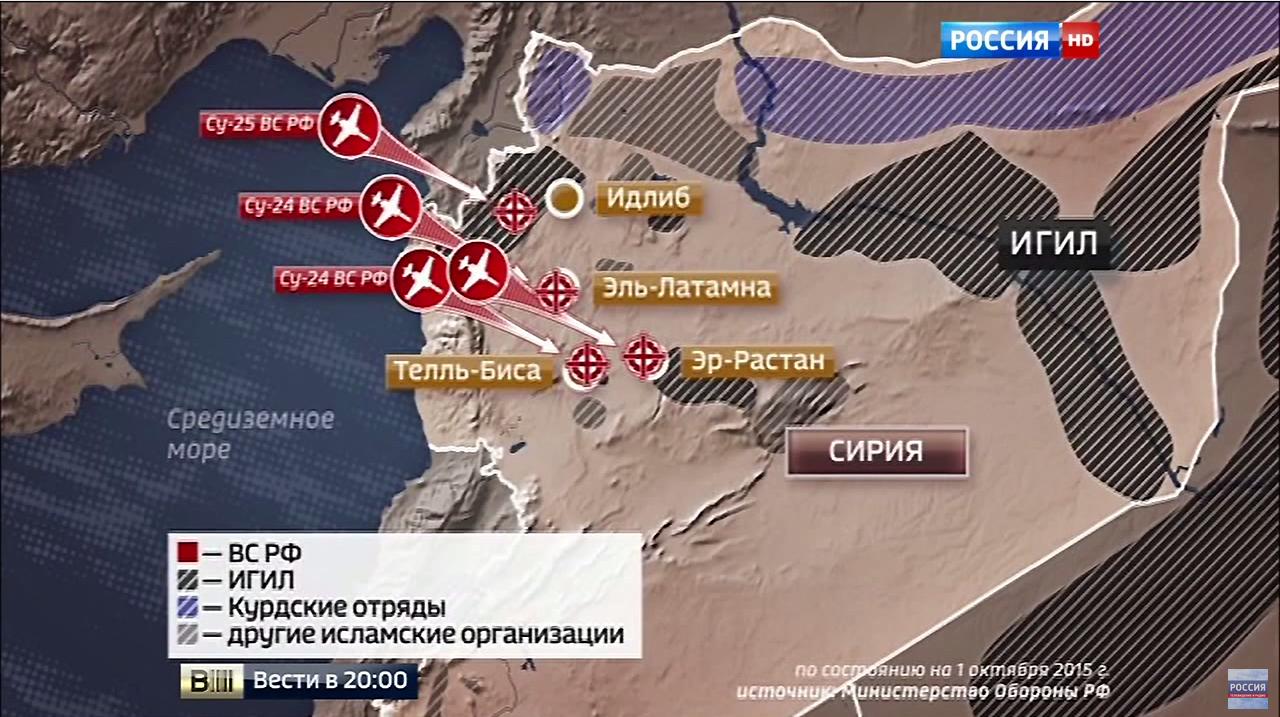 Talbiseh spelled in Russian in this infographic as "Телль-Биса"
Could this air strike at Talbiseh residential areas be performed by SyAAF Su-24s? Theoretically, it could, but there are two issues. The Russian MoD has confirmed that the Russian Air Force has bombed Talbiseh. Therefore, if central Talbiseh was bombed by a Syrian Su-24, there should have been another strike by a Russian Su-24 near Talbiseh, but not in a residential area. However, we didn't manage to find reports of such an air strike, which is very odd if there were two air strikes, since Syrian activists closely document all air strikes. As an example of such documenting, yesterday;s air strike at Kafr Nabl (Idlib governorate) hit an unpopulated, deserted area, yet it still was filmed by Syrian activists:
The air strike in the vicinity of Karf Nabl was geolocated.
"We haven't bombed residential areas, there were no civilian casualties"
During press briefings (see Channel 1 dispatch starting at 03:09), Russian MoD spokesmen say that "decisions on Russian air strikes in Syria are taken only based on confirmed intelligence data and strictly outside settlements in order to exclude civilian casualties" (source). Russia's Minister of Foreign Affairs Sergey Lavrov also explicitly said the air strikes only targeted ISIS positions (source).
Based on the following video showing the aftermath of the Russian air strike on Talbiseh, we will show that it hit a central area of the town and there definitely were civilian casualties:
The video starts at the north entrance to Talbiseh, the cameraman driving along a Hama-Homs highway:


The arrow shows the camera direction. Google maps link
In the distance we can see a water tower which we'll be using often in further geolocation:
Then the operator turns into the city:
Soon he turns again, and through the dust risen by the explosion we can see the minaret of the Ali ibn Abi Talib mosque:
Approaching the air strike impact site:
This neighborhood is better seen in a more recent Google Earth image:
He stops near the impact site, looks back:
Google Earth: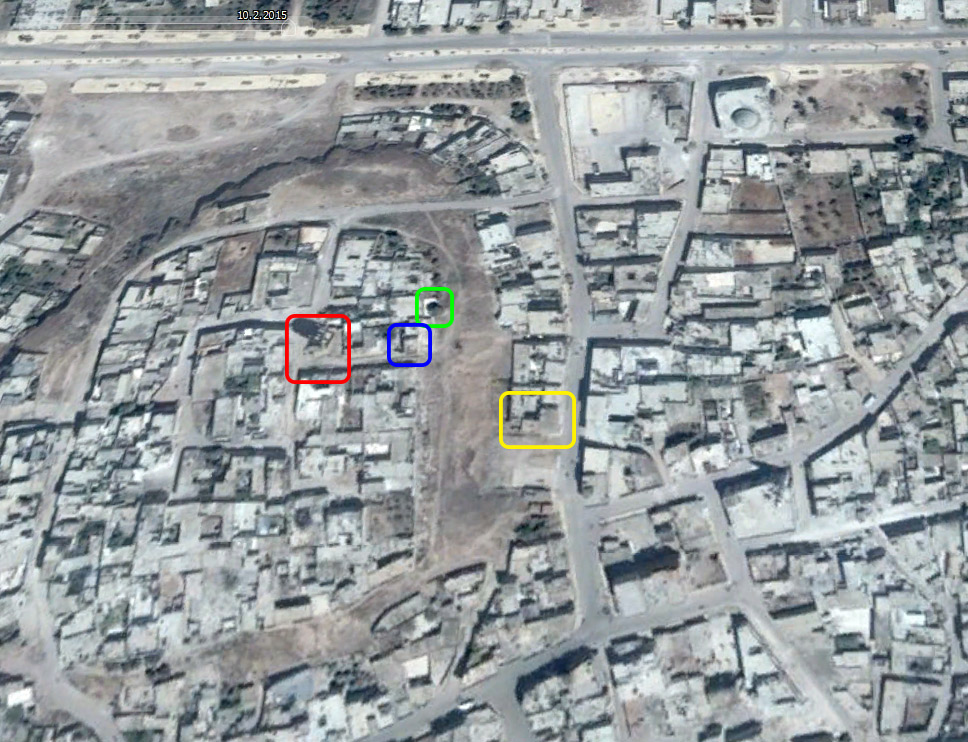 Then he turns once again and approaches the impact site itself. The footage cuts in several places, so in order to prove that it is still the same place, let us look at the same vehicles seen at different fragments: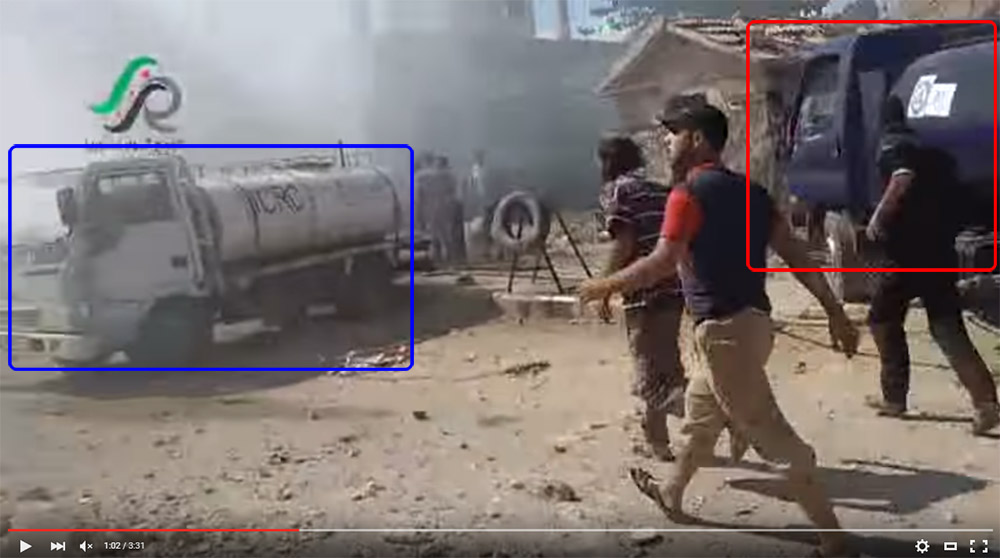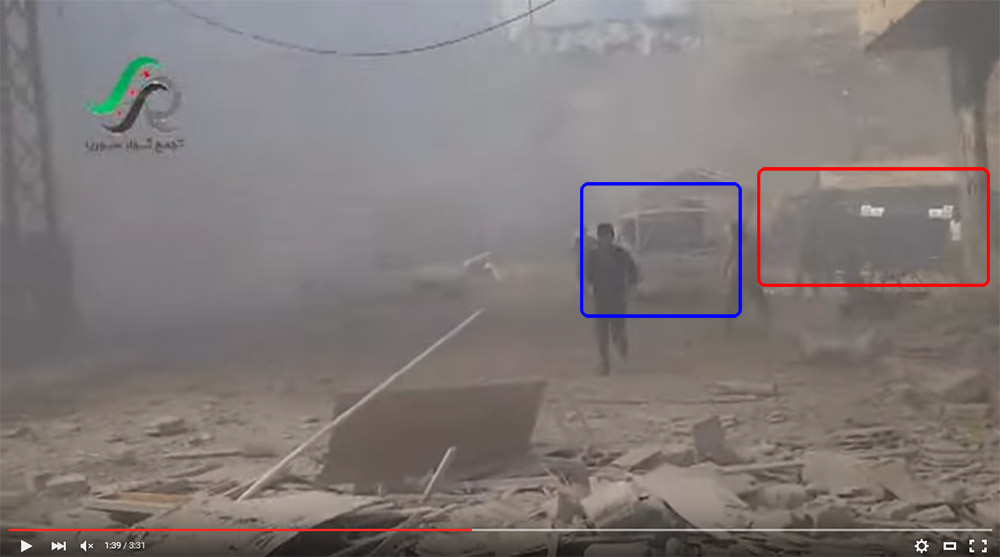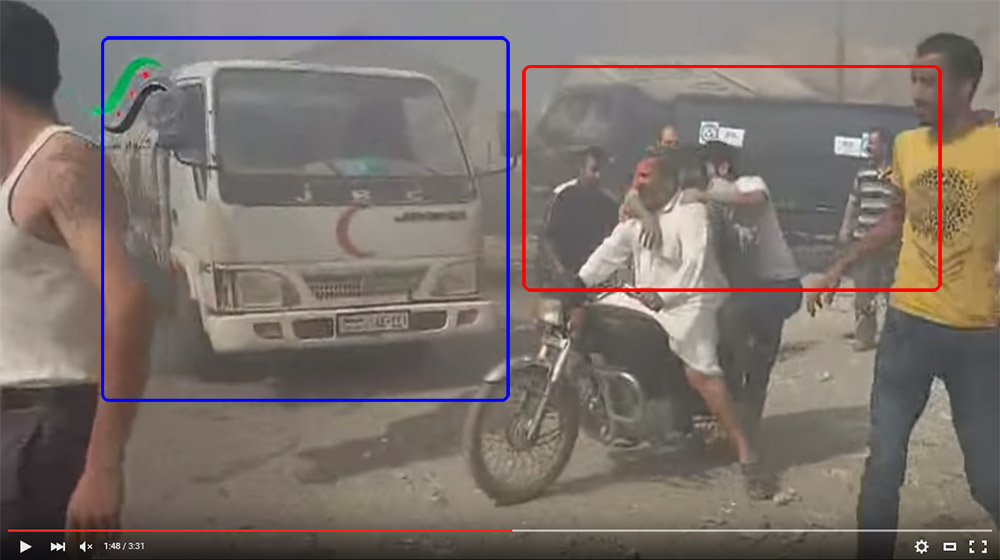 Other videos with the Talbiseh air strike victims can be seen on a local YouTube channel. A local also told Meduza reporters about civilian casualties of the air strike.
Curiously, some Russian media, such as RIA Novosti, have been illustrating news on civilian casualties denial with a screengrab from a video of the same Talbiseh air strike:
To geolocate the footage site, we've used another video, shot from the same sport a bit later (unlike the previous video, this one shows a minaret to the north, which is required for geolocation):
We will use it as additional proof that the RuAF air strike hit a residential area close to central Talbiseh. To do this, we will pinpoint the video location and the impact site (by the smoke visible in the video), as well as compare it with the geolocation provided above. Let's consider a screengrab from the video: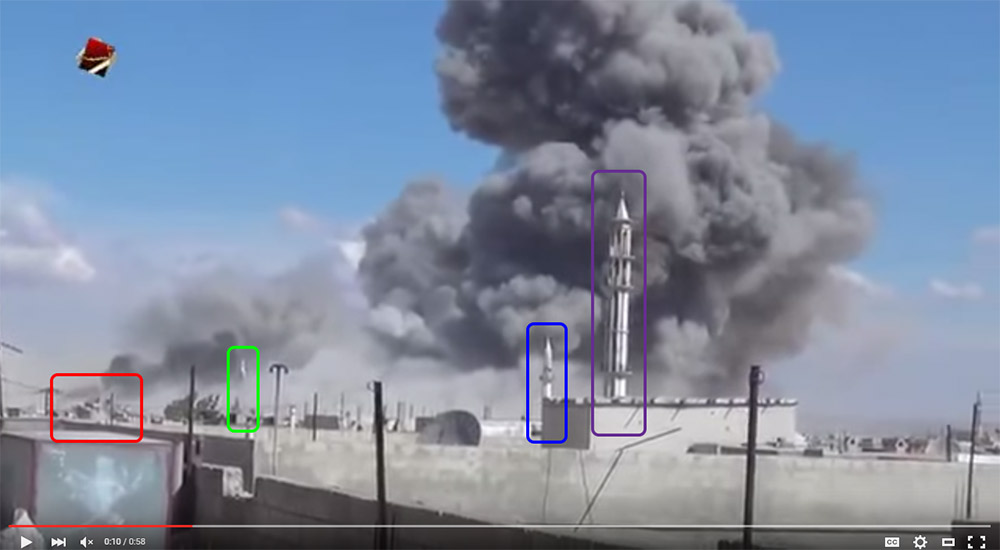 On the map, the impact site is marked in red. We examined the city map and found 3 minarets, corresponding to those seen in the screengrab, and marked them as "northern", "central" and "southern". The "northern minaret" is marked in green (Google Maps link). The "central minaret" is marked in blue (Google Maps link). The "southern minaret" is marked in purple (Google Maps link).
At the very first second of the video, we can also see the water tower we've mentioned earlier: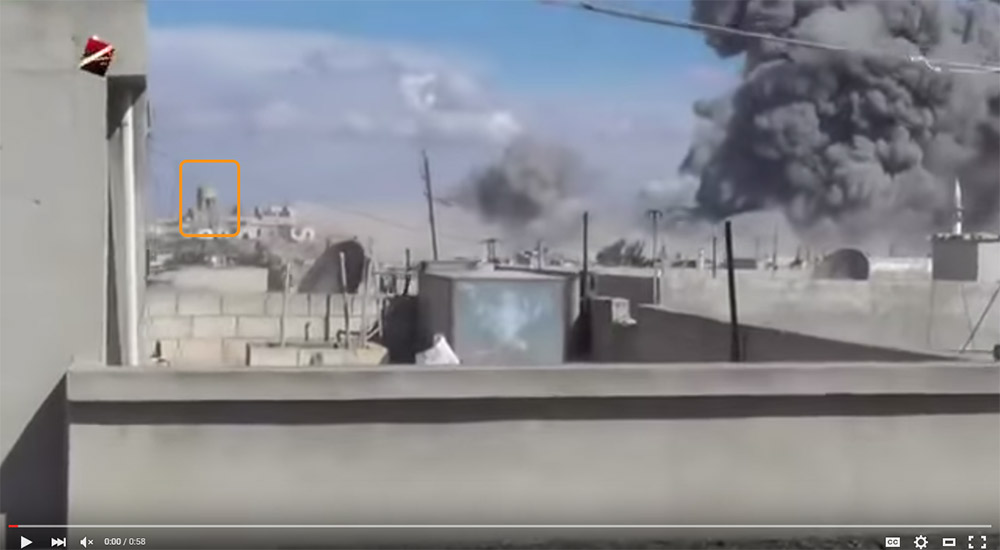 Having marked everything on the map, we can pinpoint the approximate operator location, as well as confirm the RuAF air strike impact site (marked in red):
The water tower and the minarets get in and out of the frame because the operator is moving the camera and using zoom.
The northern minaret (marked in green) near the impact site (marked in red), which was also seen in the previous video, looks like this at a larger photo: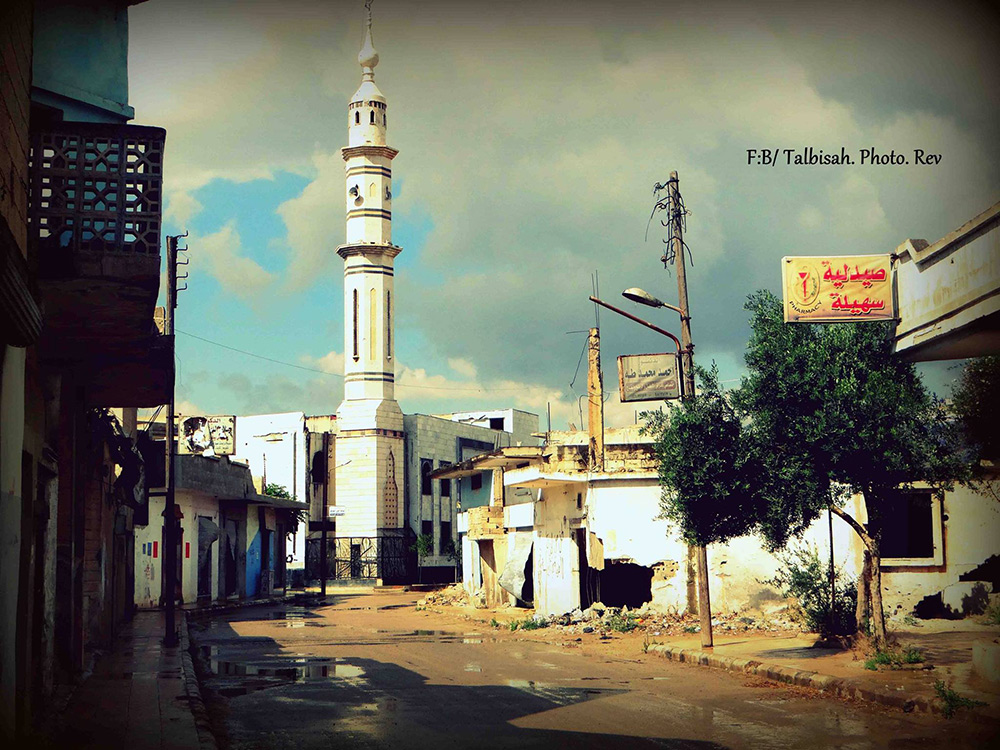 Clicking shows larger photo
Photo source: Talbiseh Facebook group
The southern minaret (marked in purple) looks like this at a larger photo: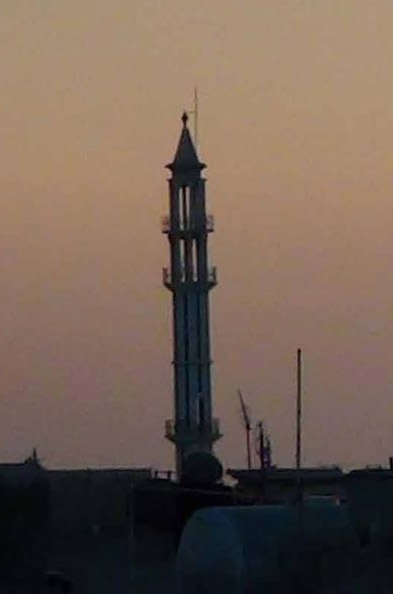 Photo source: Talbiseh Facebook group
The central minaret (marked in blue) looks like this at a larger photo: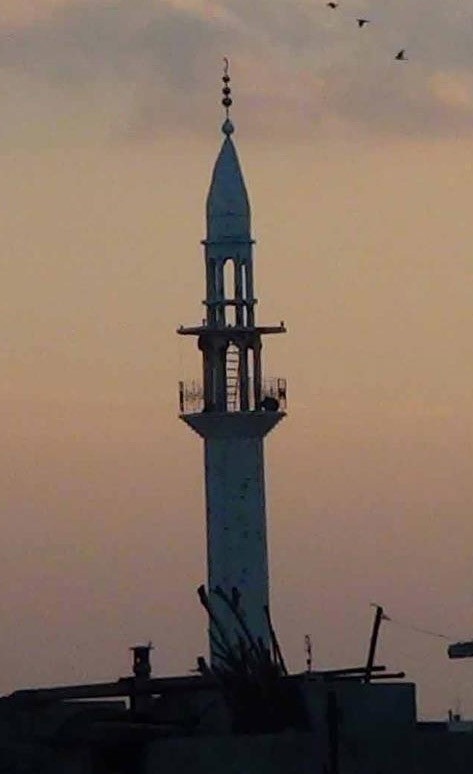 Photo source: Talbiseh Facebook group
We believe we've exactly pinpointed the impact site in Talbiseh. If the Russian MoD representatives believe we are wrong, they can publish an airstrike video, just like they did with the El-Lataminah airstrike video.

Who controls Talbiseh?
Talbiseh is controlled by a local group "Jaish al-Tawhid", which is a moderate rebel group and is part of the FSA (Free Syrian Army). An article claiming the group controls the city can be found on a German-language pro-rebel website adoptrevolution.org. The group consists of local fighters. Neither ISIS not the al-Nusra front are present near Talbiseh. The group has a YouTube channel.
To prove that Jaish-al-Tawhid is really based in Talbiseh, we'll examine a photo of their vehicles: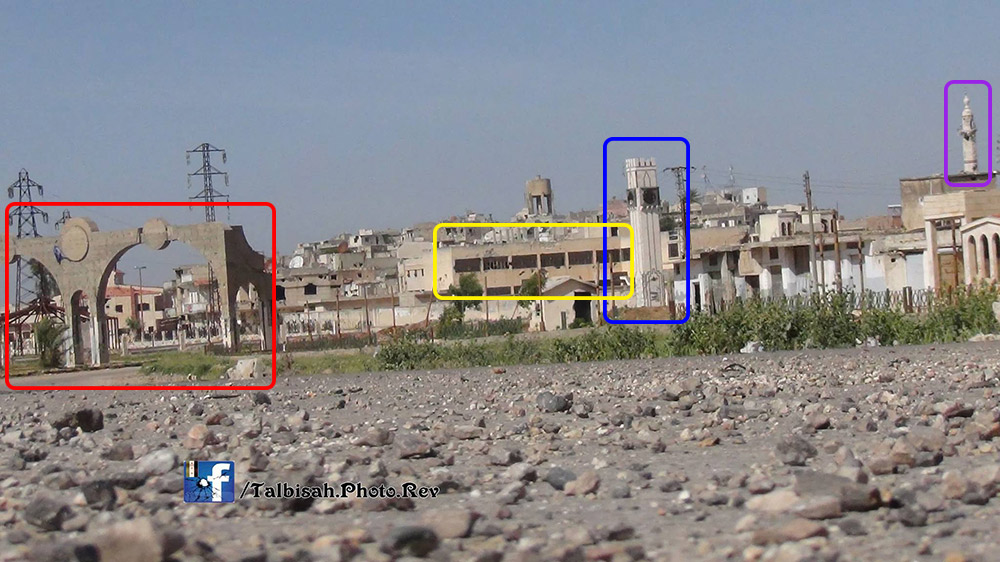 In the photo you can also see the water tower we've mentioned earlier
Photo source — Talbiseh Facebook group
Let's match the marked objects with satellite imagery:
The fact that this photo indeed shows this group's vehicles is proven by the same vehicles appearing on videos from their channel: blue vehicle, white vehicle. Another car displays the same logo as the YouTube channel:
Russia consider the Free Syrian Army an opposition force to be included into the political solution of the Syrian crisis. Russia's MFA head Sergey Lavrov has stated the FSA aren't terrorists. The Free Syrian Army, according to Lavrov, "should be part of the political process". Source.
Jaish al-Tawhid is also a member of the National Coalition for Syrian Revolutionary and Opposition Forces, taking part in the UN negotiations to achieve peace in Syria.

The Al-Lataminah airstrike
Before the Al-Lataminah airstrikes, a pair of Russian Su-24s was spotted over Hama (the fact that they are Russian is proven by later Russian Ministry of Defense confirmation as well as the absence of SyAAF markings):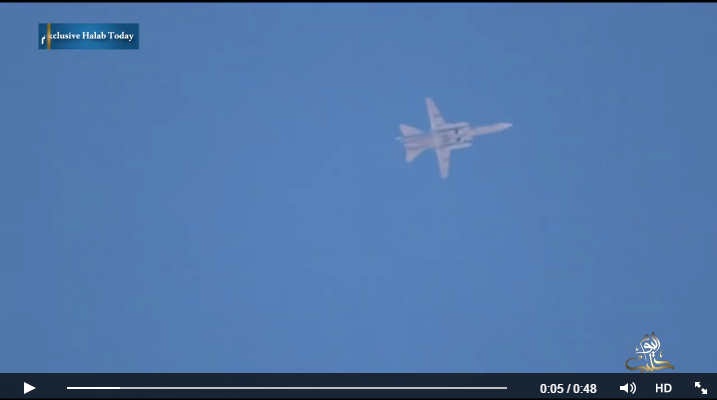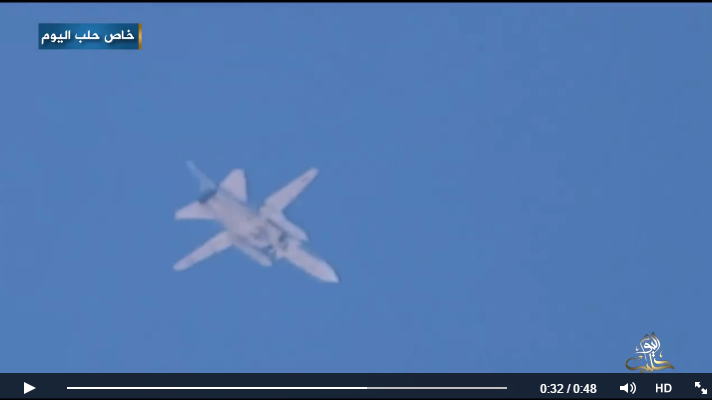 SyAAF markings, absent on the Su-24s filmed over Hama: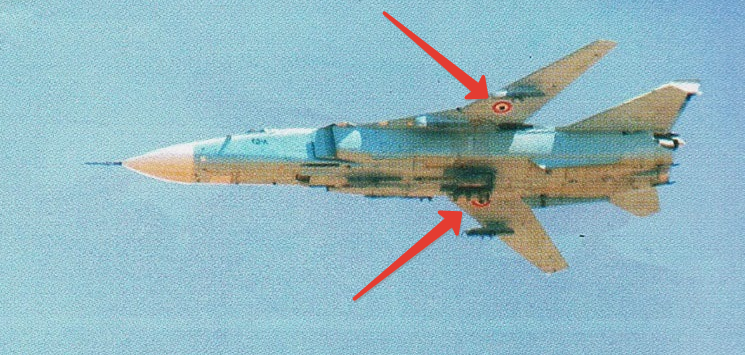 In the evening of the same day, Russia's MoD published the footage of bombing "ISIS positions" (according to the MoD itself). We have geolocated the first part of the published video at the outskirts of Al-Lataminah (map link):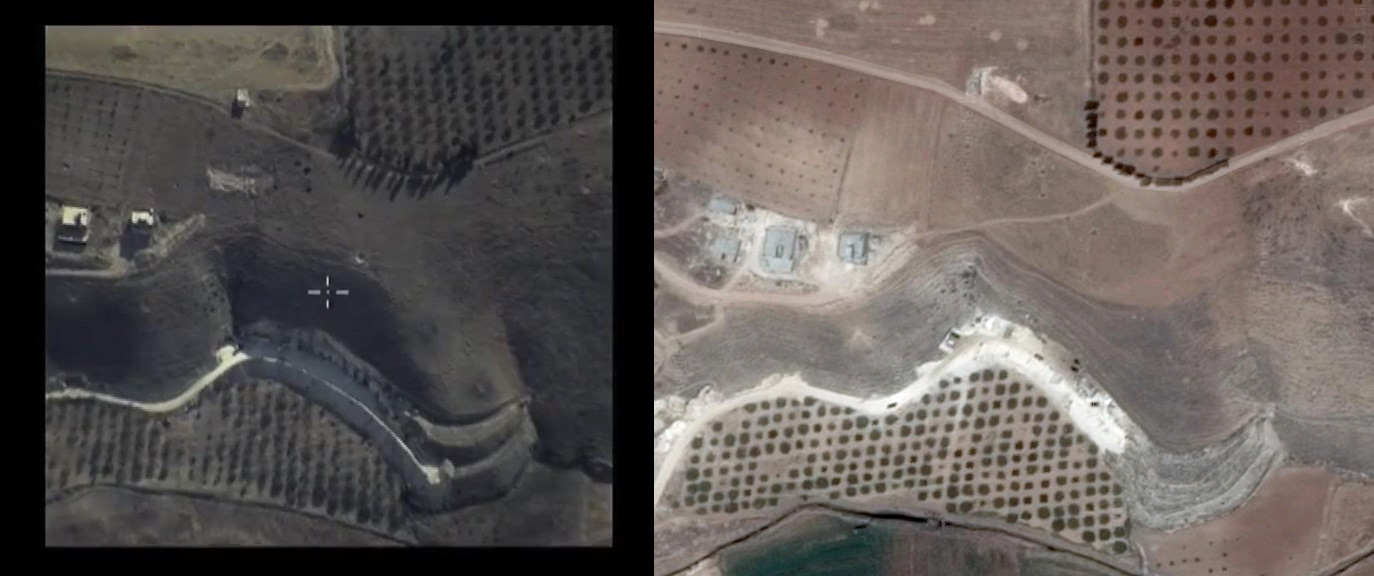 Joseph Dempsey, an analyst of the International Institute for Strategic Studies, matched the Russian MoD footage with a video shot by a rebel group Tajammu al-Aaza and concluded that the air strike hit their HQ at the outskirts of Al-Lataminah:
Different perspectives of #Russia airstrike at Al-Lataminah #Syria https://t.co/on1e6Q3G0d & https://t.co/KJxKLOFnNW pic.twitter.com/jJJlm2AbFL

— Joseph Dempsey (@JosephHDempsey) October 1, 2015
During the night of September 30-October 1, RuAF hit the same spot again. The air strike hitting the HQ is also stated by the group's leader Jamil al-Saleh, quoted by Foreign Policy. The Foreign Policy article also says the group is US-backed and receives US weapons, such as TOW anti-tank missiles. It should be noted that the US take careful considerations to supply only moderate (non-islamist) groups (a full list, which includes Tajamu Al-Aaza, is given here). A video from the group's channel shows it successfully using a TOW against a government tank:
Tajammu al-Aaza is a moderate (secular) opposition group and is not affiliated with al-Nusra front (Al-Qaeda) or ISIS. According to the group's leader, they became a target of the RuAF air strike because they are directly on the frontline of the clashes with government troops, while Russia doesn't care that the group is US-backed.

What bombs are used by the Russian air force?
During many news briefing following the first Russian air strikes, Russia's MoD representatives have repeatedly stated that the air strikes are extremely precise. To achieve this, according to the MoD, the planes are furnished with the most modern equipment. The air strikes are allegedly directed only at vetted targets after thorough checking of all intelligence data (a dispatch featuring these claims).
However, in the same report an MoD spokesman has said that FAB-500 bombs were used. FAB-500 is a high-explosive bomb, the index 500 indicates the bomb's mass (500 kg). In the aforementioned French TF1 channel dispatch we can also see what looks like a row of bombs lying next to a Su-24: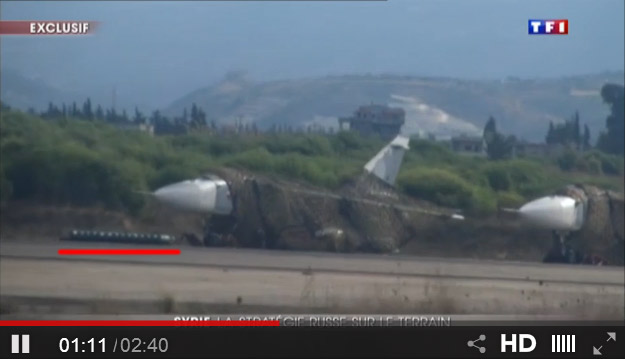 Later, in a Russia 24 dispatch, we can see an OFAB-250-270 bomb attached to a Su-25 jet at the Hmeimim airbase: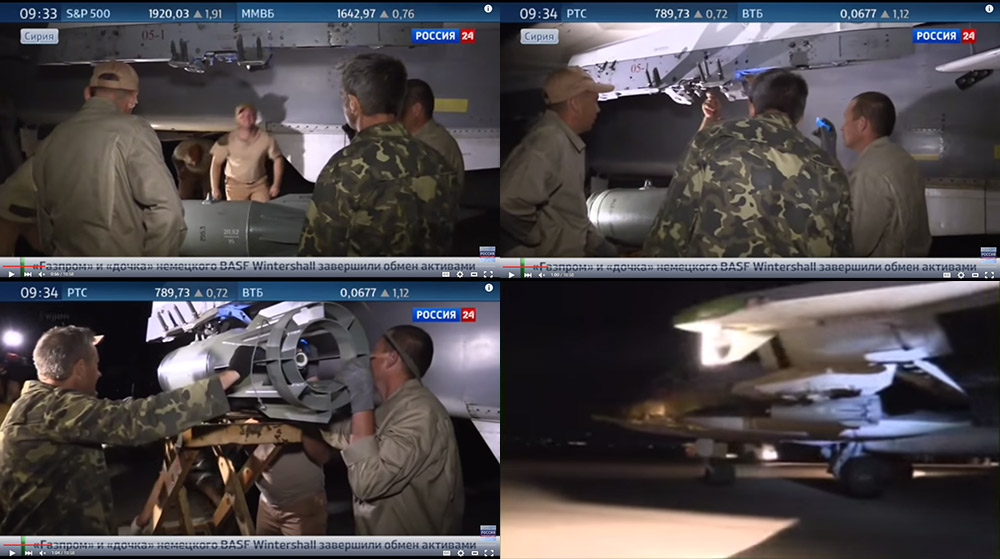 A similar OFAB-250-270 bomb can be seen in a Vesti news report:
We can see this is a high-explosive fragmenting OFAB-250 bomb, not just a high-explosive FAB-250 bomb, by its flat nose: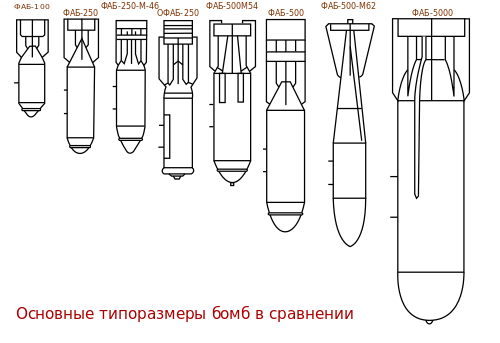 Types and sizes of bombs. Second from left: FAB-250; fourth from left: OFAB-250
Other researchers have also determined the type of the bombs being used:
News footage of #Russia Su-24 in #Syria loading OFAB-250 bombs for air strikes last night https://t.co/pm8leGGwAL pic.twitter.com/TazLxu7HNe

— Joseph Dempsey (@JosephHDempsey) October 1, 2015
The OFAB-250-270 bombs (seen in many dispatches) and FAB-500 bombs (mentioned by the MoD spokesman but not yet seen in photos or videos from Hmeimim) are unguided, i.e. can't be referred to as "precision weapons". This is probably why RuAF had to do three bombing runs against the Tajamu al-Aaza base in Al-Lataminah: First on September 30, then on the night from September 30 to October 1, and finally on October 3:


Left to right: September 30 air strike, October 1 air strike, October 3 air strike
This contradicts the earlier MoD claims that all the strikes are precision. Using unguided bombs on residential areas is very likely to cause civilian casualties (which happened in Talbiseh).
Russia Today footage from Hmeimin shows one KAB-500-SE satellite-guided bomb carried by a Su-34 bomber: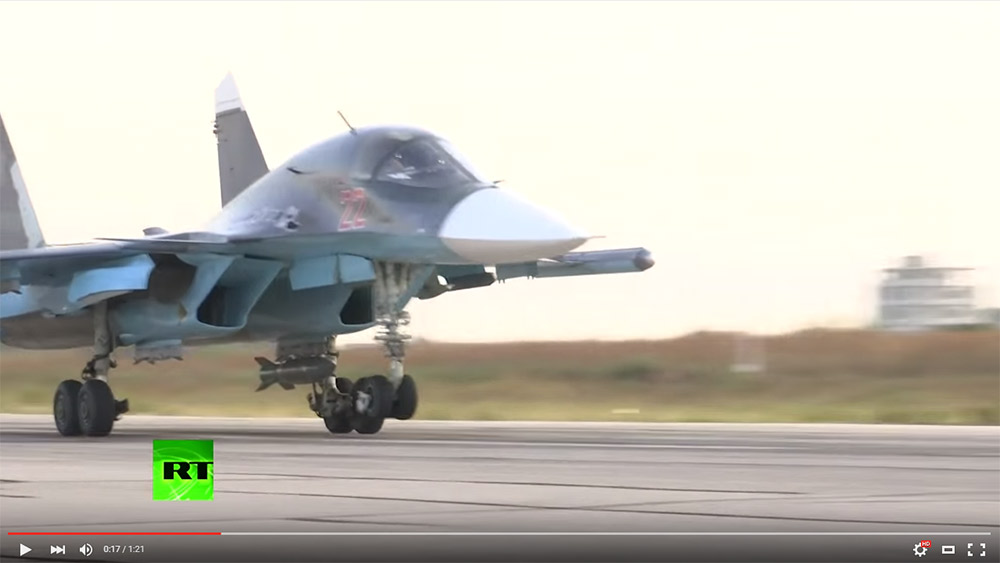 However, looks like these bombs have been used much less, since we see other Russian planes (Su-24 and Su-25) carrying OFAB-250 unguided bombs, including that same dispatch: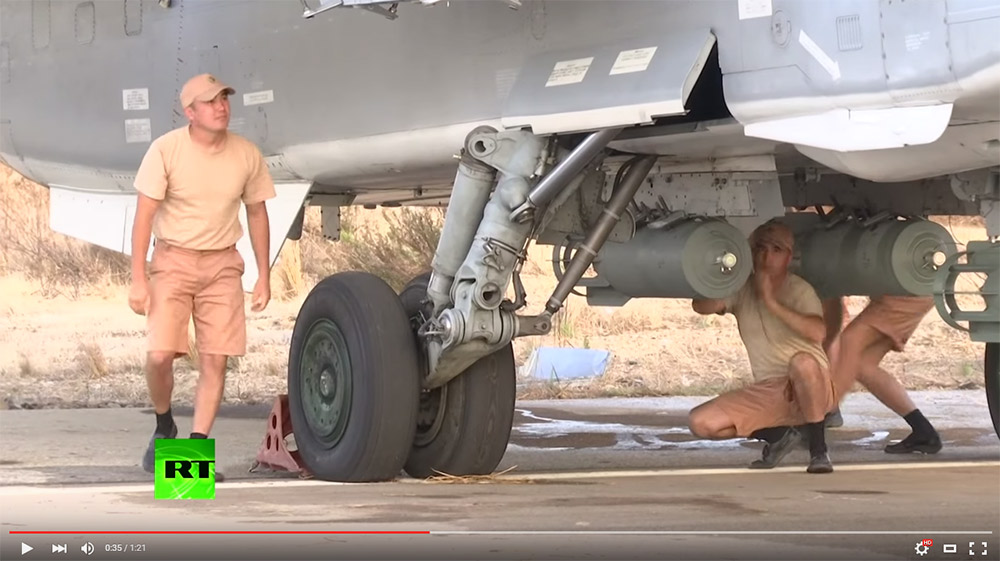 How long have Russian troops been operating in Syria?
The Russia Today dispatch we've mentioned earlier shows significant footage of a Russian Su-24 fencer (numbered "26 white") with painted-over RuAF insignia (a red star) and registration number: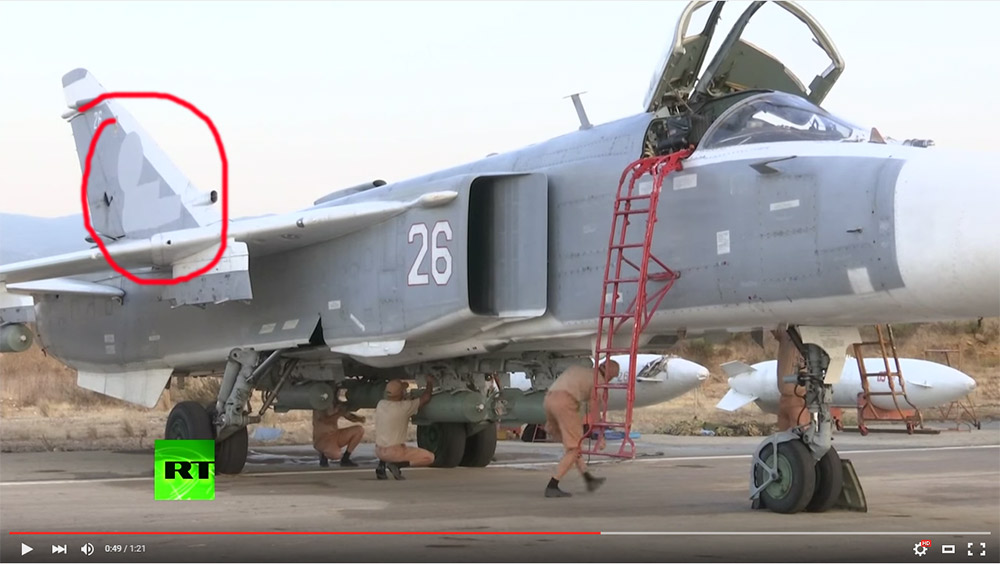 A Zvezda TV channel report shows another Su-24 ("16 white") with painted over RuAF insignia:
The same can be seen in a Rossiya 24 dispatch – a Su-24 ("05 white") with painted over RuAF insignia:
These bombers have been photographed earlier in Russia before their insignia were painded over. RF-90932 "26 white":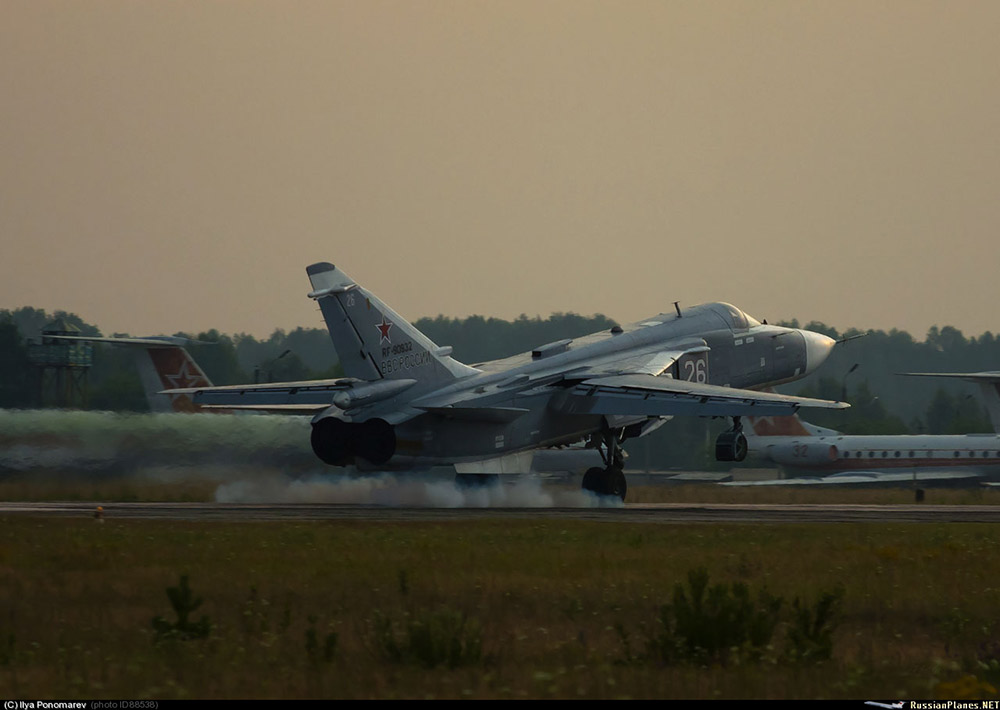 Photo by: Ilya Ponomarev
RF-34007, "16 white":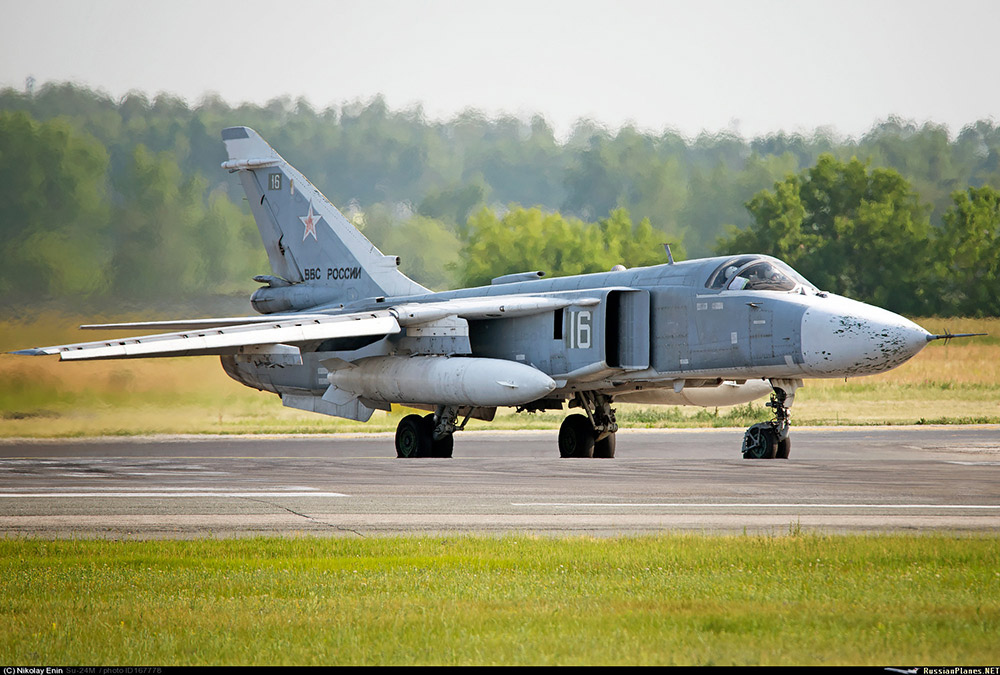 Photo by: Nikolay Enin
RF-90942, "05 white":
We believe that before September 30, 2014 (when the Federation Council allowed using Russian troops in Syria) preparations had been ongoing for at least a month. During this preparation phase, marines of the 810th brigade, 32 combat planes, at least one recon plane, trucks, fuel trucks, APCs, tanks, artillery pieces and helicopters were redeployed to Syria. Since at that time there were officially no Russian troops transferred to Syria, Russia only "supplying humanitarian cargo", it was required to obscure the fact the equipment belonged to the Russian army. In order to obfuscate the redeployment of Russia's military units to Syria, state media reported the building of an alleged refugee camp for 1000 people.
Simultaneously, Russian recon planes, as well as Su-24 bombers and Su-25 close air support jets performed flights over Idlib and Hama, which we mentioned earlier in this report. In order to make it impossible to officially accuse Russia of stationing RuAF jets in Syria before they officially appeared there (on September 30), it was decided to paint over the insignia as well as cover the planes with camo netting: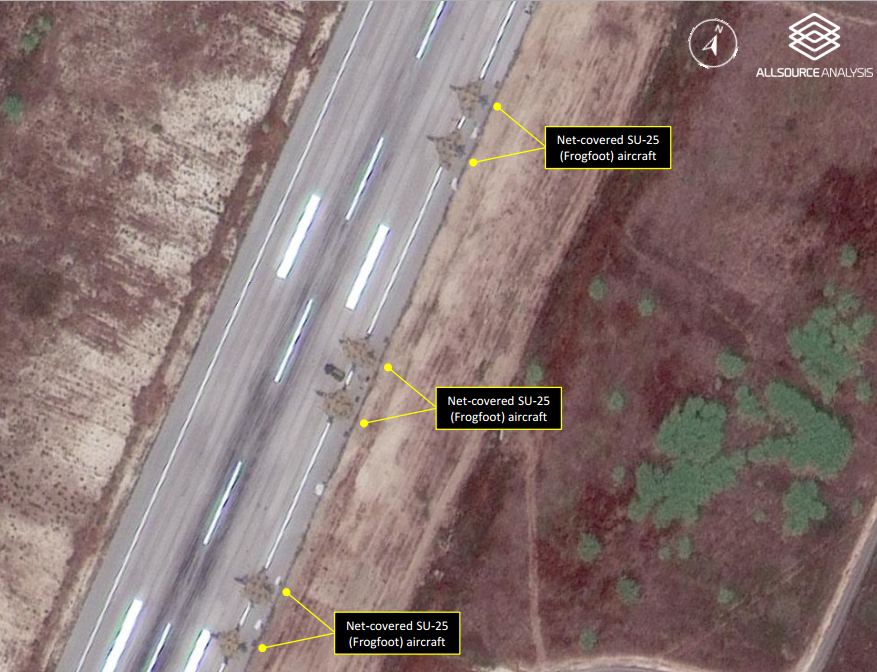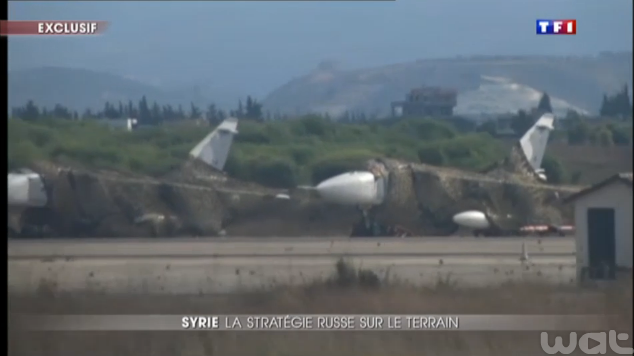 Afterword
After our previous investigation of Russian troops in Syria we gave a lot of interviews where we told that, as we believe, Putin does not care about fighting terrorism, but his main objective in Syria is protecting Assad's regime. We said that Putin thought Syria to be another front of his rivalry with the West (which manifested in creating a "private" anti-terror coalition of Russia, Iraq, Iran and Syria). We have suggested that Russia's actions in Syria will be reported as fighting terrorism, and some strikes may target ISIS positions, but the main threat for Asad is the armed Syrian opposition, and they would be the Russian army's main target. What followed overwhelmed even us: we couldn't even imagine that opposition targets would be the first to be struck.
After Crimea's annexation and the start of the war in Eastern Ukraine, Putin mentioned several times in his interviews that the fugitive "legitimate president of Ukraine" Yanukovich had addressed him with a request for military intervention, so Russia did not exclude moving troops into Donbas to protect civilians. We are seeing similar rhetorics on Syria now: Russian officials say that the decision to use Russian troops in Syria was taken after the "legitimate president of Syria" Bashar al-Assad requested military intervention. However, 8 days before the first air strikes, pro-Kremlin media published articles saying that the reports of Russian planes in Syria were lies and a smear campaign against Putin: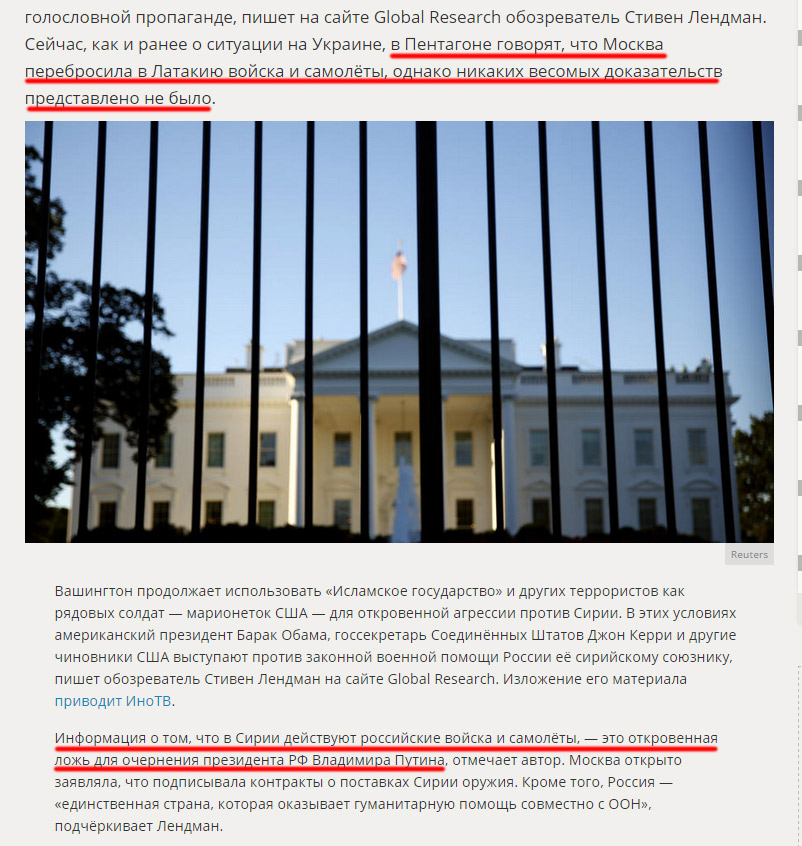 A mere month ago a national TV channel "Russia 24" reported that the info on Russian troops deployment to Syria was lies for PR and money:
On September 30, everything changed and the situation has been changing rapidly ever since: Russian aircraft are bombing multiple targets in Syria, including ISIS. You can follow an interactive map, showing the RuAF air strikes.