This post is also available in:

Русский
On September 25, Bloomberg reported, citing different, including Russian government sources, that a group of Russian mercenaries from the so-called "Wagner Private Military Company" (PMC) had arrived to Libya. According to the publication, "Wagner", a shady group reportedly run by Putin-friendly oligarch Evgeniy Prigozhin, is fighting in the Libyan Civil War for Field Marshal Khalifa Haftar's Libyan National Army (LNA), which has spent the past few month in largely unsuccessful attacks on Libya's capital Tripoli, which is controlled by the internationally recognized Government of National Accord (GNA). This is not the first report on "Wagner" mercenaries arriving to Libya, but this time corroborating information appeared in open sources online.
Reacting to the Bloomberg piece, a pro-Kremlin channel on Telegram messenger posted a video showing a Russian-made Ural-4320 truck. Around 0:10 in the video we can hear in Russian «едем в Аджа… Аджабию» ("We're going to Adja… Adjabiya"), most likely meaning the LNA-controlled town of Ajdabiya, almost 700 kilometers from the frontline (as the crow flies). It should be noted that the Ural truck sports an up-armored windshield, which matches other modified Ural trucks seen last year in Sudan and the Central African Republic (CAR), where "Wagner" mercenaries operate.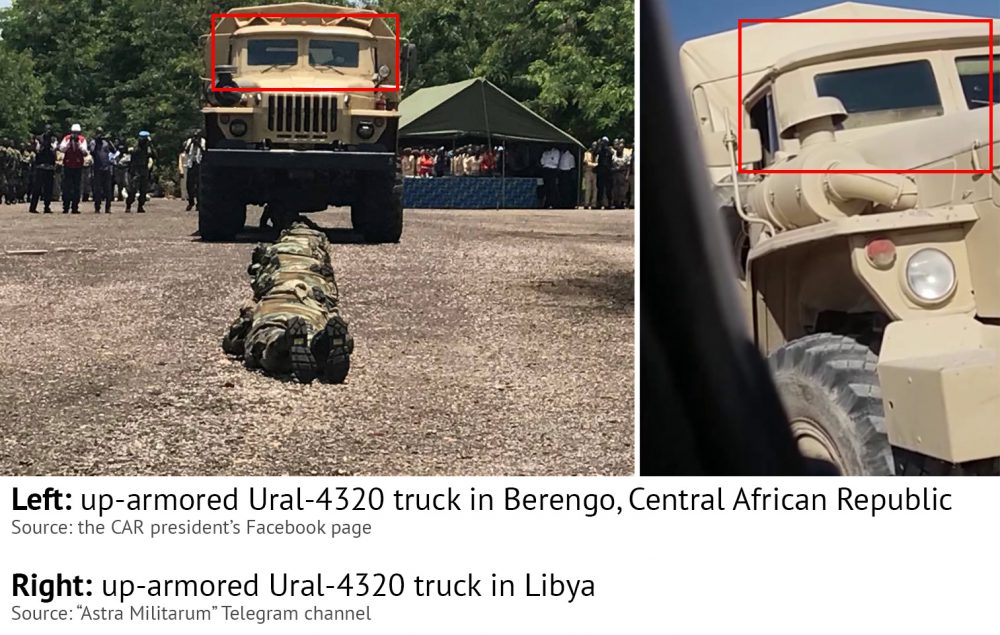 In the morning of September 25, a GNA-loyal group "3rd Tripoli Infantry Company" posted on its Facebook page a drone video, which, according to the description, shows an artillery strike on LNA positions near the (Haftar-controlled) Tripoli International Airport. At 2:20 in the video, we see a truck parked close to the shelled building. We and other researchers have suggested that the truck resembles the "Wagner" Ural trucks we've seen before, but, as Twitter user @obretix has shown, this truck had been parked there since at least July 2016. However, later other evidence emerged (shown below) of Russian mercenaries being present in this area, which, as seen in the video, is a site of active hostilities.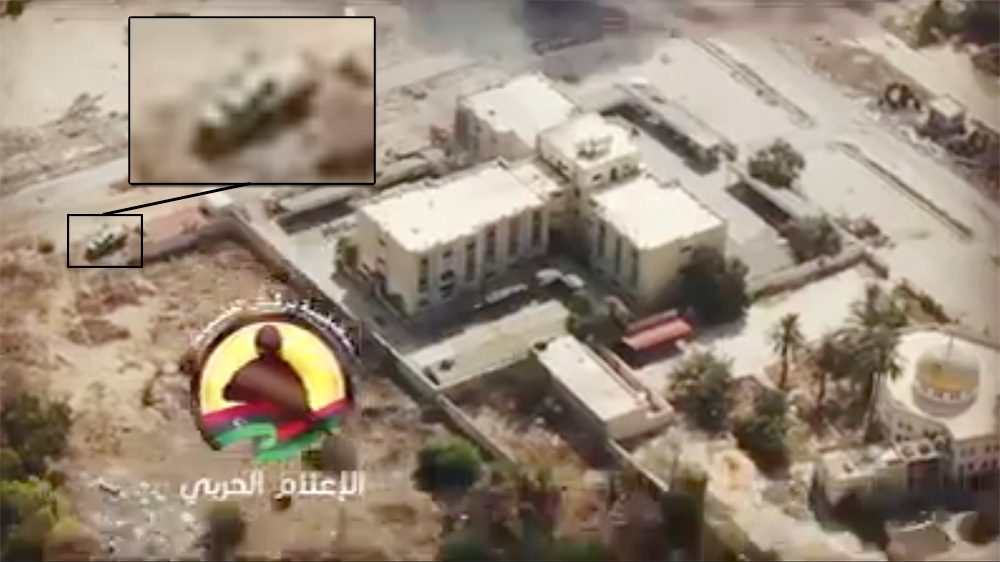 We geolocated this video, which indeed was filmed in an area adjacent to the Tripoli airport:

Later that day, the same GNA group posted a video and photos showing personal belongings which they claim were left by a Russian mercenary after a GNA Air Force strike on Espiaa (11 kilometers south of Tripoli airport). The pro-GNA forces also accused the Russian mercenaries of killing a family of civilians prior to leaving. The group also published a wealth of photographs allegedly found on the Russian's phone.
Vadim Bekshenyov
One of the videos shows a bank card, where you can see the owner's name: VADIM BEKSHENEV We found several profiles of "Vadim Bekshenyov" [«Вадим Бекшенёв»] in a Russian social network VKontakte. Photos in two of the profiles show the same person as in the phone photos shown in the video.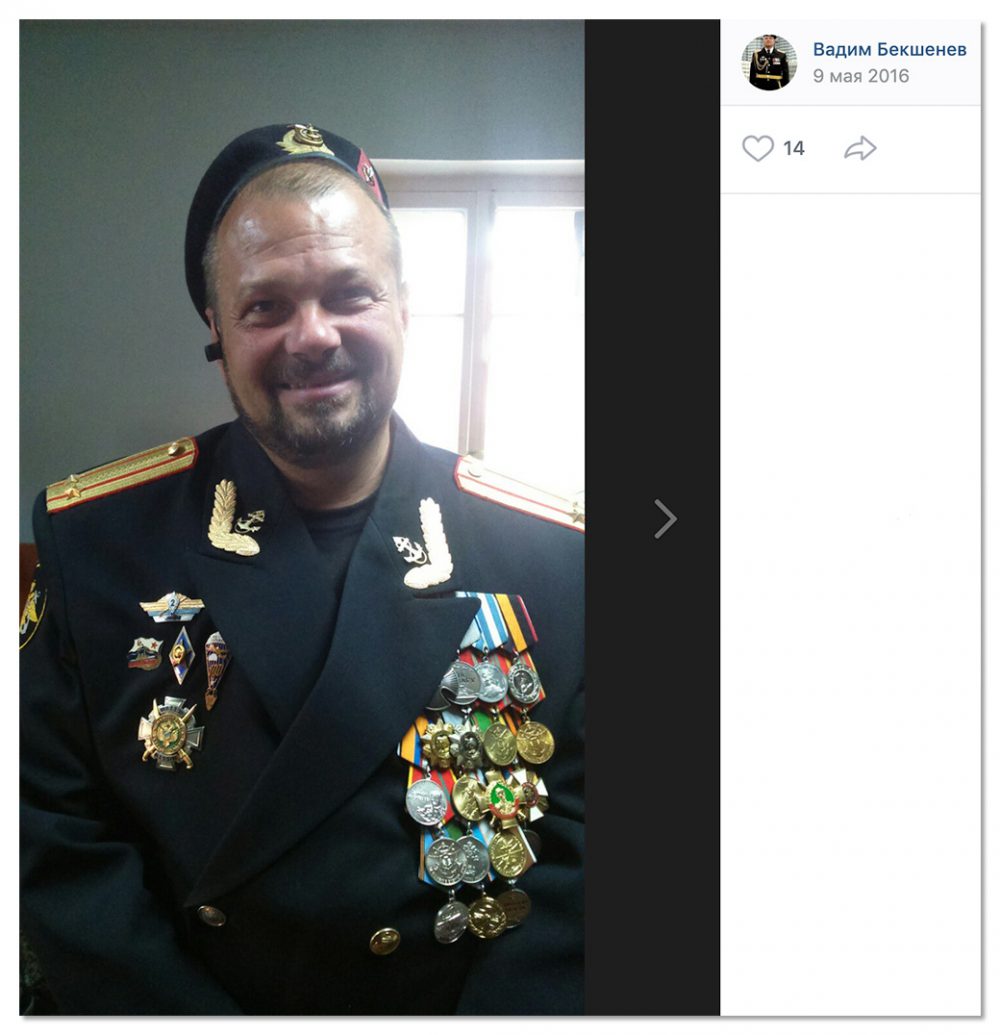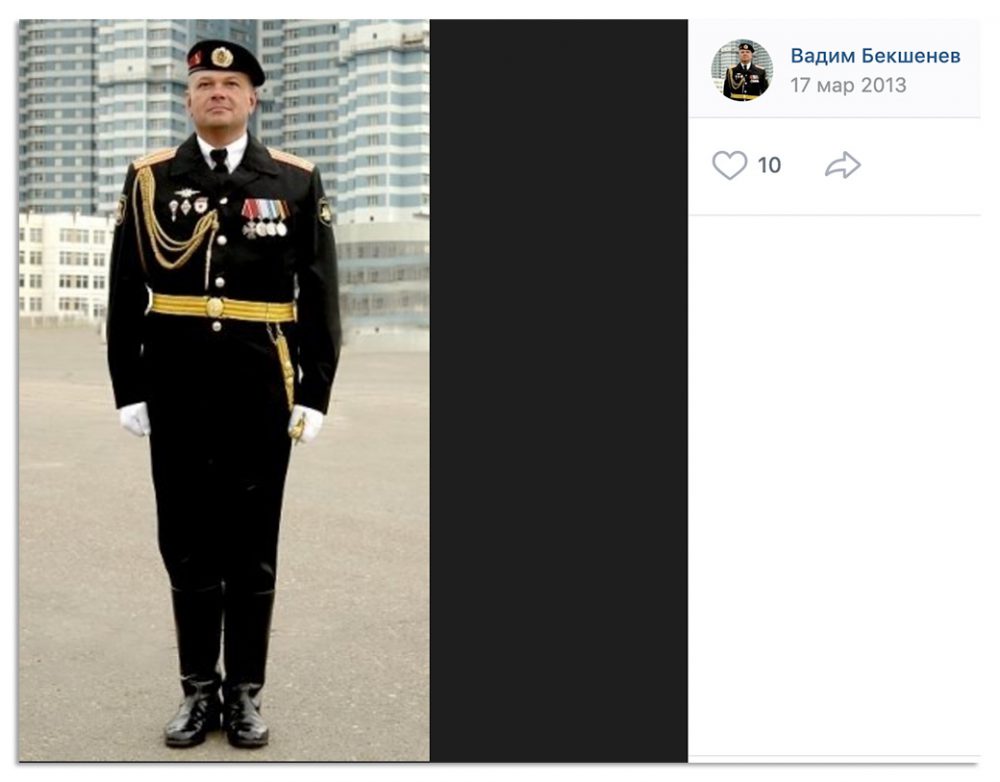 In the friends list of one of the profiles, we found Bekshenyov's ex-wife and son. They told us that they'd been living apart from Vadim for a long time and haven't kept in touch so they do not know his fate. Vadim's friend also confirmed that the "Libya video" indeed shows Vadim Bekshenyov photographs: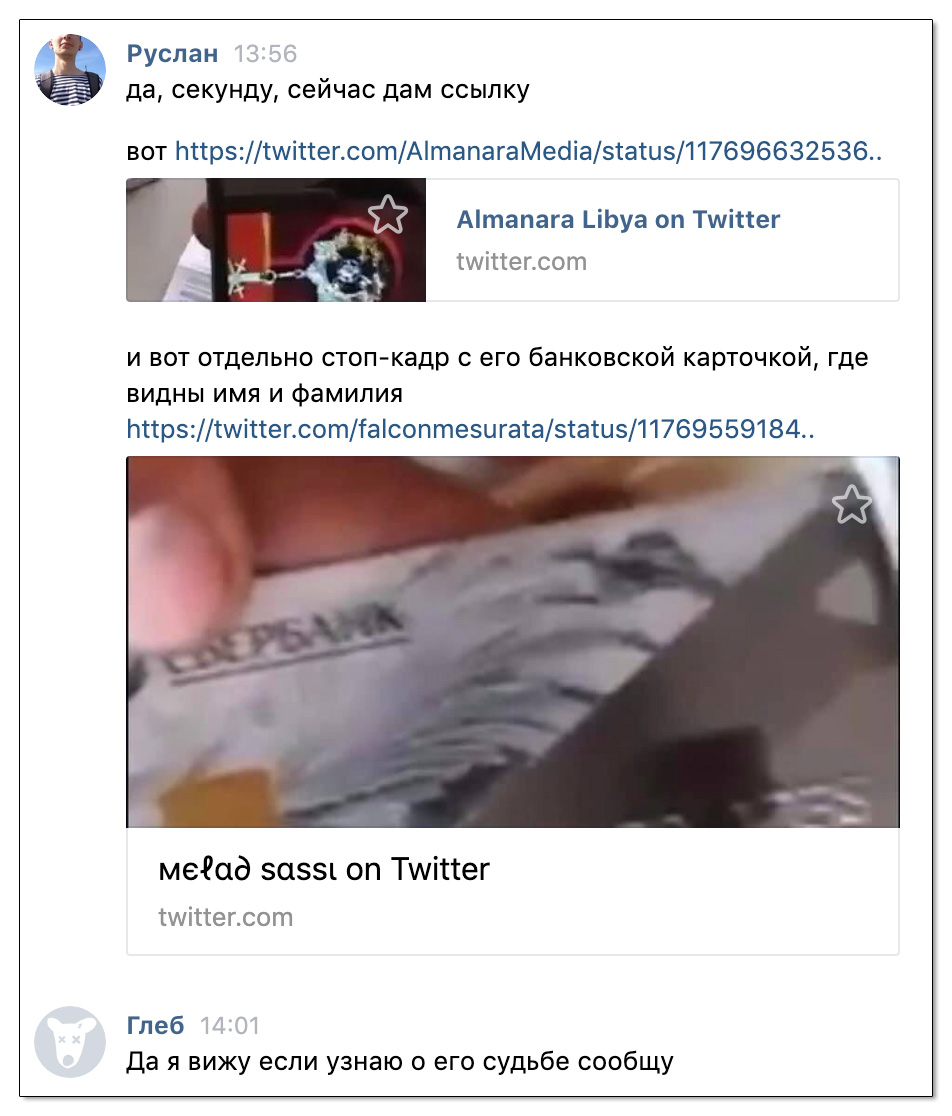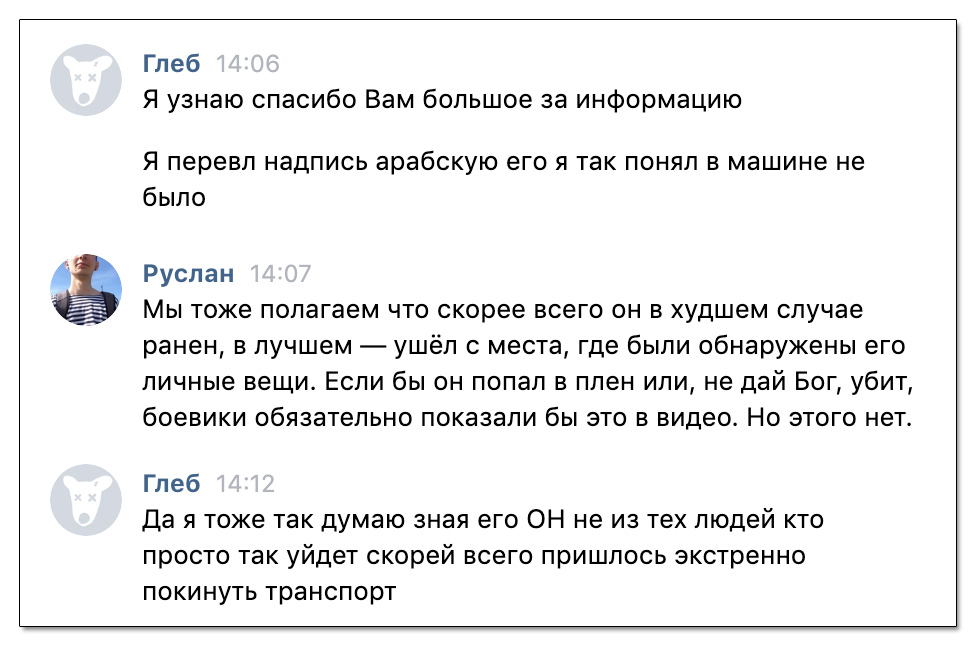 Photographs from Vadim's phone suggest his military background. Among them there are photos on a ship and in a Navy uniform. There are also images related to the Russian Marines: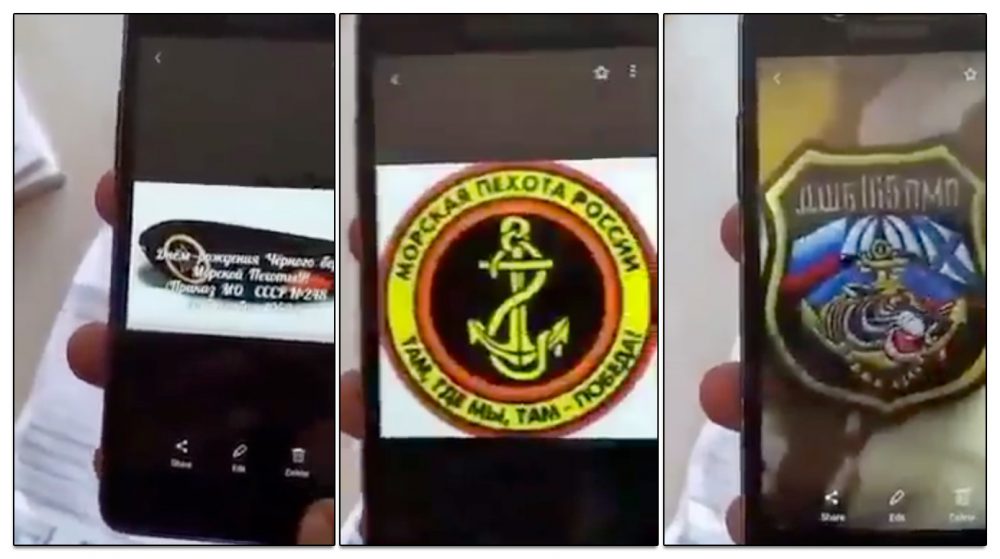 Among the images, there is a logo of a now defunct Paratrooper Assault Battalion of the 165th Naval Infantry Regiment of the 55th Naval Division (unit #10735) which was based in Vladivostok in the Russian Far East until 2009.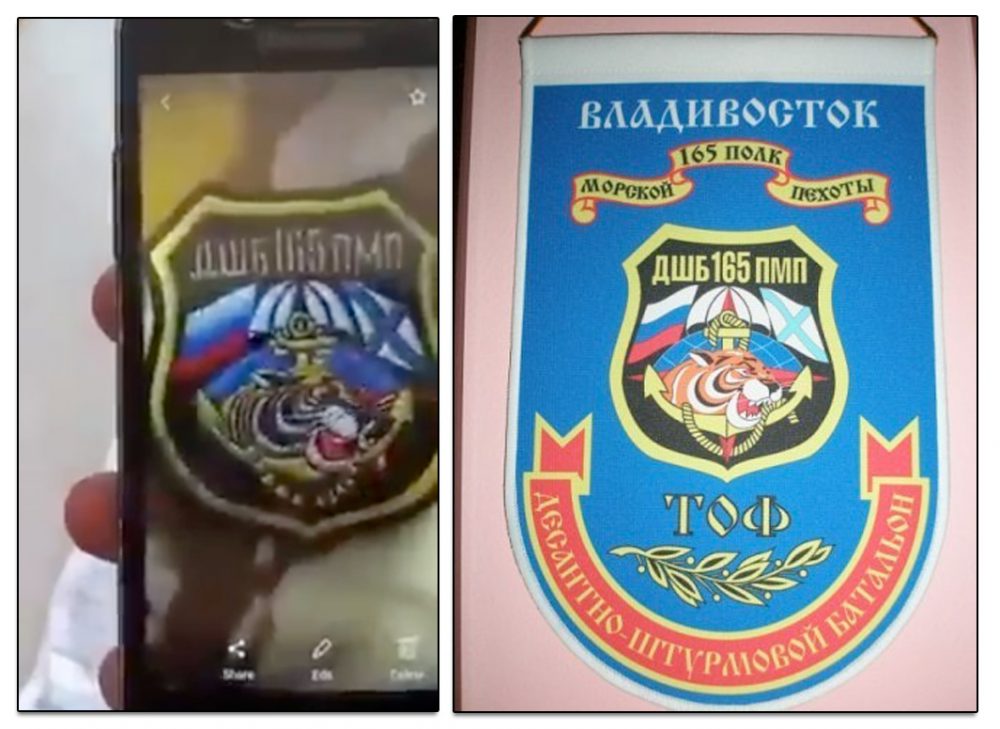 Vadim's Facebook profile shows a photo of himself near a monument that has a military unit number 09643 — the 841th Independent Electronic Warfare Center of the Baltic Fleet.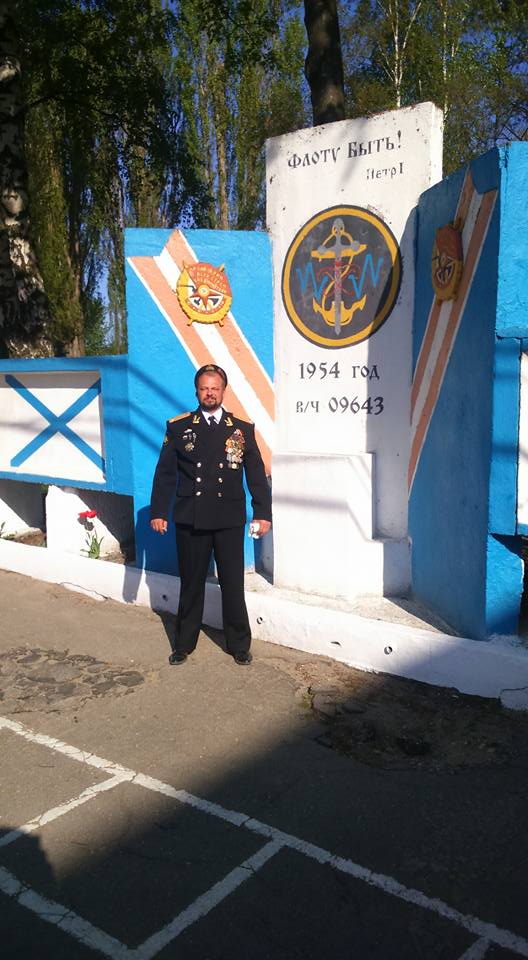 Some information about this unit found online says that it is based in the village of Yantarny in Kaliningrad region and is one of the most secret units of the Baltic Fleet. Bekshenyov's bank card also shows a code for the Russian state-owned Sberbank unit that issued the card: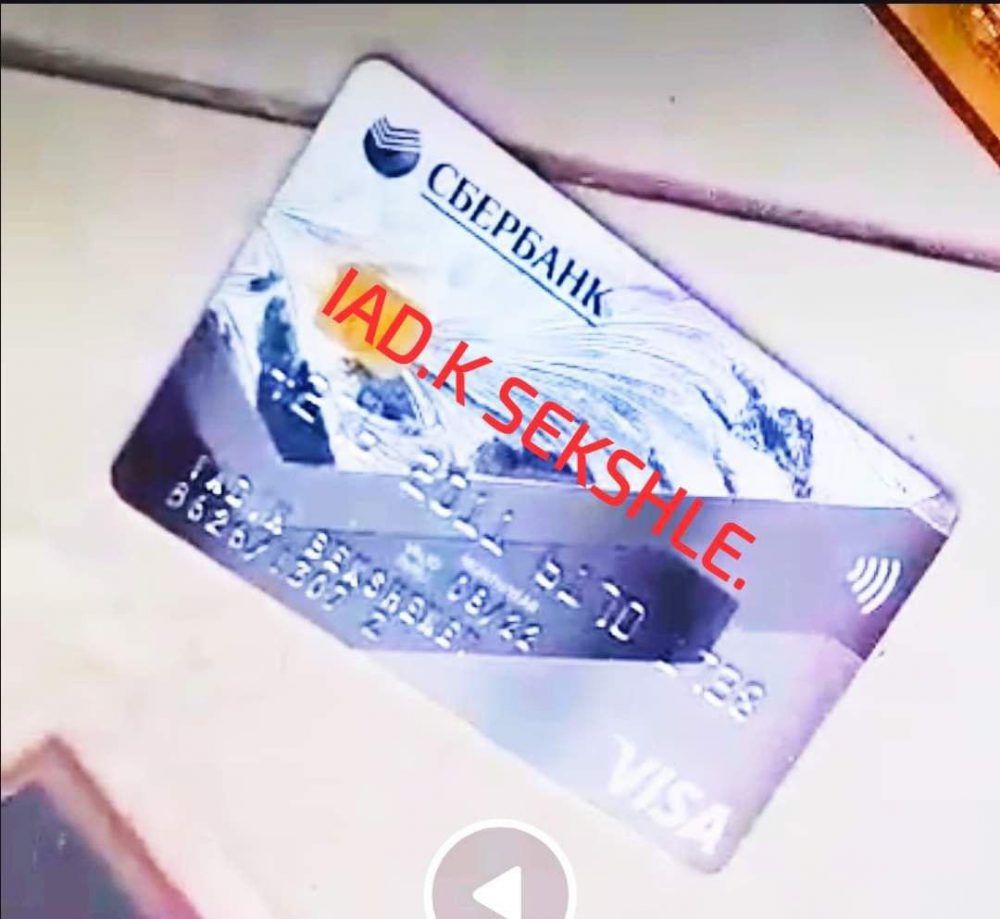 Sberbank unit based in Yantarny, Kaliningrad region, has the same unit code 8626/1307.
Of special interest among the photos found on Vadim's phone is a "Wagner" medal "For Victory over ISIS":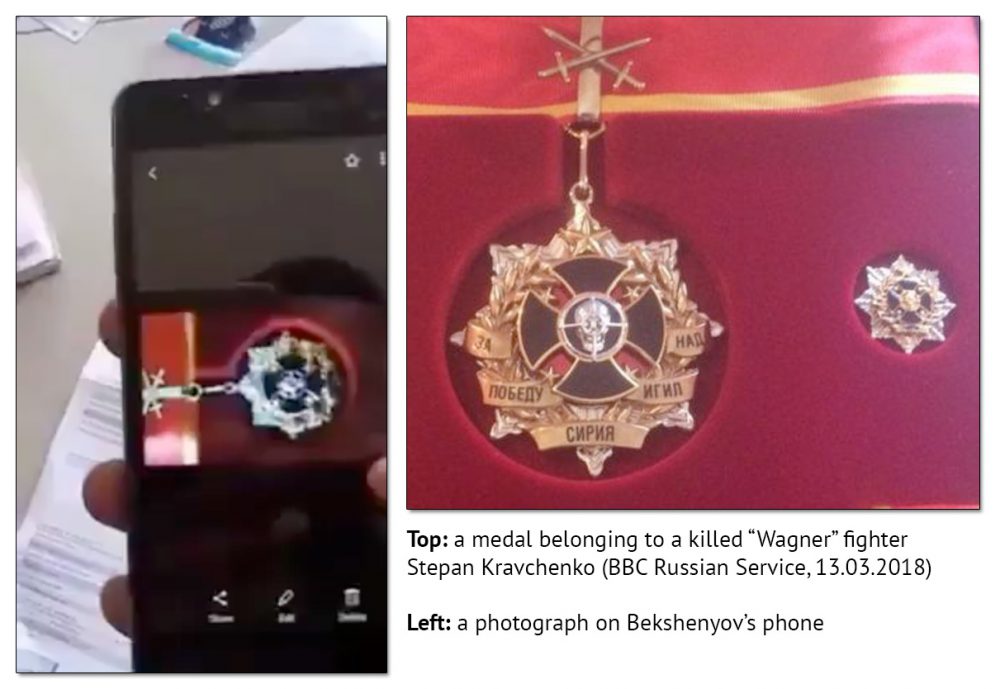 It is likely that after serving the the Russian military, Bekshenyov signed a contract with "Wagner". The medal suggests that he could have been fighting with the PMC in Syria and later was transferred to Libya.
A third Vadim's profile, which appears to be in use, is private, does not have a userpic, and the name is in Latin, not Cyrillic alphabet. We've previously found similar profiles belonging to "Wagner PMC" operatives. In comparison, active profiles of Russian military servicemen often show various photos of themselves (apart from SOF and GRU spetsnaz operatives, who, as a rule, have no profiles at all).
As of time of publication, we were unable to find out what happened to the "Wagner" mercenary Vadim Bekshenyov.
"Wagner" in Tripoli
Apart from photos related to Vadim Bekshenyov, the "3rd Tripoli Infantry Company" also posted several photos signed as "Russian mercenaries in the Qasr bin Ghashir neighborhood of Tripoli":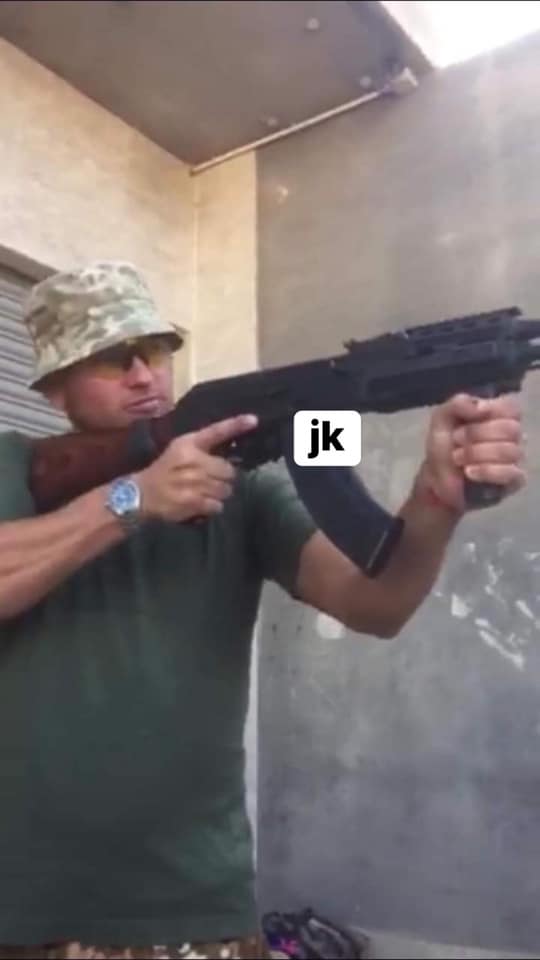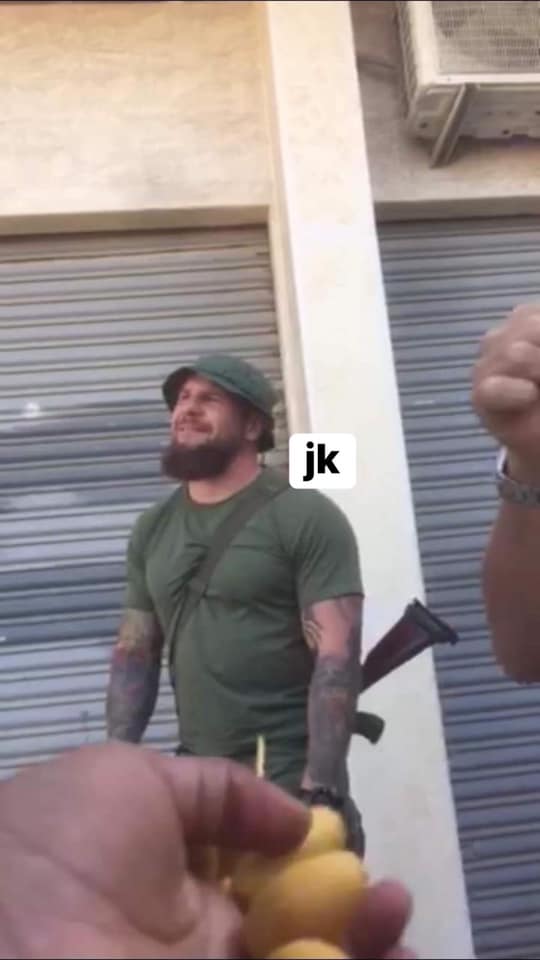 The photos show European-looking men with Kalashnikov assault rifles. One of the men in the photos has large tattoos on both arms and a long beard, which strongly suggests he is not an active military serviceman.
Other photos of the armed men in camo show that their equipment is very different and does not appear to match a single standard. This also strongly suggests that they are indeed mercenaries, not military servicemen: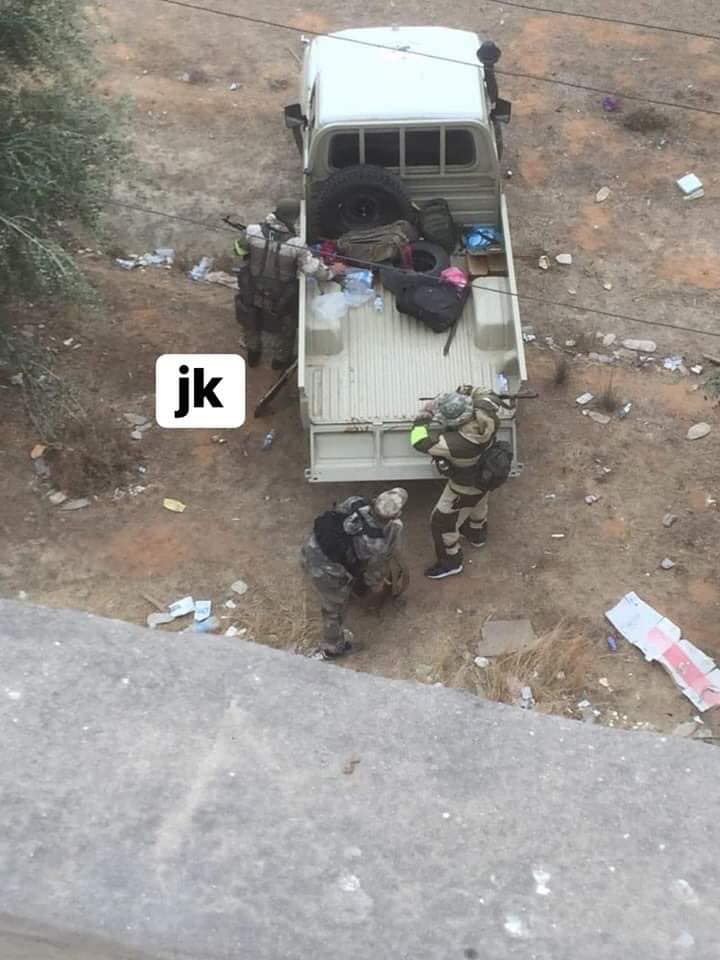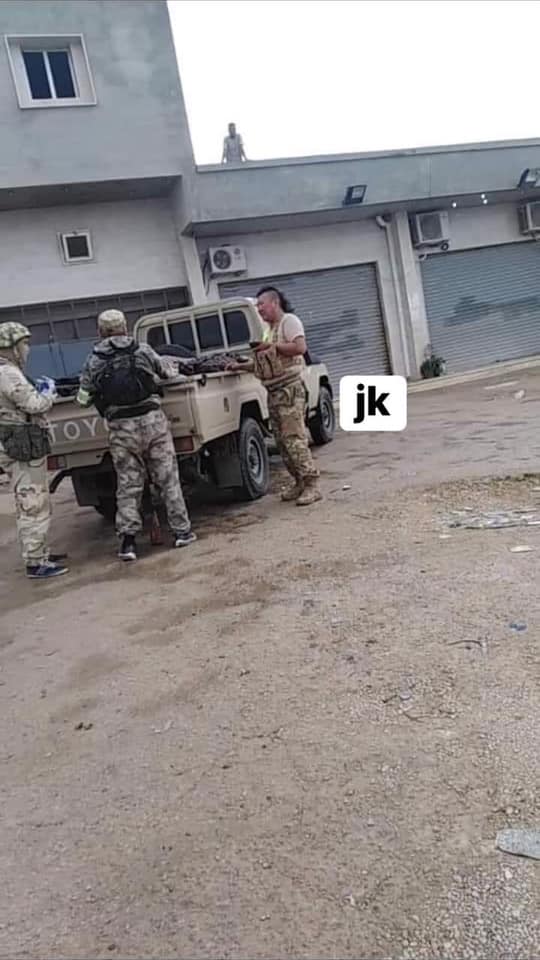 We were unable to geolocate the photos, but it should be noted that the Qasr bin Ghashir neigborhood is less than 1 kilometer from the Tripoli airport and 4 kilometers from the area where a truck similar to a modified Ural-4320 was seen in a drone video.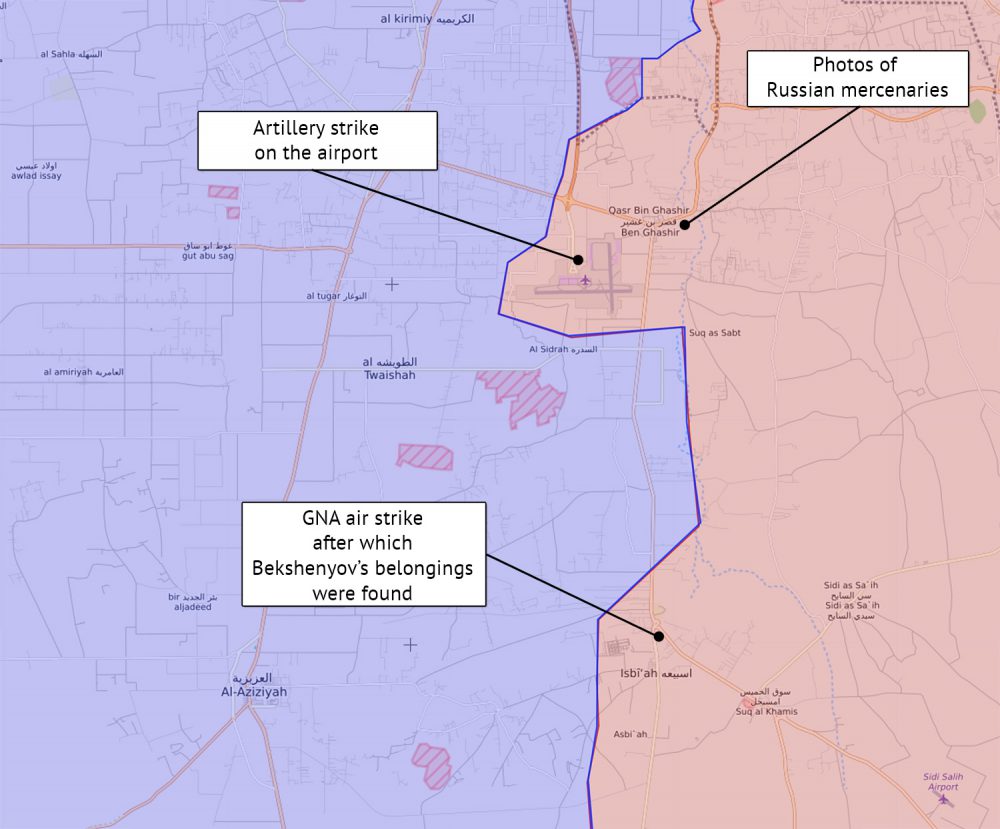 Conclusion
The emergence of up-armored Ural trucks (earlier seen with "Wagner mercenaries in the CAR and Sudan) in Libya and probably even on the Trupoli frontline, Bekshenyov's military background and his "Wagner" medal all suggest that the Bloomberg sources were right and the "Wagner PMC" is indeed now fighting in the Libyan Civil War. If true, the Russian mercenaries have entered a pretty crowded field: the war involves foreign air forces (including armed drones): Turkish in support of the GNA and Egyptian/Emirati for the LNA, as well as other Russian PMCs (such as the "RSB Group") and foreign mercenaries (such as an American pilot captured by LNA). Libya is also is the focus of European leaders' attention, since, despite the military conflict, the country is an oil exporter and also serves as a springboard for African refugees attempting to cross the Mediterranean into Europe.