This post is also available in:

Русский
On March 22, the Russian Ministry of Foreign Affairs (MFA) told about Russia's cooperation with the Central African Republic. This was the Ministry's reply for a request to comment on Western media's publications "onthe nature and content of Russia's bilateral relations with the Central African Republic". The MFA, among other things, said the following (highlighted by us):
"With the consent of the UN Security Council Committee created pursuant to UNSC Resolution 2127, an allocation of small arms and ammunition from the stocks of Russia's Defence Ministry was made available to the Central African Army in late January — early February. Five military and 170 civilian instructors from Russia were sent to train CAR service personnel with the knowledge of this committee. This assistance is provided in strict accordance with the sanctions imposed by the UN Security Council on the country."
The ambiguously mentioned "civilian instructors" are highly likely to be a unit of the Kremlin-linked "Wagner" mercenary group. In early March, Russian independent online outlet Znak.com learned of a new "batch" of mercenaries being sent to Africa.
Znak.com wasn't the first outlet to mention sending Russian mercenaries to another continent. Earlier, BBC Russia reported on a future Wagner operation in Sudan, while in February 2018, the presence of Russians in the CAR was reported by French Europe1 radio station.
In this article, we will explain what's happening in the Central African republic and what could be the goals of Russian presence in the country.
Background
Central African Republic became independent in 1960, as the French colonial empire in Western and Central Africa broke up. The country had since been run by a string of dictators. The most notorious was Jean-Bédel Bokassa who proclaimed himself emperor. His 1966-1979 rule was known for many crimes, including (rumoured) cannibalism. Since 2003 with some lulls, CAR has been going through a multi-sided ethnic and religious conflict. The country has effectively been split between various armed groups including the Christian "Anti-Balaka" and groups that used to form the Muslim "Seleka" alliance. The central government controls but a small part of the country's territory. According to a French paper "Libération" quoting a UN report, rebels conduct ethnic cleansing as well as racketeering and taking tolls on roads, thereby "strangling" the economy. Despite CAR being rich in diamonds, gold, uranium and other natural resources, half the population, according to the same UN report, is in need of humanitarian aid.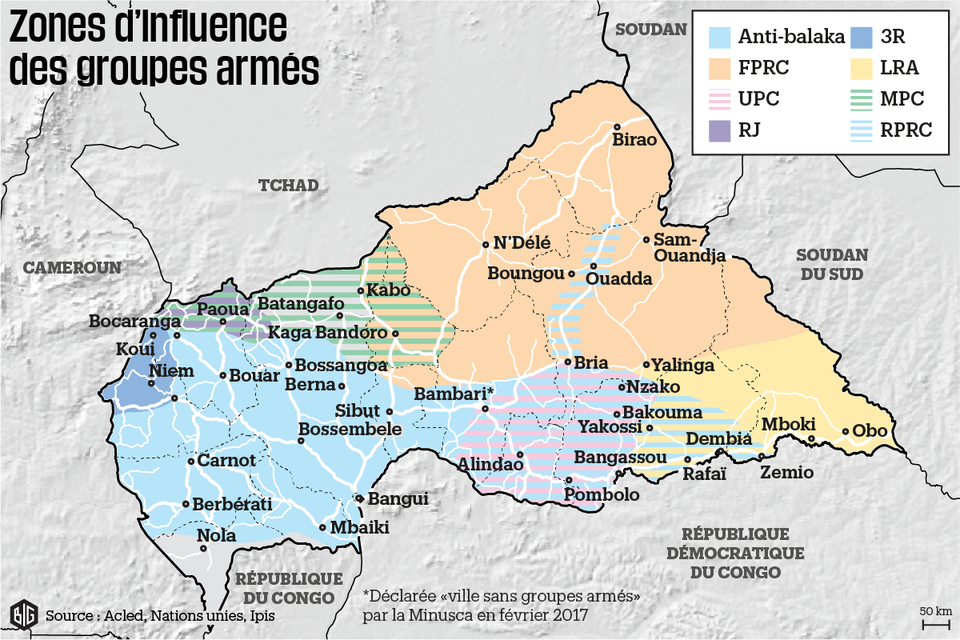 Spheres of influence of various armed groups in CAR
Various African countries and UN peacekeepers try to maintain order in CAR. Since 2013, a French mission had been in the country. It was the seventh since CAR's independence. The French units tried to disarm the rebel groups. However, in 2016 French soldiers (mostly paratroopers and marines), who had been repeatedly accused of rapes, left CAR's territory, never completing their mission.
Russia enters CAR
On March 24, the French Agence France-Presse told about Russian instructor presence within 60 kilometers of CAR's capital Bangui. According to AFP, they are based at the Berengo estate which used to belong to Bokassa. An AFP reporter who went to the location saw lines of tents and Russians in military uniforms training CAR soldiers. The journalist was forbidden from taking photographs or filming videos.
According to AFP, the tents were to the right of Bokassa's tomb. We were able to geolocate the tomb using photos available online. Planet satelliter imagery does show new objects, apparently those tents, to the right of the tomb. Planet imagery archive showed those objects appeared at Bokassa's estate during the period of January 21 to January 22.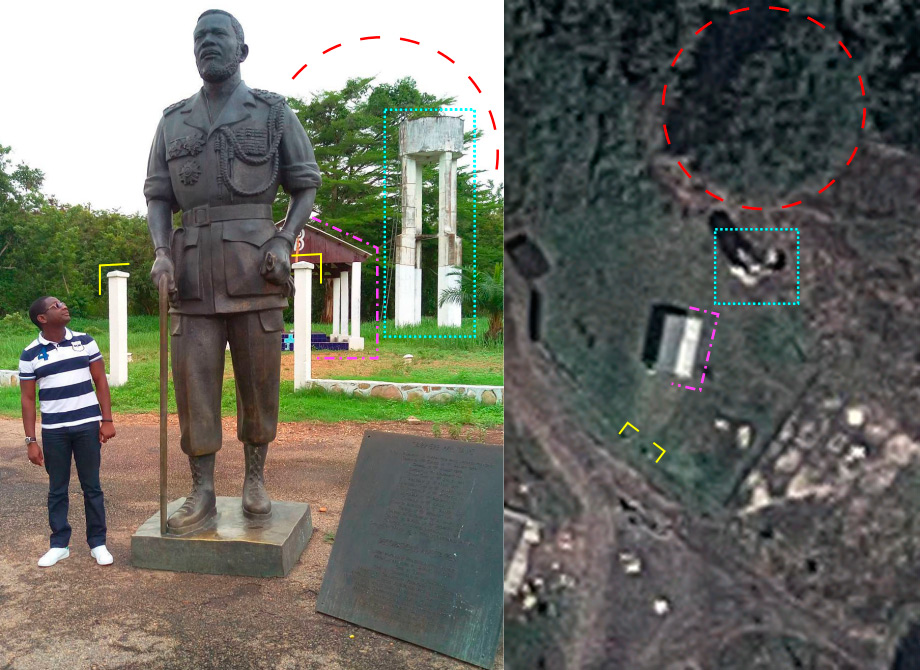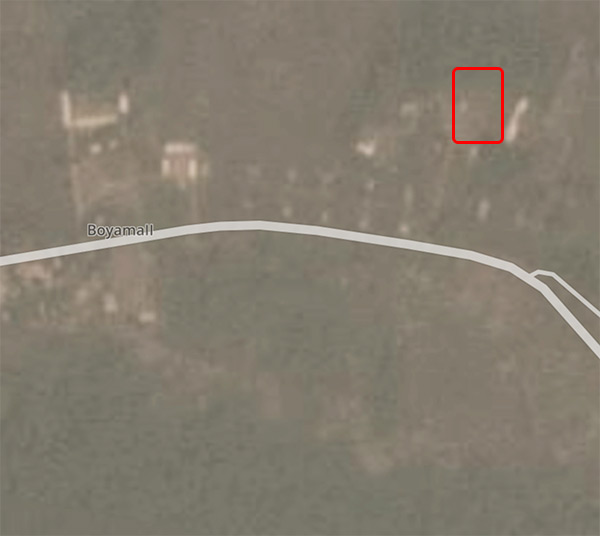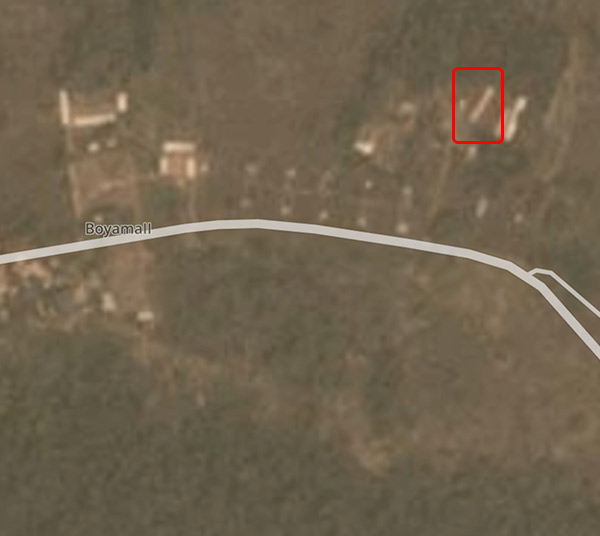 Copyright: Planet.com, via @AricToler
The article also mentions that Russia got a waiver to the UN embargo to supply arms for CAR government troops. The Russian MFA mentions "an allocation of small arms and ammunition" sent to CAR. According to Jeune Afrique weekly, Moscow's request to supply army approved by the UN contained 900 Makarov pistols, 5200 Kalashnikov assault rifles, 840 Kalashnikov machine guns, 140 sniper rifles, 270 RPG man-portable anti-tank rocket launchers and 20 man-portable anti-air defense systems, as well as ammunition.
On March 24, CAR president Faustin-Archange Touadéra's official Facebook account published photos reportedly of a graduation ceremony for 200 soldiers of the CAR Arme Forces 3rd Territotial Infantry Battalion. According to the post, those soldiers were trained by a European training mission, later trained to operate Russian equipment and would soon join the UN peacekeepers deployed to the country.
Many photos show Caucasian men in military clothing in the background. They could well be "Wagner PMC" fighters or Russian soldiers, but we can't state it with full confidence.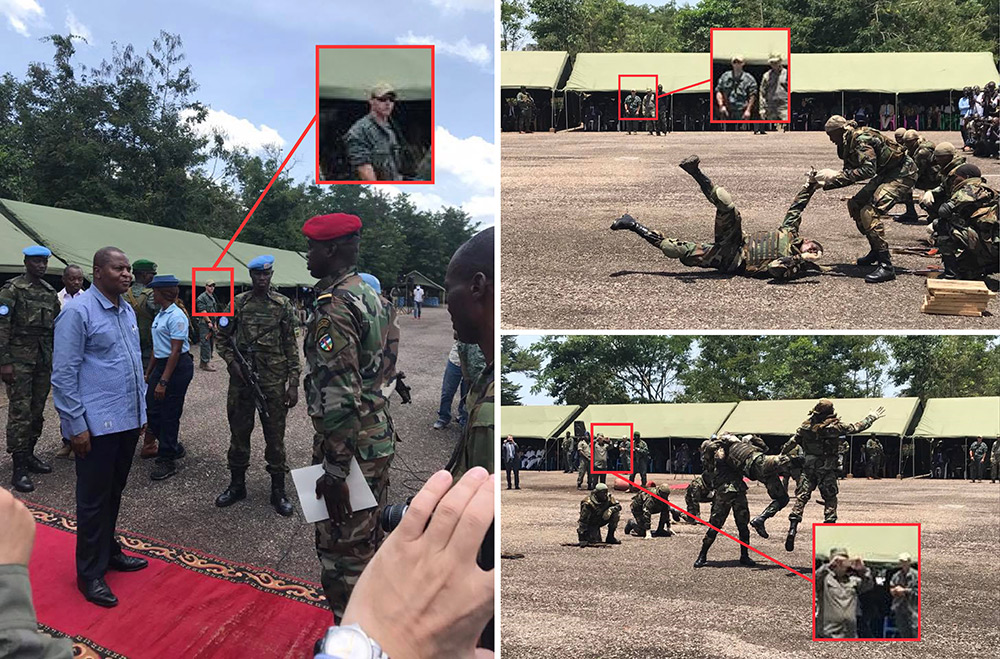 Interestingly, one of the photos shows a Soviet/Russian Ural-4320 military truck in desert camo. The air filter outside to the right (as opposed to under the hood) indicates this truck was made in Russia, not the USSR. Apart from that, an armored windshield is also of note.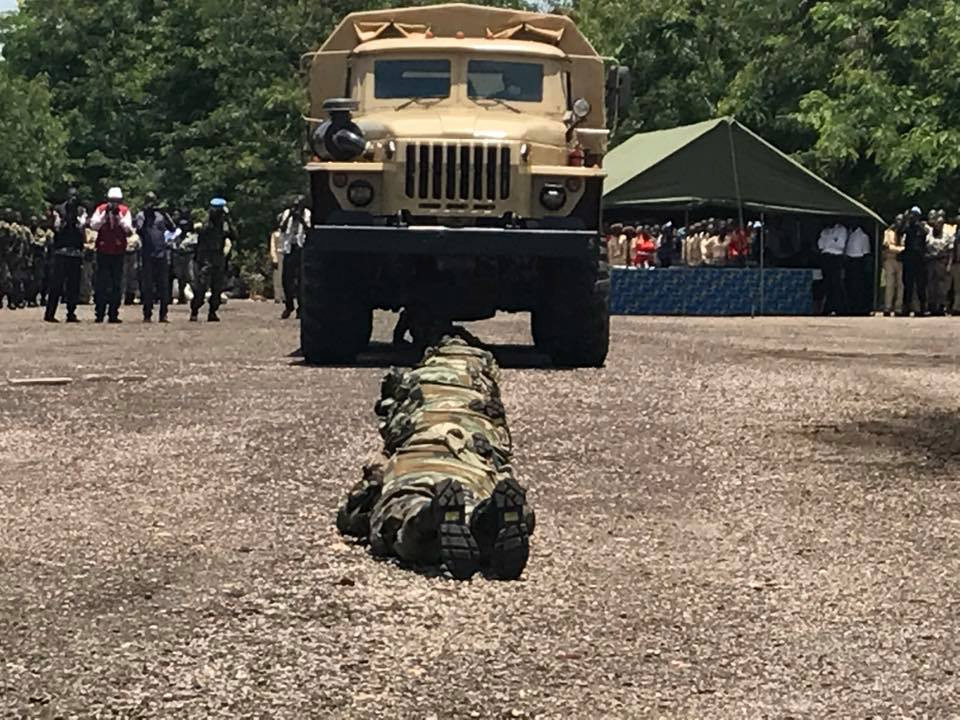 Photo: CAR Presidency Facebook account
Interestingly, similar Ural trucks were spotted on board a Turkish vessel detained in the Tunisian port of Sfax on February 16. The vessel, coincidentally also named Ural, belongs to a Turkish company Akdeniz RoRo and has been delivering cargo from Russia to Syria since at least 2016.
According to Tunisian media quoted by The Maritime Bulletin, apart from the militray trucks, Ural also carried armored vehicles, ammunition, military uniforms, generators, medical and satellite communication equipment and other military and dual-purpose cargo required to build a military camp. The Russian embassy in Tunisia told RIA Novosti news agency that Ural's cargo was intended "for the Central African Republic authorities".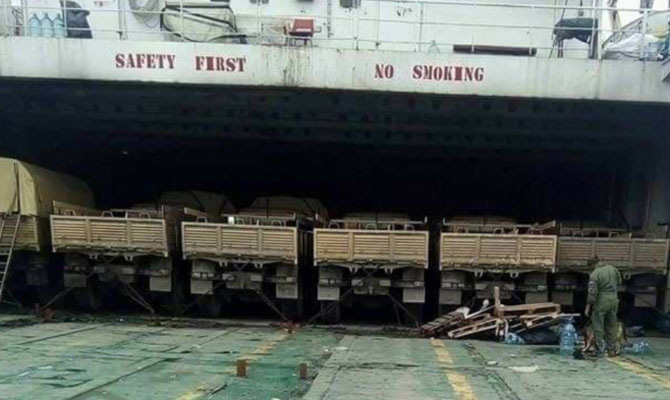 Ural trucks on board the vessel detained in Tunisia. Photo provided by The Maritime Bulletin
According to the Maritime Bulletin quoting Tunisian media, on April 6 Ural was released from Sfax and sailed to the Egyptian port of Alexandria. However, the Tunisian authorities seized all its military cargo.
Russian deliveries to CAR do not stop at maritime transport. The Syrian Khmeimim airbase leased to Russia allows Russian transport aircraft to perform flights to Africa, delivering cargo and/or personnel to CAR via Sudan.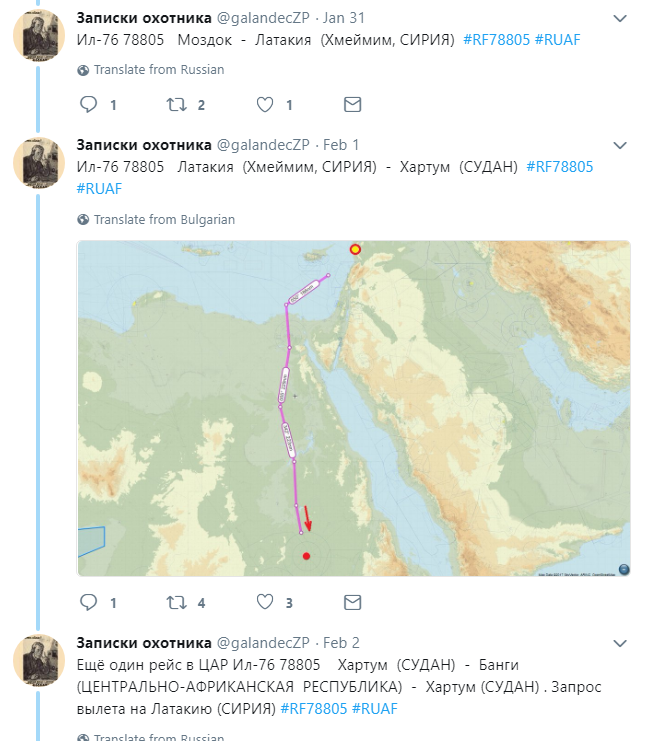 Screenshot of aviation enthusiat @GallandezZP's twitter feed, showing various Russian flights to CAR through Syria and Sudan
The data above shows that Russia indeed delivers arms and equipment to CAR while Russian soldiers and mercenaries train Central African government fighters.
What is Russia doing in CAR?
The Russian MFA gives the following explanation for Russian soldiers' and "civilian instructors" presence in CAR:
"Russia's assistance is carried out as part of the common efforts of the international community to strengthen the national security units of the CAR, to transfer full responsibility for maintaining security and law and order throughout its territory to the local authority and, ultimately, to normalise the situation and to provide a lasting solution to the drawn-out internal armed conflict."
However, the Russian aid is unlikely to be entirely charitable. The same MFA statement mentions "mutually beneficial development of Central African natural resources", including "prospecting mining exploration concessions". A French international relations expert Didier Francois told Europe 1 the Russian "instructors" deployed close to mineral deposits, such as gold, diamonds and uranium. Didier explains this by actions of "oligarchs close to the Putin clan" and suggests Russia is "killing two birds with one stone", acting for both economic interests and a new strategy of presence in Eastern and Central Africa. "Oligarchs close to Putin" could mean Evgeniy Prigozhin, the man who allegedly runs the Wagner group and has entered a contract with Syrian authorities to "liberate" gas fields in exchange for a share in production and could hope for similar contracts in the CAR.
The expert also mentions many "instructors" came into the country illegally and with fake passports and claims agreements have been concluded with local opposition forces in the North-East of the country close to the Sudanese border. It should be noted that there has been evidence of Russian PMC presence in Sudan. For instance, a pro-Kremlin journalist Aleksandr Kots posted a video of Russian instructors working there (in the video, a voice with a distinct Russian accent is heard):
Будни российской ЧВК в Судане (голос за кадром). Не Южном, как анонсировалось ранее, а просто в Судане. На фиг нужен Южный, у него и выхода к морю нет. pic.twitter.com/qoSQ9I3ben

— Александр Коц (@sashakots) December 12, 2017
Russia's continued deployment in CAR and striking deals with various nongovernment actors increases the risks of conflict with other regional players such as France and the EU. "CAR has always experienced a high level of French involvement in its internal politics," explains Alexander Clarckson, lecturer for German and European Studies at King's College London. "Yet with the scale of the violence beyond anything even the French military can handle, Paris has increasingly received assistance for stabilisation operations from other EU member stated and institutions. Any Kremlin moves that potentially fuel instability in CAR will therefore not only irritate Paris, it may well cause trouble with Spain, Italy and other EU countries increasingly engaged with developments in CAR," warns Clarckson.
Update: after this article was published, Twitter user @obretix posted a higher resolution image of Bocassa's former palace dated April 4. It clearly shows that the objects next to the former emperor's tomb are indeed likely to be tents of a military camp.
We have also found an article by a Russian media outlet RIA FAN dated April 10 and titled "Russia will help to restore peace and stability in CAR". RIA FAN is known to be affiliated with the so-called "troll factory" ran by pro-Putin oligarch Evgeniy Prigozhin, who is also believed to be the creator of "Wagner PMC".