This post is also available in:

Русский
Table of contents
• Ayas Saryg-Ool, a soldier of Russia's 74th Separate Mororized Rifle Brigade in Hama
• Vladimir Boldyrev, marine in Hama
• Syrian express and equipment for Asad
• OTR-21 Tochka
• BTR-82A in Asad's army
• BM-30 Smerch
• Personal equipment
• Advisors and artillery spotters
• Volunteers or acting GRU Spetsnaz servicemen?
• Conclusion
Recently we published a post, expanding on an investigation by The Interpreter on a Russian convoy spotted in Latakia governorate. Apart from the fact that the convoy was spotted far away from the official Russian base in Syria, it was proven to have been moving away from the frontline. This looked like Russian ground troops returning to Hmeimin airbase from the front. The convoy had a 152-mm howitzer 2A65 "Msta-B", which is not fielded by the Syrian army. You can read a summary of our and others' findings in English here.

Recently the InformNapalm investigation team published an article on a soldier of Russia's 74th Separate Mororized Rifle Brigade (military unit 21005) Ayas Saryg-Ool, who is currently in Syria. Ayas published several photos of him riding in a vehicle in Syria (which he admitted in the comments). We have geolocated the image:
This stretch of road is located in the city of Hama, Syria: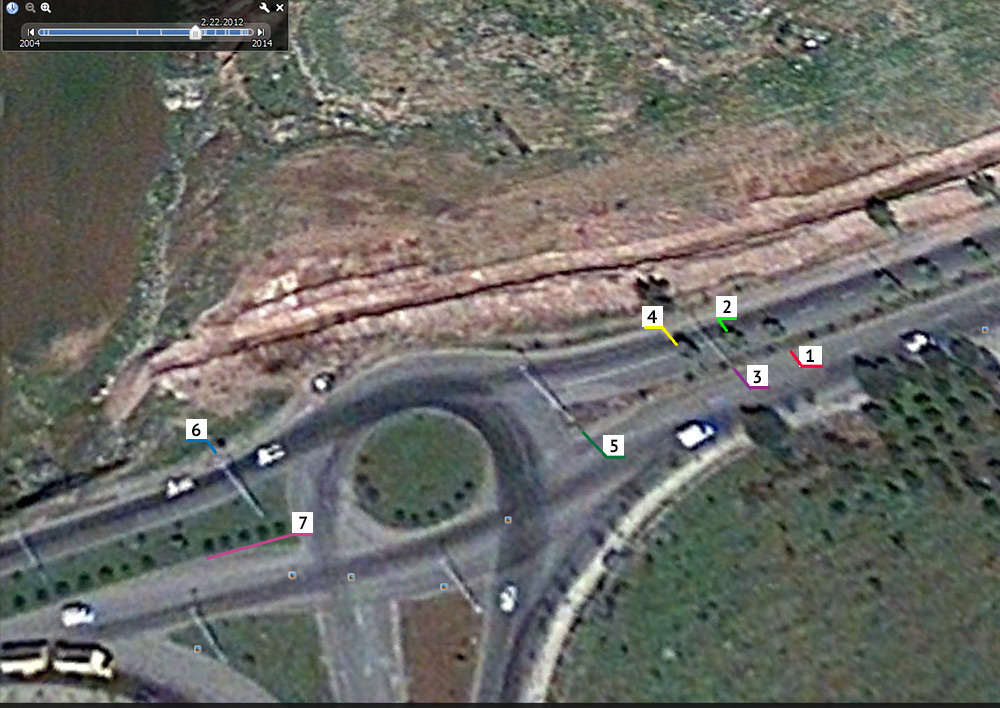 In Ayas's photo, we can see the following sequence of objects we have marked: palm tree (1) => palm tree (2) => lamp post (3) => palm tree (4) => another lamp post after a larger gap (5) => road circle => lamp post (6) => palm tree(7), which, unlike the other palm trees, is standing not in the center of the lane divide, but closer to the left edge.
You can better see the lamp post in a February 22, 2012 Google Earth image (found above). In the 2012 image, there are five palm trees around mark 7, not one. Later Google Earth images show only one palm tree left at mark 7: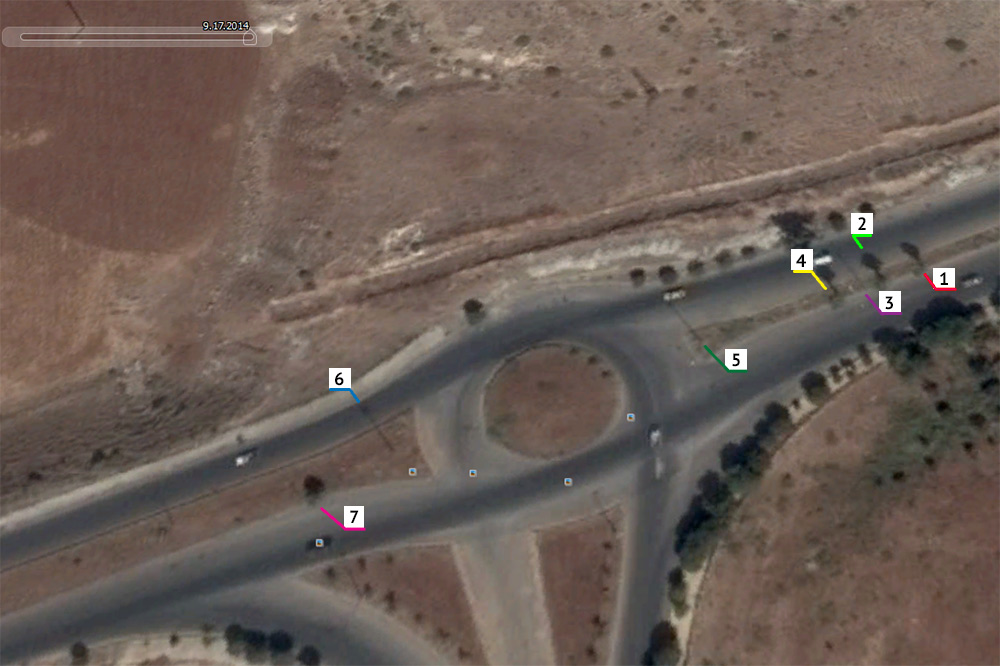 Thus, we were able to determine Ayas was driving west through Hama. This area is over 100 kilometers away from Hmeimim airbase, which us why Ayas being in Hama is hard to explain, if Russia's official position is to be believed.
The dashboard and handle on the outside of the cabin suggest Ayas is in a KamAZ truck: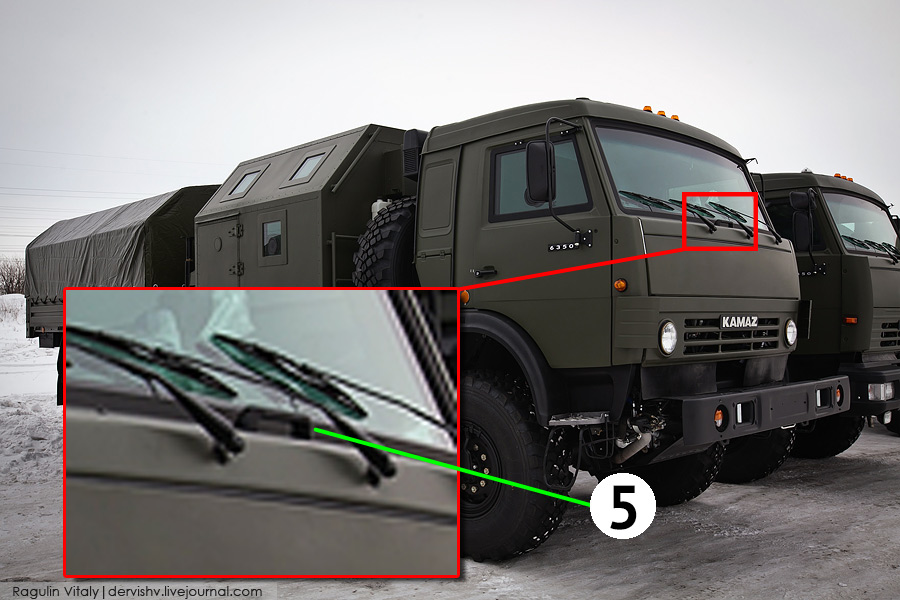 Photo author: Vitaliy Ragulin
Given that Ayas serves in a motorized rifle brigade, which are often accompanied by artillery, and that a KamAZ-6350-based artillery tow truck was earlier spotted in Latakia, we can suggest that the photos also were taken from inside a KamAZ-6350 artillery tow truck.
Ayas profile contained other interesting Syria photos. One of them shows him with a Kord machine gun on a rooftop:
The house has camo netting over it, and in the background of the photo, some other notable vehicles can be seen: Two R-166-0,5 radio communications vehicles (1), a fuel truck (2), a KamAZ truck (3) and off-road passenger cars, similar to those belonging to Syrian pro-regime National Defence Force (NDF) with a weapon mounted on one of them (4).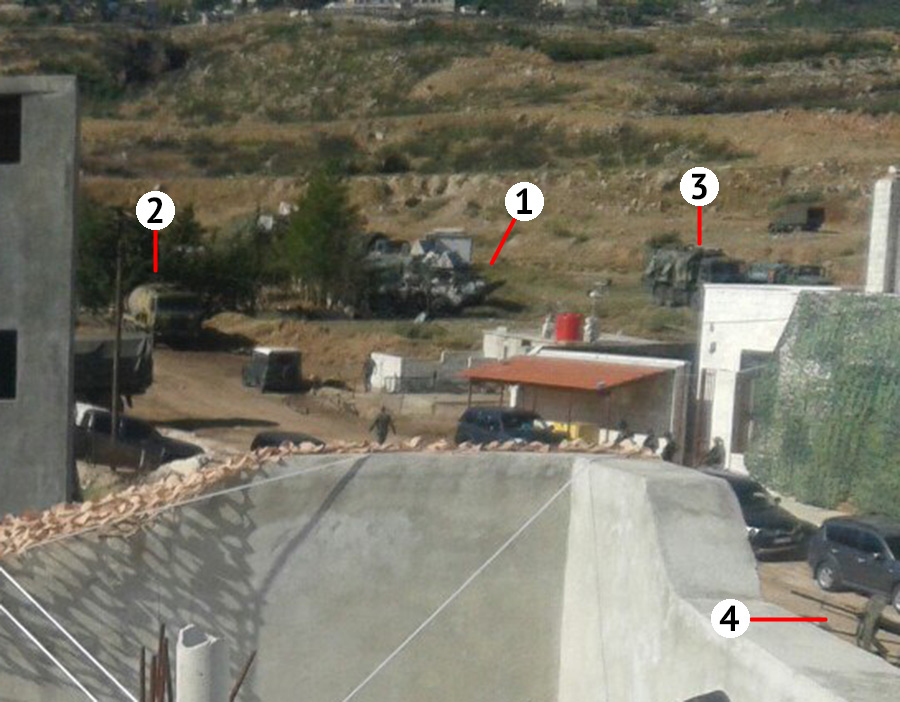 Another Ayas's photo, taken on the same roof, shows significantly high mountains:
There are no mountains like these near Hama. We had earlier determined he drove out of Hama to the west. Twitter user 5urpher 5urpher geolocated these images at Ein Elkorum to the north-west of Hama.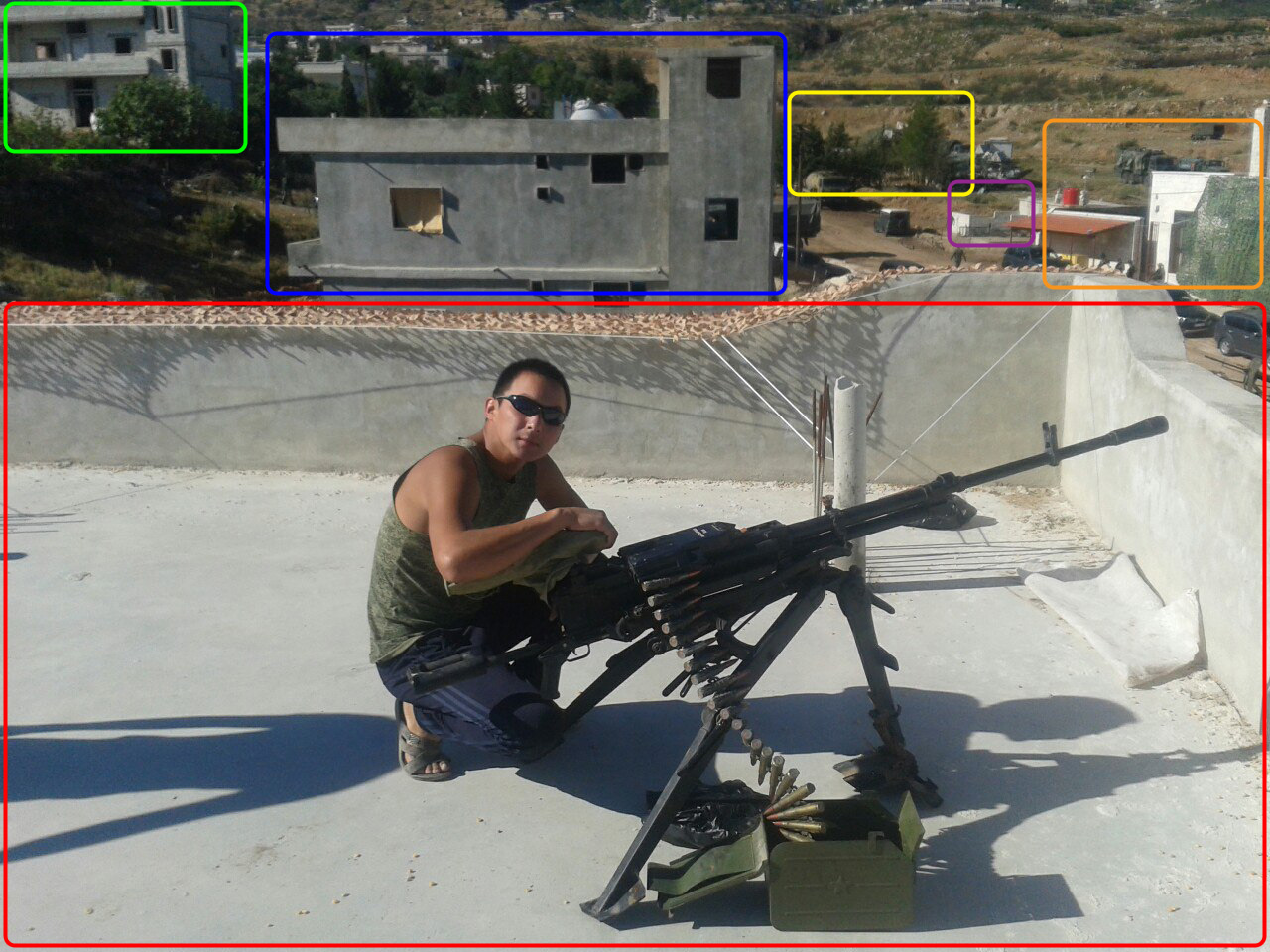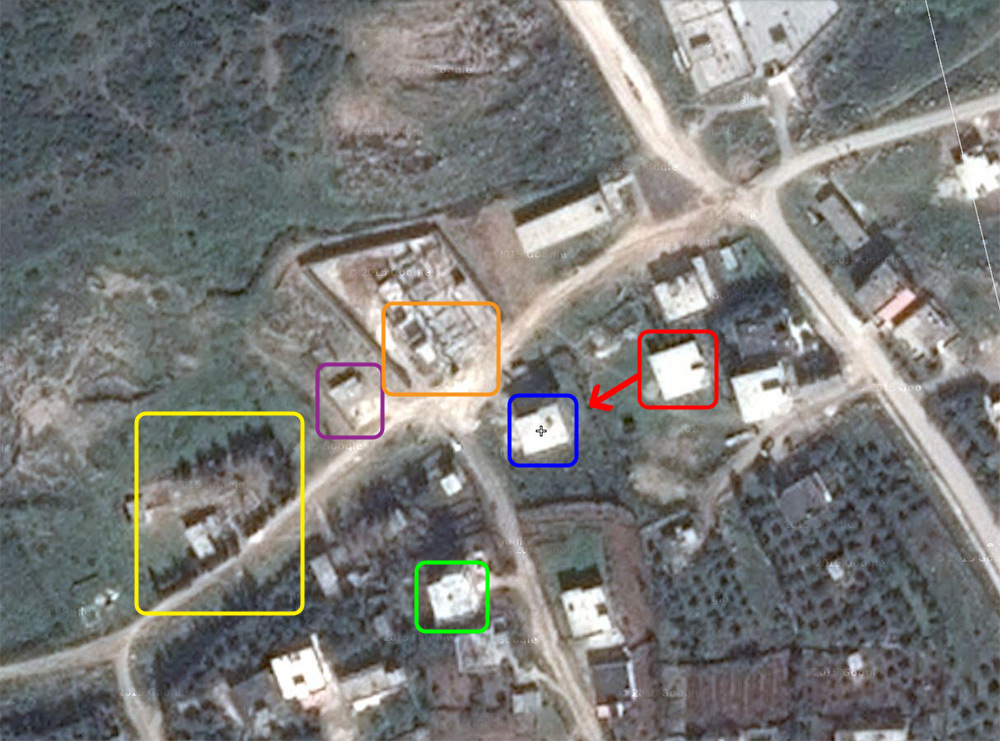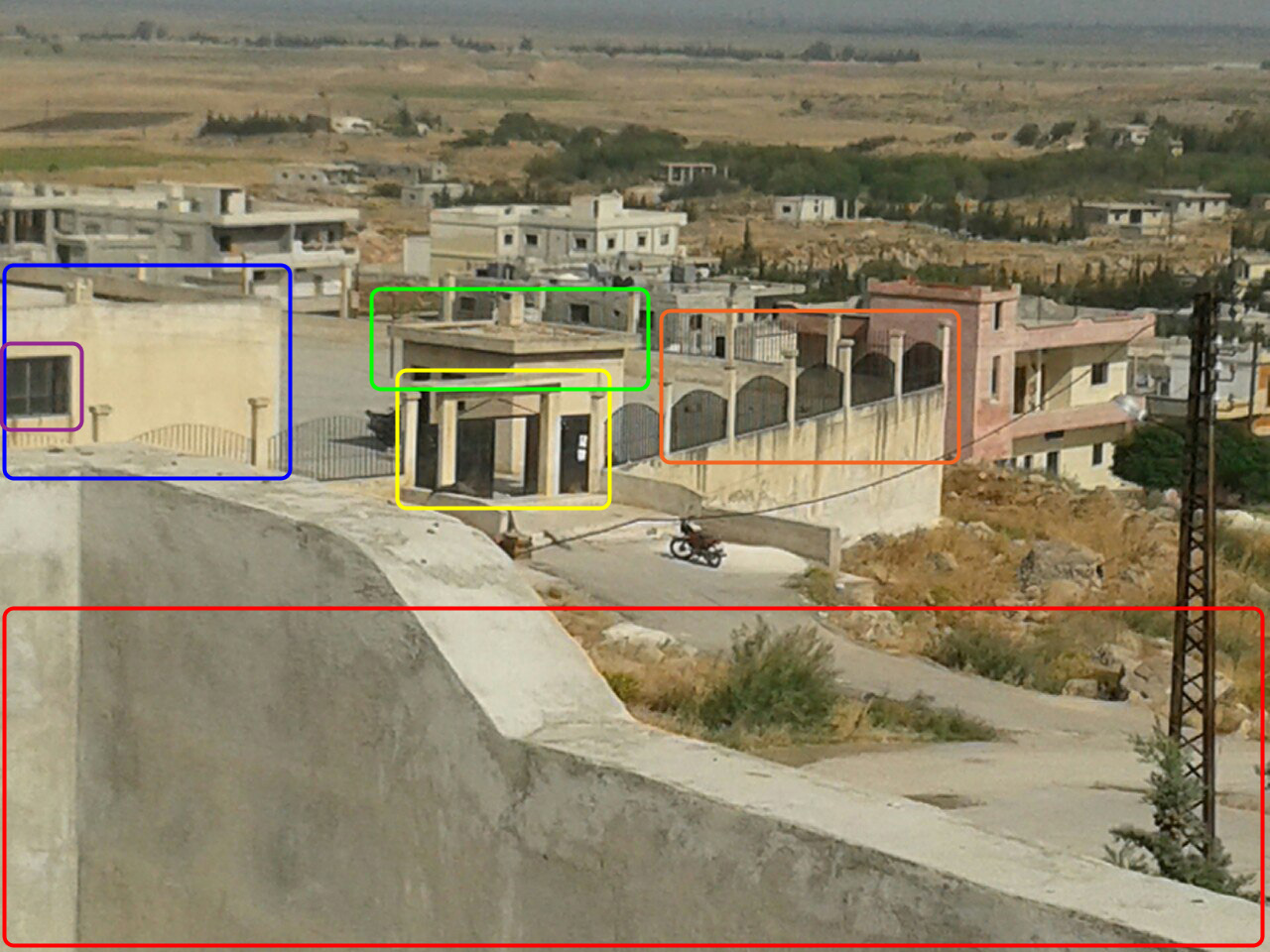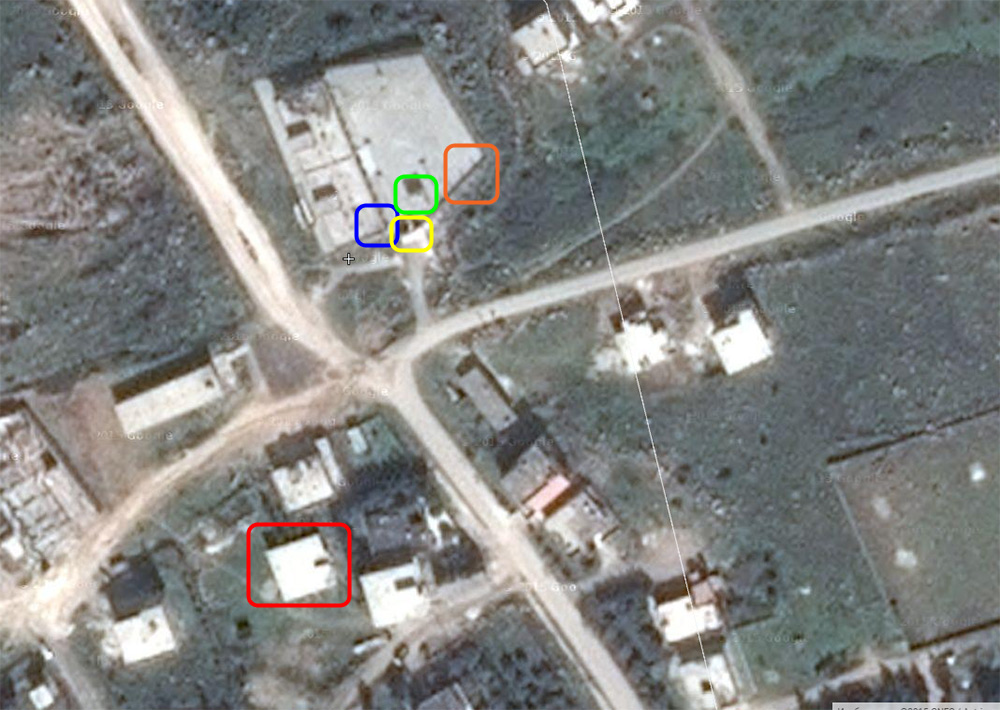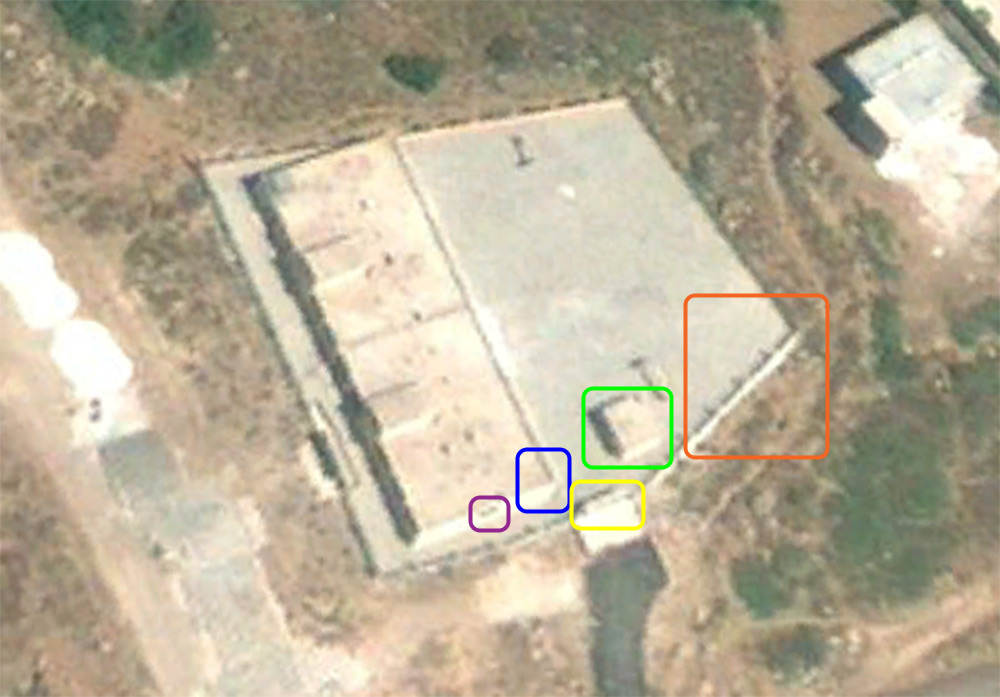 After the photos of him driving out of Hama and before the military base photos Ayas posted photos of what looked like a military vehicle "graveyard", showing a Msta-B howitzer destroyed/taken apart:
We also can see a GAZ-66 truck with damaged cabin and a Kamaz track with "21" Arab digits. It should be noted that the Arab digits known in the Western world are more correctly called "Hindu-Arabic". In Syria, on the other hand, Arabic-Indic digits are used (including for military vehicle numbering):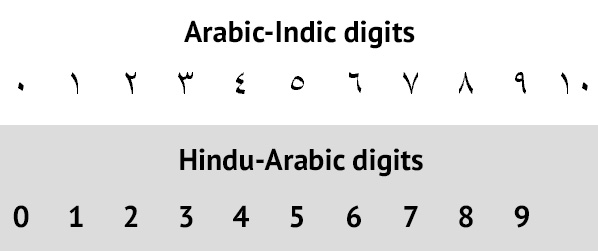 The "vehicle graveyard" is geotagged as "[road] D35, Hama Governorate, Syria", which matches the photos geolocated earlier and Ayas's direction (west of Hama). Somewhere close, Ayas also photographed other military vehicles, including a KamAZ-IVECO "Lynx" armored car:
Vladimir Boldyrev
We found a profile of Vladimir Boldyrev, who, we believe, is a serviceman of the 810th Separate Marine Brigade (military unit 13140, Sevastopol). To prove that he is a serviceman of the 810th brigade, we took two photos from his profile:
We compared them to a Russia 24 TV dispatch "debunking" our investigation on the marines of the 810th which they said weren't being sent to Syria: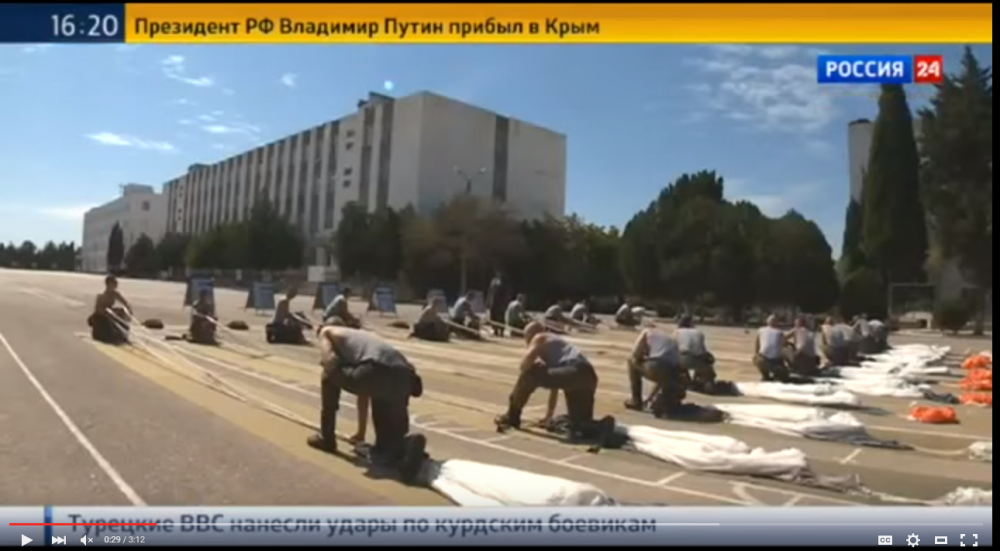 His profile also contains more interesting photos:
Makes one wonder, where can you have such hot weather on October 20? The answer lies in the next photo, geotagged to the north of Hama, at the M5 highway, running between Damascus and Aleppo: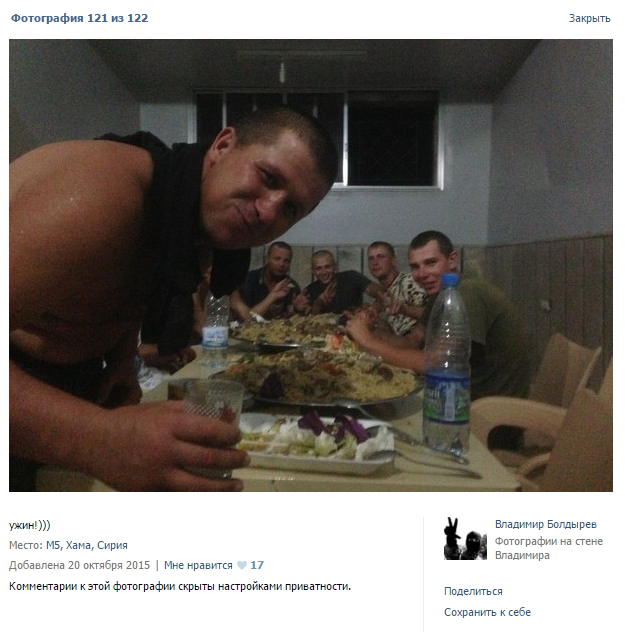 Original image
Saved copy
Map link
In the photo you can see Russian-made bottled water, but also a lot of pilaf, popular in the Middle East.

Syrian express and equipment for Asad
In mid-October, several ground vehicles were spotted in Novorossiysk port, Russia: T-72B tanks, tented KamAZ trucks and BMP IFVs: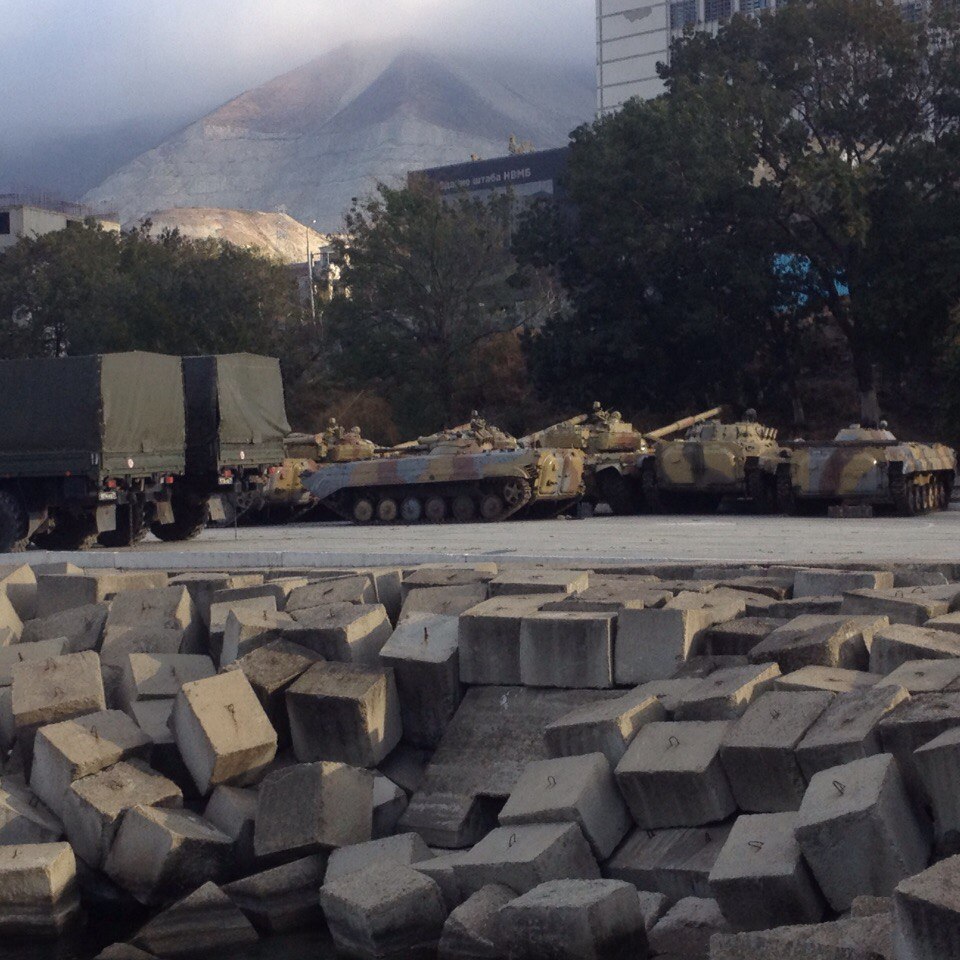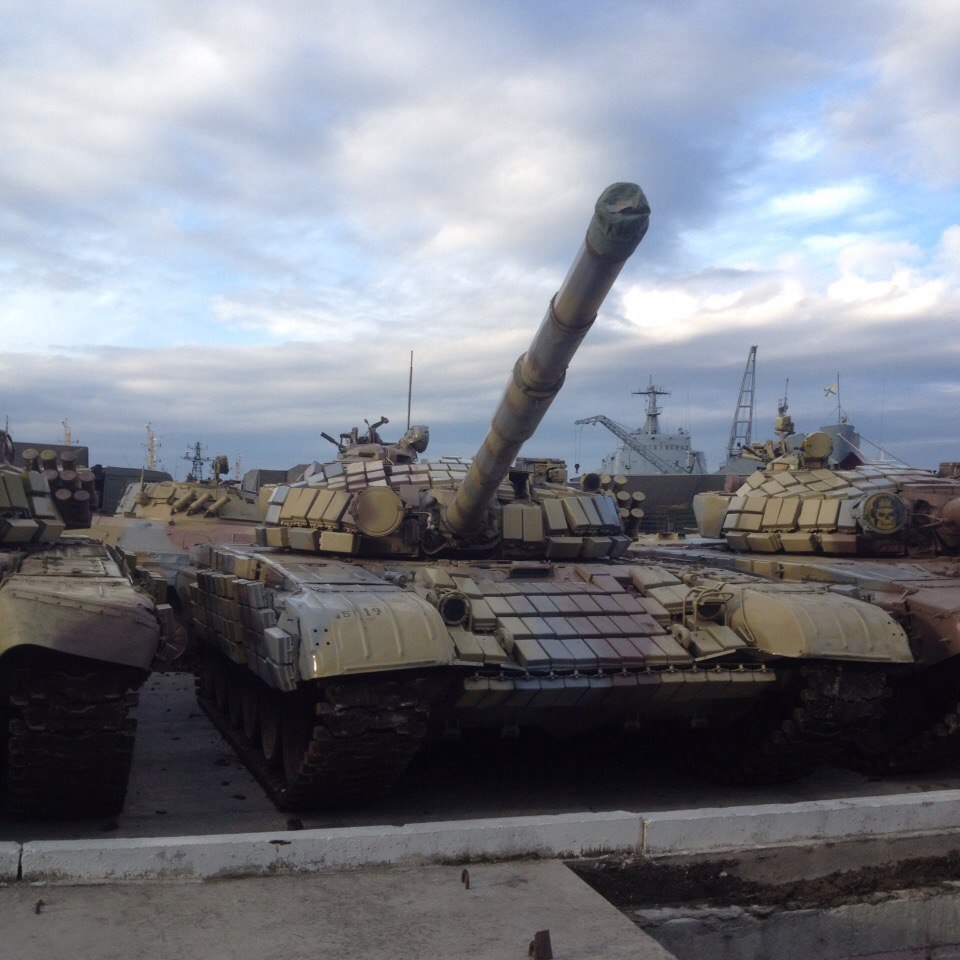 In early November, these tanks arrived to Syria:
Т-72 прибыл в Сирию. pic.twitter.com/zIf5Jm4vIx

— Ukrainian Mistress (@JuMistress) November 3, 2015
The T-72B tanks were spotted near Palmyra and in Northern Homs:
OTR-21 Tochka
Before Russia's active involvement in Syria, the last known use of OTR-21 Tochka ballistic missiles by Assad troops was in 2013:
Russia brought Tochka rockets back to Syria. Reports emerged on them being used in Idlib:
One of the rockets that launch from a #Russian warship in Mediterranean, the cities of northern #Syria #PutinAtWar pic.twitter.com/q1AZG6VJSc

— Khaled AL Homsi (@PalmyraPioneer) October 28, 2015
https://twitter.com/RamiAlLolah/status/661626831204974592
And Latakia:
Another OTR-21 Tochka found in #Latakia #Syria via @2Rook14 pic.twitter.com/Sa921dU75h

— Abraxas Spa (@AbraxasSpa) November 1, 2015
Part of a #Russia|n Tochka missile found near a refugee camp on the #Syria|n-TK border in Latakia's n- countryside. pic.twitter.com/sxzoZjukPt

— Sakir Khader (@sakirkhader) November 2, 2015
Reference photo of OTR-21 Tochka missile system: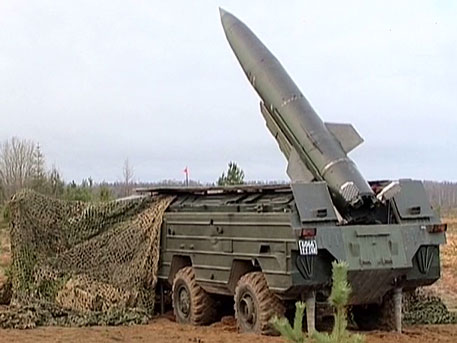 BTR-82A in Asad's army
BTR-82A APCs, one of which was earlier spotted in Latakia, are now apparently being used byAsad toops as well: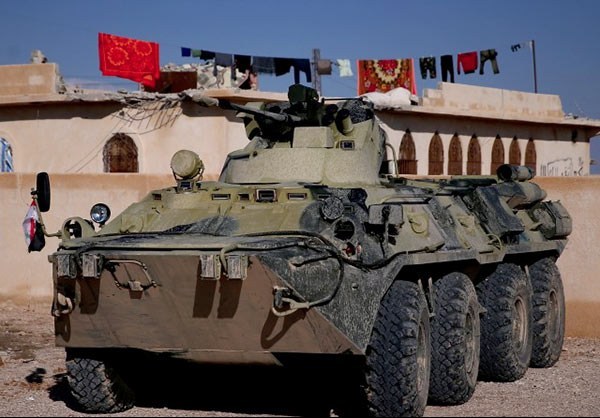 Source: Fars news photo gallery

BM-30 Smerch
In mid-October, reports surfaced of BM-30 Smerch rockets being shipped by Russia:
Pic | BM-30 Smerch in #Syria pic.twitter.com/toEOI1yiCK

— Muhammed Al-Qahtani (@muh_Alqahtani) October 6, 2015
And evidence of their use in Idlib:
Russian BM-30 Smerch artillery rocket found on Taman'a #Idlib. https://t.co/CQFHnRmmFR pic.twitter.com/GfcekI67Wh

— Stork (@NorthernStork) October 11, 2015
Personal equipment
Syria photos also show that Russia has been supplying Asad troops with new "Ratnik" helmets and vests:
#Syria #Lattakia #Latakia #Ghab_Plain New photos of #SAA #NDF with NEW Russian supplied equipment pic.twitter.com/tFYZDvArKR

— Ivan Sidorenko (@IvanSidorenko1) October 8, 2015
Several days ago, rebels published photos of a dead soldier together with a Ratnik bulletproof vest with a last name "Sulimov" written on the back:
#فيلق_الشام #ريف_اللاذقية جثة يعتقد انها لاحد مقاتلي روسيافي محور #جب_الأحمر والدرع الذي كان يرتديه تحت اقدام الفيلق pic.twitter.com/5skVCYnNld

— فيلق الشام (@ShamLegion) November 5, 2015
Advisors and artillery spotters
In early October, photos surfaced of people who look like "military advisors". In the photos, we can see KamAZ-IVECO "Lynx" armored cars, armed men in Ratnik equipment and the "advisors" themselves:
Russian advisors in #syria @IvanSidorenko1 @PetoLucem @markito0171 @JulianRoepcke @Conflicts pic.twitter.com/Fydg3y579W

— Ald_A (@Ald_Aba) October 9, 2015
A video was also published in early October, showing fighting in Latakia governorate, where a Russian artillery spotter can be heard (starting at 4:21):
Volunteers or acting GRU Spetsnaz servicemen?
We also found an Instagram profile of Ilya Petrovich Gorelyh (saved copy). Earlier, other investigators spotted his and his friend's profiles as evidence of them being in Ukraine. On October 23, he published a photo geotagged in Aleppo, showing him holding a weapon:
Then, on October 24, he published a photo geotagged in Homs. It shows 4 armed men in camouflage; in the background you can see a Russian KamAZ-IVECO "Lynx" armored car:
On October 25, Gorelyh published a photo from Bassel al-Assad airport, adjacent to Russia's Hmeimim airbase:
On October 30, he published another photo geotagged as "Homs, Syria"; however, we believe he published an older photo, because the armored car and an adjacent car hadn't moved:
Two years ago, he posted the insignia of the 16th separate brigade of Main Intelligence Directorate special forces (military unit 54607, Tambov, ex-370th separate GRU special forces unit), writing in the description he was proud for having served in this brigade for 2.5 years: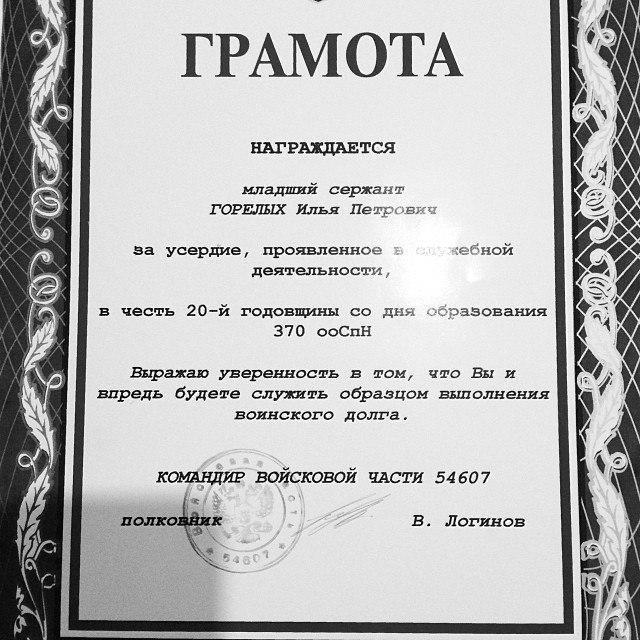 We remind that this Spetsnaz brigade took an active part in the fighting in Eastern Ukraine. In May this year, we published an investigation on three servicemen of this brigade who were killed in Donbas.
Gorelyh could have signed another contract with his brigade or gone to Syria as a volunteer. Until now, all volunteer fighters we had found in Syria joined the Kurdish forces. Here we can see armed Russians posting selfies from Bassel al-Assad airport (next to Russia's Hmeimim airbase) and then photos of themselves armed in the areas where pro-Asad forces advance, supported by RuAF airstrikes.

Conclusion
We believe that Russia's operation in Syria is a "hybrid war", not unlike the one seen in Ukraine. Apart from the airstrikes, Russia provides Assad forces with surface-to-surface rocket systems, combat vehicles, equipment, advisors, artillery support and spotters.
More importantly, recently there have been more and more reports of Russian soldiers, vehicles and "volunteers" being spotted close to the frontlines:
Although we still don't have indisputable evidence of Russian servicemen taking a direct part in the fighting on the ground in Syria, we believe the situation observed contradicts the claims of Russian officials that Russian troops are not taking part and are not planning to take part in ground operations.