This post is also available in:

Русский
Читать этот пост на русском языке
Background
For many years, Russia's Ministry of Defense has been discussing the creation of a separate Special Operations Force (SOF). The necessity of such a separate command structure was proven by experience of other wars and counter-terrorist operations. One of the purposes of the SOF's creation was uniting Special Forces units under one command structure. Before the SOF emerged as a full-fledged structure, Spetsnaz brigades were subordinate to military district commanders, while the Main Intelligence Directorate (GRU) set the tasks for Spetsnaz units without actually commanding the brigade. The SOF were mostly based on a similar structure in the US Armed Forces — United States Special Operations Command (USSOCOM or SOCOM).
The first SOF unit was "Senezh" Special operations center in Solnechnogorsk. Later a similar unit was created in Kubinka – special forces center "Kubinka-2". Due to reports by various media, the new structured didn't develop further until Sergey Shoigu replaced Anatoliy Serdyukov as Russia's Defense minister. Under Shoigu, the situation changed radically, and in April 2013 journalists were invited to SOF exercises in the Caucasus. The Senezh center is SOF's main combat unit. The Special Operations Forces are shrouded in even more secrecy than regular Spetsnaz brigades. They are one of the most secret and elite units of Russia's Ministry of Defense. The Senezh center boasts the most modern weapons, both Russian and foreign-made.
An "overheard" VK.com post
Several days ago, while monitoring social networks, our team found a group on VK.com (Russian Facebook-like website), called "Overheard in Paltso", where a post told about the death of a certain Fedor Zhuravlev. In the comments, the post's author said Fedor was killed in Syria:
Some time later, in the comments to another post in this group, another person said Zhuravlev was killed in Syria. Another commenter wrote that Fedor was killed in Dagestan in the Russian North Caucasus (we will consider this version later), but he was corrected by the first post's author, who once again said Fedor was killed in Syria
As it is customary with our team, we used assumed identities and fake profiles to establish contacts with the posters and commenters. We asked for Fedor's VK.com and OK.com profiles (to check whether he indeed was an acting Russian serviceman and whether he'd been sent to Syria):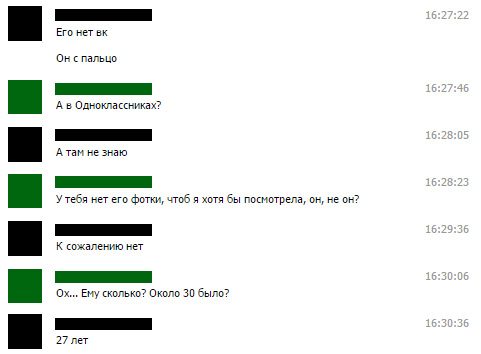 We were told Fedor Zhuravlev was 27 and didn't have a VK.com profile.
We also tried to determine when and where he died:

We were told that the circumstances of his death were kept secret.
Then we asked which forces the deceased served in: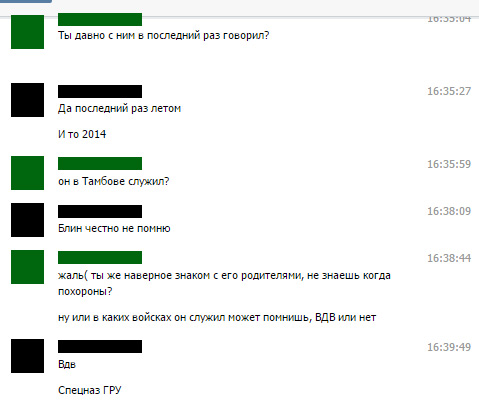 We were told Fedor Zhuravlev served in the GRU (Main Intelligence Directorate) Spetsnaz as late as summer 2014.
We also asked where was the information on him being killed in Syria coming from: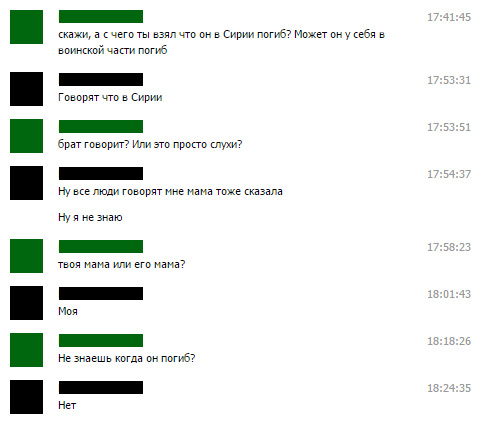 We were told that "everyone" in the village believed Fedor Zhuravlev was killed in Syria.
The person on the screenshots above is a friend of the deceased, a quite removed one, since he told they never mer after summer 2014. Our nicknames are obscured by green, the deceased's friend is obscured by black.
After that we talked to another friend of the deceased. He told us Fedor Zhuravlev was his best friend. We found out the deceased's patronymic (Vladimirovich), confirmed his age (27) and the facts that he had a brother called Alexander, a wife, and a daughter. The other friend also confirmed that Fedor was killed in Syria: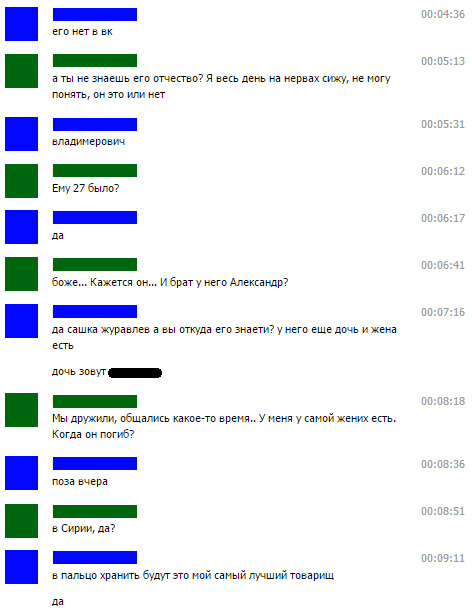 Our messages are obscured in green, the friend's nickname is obscured in blue.
We tried to find Fedor Zhuravlev's profiles on social networks, but,, just like his friends said, he turned out to have none, which is quite typical for GRU Spetsnaz servicemen. We observed the same during our investigation on Spetsnaz servicemen killed in Eastern Ukraine — they either had no social networks profiles or had profiles under fake names. We were unable to find the profiles of his brother and parents either.
Field work
This information was not enough to publish a full-fledged investigation, but it was too important to let the matter drop. So we transferred the information to several journalists so that they could conduct their own investigation and contact the relatives and Russian MoD officials. That was before the funeral took place. We also decided to perform a field trip to the village where Zhuravlev's parents lived and where his funeral was to take place. Local sources told that on Monday, November 23, the servicemen of Fedor's unit paid last respects to him and another deceased comrade-in-arms. Sources said it happened in Solnechnogorsk, on the coast of Senezh lake. The sources also said that apart from the two servicemen killed in action, another one was wounded.
There are two military units in Solnechnogorsk: 43292 and 92154. According to some reports, both units occupy the same facility. There are many links on the unit #92154 on the Internet that describe it as a GRU Spetsnaz unit which formed the basis for the Senezh SOF center. There is little information on the Internet on the military unit #43292. Everywhere it is either mentioned as a GRU Spetsnaz unit (however, there are way fewer links than those describing unit #92154) or no type of armed forces is mentioned at all. Many links concerning the unit #43292 lead to threads and groups like "Spetsnaz GRU unit #92154". We believe that military unit #43292 is the HQ, command unit or garrison of the Senezh center.
Local sources also told us the wife of the deceased lived in Solnechnogorsk, which also links Fedor Zhuravlev to the Senezh center.
On Novermber 13, a Research Fellow of the Royal United Services Institute for Defence and Security Studies (RUSI) Igor Sutyagin published an article listing Russian units involved in the operation in Syria. This list contained, among others, a sniper team from the Senezh center: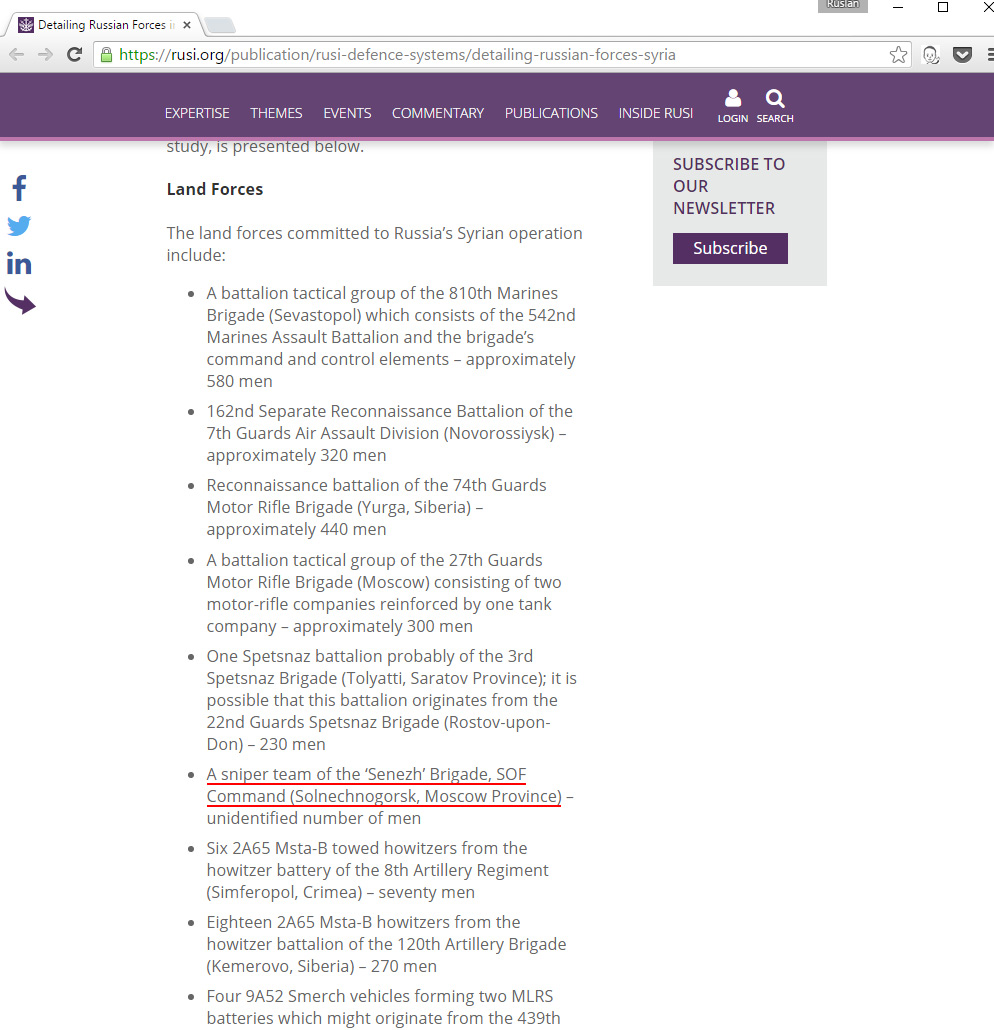 Also on November 17, when the Federal Security Service admitted the Russian Airbus A321 flight 7K9268 was destroyed by a terror attack, Sergey Zhigarev, the first vice-chairman of the Russian Parliament's Defense Committee, told TVRain channel:
"Vladimir Putin was pretty clear that vengeance will find the terrorists, and I believe this could involve Special Operation Forces, acting on the ground, not from the air".
While this is just a private comment, not an official parliamentary statement, it is still notable. Concerning Vladimir Putin's promise that the terror attack's organizers would be found and punished wherever they were, Russia's most elite Special Forces unit could be expected to appear in Syria.
When journalists joined the work on our investigation, the locals seemingly became aware of the attention and suddenly changed their behavior: they stopped contacting journalists and suddenly started claiming Zhuravlev was killed during a counter-terrorist operation in Dagestan, not in Syria. Fedor's relatives also strictly adhere to the version Fedor hasn't been and Syria and was killed during a counter-terrorist operation in Dagestan and that he wasn't an SOF or GRU Spetsnaz serviceman but an ordinary paratrooper.
It is worth reminding that when in June 2015 we spoke to the parents of killed GRU Spetsnaz servicemen from the 16th separate brigade, their parents also claimed their children were killed during a counter-terrorist operation in North Caucasus, not in Eastern Ukraine. They documents they had received from Russia's Ministry of Defense contained the same version of their death.
Indeed, a counter-terrorist operation recently took place in Dagestan, but no Russian forces' casualties were reported. Apart from that, the counter-terrorist operation in Dagestan started in November 22, while Fedor's friends have known of his death "since Thursday", i.e. November 19.
Trip to Paltso
Further investigation required finding out the exact date of Fedor Zhuravlev's death and photographing his grave to prove he indeed was an active serviceman (by the wreath and uniform on his photo). We tried to find volunteers for this task. We published a message to search for helpers, obfuscating our real target with two other cities known for military units based there: Tambov and Baltiysk.
Для выполнения секретного задания нам нужны люди из Тамбова, Брянска и Балтийска. Напишите в телеграм https://t.co/6ZZnHY0zUK

— Руслан Левиев (@RuslanLeviev) November 23, 2015
However, eventually we decided to go there ourselves, because the task was too dangerous and involved risks to healths and freedom and also because we would need a very trustworthy volunteer. We waited until after the funeral (so that we wouldn't attract unnecessary attention), which took place on November 24, and arrived to Bryansk at night by train: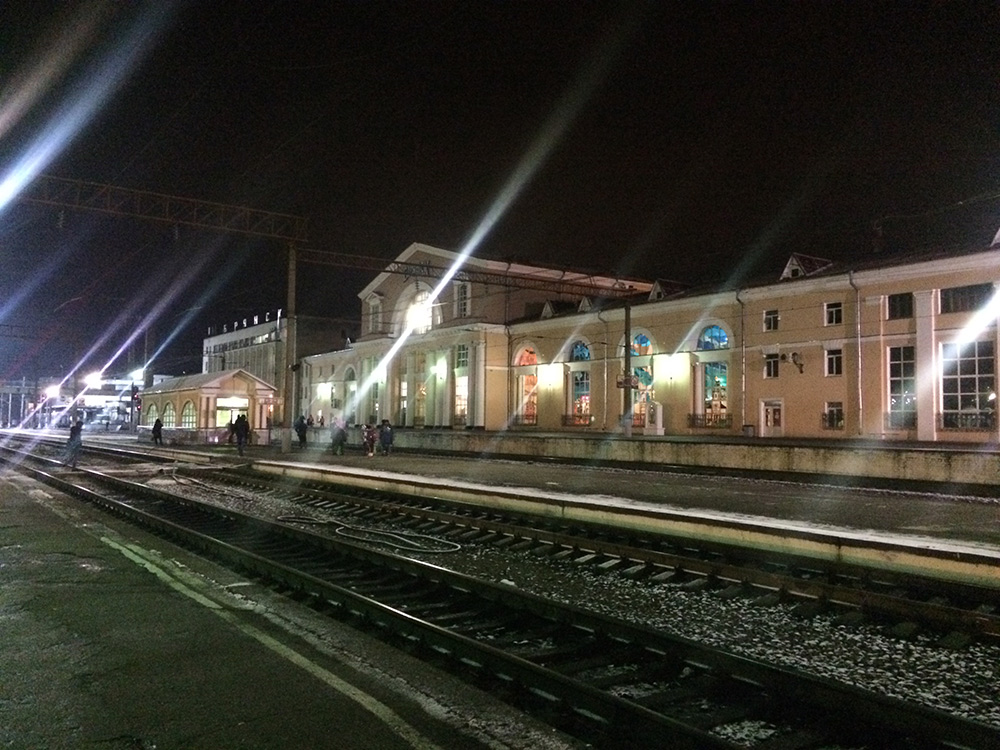 The road to the small village of Paltso was a 1,5 hour drive through a snowy wilderness: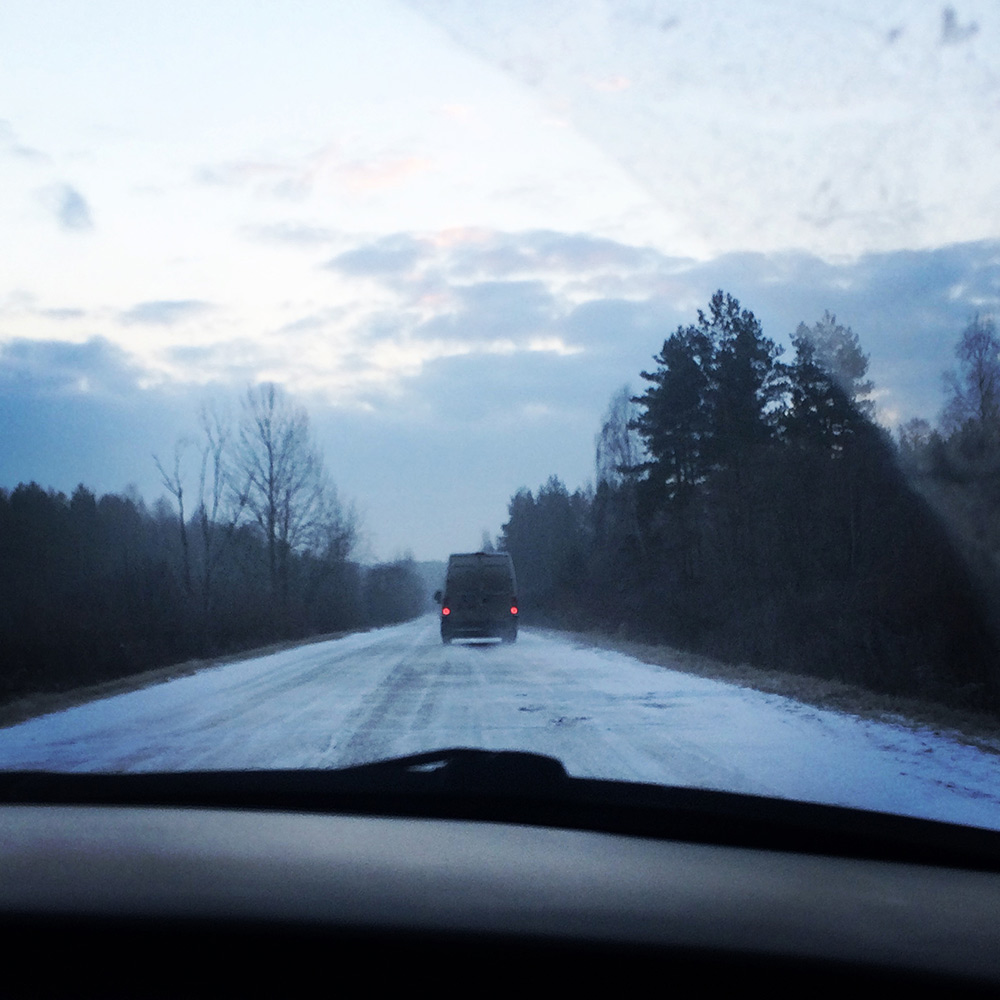 As we arrived to Paltso, we had to locate the graveyard. Since the village is very small (it's population is but 958 people), maps don't show its facilities. To find the graveyard, we followed a trail of pine branches and flowers we noticed on one of the roads in the village. The even trail led from Fedor's parents' house to the graveyard, which we found in a forest outside the village: we easily found Fedor's grave:
We determined Fedor's exact dates of birth (11.09.1988) and death (19.11.2015). The confirmed death date did not match the counter-terrorist operation in Dagestan, which started 3 days after Fedor's death.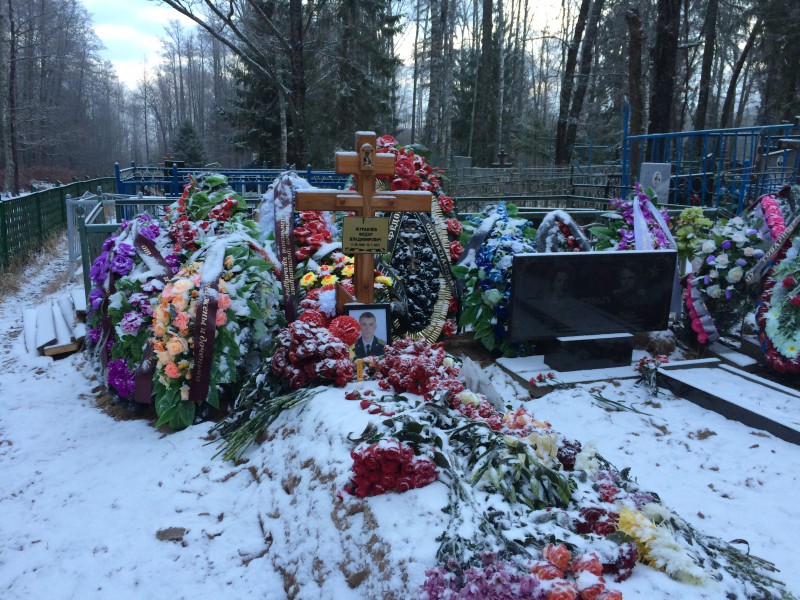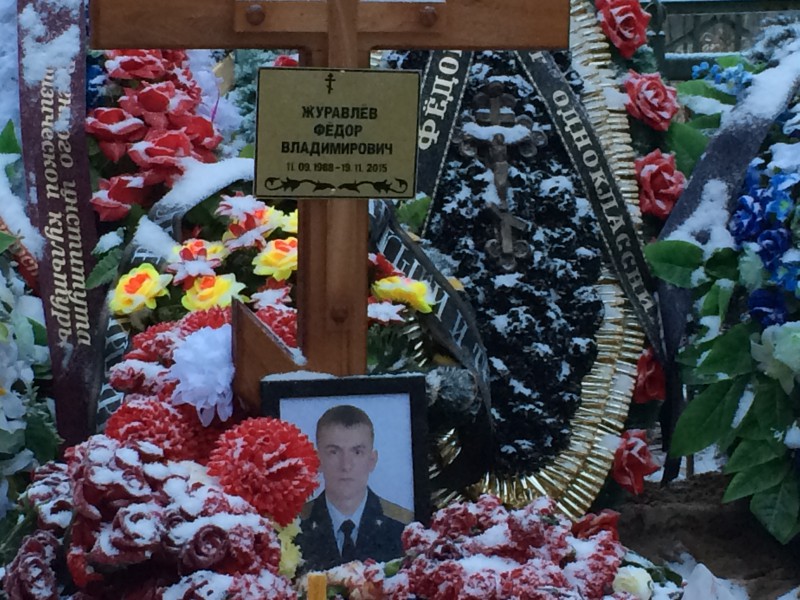 At the grave we found wreaths from Russia's Ministry of Defence and Fedor's comrades-in-arms, the same as we saw at the graves of Spetsnaz servicemen in May: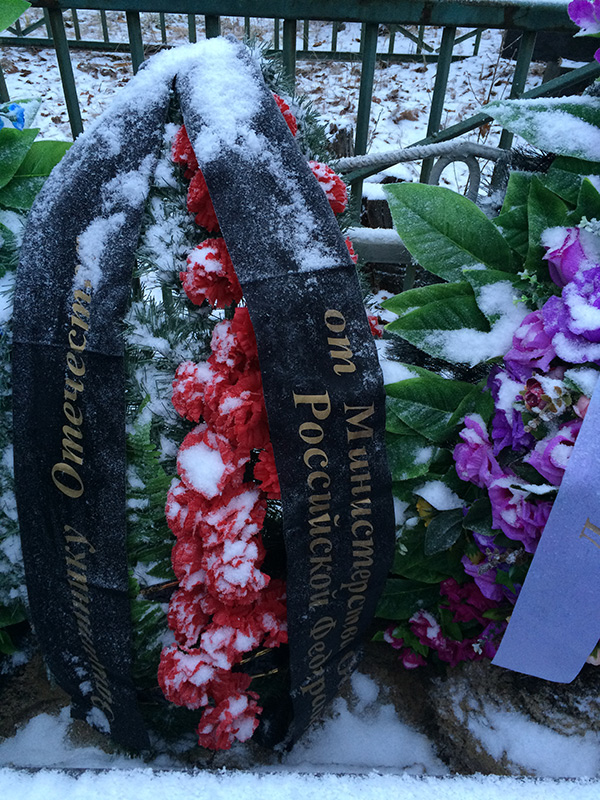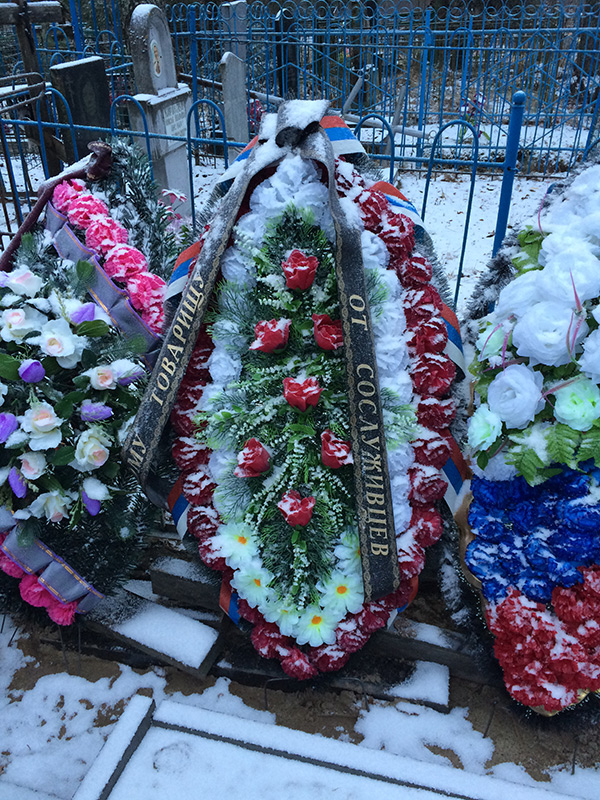 Fedor's photo shows him in a military uniform with Captain insignia: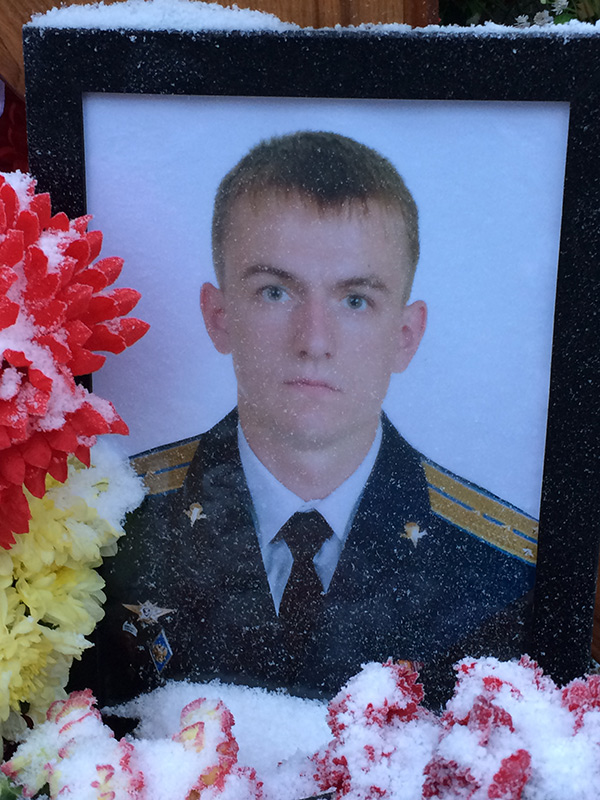 There are paratrooper insignia on his collar, but this does not contradict Fedor's service in Spetsnaz. We remind that the servicemen of the 16th separate Spetsnaz GRU brigade, whose deaths we reported in May, wore the same uniforms with the same insignia: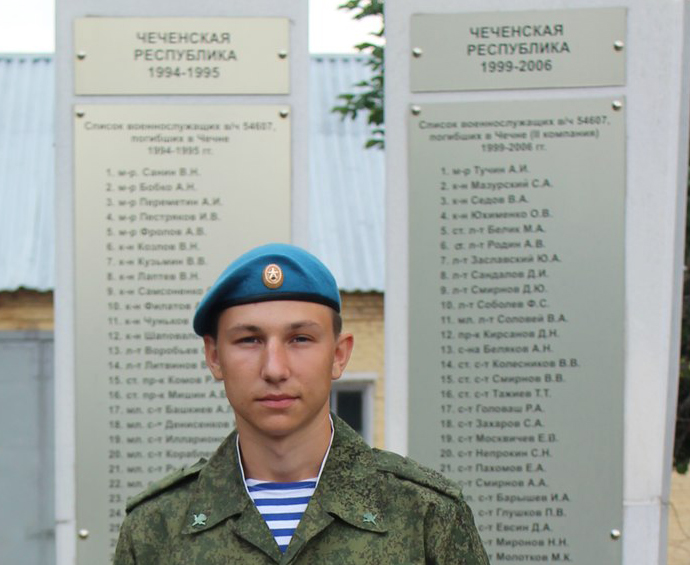 Anton Saveliev, serviceman of the 16th separate Spetsnaz GRU brigade
Moreover, news reports from the unit #92154 shows Spetsnaz serviceman from this unit wearing the same uniforms with paratrooper insignia and blue-striped shirts: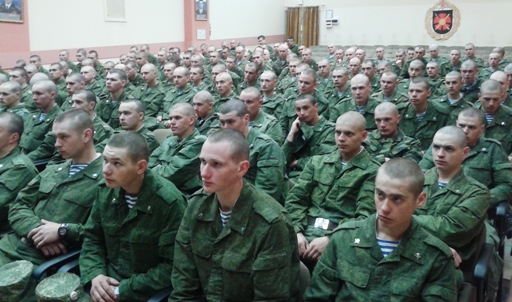 Conclusion
We believe we have proven Fedor Zhuravlev was an active serviceman of the Senezh Special Operations Forces center at the time of his death. However, there is no indisputable proof that he had been deployed to Syria and was killed there. The analysis of the current situation in Syria, as well as the similarity of the "official version" of Fedor's death with the official versions of the deaths of Spetsnaz servicemen killed in Ukraine, suggests Fedor was indeed killed in Syria. However, there has been no confirmation to this version. We decided to publish this post to attract journalists and the public to further investigation. So far, we have been unable to find out the names of the second killed serviceman and the wounded serviceman local sources told us about.
CIT Fundraising
We are continuing our team's fundraising campaign.
Support Conflict Intelligence Team
In 10 days, we have been supported by 57 people, which allowed us to raise 2% of our target. This fundraising is very important to us since it allows us to conduct more thorough investigations, as well as, more importantly, perform field trips to find more proof to back our findings. The Paltso trip cost us 7,600 rubles ($115). We will publish a more detailed fundraising report separately.
Note: we found out that many don't realize that our team's donation page allows to enter any amount in the third field, as little as 1 ruble.