This post is also available in:

Русский
In January 2016, Syrian government troops launched an offensive in the north of the coastal Latakia governorate, advancing to the Turkish border. On January 12, pro-Assad forces took the town of Salma, and on January 24 — the town of Rabia. Thus, Syrian opposition forces were largely pushed out from Jabal-al-Turkman mountains on the Turkish border (earlier the Russian Su-24M crashed in the area, see geolocation).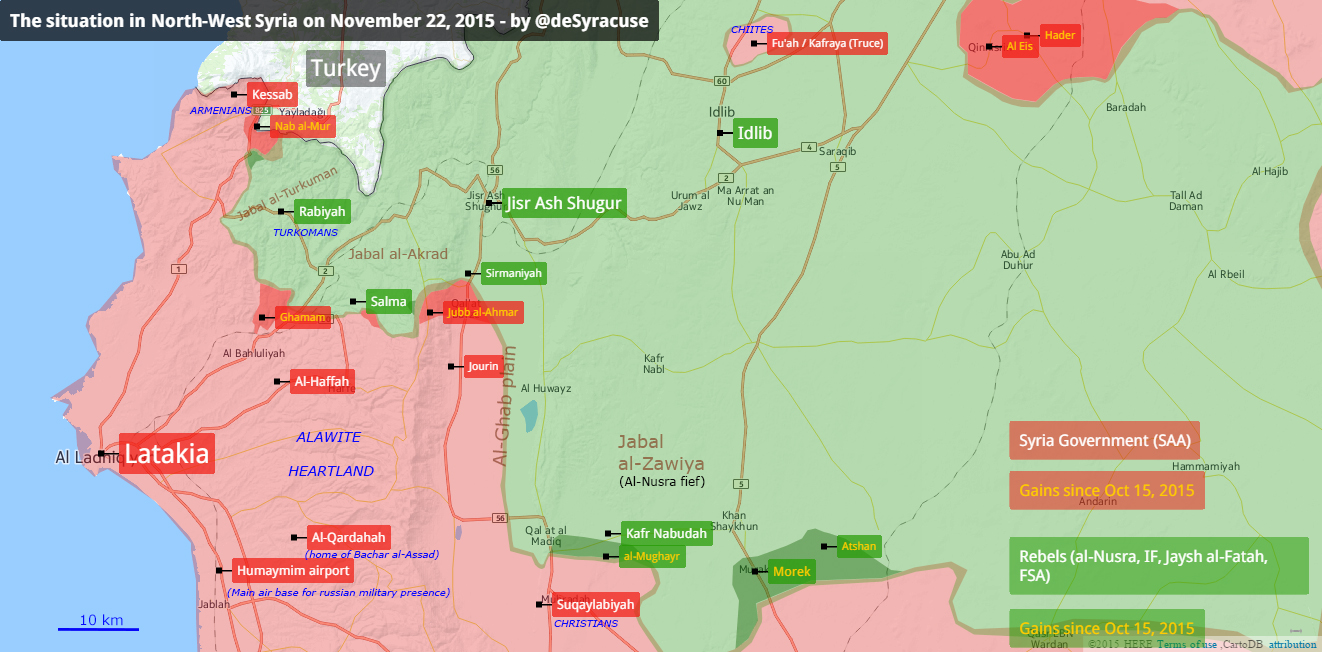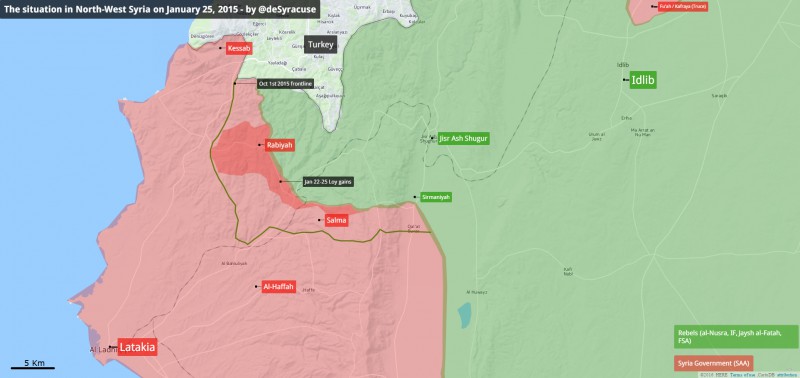 Government troops' progress in Latakia (map sources: November 22, January 25).
This was a first major successful government offensive since the start of the Russian campaign in Syria. Until then, the rebels have managed to mount rather successful defenses and, in some cases, recapture areas taken by pro-Assad troops.
We believe this remarkable pro-Assad success can be at least partially attributed to the presence of Russian officers and Russian artillerymen firing Russian artillery pieces.
Russian officers
Arabic "Al-Rai" newspaper learned from Damascus sources that the operation in Northern Latakia was headed by Russian officers. A video, published on January 12, shows one of these officers, answering Syrian journalists' questions about government troops' performance via translator:
At 1:03 the officer can be seen observing the frontline with a binocular: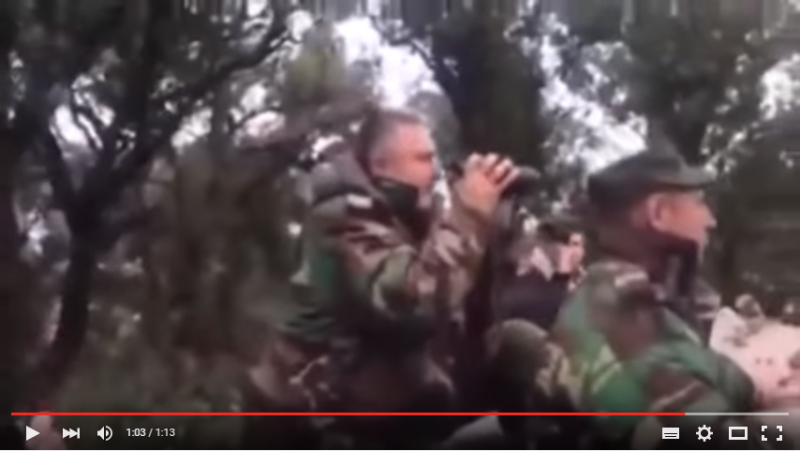 The video shows a Syrian stringer Eyad al-Hosein who is known for covering pro-Assad forces' activities. On January 12, the day the video was published, Eyad poster a photo, which, according to the hashtag, was taken near Salma in Northern Latakia:
من قلب ضاحية #سلمى
منصورين باذن الله ✌️ pic.twitter.com/CMltrYff8G

— Abo Zain (@AboZain6) January 12, 2016
Thus, we may conclude that Russian officers at leas directly observe the government troops' offensive against rebels in Northern Latakia.
Smerch MRLS
On January 24, Twitter user "Ivan Sidorenko" published several photos taken by a pro-Assad soldier.
#Syria #SyrianArabArmy #SyrianArmy #Russia #Russian Photos taking yesterday #SAA pic.twitter.com/fNVPolNFOo

— Ivan Sidorenko (@IvanSidorenko1) January 24, 2016
One of the photos showed men in Russian uniforms loading rockets into a 9A52-2 launcher (BM-30 "Smerch") using a transporter-loader vehicle 9T234-2: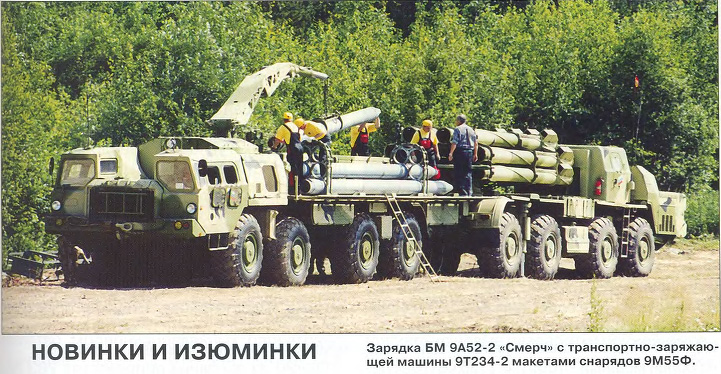 Reference photo source: "BTV" magazine, January-March 2003, p.5.
On the same day (January 24), a pro-Assad account "SAA reporter" published a video described as "Russian MRLS" being used in the Turkmen mountains in Northern Latakia:
Earlier (on September 30) a photo was published of Assad soldiers with a Smerch in Al-Qerdaha:
Providing #1 is a BM-30…what is #2?
I luckily found the location, they are in the stadium of Al-Qerdaha pic.twitter.com/7wQEcapN6I

— LuftwaffeAS (@LuftwaffeAS) September 29, 2015
Russian artillerymen firing MSTA-B howitzers
Last year our team reported the use of Msta-B howitzers, likely by Russian crews, at the Syrian government-ISIS frontline near Palmyra. Later this information was confirmed when a 120th artillery brigade unit was spotted on a Russian Ministry of Defence Syria map.
Msta-B howitzers aren't used by Syrian government troops:
This time Msta-B howitzers were filmed by a Russian war reporter: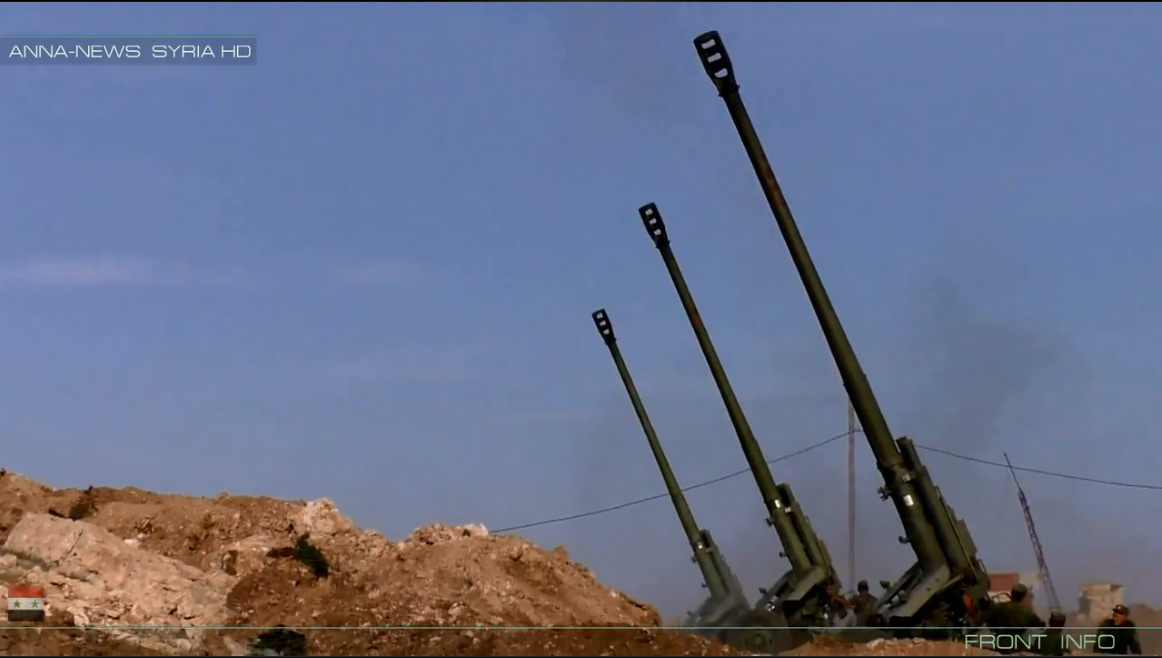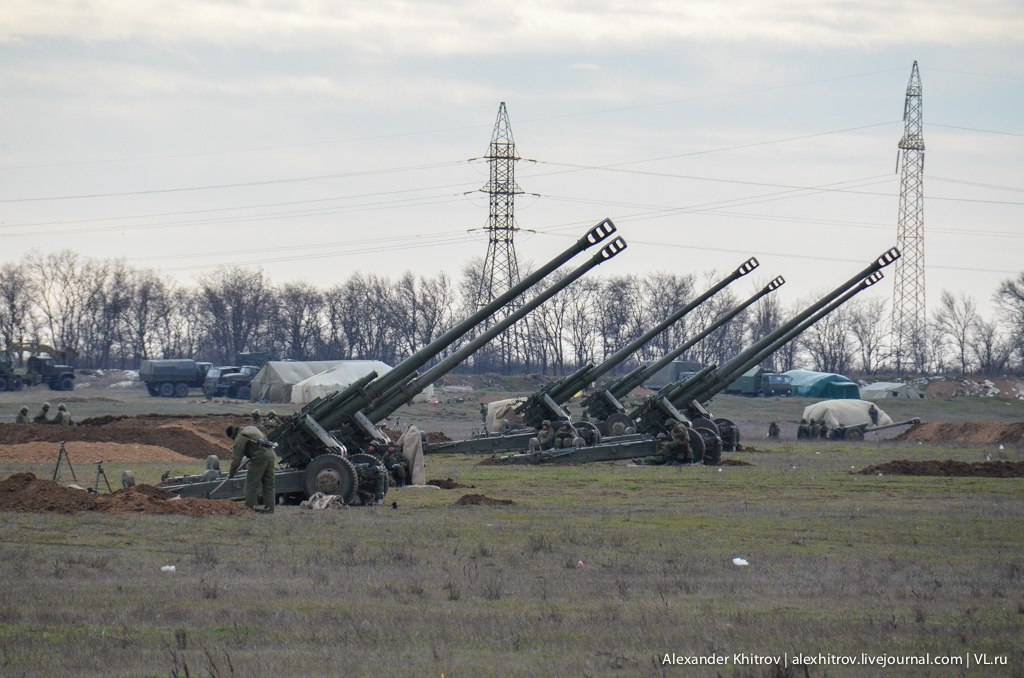 Reference photo — Russian Msta-B howitzers on the border of Crimea with mainland Ukraine, source
At 0:17, 0:57 and 1:58 commands in Russian can be heard: "Second [cannon] ready! Cannon-Fire!", and after that the second howitzers fires a round.
Moreover, in the bottom right part of the frame you can see the artiellery crew, wearing uniforms similar to Russian. At 2:07, you can see a badge on the cap of a soldier:

Such badges are a distinct feature of Russian uniforms, unlike Syrian, where caps have no badges:
The description of the video says it was filmed in Latakia, where the government forces are on the offensive. It is likely that Russian artillerymen are supporting that offensive.
Apart from that, a panoramic mountain view in the video, according to Twitter user @5urpher, was filmed from atop Nabi Younis peak, where, we believe, there is a lookout point for artillery spotters:
BM-21 Grad with Russian crews
On January 20, a Russian stringer published a video with a 2B17 (BM-21-1 Grad) launcher doing a trial shot:
The soldiers doing the shot wear uniforms similar to Russian, and a badge can be seen on the driver's cap at 3:37: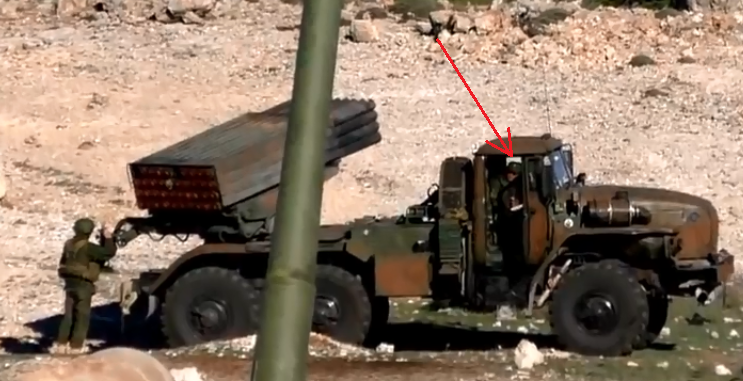 The camo patter of these Grads differs significantly from the one used by the Syrian Arab Army:
Syrian BM-21-1 convoy, October 2015. pic.twitter.com/sEOJCxKgjw

— Morant Mathieu (@MathieuMorant) January 26, 2016
Moreover, as noted by Twitter user @ain92ru, in the foreground of the video one can see the barrel of a Msta-B howitzer:
Another video, published by the same reporter on January 19, shows similar Grad vehicles:
At 2:22, a KamAZ-63501AT artillery tow truck can be clearly seen: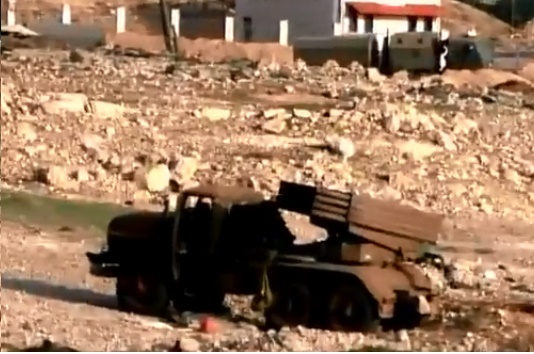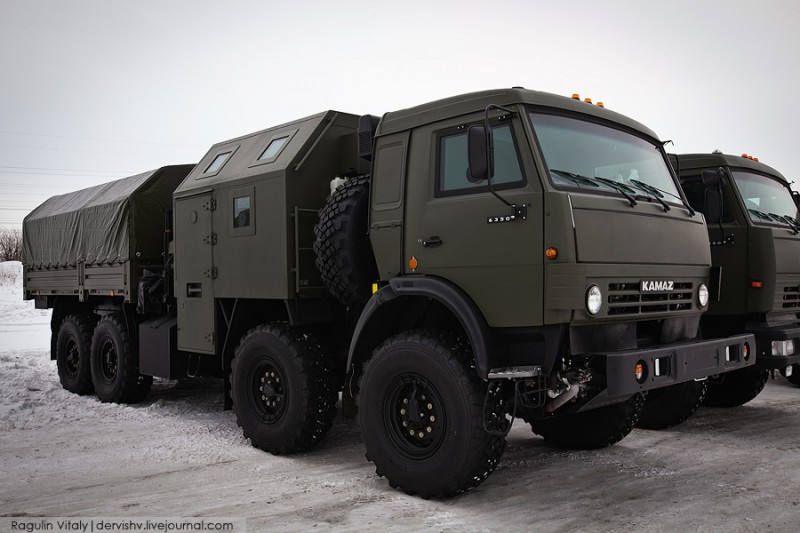 Earlier, an identical truck was spotted towing a Msta-B howitzer in a Russian convoy near Latakia and in satellite images showing Hmeimim airbase.
The filming location was determined with a Google Earth landscape model:
Google Maps link
A Panoramio photo geotagged nearby shows three towers visible at the start of the video: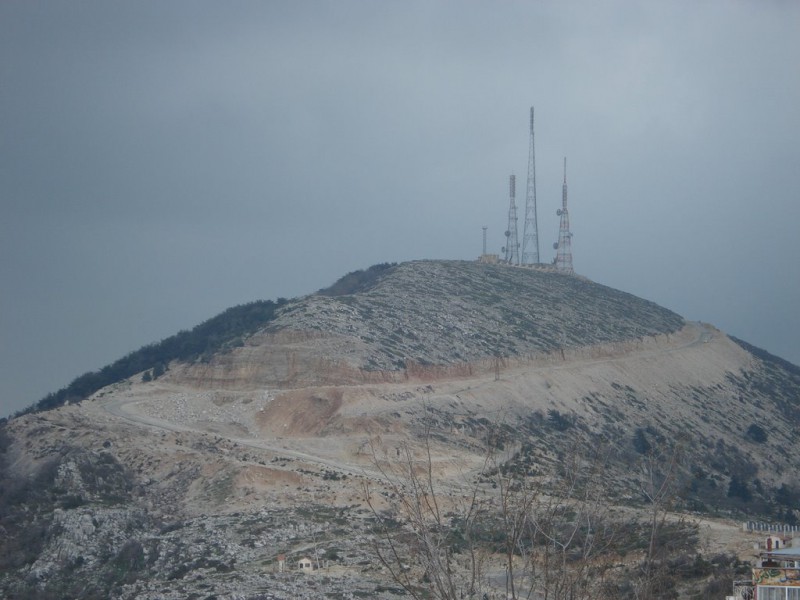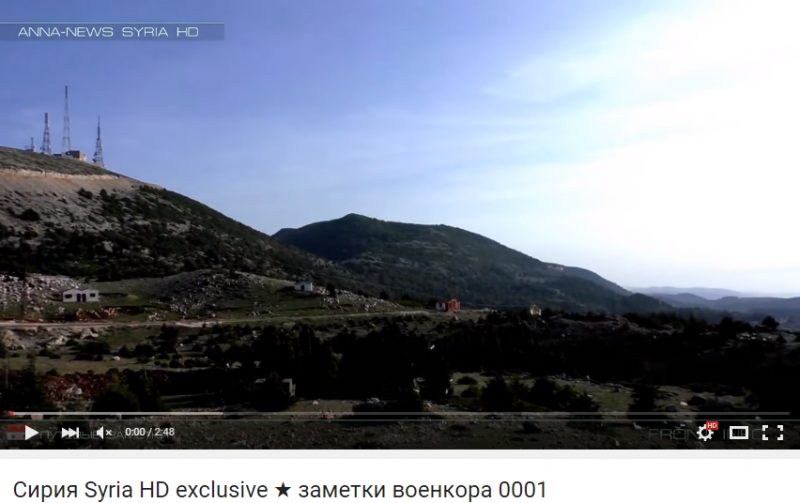 Moreover, we believe that the Msta-B video was filmed in the same area, since both videos feature 3 distinct poles:
The filming location is about 6 kilometers from the town of Slanfah. On January 23, Informnapalm investigation team published photos of Russian soldiers allegedly in Slanfah.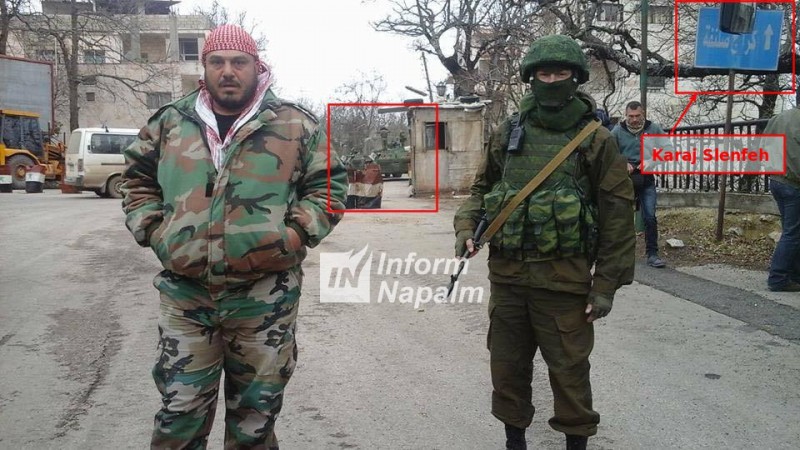 The sign "كراج صلنفة" points to a location on Wikimapia in Eastern Slanfah, 5 kilometers from where the Grads and artillery truck were filmed. The Russian soldiers were probably guarding the artillerymen and vehicles rendering fire support to the Syrian government troops.
Conclusion
Contrary to yet another Kremlin claim Russian troops aren't taking part in a ground operation in Syria, there is evidence of Russian officers observing pro-Assad operations and Russian rocket and cannon artillery, rendering direct fire support to government offensives.
Special thanks to Twitter users @bm21_grad, @5urpher, @ِAbraxasSpa and @ain92ru for helping in preparing this report.
CIT fundraising effort continues
The work of our future employees (currently working as volunteers) takes up a lot of time which can be a problem for someone having a day job. Thus, our team continues its fundraising effort to pay salaries to our team members, allowing us to publish higher-quality investigations faster. You can support our team at the donation page or through the form below: