This post is also available in:

Русский
The end of this August will mark the first anniversary of Russia's unofficial intervention in the Syrian Civil War — on August 23 2015, a Russian BTR-82A APC with a Russian-speaking crew was spotted in combat footage from Syria's Latakia province. Officially, the Russian operation in Syria started on September 30, 2015. The presence of Russian forces on the ground in Syria, unlike in Eastern Ukraine, has been openly confirmed to a certain extent (Russian serviceman directing airstrikes, working as military advisors, guarding convoys etc). However, we have noted Russia's officials have used a differentiated approach to Syria losses, depending on their service branch and specific task.
Less than a month has passed since the downing of a Mi-8AMTSH helicopter with five Russian servicemen on board. The Russian Ministry of Defense immediately disclosed the names of the three crewmembers via a source to a Russian publication Gazeta.ru. The two passengers, according to military officials, were officers of Russia' "Reconciliation center". Their names are still unknown.
This differentiated approach to reporting Syria lossed can be traced through other reports on the deaths of Russian soldiers. In November last year, we reported the death of a Special Operations Forces serviceman Fyodor Zhuravlev in Syria. For months, his death remained unacknowledged, until Vladimir Putin admitted it in March 2016.
The Russian MoD reported the death of an artilleryman Ivan Cheremisin in Syria, without, however, giving his name. It was uncovered by journalists later.
The name of yet another KIA artilleryman, Alexandr Prokhorenko, also wasn't given in the initial MoD dispatches. Officially, his death was described as heroic: he allegedly was encircled and called an airstrike on himself. His name was also later uncovered by journalists.
Almost every Russian serviceman killed in Syria was posthumously awarded with an Order of Courage.
SOF secret losses
Oleg Arhireev
About a month ago, we were contacted by a close acquaintance of a Russian serviceman killed in Syria. This serviceman was Oleg Arhireev, a serviceman of the Special Operations Center "Senezh". Our source told us that, just like Fyodor Zhuravlev's relatives, Arhireev's relatives also received papers stating he was killed in a counter-terrorist operation in the Russian North Caucasus. However, according to the same source, the relatives do know the truth since Arhireev sent him photos, and they were unofficially informed of the real circumstances of his death. We haven't been able to confirm via open sources that Arhireev was indeed killed in Syria, but some social media posts state he was killed on duty in a mine explosion: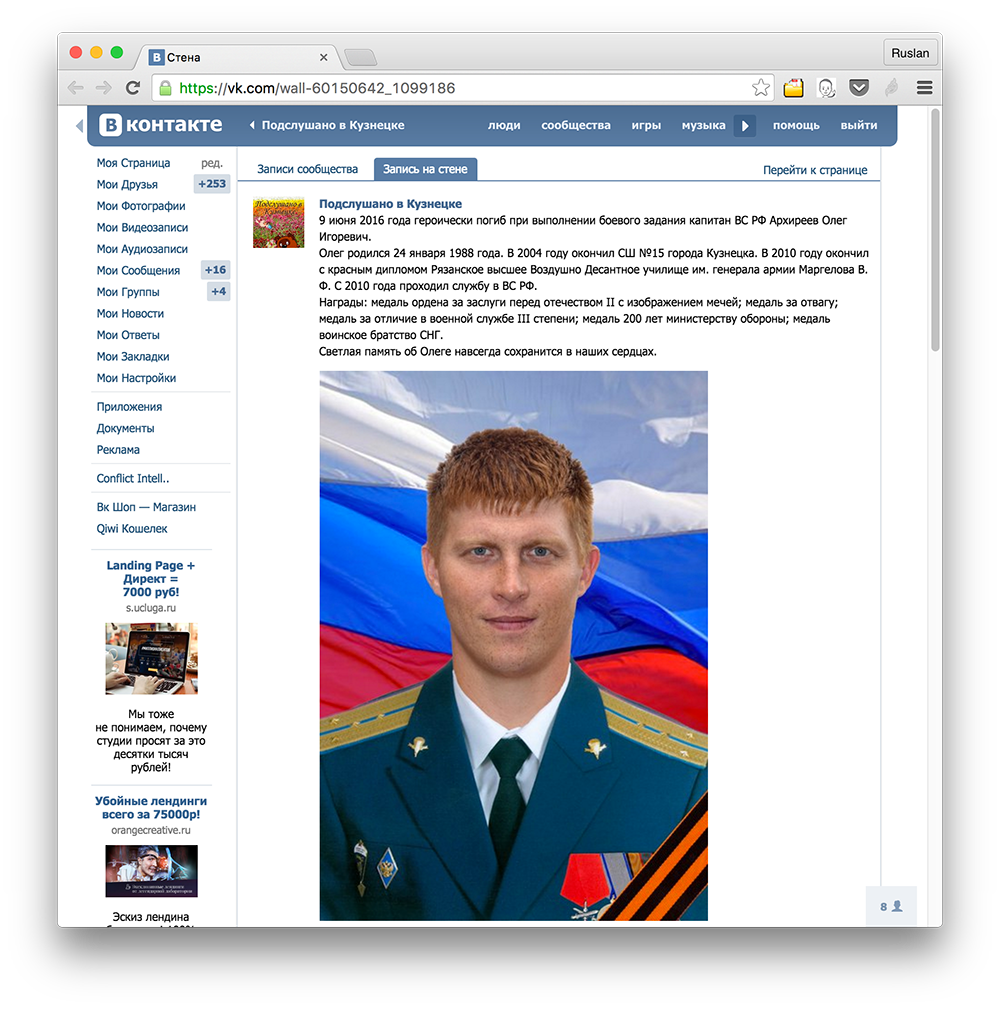 Original vk.com post
Saved copy
One of the mourning collections of the deceased's photos has a picture of him in a military school: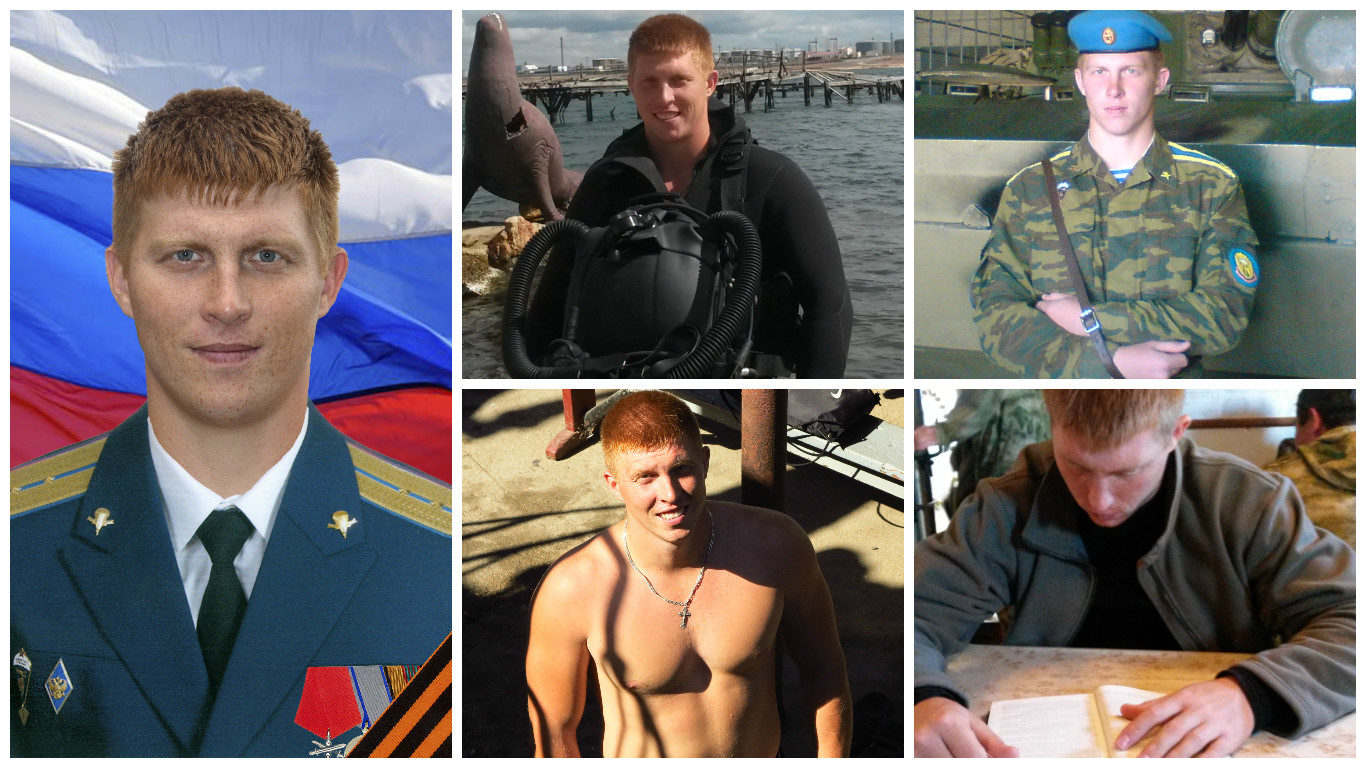 Arhireev's shoulder patch shows that he is an alumnus of Ryazan Paratrooper Higher Command College:
Another confirmation was found on social media, where a former student of the Ryazan college asked his fellow ex-students for donations to Arhireev's widow:

Original vk.com post
Saved copy
We found out that Arhireev was buried near Solnechnogorsk, where the "Senezh" Special Operations Center is based, in a separate part of the graveyard reserved for deceased Special Operations servicemen (a similar area of the Nikolo-Arkhangelskoe graveyard is reserved for the FSB's Special Operations servicemen):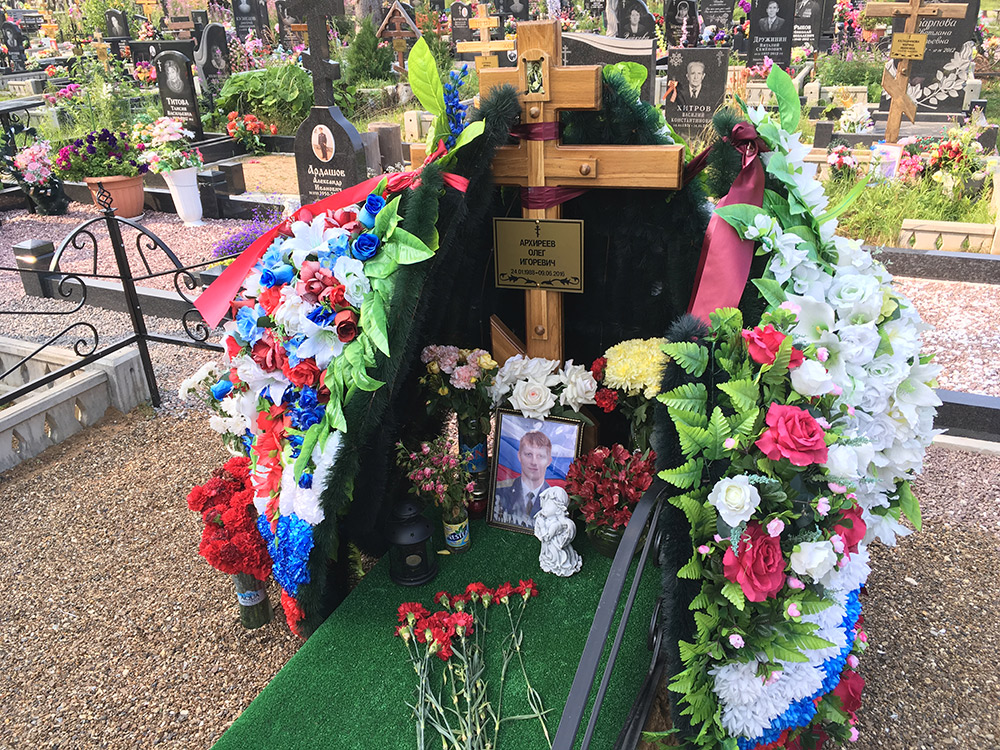 Near Oleg's grave, there was a wreath from military unit 01355: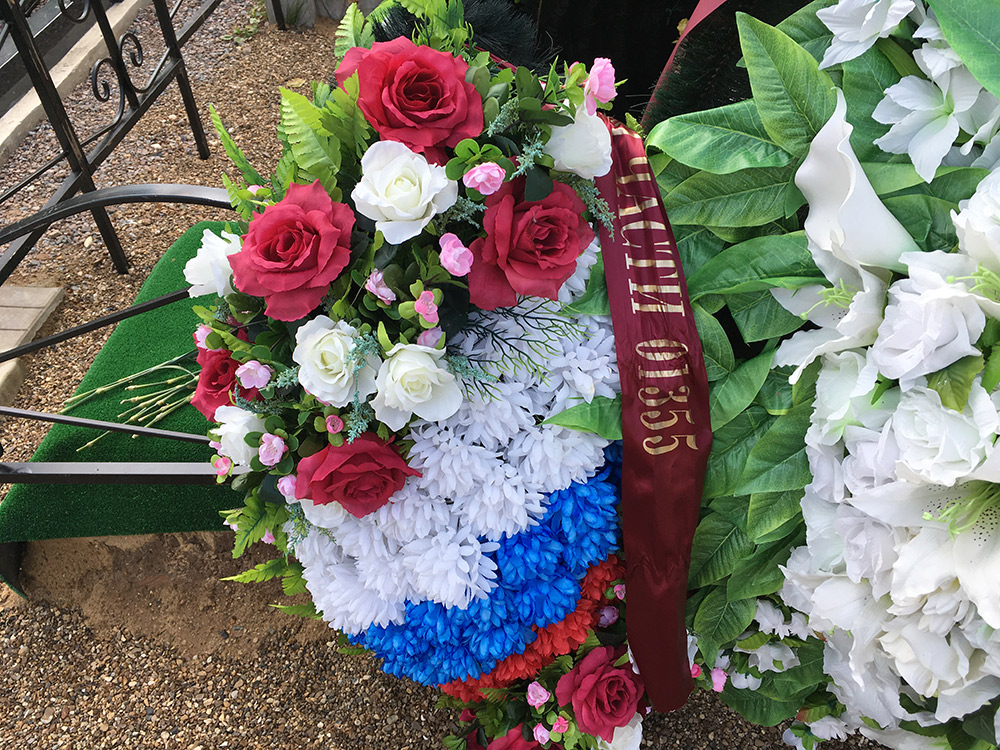 There are two main units in Russia's Special Operations Forces: "Senezh" in Solnechnogorsk and "Kubinka-2". The latter is designated as military unit 01355. This means there a wreath from SOF was laid on Arhireev's grave.
Maxim Sorochenko
Near Oleg's grave, we found the resting place of another Special Operations serviceman: Maxim Alexandrovich Sorochenko.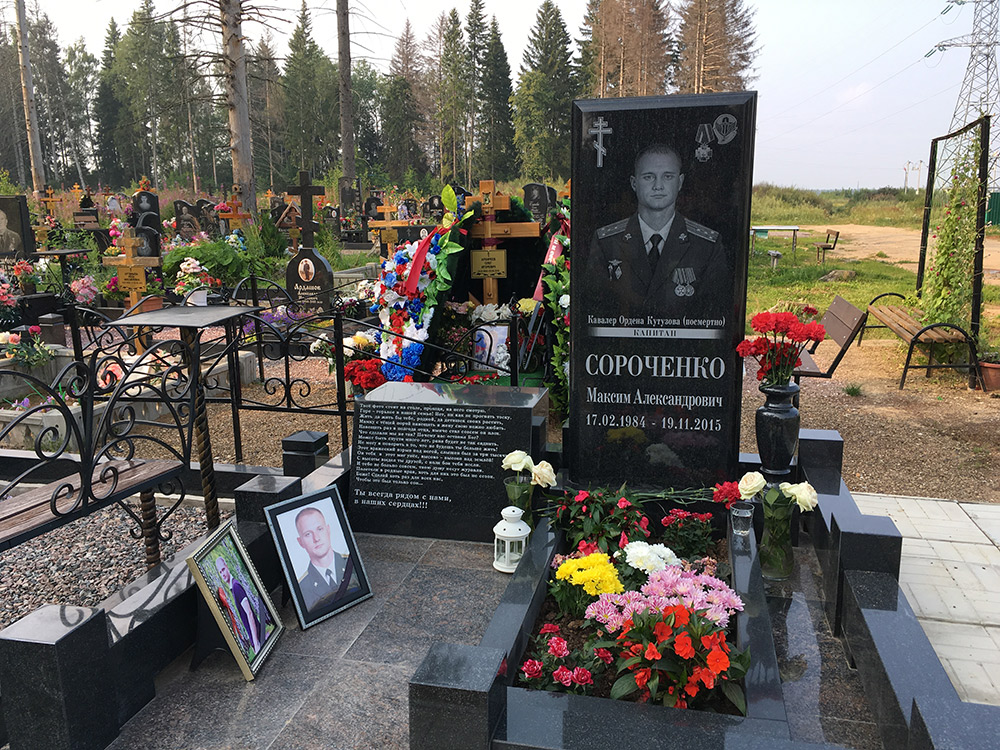 According to the gravestone inscription, Sorochenko was posthumously awarded with Kutuzov Order. In the top right corner of the gravestone, a "Senezh" SOF center logo is visible:
His death date, November 19 2015, is the same as Fyodor Zhuravlev's, the SOF serviceman whose death we reported in November last year:

Moreover, according to open source information, during the 10th annual police and army judo championship, several soldier widows received car keys, Fyodor Zhuravlev's and Maxim Sorochenko's widows among them (seen in photos from the event):
Given that both Fyodor Zhuravlev and Maxim Sorochenko were SOF servicemen who died on the same day and their widows were given car keys at the same event, we believe they were likely killed in the same battle.
Sergey Suslov
Near Arhireev's and Sorochenko's graves, another Special Operations serviceman was buried: Sergey Borisovich Suslov.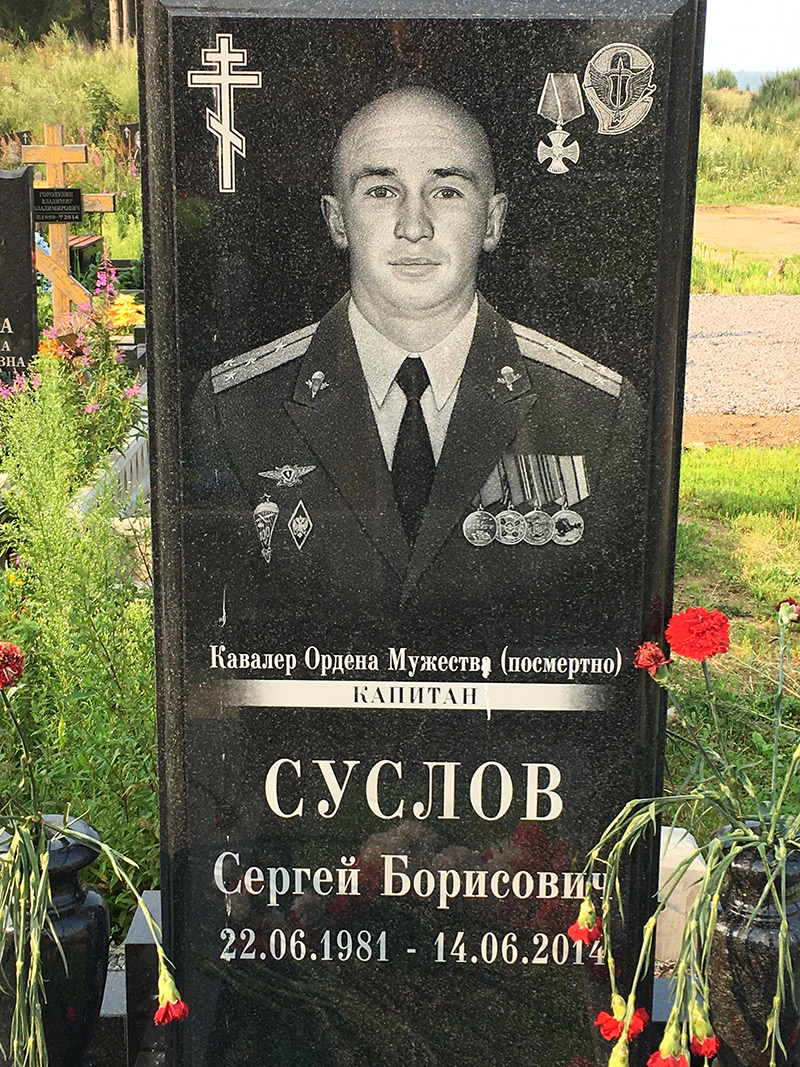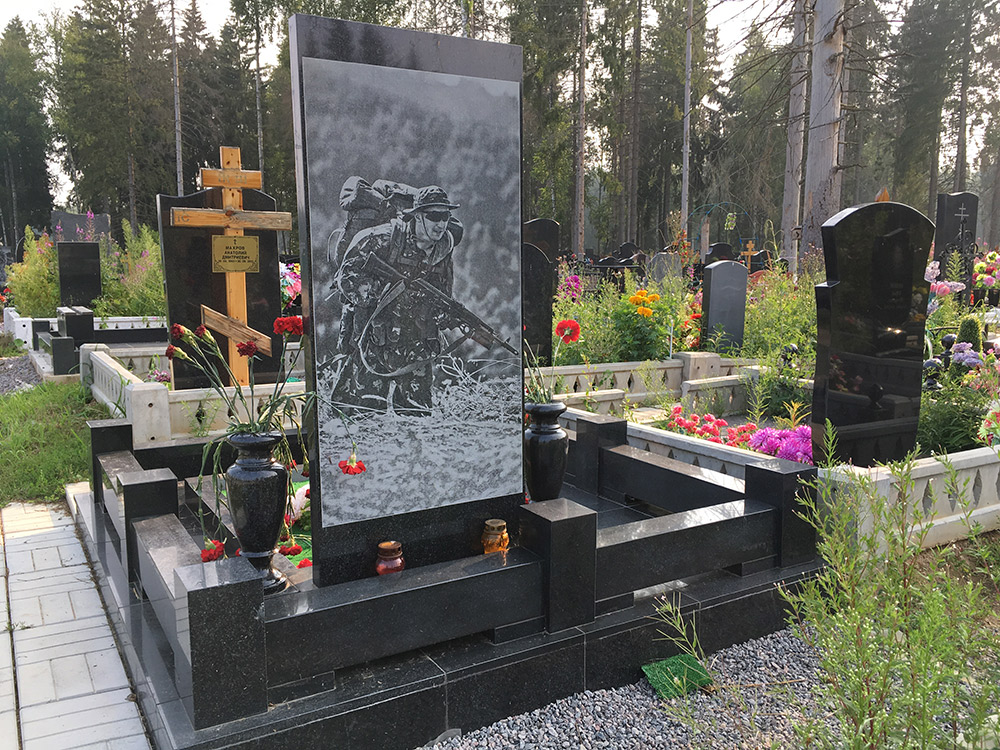 Like most Russian servicemen killed in Syria, Suslov was posthumously awarded with an Order of Courage. However, he was killed on June 14 2014, more than a year before the Russian troops surge in Syria, when even the presence of Russian forces in Eastern Ukraine was still barely visible. We are yet to find out where Sergey Suslov was killed.