This post is also available in:

Русский
On February 15, US CNN channel aired a segment from Syrian regime positions in Eastern Syria, at the frontline with ISIS. The majority of vehicles shown in the CNN video have significant similarities to vehicles spotted earlier at or near Russia's Hmeymim airbase in Syria, accompanied by Russian soldiers.
Msta-B howitzers and artillery tow trucks
One of the first frames o the video shows a battery of Msta-B howitzers and KamAZ-63501-AT artillery tow trucks.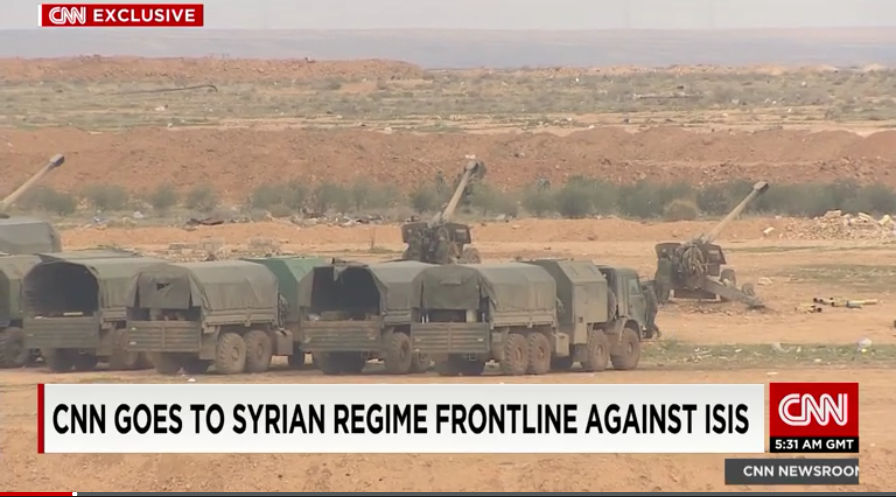 Earlier, these howitzers and tow trucks were spotted in Shelfatieh in Latakia, in Hama province, near Palmyra and in Northern Latakia, as well as at Hmeymim airbase itself. Each time these vehicles were spotted outside Hmeymim airbase, they were accompanied or used by Russian soldiers. Our team has not seen evidence of these howitzers and tow trucks being used by Syrian government troops or other foreign allies of Assad's regime.
T-90A Tank
Another frame of the CNN video shows a Т-90А tank: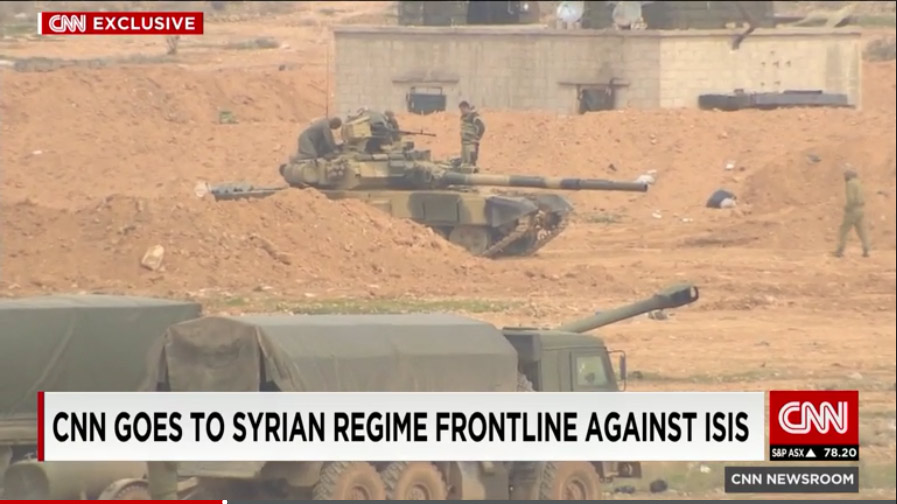 T-90A tanks in similar camo were spotted in photos of "Blue Berets" Russian military band's concert at Hmeymim airbase in November 2015: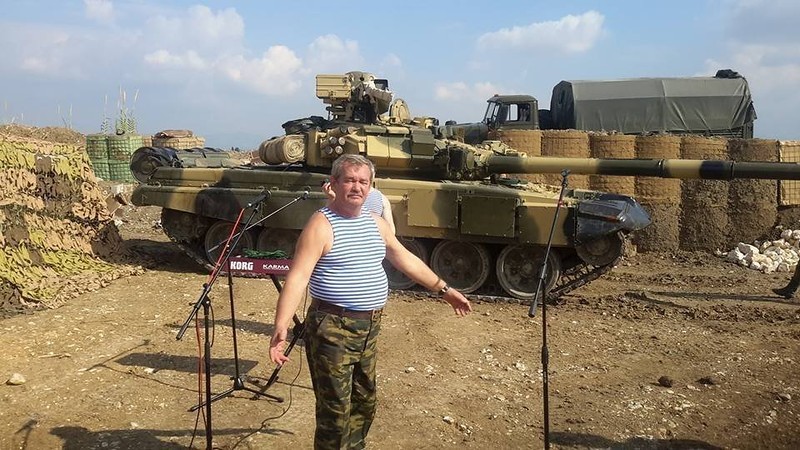 We believe the tank in the photo above and the tank filmed by CNN are in fact the same vehicle. The camouflage in these images is fully identical: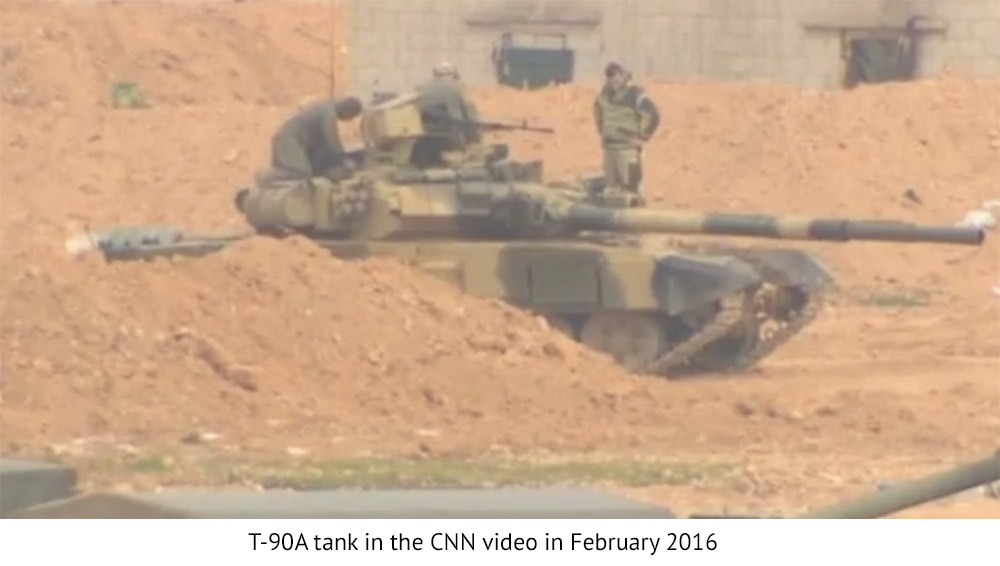 Other T-90A tanks with a similar camo pattern have differences from the T-90A tank in the CNN video:
Thus, this tank was transferred from Hmeymim airbase to Eastern Syria within the time period from November 201 to February 2016. We do not know if the crew was transferred as well.
Same tank in Ythria, Raqqa:
#Syria #Ithriya #Raqqa NEW PHOTOS from #SAA #SyrianArmy #NDF @ #Ithriya/#Raqqa Front Showing #Russia #Russian #T90 ? pic.twitter.com/z8ItkEfEtm

— Ivan Sidorenko (@IvanSidorenko1) February 15, 2016
BTR-82A
Another CNN video frame shows a BTR-82A armored personnel carrier: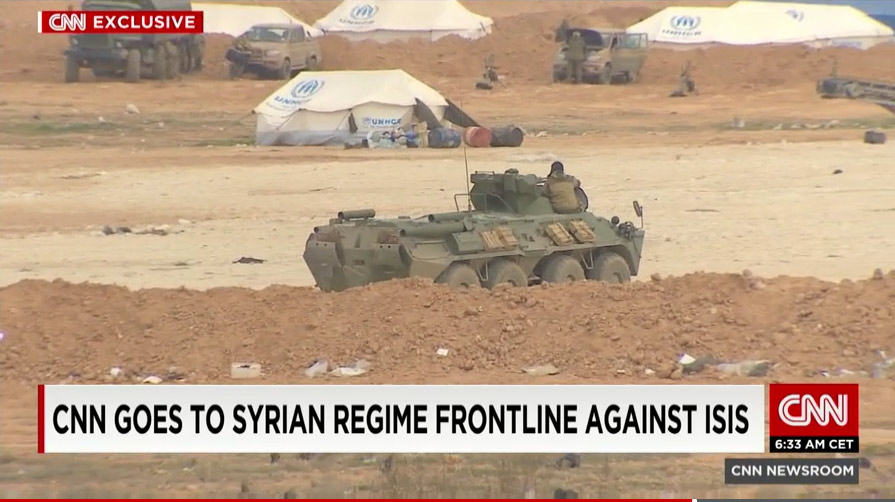 This armored personnel carrier was spotted in Syria probably with a Russian crew back in August 2015. In October, a photo of an Assad regime BTR-82A near Palmyra was published by a Iranian news agency Farsnews: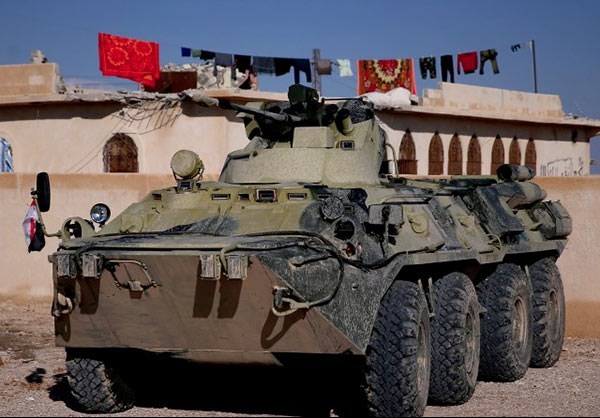 Recently, a photo of a BTR-82A was also published by an ISIS propaganda source:
#Syrie photo #EI "affrontement avec l'armée à Bardeh" le #BTR82A (gauche) & le #T90 (droite) pourraient être russes pic.twitter.com/nKjdigSj6E

— Wassim Nasr (@SimNasr) February 17, 2016
However, the camo pattern of these BTR-82As does not match the ones seen in the CNN video. The latter are much more similar to the BTR-82As used by Russian marines to guard foreign journalists on a treep to the town of Salma in Northern Latakia, recently captured by Assad troops.
A frame from a video by a British ITV channel shows the BTR-82A in Salma to have antennae matching with those seen in Eastern Syria: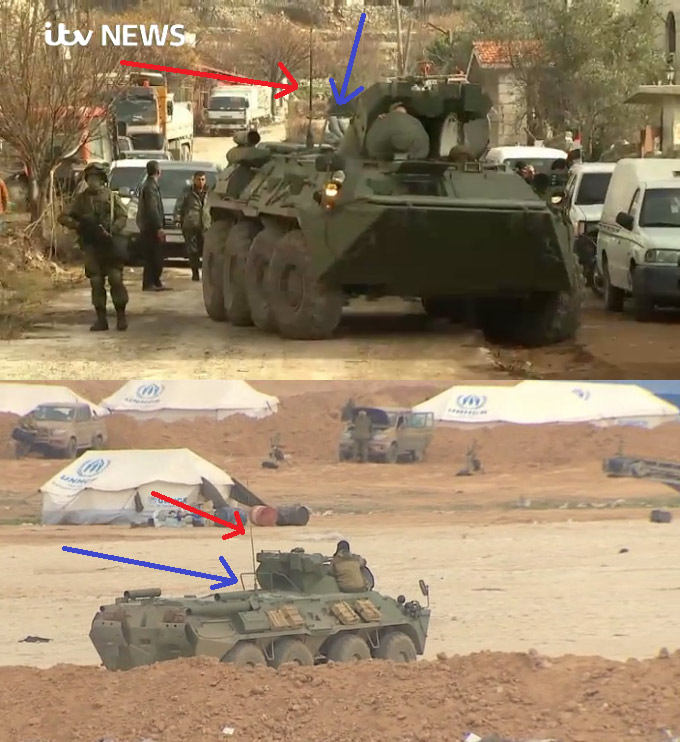 The BTR-82As filmed by CNN in Eastern Syria could be the same BTR-82As that were filmed in Salma by foreign and Russian journalists.
Tented Ural-4320
The CNN video also shows a tented Ural-4320 truck:
While Syrian Arab Army does have Ural-4320 trucks, previously such trucks with 5-canted tents have only been spotted in Syria accompanied by Russian troops:
The emergence of so many Russian vehicles (Msta-B, KamAZ-63501AT, T-90A, BTR-82A and Ural-4320) suggests that a group of Russian soldiers, consisting, most likely, of artillery guarded by tanks and possibly marines jas been transferred to the frontline in Eastern Syria. However, we can't be 100% sure about this, since the quality of the CNN video makes it impossible to determine the soldiers' nationality by their uniforms.
Filming location
According to Twitter user Samir, the CNN report was shot neer Ythria in Al-Raqqa governorate (map link):
Ythria is located 144 kilometers from Sadad, where, according to a Russian MoD map, a detachment of Russian artillery has been based since November, and 166 kilometers from Hmeymim airbase. This village is but several kilometers from ISIS positions:
It should also be noted that a Russian pro-Kremlin journalist Alexander Kots who has been covering Russian and Assad military actions in Syria is now covering a "Syrian army offensive in Al-Raqqa province":
Наше свежее #видео из провинции #Ракка. Танки, грады – вот это все. https://t.co/7cEmBZ0Bsx #Сирия

— Александр Коц (@sashakots) February 18, 2016
Russian BTR-82A APC in Ythria, Raqqa:
Exclusive: Russian armored personnel carrier in Athria #Syria on the road to #Raqqa pic.twitter.com/bkGevZZRbe

— Rasmus Tantholdt TV2 (@RasmusTantholdt) February 12, 2016
Afterword
While Russia's Prime Minister warns other countries from ground operations in Syria, we uncover more and more data on Rusian soldiers rendering ground support to Assad forces against both Syrian opposition and ISIS.
Russian officials, however, remain in denial as to this fact. We believe Russian society has the right to know of the objectives Russian soldiers have on the ground in Syria, the specific tasks they perform in Latakia, Al-Raqqa and Homs, the risks they face and their possible fate in case of a Turkish or Saudi ground operation. The Russian authorities have to be held accountable, or else we could see a repeat of the events in Ukraine, where dozens or even hundreds of Russian soldiers were killed in an undeclared war.
Our team needs your support
To continue our work, our team needs your support to be able to pay salaries to our team members and spend more time on the investigations. You can support us at our teams fundraising page or via a form below: