This post is also available in:

Русский
Читать этот пост на русском языке
On February 24, the Russian Ministry of Defense held a briefing on the upcoming ceasefire in Syria. According to the ceasefire agreement text, it is to come into effect at 0:00 AM Damascus time, February 27. The briefing's video is available at the Russian MoD's YouTube channel:
Upon studying this briefing, we found out the following:
The Russian MoD has quite a peculiar idea of the Syria ceasefire. In particular, apparently RuAF will not stop bombing such rebel-controlled areas as Idlib and Northern Aleppo;
The work on reaching ceasefire agreements with Syrian opposition groups is apparently very limited or, in some cases, amounts to issuing surrender demands;
The settlements in which Russian forces have reportedly struck ceasefire agreements are either insignificant or are controlled by Assad regime forces;
Russian MoD officials' knowledge of the Arabic language and Syrian geography apparently leaves much to be desired;
The Russian Ministry of Defense de facto admits that RuAF, at least until very recently, has been hitting Syrian moderate rebels, not terrorists, contrary to what Russian Ministry of Foreign Affairs and President Putin claimed.
A detailed analysis of the Russian MoD's February 24 briefing is given below.
A map of the ceasefire zones was presented by Russia's MoD in the video of the briefing: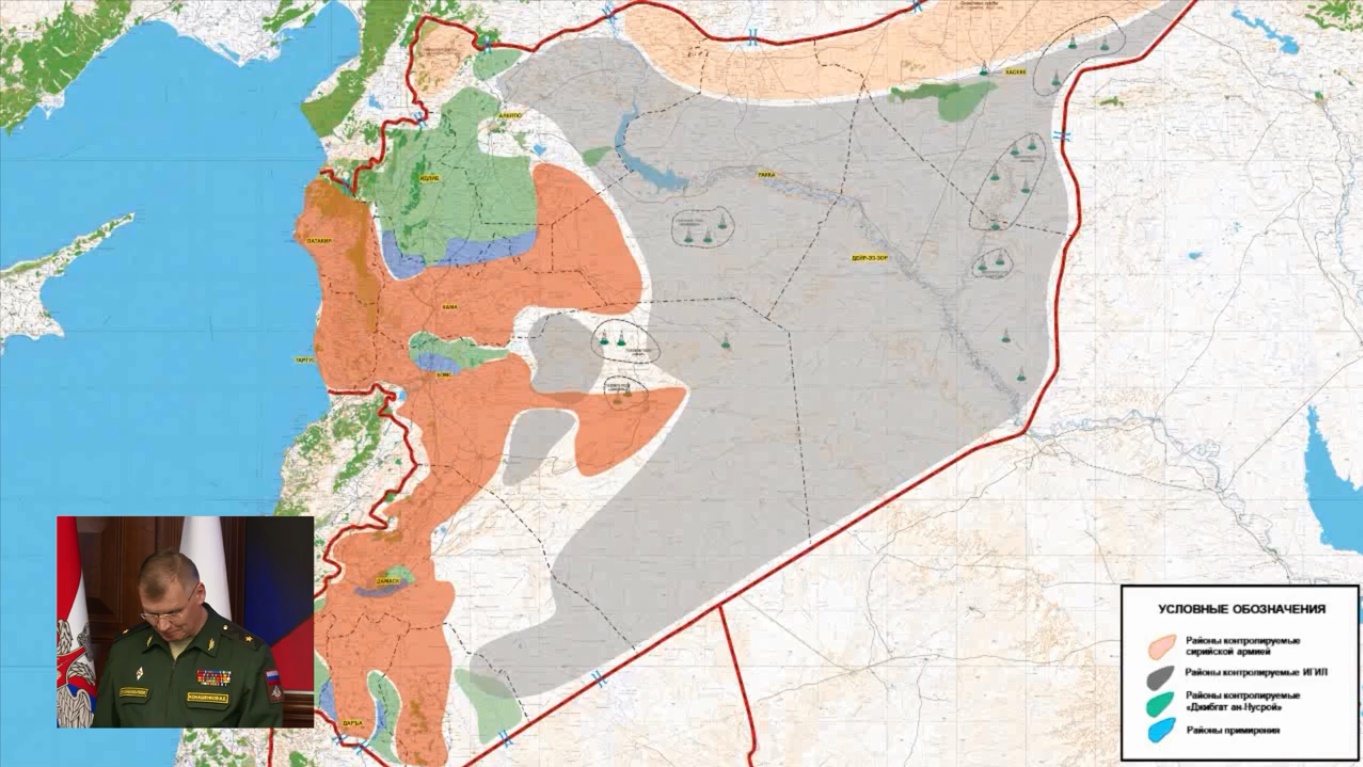 According to the map's legend, the ceasefire areas are marked in blue while areas allegedly held by Jabhat al-Nusra, an Al-Qaeda affiliate in Syria, are marked in green.
Acording to the appendix to the сeasefire agreement, al-Nusra controlled territories are not subject to ceasefire, meaning that bombings of these areas will likely continue.
However, according to, for example, Wikipedia, Jabhat al-Nusra holds far less territory than Russian MoD claims:
According to the Russian MoD, the city of Maarat-al-Nouman is not subject to the ceasefire:
On November 12, 2015, a RBK-500 ZAB-2,5S incendiary cluster bomb destroyed a bakery and an olive oil factory near Maaret-al-Nouman. On December 14, a RBK-500 AO-2,5RTM cluster bomb was dropped on a residential area in the city itself. On February 13, an aistrilke destroyed an MSF-supported hospital near Maare-al-Nouman (the Russian MoD failed to give a coherent comment on this incident). In 2015, according to Russian military officials, RuAF repeatedly bombed targets near Maaret-al-Nouman.
Moreover, Russian Air Force (and, most likely, pro-Assad forces) apparently will not observe ceasefire in north Aleppo near the Turkish border, where currently tens of thousands of refugees are massed, forced to leave their homes due to Russian airstrikes and Assad allies' offensive, and where on February 13 a rocket strike destroyed a chidren's and maternity hospital in the town of Azaz.
It can be concluded that the ceasefire, as per Russia's MoD, is very limited and cannot establish peace in Syria.
Apart from the limited number of areas subject to ceasefire according to Russia's MoD, the means to achieve the ceasefire are also questionable.
According to item 1 of the appendix to the ceasefire agreement, Syrian armed rebel groups had to confirm their intent to join the ceasefire no later than 12:00 AM Damascus time on February 26.
According to the Russian MoD, ceasefire agreements are reahed via a contact center at Russia's Hmeymim airbase in Syria. Russian MoD cites the contacts of this center and claims that they are actively shared via Syrian media and text messages:
Later during the briefing, an example of such text message is shown: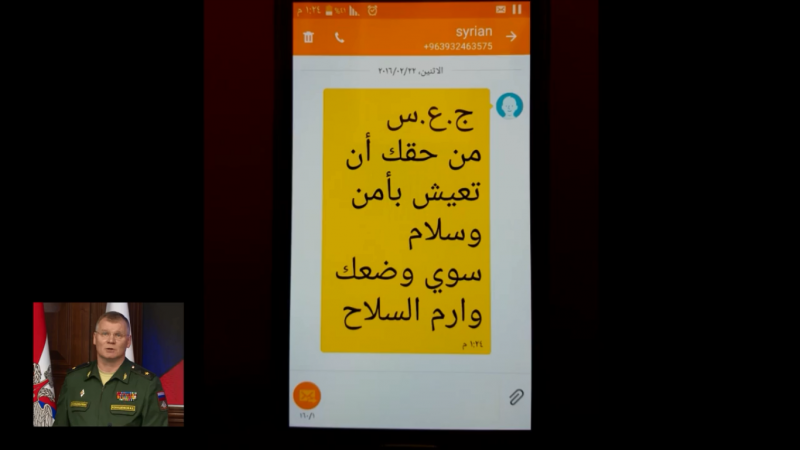 Below is the full text of the messaged:
ج.ع.س.
من حقك تعيش بامن وسلام
سوي وضعك وارم السلاح
Google Translate gives the following translation of the text:

A more accurate translation, confirmed by a native Arabic speaker, is the following:
You have the right to live in peace and security

Remain at your positions and lay down your weapons
This is obviously rather a demand to capitulate than a ceasefire offer. Moreover, it comes from Syrian government troops, not a Russian coordination center.
According to the Russian MoD, the coordination center's contacts are shown in Syrian media, in particular, via crawl lines on TV channels. However, during the 16 seconds of a Syrian TV show played during the briefing we see neither the phone number +96341897218 nor the e-mail address [email protected]:
We decided that the Ministry of Defense of a country involved in a war in an Arab state could not find a person who knows enough Arabic to chose the right moment of a TV show, while actually the Russian coordination center's contacts are in fact shown by Syrian TV. We decided to check this hypothesis by watching the TV channel ourselve.
The crawl text's design suggests the Russian MoD briefing showed a clip from Syria TV channel:
As seen in the April 20 screenshot, Syria TV uses European digits and links (as well as, apparently, e-mail addresses) are given in Latin alphabet.
We watched and recorded a Syria TV live broadcast from 3:19 AM to 3:29 AM Damascus time, i.e. less than 9 hours before the ceasefire appeal deadline expired:
During these 10 minutes, the text crawl did once (at 2:15 in our video) show a phone number and e-mail matching those givenby the Russian MoD (while one digit was different in the Syrian phone numbers shown in the text crawl and the MoD briefing):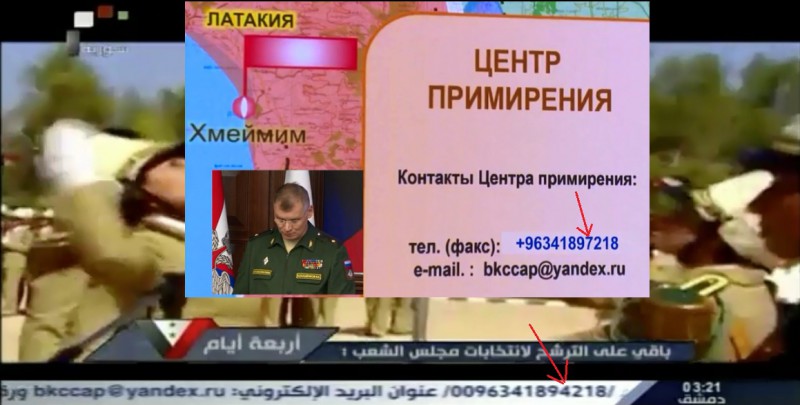 Full text of the message in the text crawl:
للاتصال بمركز التنسيق لوقف الأعمال القتالية في قاعدة حميميم:

رقم هاتف (حميميم): 0096341894218
رقم هاتف (روسيا): 0074956938643
بريد إلكتروني: [email protected]
The translation is the following:
Contacts of the coordination center on cessation of hostilities at Hmeymim airbase:

Phone number (Hmeymim): 0096341894218

Phone number (Russia): 0074956938643

e-mail address: [email protected]
A similar message was also (once) posted to a Syrian state radio and TV company RTV's Facebook account, where it was added that the coordination center should be contacted in case of ceasefire violations. No information is given that contacting the coordination center is required to join the ceasefire in the first place or that the deadline for such contacts is 12:00 AM February 26.
Moreover, searching the website of Syria's state news agency SANA for the e-mail, the Syrian and the Russian phone number yields no results: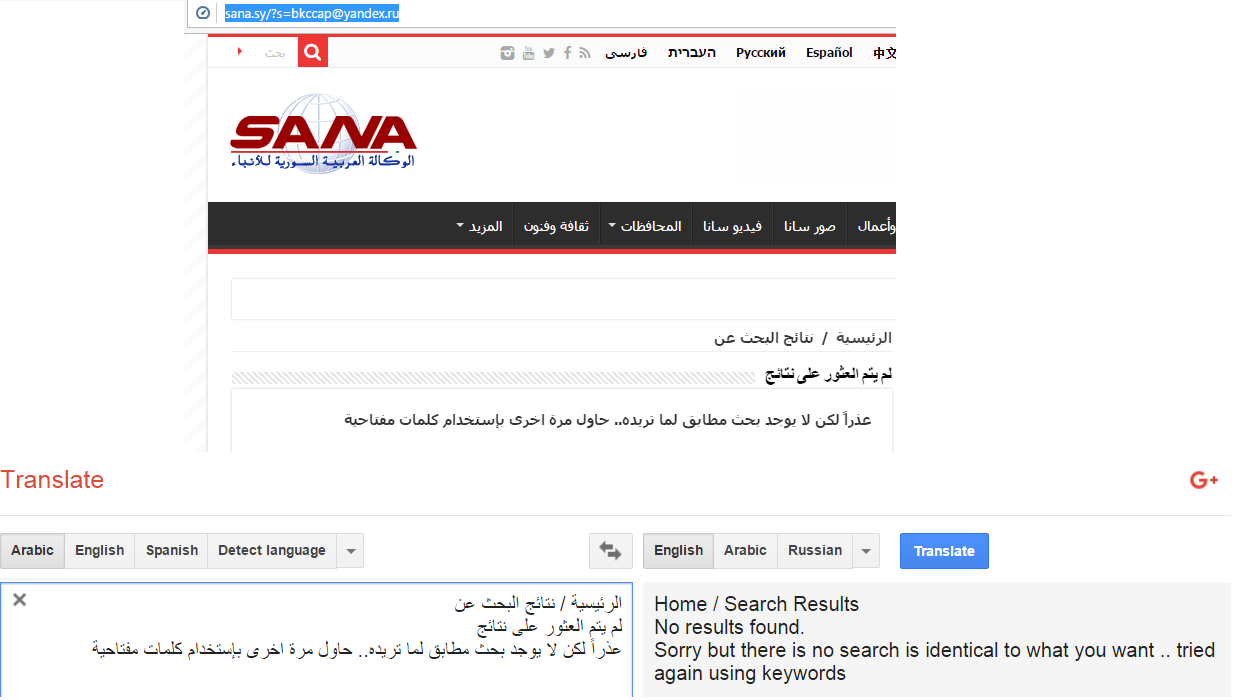 Apparently the Russian MoD believes any Syrian rebel who does not spend hours watching the government Syria TV channel is an al-Nusra or ISIS terrorist and should be destroyed.
It should also be noted that by the end of the 5th month of Russia's bombing campaign in Syria, the Russian MoD still makes geographic errors while talking about locations in this country. For instance, the settlement of Jawalik is marked 17 kilometers to the East of its actual location.
Moreover, a Russian TV report dated February 23, a day before the Russian MoD briefing, reveals that there are but several dozen houses in the settlement of Jawalik, and the agreement constitutes not a ceasefire but rebel troops ceding the village.
A capitulation of one village does not equal ceasefire in a large part of the rebel enclave in North Homs, which, according to the Russian MoD, also include the large town of Talbiseh, which has been subjet to airstrikes since the start of the Russian operation in Syria.
Later, speaking about ceasefire success in North Latakia, the Russian MoD spokesman for some reason shows North Hama on the screen:
Moreover, the settlements of Burj Islam and Ghunaymiyah are actually controlled by Assad troops. According to Russian news agencies, Ghunaymiyah was captured by government troops back in January 2016. We could not find the settlement of Laulyat on Syria's map.
Given that all settlement subject to ceasefire named by the Russian MoD spokesman are either insignificant or Assad-controlled, it is possible that even the limited ceasefire areas given in the Russian MoD map are in fact not regarded as such by Russian forces.
Finally, it should be noted, that during the briefing the Russian MoD de facto admitted that during the 5 months of Russia's bombing campaign RuAF bombed not ISIS, al-Nusra front or other internationally recognized terrorits but areas controlled by Syrian moderate rebels.
To quote the Russian MoD spox (starting at 7:41):
In the course of the last two days, strike intensity of the Russian aircraft has significantly decreased.

Mainly, it is caused by claims aimed at cease fire and start reconciliation negotiations, which had been made by local authorities or representatives of the illegal armed forces.

The Russian aviation performs no strikes at these regions.

Alongside, it is to be stressed that this Russian-American agreement on cease fire in Syria does not apply combat operations aimed at liquidation of the ISIS, Jabhat al-Nusra, and other groups, which had been determined as terrorist ones. Therefore, the Russian aircraft continue making strikes on objects of these international terrorists.
Thus, before the ceasefire agreement was adopted on February 22, the Russian Air Force bombed not only terrorist groups but also Syrian rebels. The statements by the Russian MFA and President Putin to the contrary should apparently be considered lies.
Given all of the above, our team has no reason to believe that after the ceasefire formally comes in force, Russian bombings of Syrian rebels and civilian infrastructure will cease. This is why we intend to keep a close eye on ceasefire violations after 00:00 AM Damascus time, February 27. You can follow our updates in our Twitter and Telegram channel.