This post is also available in:

Русский
On March 17, 2016, the Kremlin held a ceremony for soldiers and officers who fought in Syria. At the ceremony, Russia's president Vladimir Putin awarded several Russian servicemen and paid respects to those killed in Syria, giving their names and last names. The list included Fedor Zhuravlev, whose death we reported back in November 2015. This was the first time a Russian official acknowledged Zhuravlev's death. However, this list lacked another name, which hadn't appeared in the press. We've spent the last two weeks gathering information on this unknown serviceman. This officer was killed on February 8. You might remember a Russian Ministry of Defense confirmation of an advisor being killed in Syria in early February. However, that advisor died 7 days before – on February 1. Moreover, the Kremlin ceremony revealed his name: Ivan Cheremisin.
We do not know what the officer we are going to tell you about did in Syria. He could have been training government troops, working as a spotter for aircraft or taking a covert part in ground operations. The Russian operation in Syria has both positive aspects (airstrikes on ISIS) and negative ones (airstrikes on moderate Syrian rebels and civilian infrastructure, advances on territories controlled by opposition fighting both Assad and ISIS). However, given the officer's military experience, we believe his name should have been announced at the Kremlin.
Sergey Vladimirovich Chupov was born on January 6, 1965, probably in Alma-Aty, modern Kazakhstan. After finishing school, he studied at Alma-Aty higher combined troops command college named after Marshal I.S. Konev (AVOKU). This information was found on a website listing the institution's alumni. This website also says that after the military college he served in Afghanistan as the commander of the 3rd Platoon of the 4th Airborne Assault Company of the 56th Separate Airborne Assault Brigade:
Original
Saved copy
Information on his studies at AVOKU and service in Afghanistan is also supported by comments from colleagues:
Original
Saved copy
The aforementioned website artofwar.ru also gives information on Chupov's rank by the time he was sent to Afghanistan: Guards Lieutenant.
After the Afghan war ended, he went back to Alma-Aty and enlisted in military unit 3670 — 5th Operative Brigade of Ministry of Internal Troops of the USSR based in Kamenka, Kaskely district, Alma-Aty region, Kazakh SSR. This information is based on comments from his colleagues:
Original post
Saved copy
In January 1995, 101st Special Operative Brigade of Ministry of Internal Troops (unit 5594) was formed with the aim of maintaining order in Chechnya. Sergey Chupov joined this brigade as Special Forces platoon commander:

Sergey Chupov's service in this brigade during the First Chechen War is confirmed by his other colleagues:
Original post
Original photo
Saved copy
Here Chupov's colleague also tells he was killed in Syria. However, the date he gives (March 8) is wrong, as shown below. Commenting under another photo he says Chupov most likely went to Syria as an active serviceman, not a volunteer, since he was a soldier "to the bone":
Original post
Saved copy
We found the profile of Radik Belov (Sergey Chupov's colleague) in Odnoklassniki (ok.ru, Russian social network). In the comments under a post on his wall we found that Chupov's death was reported to him by "colonel Kosmachev":
Radik Belov's ok.ru profile
Saved copy
The 101st brigade fought in both Chechen wars. A post in the brigade's group on vk.com (another Russian social network) states that Chupov continued serving in the brigade and soon became the commander of the 1st Reconnaissance Company:
Original post
Saved copy
The same information can be found on esosedi.org:
esosedi.org page
Saved copy
In June 2000, the 101st brigade was disbanded, and on its basis the 46th Separate Special Forces Brigade of Russia's Ministry of Internal Troops — the largest Internal Troops unit in Russia. Just like the 101st brigade, the 46th brigade was tasked with maintaining constitutional order in Chechnya and fighting illegal armed groups. A post on Esosedi.org states the Chupov continued serving as 1st Reconnaissance Company commander in the 46th brigade:
esosedi.org page
Saved copy
Further investigation revealed Sergey Chupov's profile on ok.ru:
Profile
Saved copy
* Telephone number obscured by us
Under some photos on the deceased's profile, more information is revealed on his death: he died in Syria of a shrapnel wound.
Original post
Saved copy
The information on Chupov being killed in Syria is confirmed by other colleagues as well:
Aleksandr Voronichev and Sergey Saprykin confirming Chupov was killed in Syria, while Saprykin states "that's the fate of us scouts".
We found out from Chupov's relatives he had been buried at Novoderevenskoye cemetery in the Balashiha district of Moscow region. We went to the cemetry and found his grave: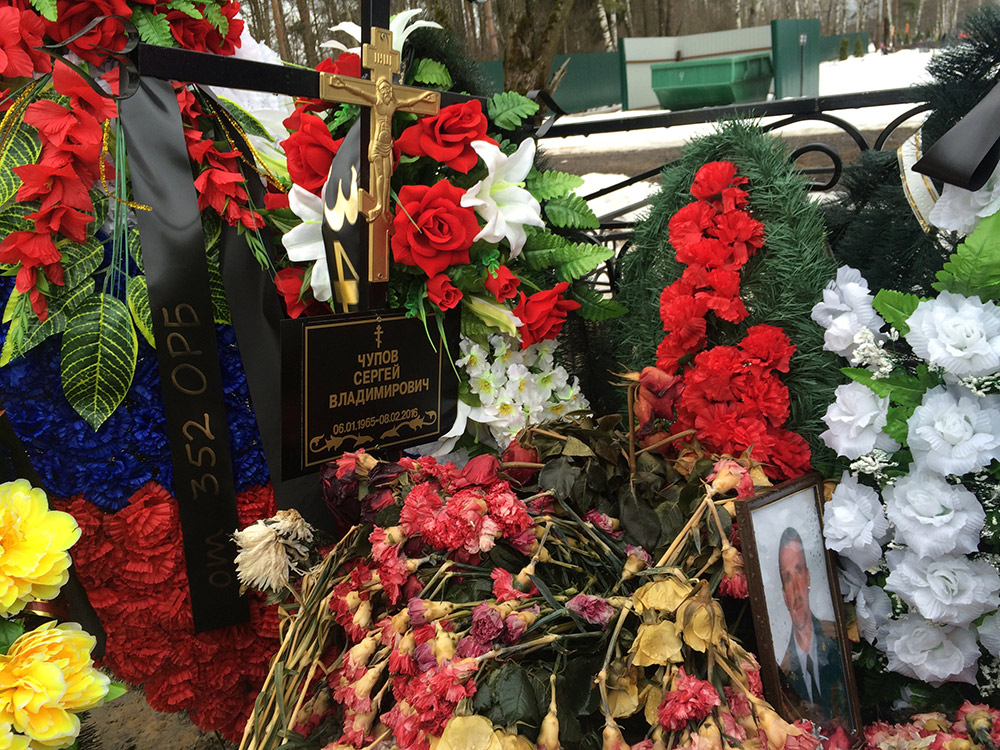 Thus, we found out the exact date of Chupov's death: February 8, 2016. In the photo, he is wearing a Major's uniform with Internal Troops insignia: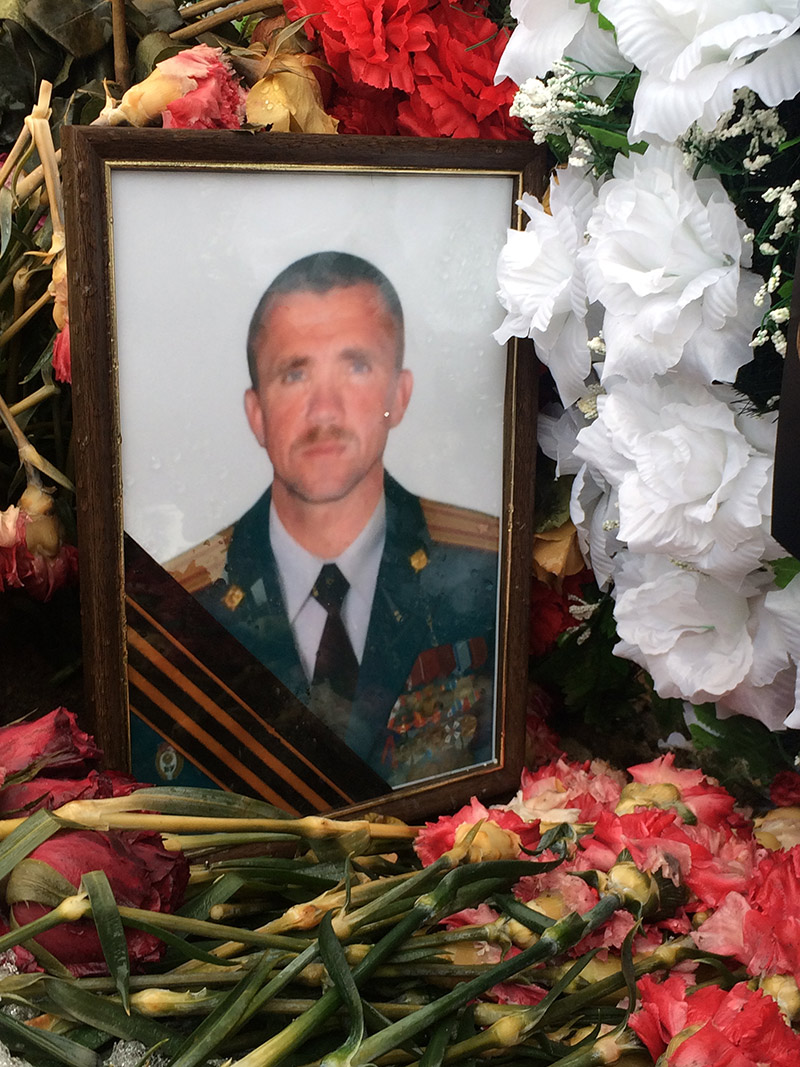 There also were wreaths from the 346th Separate Reconnaissance Battalion, the 352nd Separate Reconnaissance Battalion, Ministry of Internal's Special Police Unit and from "comrades-in-arms". The 346th and the 352nd battalions are both parts of the 46th Brigade.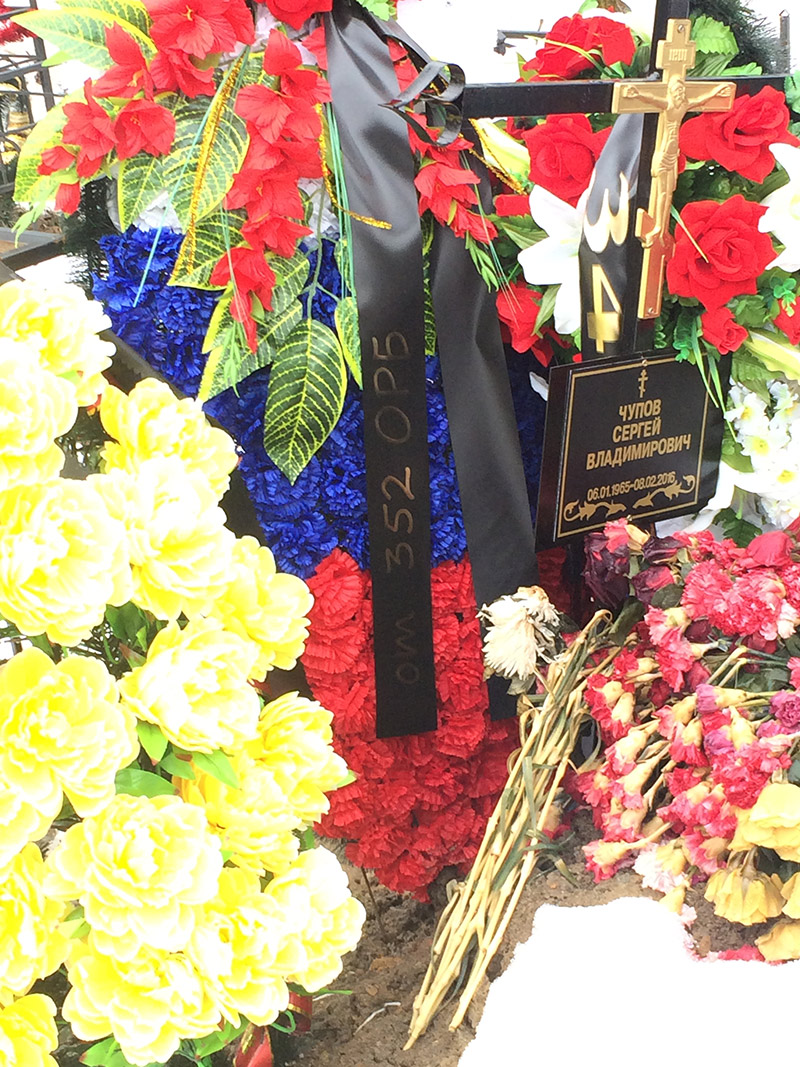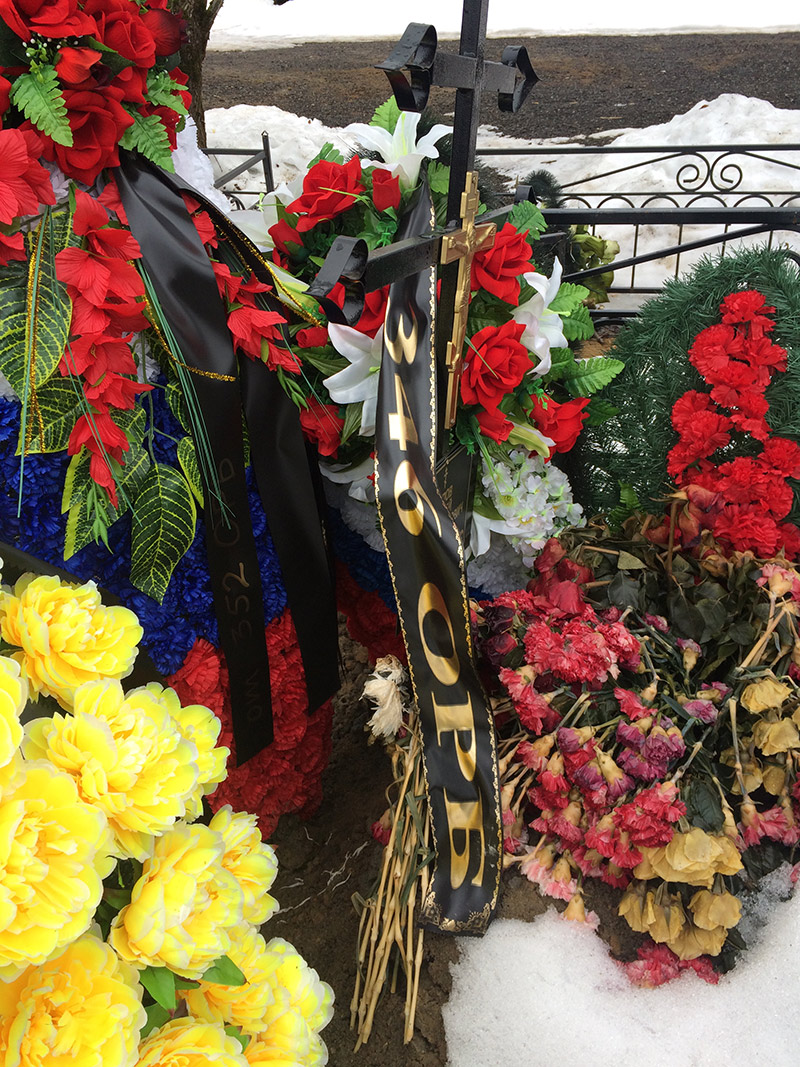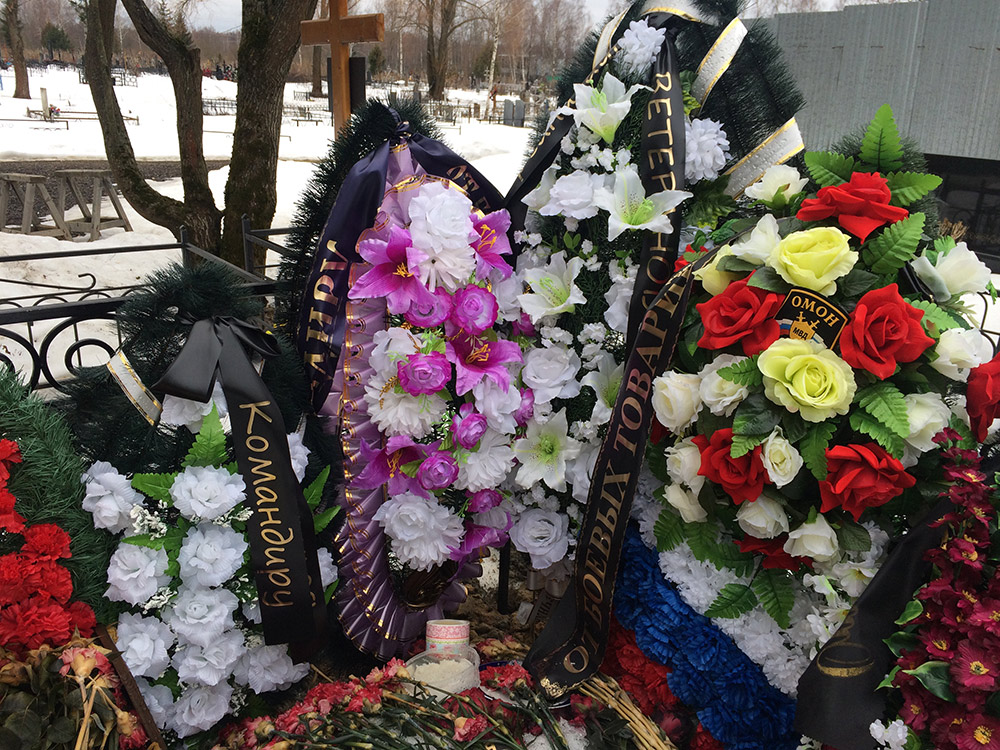 The absence of a Ministry of Defense wreath may be explained by the fact that Chupov served in Internal Troops, which are subordinate to the Ministry of Intenal Affairs, no the MoD. Nevertheless, service in the MIA Internal Troops is considered military service.
Conclusion
During Russia's operation in Syria, at least six Russian servicemen died there. Five deaths were admitted by Russian officials: Vadim Kostenko, the airbase technician who committed suicide, Oleg Peshkov, the pilot of the downed Su-24, Alexandr Pozynich, a marine who took part in the search and rescue for the Su-24 pilots, Fedor Zhuravlev (a serviceman of Special Operations Forces) and Ivan Cheremisin (a military advisor who was killed on February 1). The sixth Russian serviceman killed in Syria was Sergey Vladimirovich Chupov, an officer of the 46th Separate Operative Brigade of Ministry of Internal Troops, who died of a shrapnel wound on February 8.