This post is also available in:

Русский
According to Russia's state media, the Russian military in Syria works together with the Syrian Arab Army in the fight to save Syrian statehood. However, according to Russian and Western analysts, the Syrian army and state have long been in a state of decay, giving way to a hodgepodge of militias and warlords, little different from their enemy. This is probably why Russia resorts to working with those militias. The most prominent example of this is a pro-Assad "Liwa al-Quds" or "Jerusalem brigade", which draws members from Syria's Palestinian diaspora.
According to a Syrian pro-opposition website zamanalwsl.net, Liwa al-Quds has been active in Syria for about 5 years, consists of several hundred men and has close connections to Syria's military intelligence and Baath party. This unit is one of the main pro-Assad forces in and around the city of Aleppo, which is now fighting against Syrian rebels in the eastern part of the city. According to an article in The Long War Journal covering Liwa al-Quds's cooperation with Russian forces in Syria, the brigade's leadership openly declares in social media that they plan to "clear" Jerusalem and Palestine after the end of the Syria war.
In late September 2016, Liwa al-Quds figthers captured the Handarat Palestinian refugee camp and the Kindi hospital, thus tightening the siege of rebel-controlled Eastern Aleppo.
Liwa al Quds captured Kindi Hospital and Handarat Camp. Heavy clashes in Bustan al Basha district in #Aleppo.
HD: https://t.co/SLAJajgS2S pic.twitter.com/3fW76D5udu

— Lawrence of Arabia (@Lawrence1918x) September 30, 2016
A photo published by a pro-Assad Twitter user IvanSidorenko1 which he claims was taken before the assault on Handarat, shows Liwa al-Quds commanders together to a likely Russian offices (the only one in the photo whose face is blurred):
This is not the only photo of Liwa al-Quds fighters together with Russian military advisors. According to MENA analyst Neil Hauer, another photograph, also taken near Handarat, was published on September 24:
Newest of many examples: photo from Sept 24 of Russian advisor with Liwa al-Quds in Handarat @AmirToumaj @LongWarJournal pic.twitter.com/kIexXTCYLH

— Neil Hauer (@NeilPHauer) September 28, 2016
Liwa al-Quds also enjoys the attention of much higher-ranking Russian officers. On August 8, 2016, the brigade's commander Muhammad Rafi got a Russian medal "For Strengthening of Battle Brotherhood" («За укрепление боевого содружества»):
#Syria #Syr #Aleppo Liwa Al Quds Military Campaign Commander Awarded Medal by #Russia #Russians #Rus Today. pic.twitter.com/lkIrozUeDR

— Ivan Sidorenko (@IvanSidorenko1) August 8, 2016
The medal was signed by Lieutenant General Aleksandr Zhuravlev who became the commander of the Russian task force in Syria on July 22, 2016. The photo suggests the Liwa al-Quds commander was awarded the medal by Zhuravlev in person (reference photo on the right in the image below):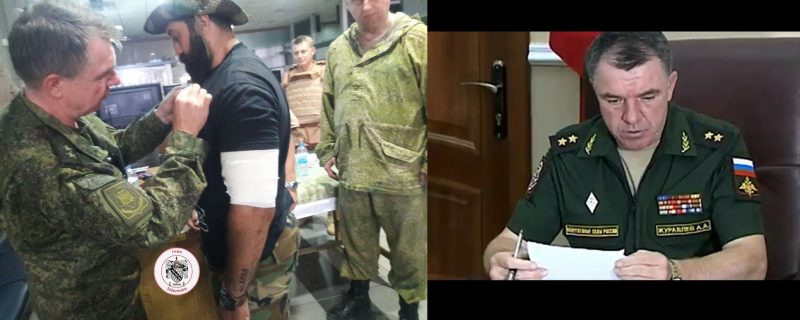 Another photo of Muhammad Rafi, posted in October 2016, shows him with a Russian fur hat and a scarf commemorating the 75th anniversary of the formation of Russia's 49th Combined Arms Army («49-я общевойсковая армия — 75 лет»):
Since January 2014, the 49th Army has been commanded by Major General Sergey Sevryukov. In August 2016, Sevryukov was spotted in Aleppo with another pro-Assad militia brigade — "Baath Brigades", formed by Syria's ruling party members.
Russian cooperation with "Baath Brigades" is also evidenced by the following tweet posted on the day a UN aid convoy was destroyed by airstrikes (our team has analyzed that incident):
RuAF burn full nusra convoy (equipped with ammunition and weapons) west of Aleppo acc. to Ba'ath Brigades

— watanisy (@watanisy) September 19, 2016
"Baath Brigades" could act as spotters for Russian planes, which could be why Russia bombed the humanitarian convoy (which is still denied by the Russian Ministry of Defense).
Currently "Baath Brigades" and "Liwa al-Quds" are fighting in Aleppo city, supported by Russian airstrikes.
#Baath Brigades (Kataib al Baath) heros cleaning Bustan al Basha Neighborhood of #Aleppo. pic.twitter.com/3wqKU805P0

— George Habash (@baktanli) October 7, 2016
Liwa Al-Quds in fierce battle against terrorist groups in eastern neighborhoods of #Aleppo. #Syria #SAA https://t.co/HyuCODYevh

— Syria News (@Syrianews_daily) October 19, 2016
Conclusions
Despite claims of supporting Syria's legitimate authorities and working together with the Syrian army, in fact Russian officers (including high command) establish personal connections with local pro-Assad armed groups, probably bypassing the Syrian command while coordinating with those groups. This could be explained by the Syrian army's disintegration, confirmed by Russian and Western experts.
However, helping groups like these could adversely affect Russia's international standing (relations with Israel in particular). Moreover, rendering air support to such groups could result in committing war crimes (as likely was the case with the UN aid convoy). The "militias", whose goals may differ from those of the Kremlin and even official Damascus , cannot be the guarantors of stability in Syria, even if a military victory over Assad's enemies is achieved.