This post is also available in:

Русский
The Russian unit, called "Wagner Group" by its fighters and "Wagner private military company" by the media, has been fighting in Syria since the start of the Russian operation. However, we've covered this group only once before. After the capture of Aleppo, despite the triumphant tone of pro-Kremlin media, the frequency of social media posts with the ominous keywords "killed in Syria" grew rapidly compared with even the harshest days of the battle for Aleppo. We've decided to cover Russian losses in early 2017. The first part of our research focuses on the mercenaries.
Despite the fact that the original stated goal of Russia's operation in Syria was fighting ISIS, the overwhelming majority of airstrikes initially targeted moderate rebels. The Syrian rebels, eager for international legitimacy, have always been susceptible to international pressure to uphold ceasefires and truces. The anti-Assad fighters also use suicide attacks a lot less frequently than ISIS. Mostly they have been carried out by Hayat Tahrir al-Sham (ex-Janhat Fateh al-Sham/Jabhat al-Nusra). As a result, Russian losses while fighting Syrian rebels were considerably less frequent
The losses were relatively low, while Russian attention was focused not on ISIS but elsewhere. After the terrorists recaptured Palmyra in December 2016, an attempted encirclement of the Syrian T4 airbase and the subsequent Russian/Assad counteroffensive to recapture Palmyra, the number of Russian losses grew rapidly. This was mainly due heavy use of suicide attacks by ISIS and the fact that a truce cannot be brokered with them.
Just like during the first Palmyra offensive by Assad forces and his allies, they were supported on the ground not only by the Russian army, but also by mercenaries from the mysterious "Wagner" private military company (PMC). A year ago, we wrote about Sergey Chupov, a killed "Wagner" PMC mercenary. Chupov fought in Afghanistan and Chechnya. During the Chechen wars, he served in the 101st Special Operative Brigade of the Ministry of Internal Affairs Internal Troops, based in Grozny, Chechnya.
Alexey Nainodin
Alexey Vladimirovich Nainodin served in the 101st Brigade together with Chupov. He also fought in both Chechen wars and attained the rank of police Lieutenant Colonel.
According to different sources, he was killed in Syria on January 31 or February 1:
According to Nainodin's friends, he also fought in Eastern Ukraine and was wounded there:
Nainodin, who had a lot of awards for the Chechen wars, including the Order of Courage and the Medal for Bravery, was featured in a documentary "The choice of the Russian soldier":
At 29:19 in the movie Nainodin says the following:
If there is a war, I won't think twice before I go back. I will not regret it. Because this is my country, my Motherland
The movie was filmed in 2008. As we can see, Nainodin did indeed go to the wars that came: the wars in Ukraine and Syria.
Roman Rudenko
In the comments to Alexey Nainodin's profile we found the widow of Roman Rudenko, who, according to her, was killed together with Nainodin:
In other comments, Rudenko's widow says that the relatives were told different death dates:
Different death dates also appear in the comments. For example, in Nikolay Gordienko's post above Nainodin is said to have been killed on February 1. However, some comments to Alexey Nainodin's profile state that he was killed on January 31:
According to Ukrainian website "Mirotvorets" cataloguing pro-Russian fighters in Ukraine, Roman Rudenko also fought there: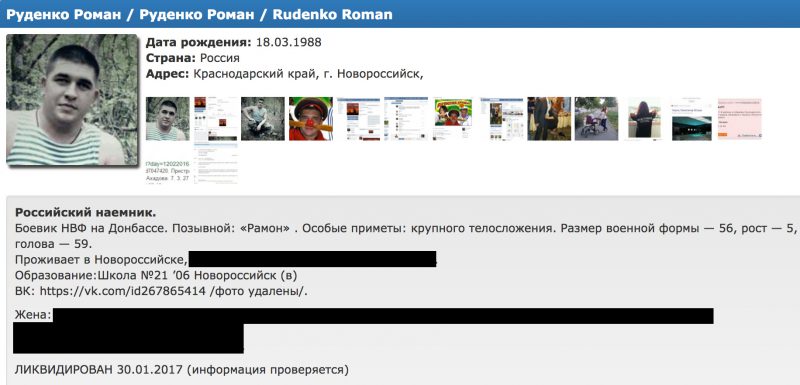 Rudenko's friends also mention Chechnya, even though it is unclear what role, if any, Roman had in the Chechen wars. Taking his age into account, he could not have gotten into the army before 2006, when the active fighting in the Second Chechen War was already over (even though the Counter-Terrorist Operation was officially ended only in 2009):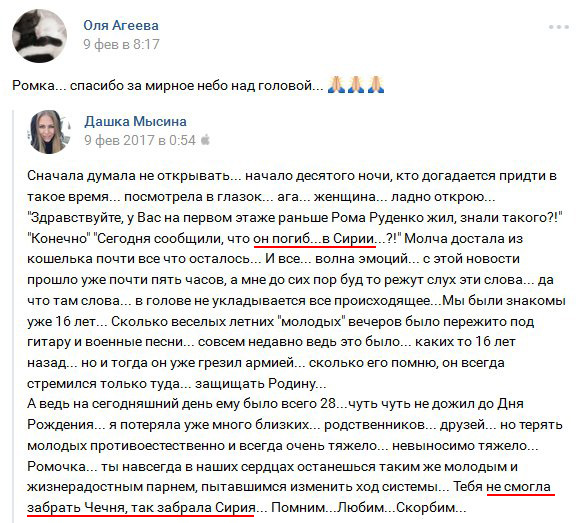 Konstantin Zadorozhnyi
The information on Konstantin Zadorozhnyi's death appeared on the Internet together with that on Nainodin and Rudenko:
The author states that Konstantin has repeatedly gone both to Eastern Ukraine and to Syria:
In the comments, the author also says Zadorozhnyi was killed on the same day as Nainodin: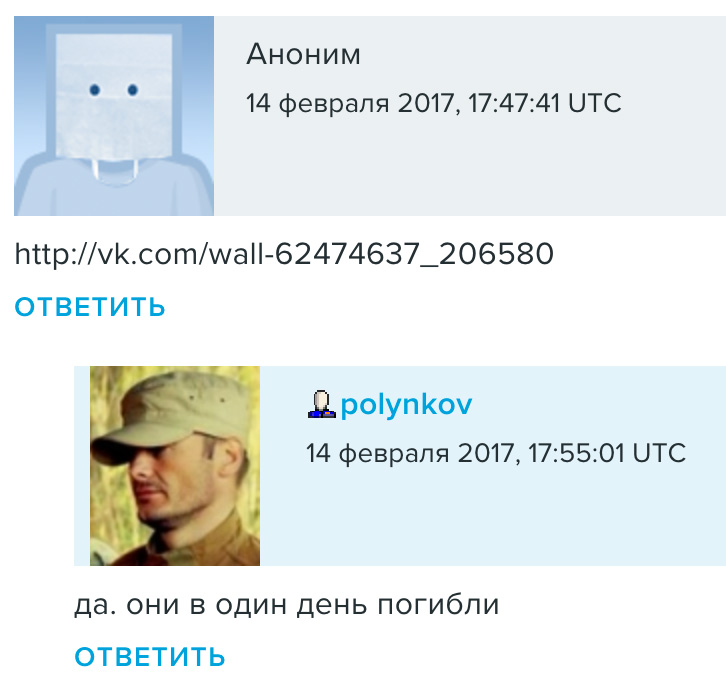 Apart from the fact that Konstantin Zadorozhnyi wrote to the author of the above post about "fighting without official papers", his profile also features a song dedicated to Wagner PMC:
Konstantin's participation in the wars in Ukraine and Syria, as well as his service in Wagner PMC, was confirmed to us by Konstantin's acquaintance. The aforementioned Ukrainian website "Mirotvorets" published several photos proving he was fighting in Ukraine.
The evidence above drove us to a conclusion that Alexey Nainodin, Roman Rudenko and Konstantin Zadorozhnyi were mercenaries who served in Russia's private military company "Wagner" and were killed while fighting in Syria, likely on January 31, 2017. All three had previously fought in Eastern Ukraine.
Dmitry Markelov
In February 2017, reports appeared of Dmitry Markelov being killed in Syria:
We found the social media profile of Markelo'v widow. In the comments to her posts, Markelov's colleagues told he was killed in Syria:
The same was reported by the widow's relatives:
Markelov's ex-colleagues said he served in "Naur":


This likely means Stanitsa Naurskaya in Chechnya, where the 231st Operative Purpose Battalion of the 46th Special Purpose Operative Brigade is based:
The 46th brigade was where Sergey Chupov, a Wagner mercenary killed in Syria, served. The 101st MIA brigade, where Alexey Nainodin used to serve, merged with the 46th brigade in 2000. We do not yet know Roman Rudenko's precise Chechnya link. He could have served in the 46th brigade as well.
Dmitry Markelov's widow did not confirm or deny that he served in Chechnya: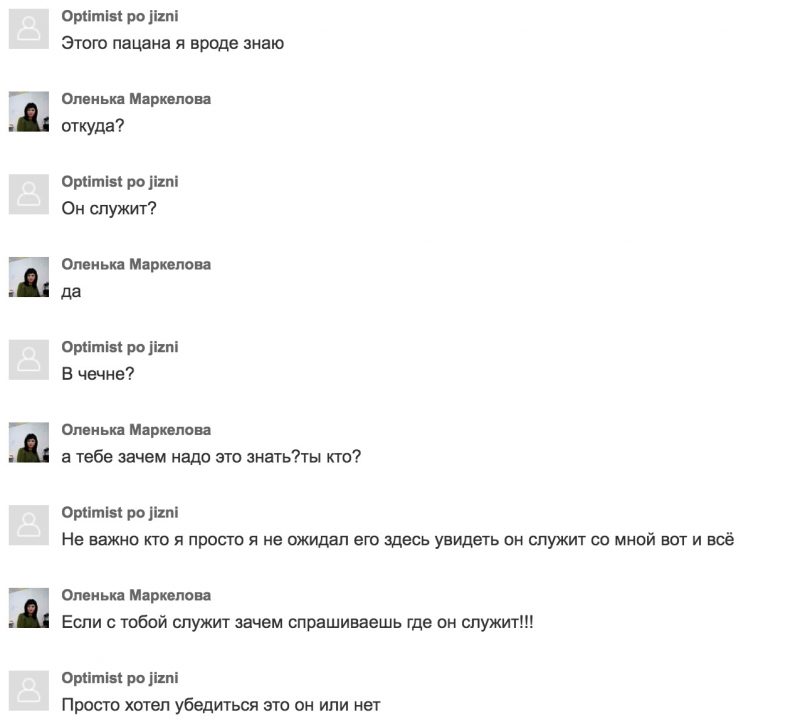 Original message exchange
Saved copy
Interestingly, the relatives were told of Dmitry's death only 3 days after the fact:
For almost two more weeks, his loved ones did not know if he indeed was dead and hoped there'd been a mistake: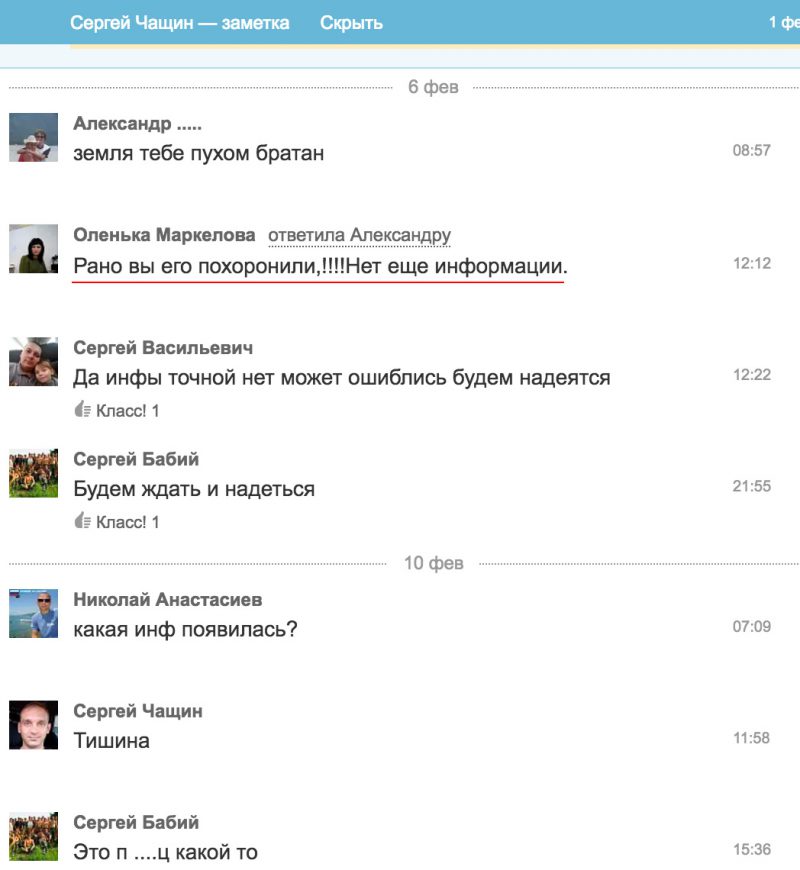 The final confirmation of his death came on February 14 — almost 2.5 weeks after his death: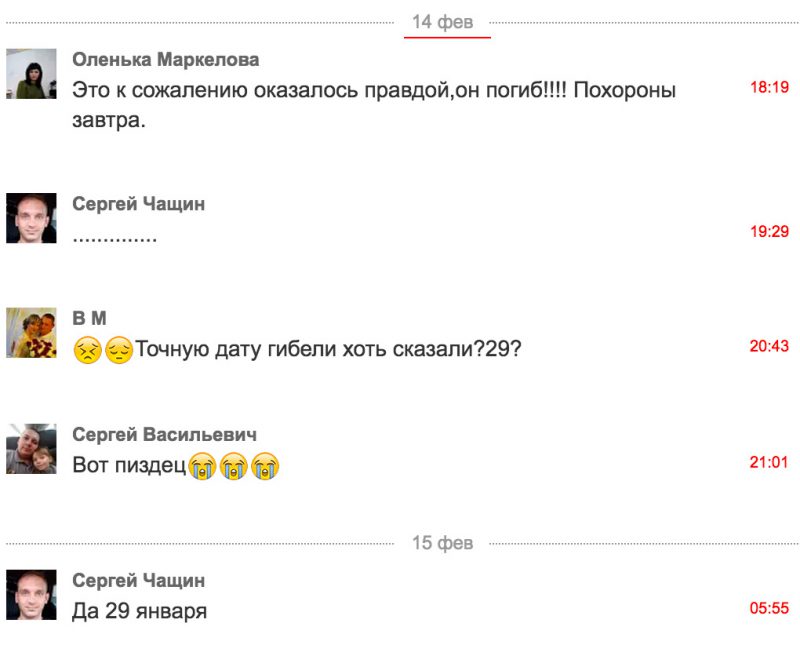 During our investigations, we have seen such secrecy and long waiting periods before the announcement of deaths (10-15 days on average) as characteristic of deaths of Wagner mercenaries. This is strikingly different from the deaths of active Russian Army servicemen in Syria: the final confirmations of their deaths reach the relatives no more than 2-3 days after their deaths.
Mikhail Nefyodov
By the end of February, reports surfaced of another Russian killed in Syria. His name was Mikhail Nefyodov. He was from Miass, Chelyabinsk oblast.
As seen from his colleague's post, Nefyodov served in the army in 2008-2009 and after that fought in Ukraine and Syria. While we we searching for information on his death, we were contacted by his friends who wished to remain anonymous. They confirmed that Nefyodov fought with the separatists in Eastern Ukraine and provided photographs from Donetsk as proof:
Mikhail's friends also confirmed that he went to fight in Syria not as a Russian serviceman but as a PMC mercenary. They said they found out about Nefyodov's death on February 22 while he was killed on February 10. This was proven by a photo of Nefyodov's grave with a date of his death: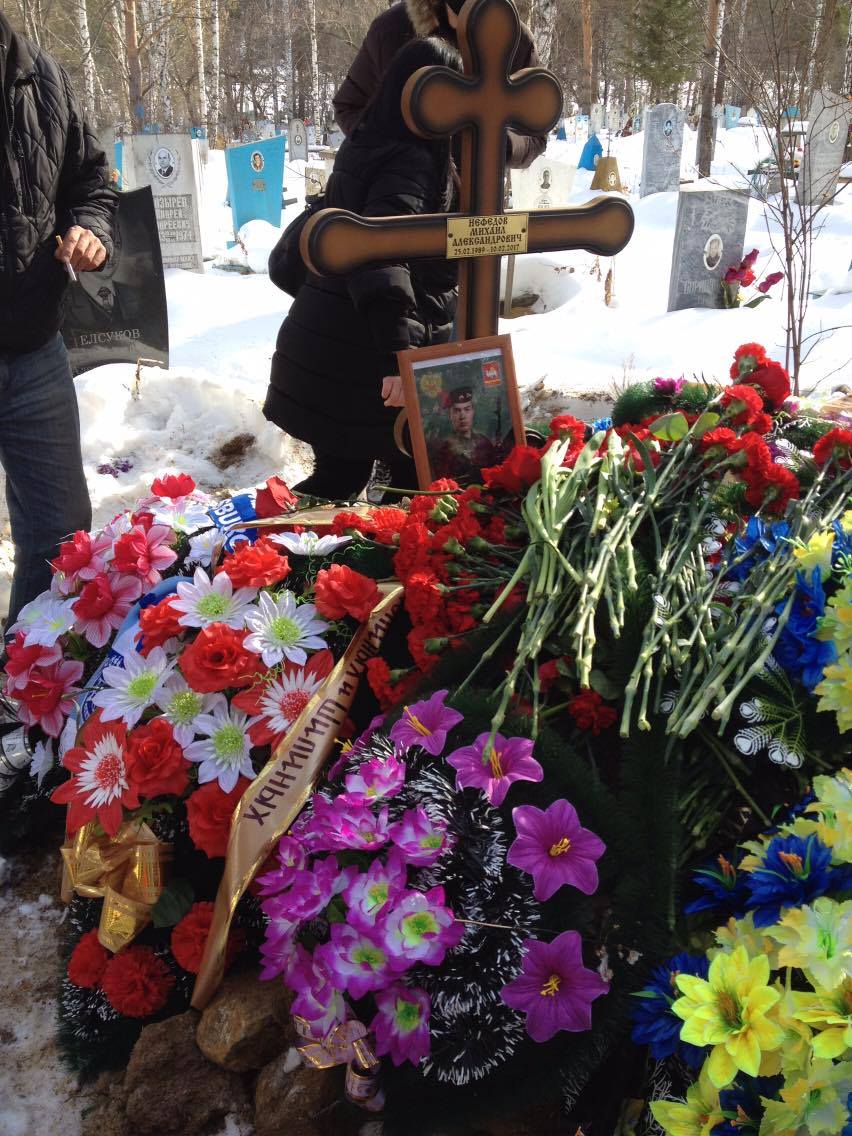 Nefyodov's death certificate was issued by a Martyr Abdulkader Shakfeh military hospital situated in Homs: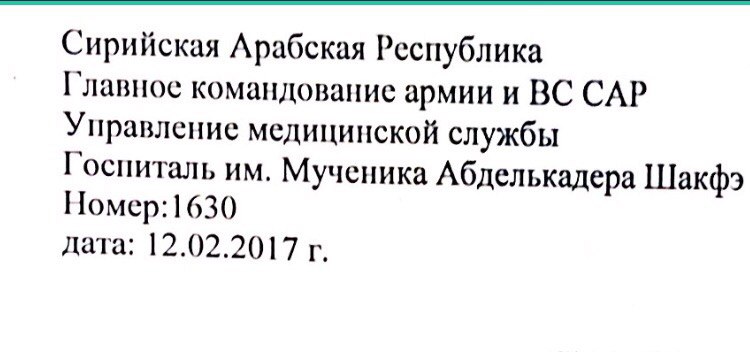 Fragment of a death certificate issued by the Medical Service Directorate of the Syrian Arab Army's Martyr Abdulkader Shakfew hospital
A 2016 report on the website of the Homs governorate administration covers the governor's visit to the hospital, which suggests it at least recently was operational.
Mikhail's friends also said they were told he was killed in a suicide attack. 10 more people allegedly were killed in the same attack. His body came to Rostov, Russia, in a zinc box. Together with the body, his army tag and cellphone with a broken SIM card were transferred.
Earlier, another Nefyodov's friend published his messages with him which suggest he went to Syria to earn money: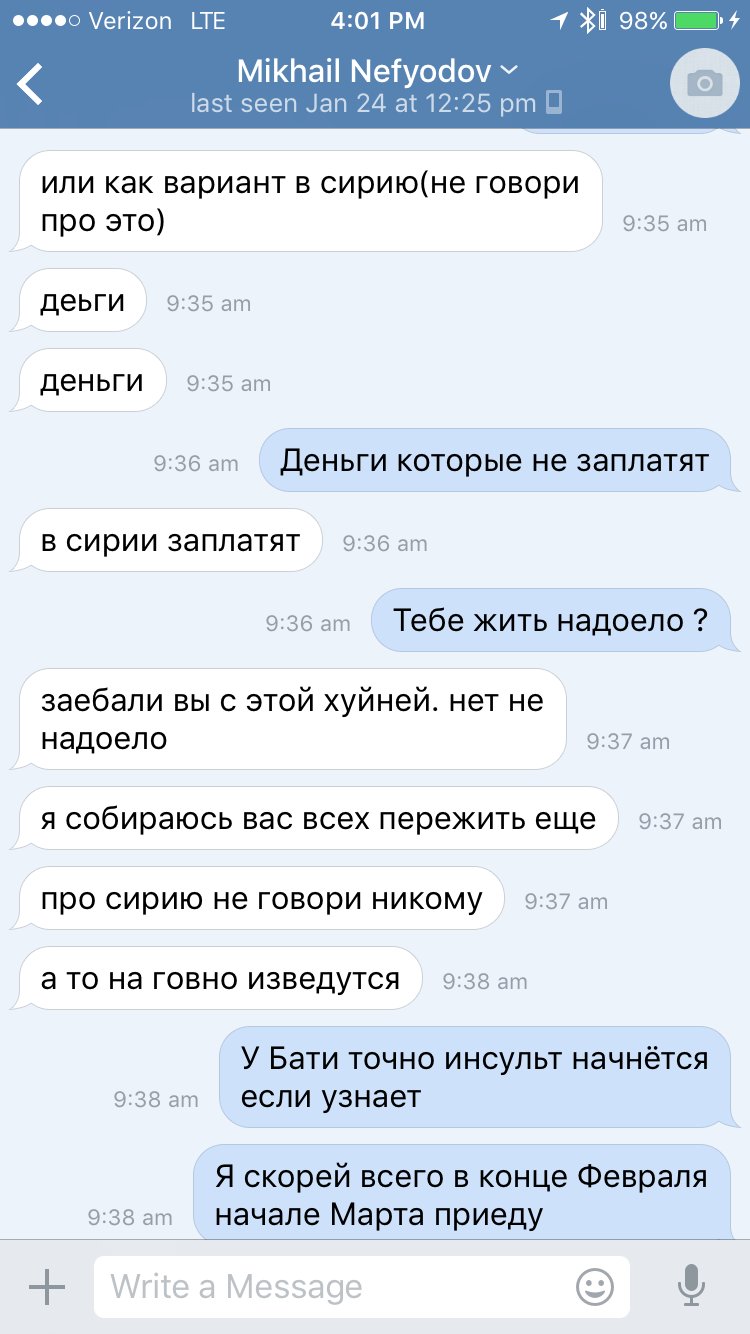 Messages with Nefyodov where he says he was going to Syria where he would get money and urged to keep quiet about it
However, after Nefyodov's death attracted attention, the screenshot was deleted (saved copy).
The city of Homs, where Nefyodov's death certificate was issued, is the closest large city on the way from Palmyra, where there was fighting against ISIS terrorists at the time of Nefyodov's death. This suggests that Nefyodov, just like many other "Wagner" mercenaries killed in 2017, was killed at the Palmyra front.
Aleksandr Tychinin
As we've mentioned above, friends and loved ones of "Wagner" mercenaries receive information on their deaths in Ukraine and Syria, as a rule, 2 weeks or even more after the fact, while the same term for Russian servicemen is often 2-3 days.
On March 2, several people related in various ways to Aleksandr Tychinin, started posting about his death. Friends and relatives changed avatars to photos where they appear together with Tychinin. However, they wrote that he was killed on February 18 — almost two weeks before the mourning posts appeared.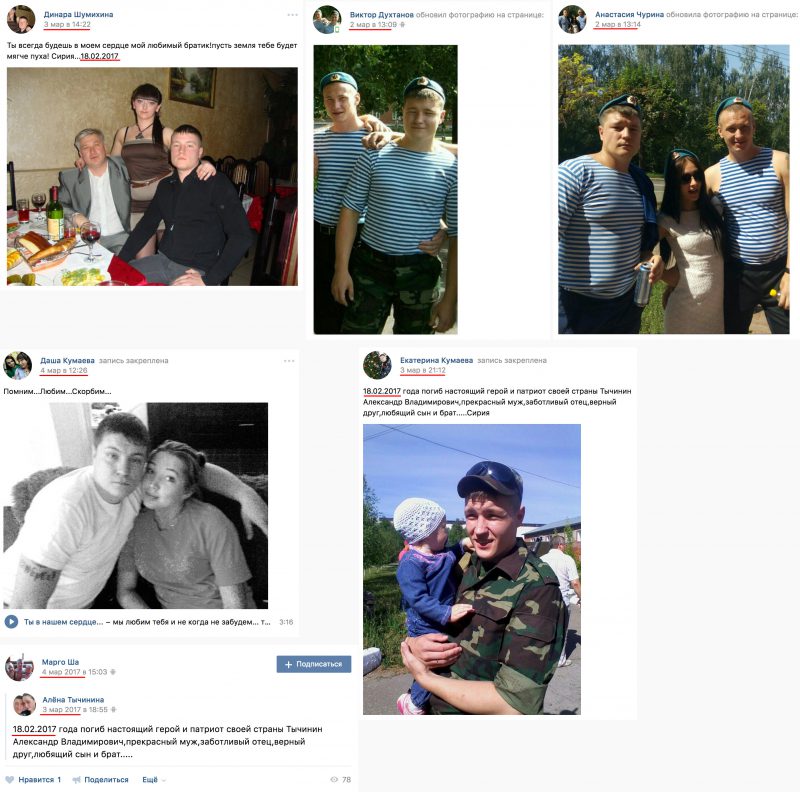 Original posts and their saved copies:
https://vk.com/photo161586416_456239028 | http://archive.is/LdEvu
https://vk.com/wall31374351_2349 | http://archive.is/5wnoq
https://vk.com/wall59245958_5210 | http://archive.is/vibBp
https://vk.com/wall325101456_275 | http://archive.is/8t69M
https://vk.com/wall131732456_1675 | http://archive.is/F90Ak
Moreover, as was the case with Nainodin, Rudenko and other "Wagner" mercenaries, at first the relatives were told a wrong death date:
We have not seen this happen while investigating deaths of active Russian servicemen.
Tychinin's tattoo indicates he used to serve in the 12th Separate Special Purpose Brigade of the General Staff's Main Intelligence Directorate, based in Asbest, Sverdlovsk oblast: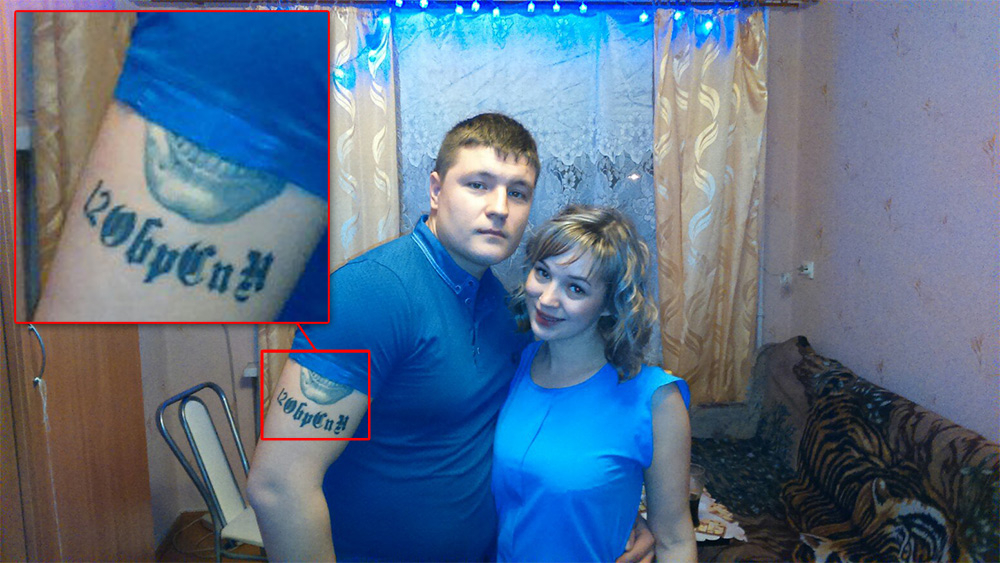 Most likely, he served his draft term in 2007-2008:
Tychinin's friends confirmed to us he went to Syria not as a Russian serviceman but as a PMC fighter.
Ivan Slyshkin, Vasiliy Yurlin and Aleksandr Sagaidak
Apart from the aforementioned "Wagner" mercenaries, during the past few weeks our team and journalists from various media reported on the deaths of three more PMC fighters: Ivan Slyshkin (killed on February 12), Vasiliy Yurlin (killed on February 20) and Aleksandr Sagaidak (killed in late February, exact death date unknown). As other mercenaries, they weren't serving in the army at the time of their deaths. Their friends and relatives found out about their deaths over 10 days after they were killed.
Ivan Slyshkin and ISIS hunters
In early March RBC published an article on the death of a PMC fighter Ivan Slyshkin. According to RBC, Ivan trained a pro-Assad elite unit "ISIS hunters". Ruptly videos posted in early march do show Syrian fighters with "ISIS hunters" logos, guarding the Hayan gas plant:
Other Ruptly videos show fighters who could be "Wagner" mercenaries riding off-road vehiucles near Palmyra (starting at 0:44):
and demining Palmyra itself:
Conclusion
The evidence we collected allows to suggest that "Wagner" private military company fighters took part both in the first and second liberation of Palmyra from ISIS. The group sustained considerable losses: we are yet to establish many other names. During interviews with friends and relatives we found out that Nainodin went to Syria to avenge the death of Sergey Chupov. While in Syria, he led a group of four, including Roman Rudenko, Yuri Sokalski (we've been unable to find information on him in open sources) and another fighter (name currently unknown). They all were killed on the same day: January 31, 2017. On the same day, another "Wagner" mercenary got killed — Konstantin Zadorozhnyi from Moscow.
This group was not the only loss sustained by Wagner fighters: we found out that Aleksandr Tychinin, Mikhail Nefyodov and Dmitry Markelov were killed on different days, likely fighting in the Palmyra offensive. We found out from interviews that some of these cases may be connected to a suicide attack which allegedly killed up to 10 men.
The characteristics of Russian mercenaries' deaths are late notifications of loved ones (two weeks or more after the fact), unclear death dates, bodies delivered in sealed zinc boxes and a request not to open them. Apart from that, the Russian Ministry of Defense never confirms their deaths, while it often has to confirm the deaths of active servicemen (especially after publications by journalists and investigators).
The majority of the mercenaries earlier fought in Ukraine, some were wounded. Many "Wagner" fighters had experience in Special Forces and conflict zones. Another characteristic is the unofficial "Wagner medal", which we know was awarded to Aleksandr Sagaidak, Ivan Slyshkin, Aleksey Krokhun and Aleksey Savko.