This post is also available in:

Русский
At midnight February 26 to 27 Damascus time, the Syrian ceasefire agreement came into force. The full text of the agreement is available at the US State Department website.
In the evening of February 26, before the ceasefire came into effect, many RuAF airstrikes were reported, including in areas, where, according to Russian MoD claims, "Russian aviation performs no strikes" since February 24:
As per @mod_russia, blue areas haven't been bombed since February 24 https://t.co/T7VmZPbhjI https://t.co/AAOuJl5tJb

— CIT (en) (@CITeam_en) February 26, 2016
On February 27, according to another claim by the Russian MoD, the Russian Air Force did not perform combat sorties, including sorties against "Islamic State" and "Al-Nusra Front" terrorists which are not subject to ceasefire. The National Coalition of Syrian Opposition accused Assad forces in 15 ceasefire violations in February 27. For instance, a Free Syrian Army group "1st Coastal Division" published a video which they claimed showed Assad aircraft dropping a barrel bomb on Kinada in Western Idlib:
However, according to multiple sources, including the official Twitter account of Syrian civil defense organization "White helmets", February 27 was relatively calm compared to pre-ceasefire days.
February 28 airstrikes
On February 28, the Syrian Opposition's High Negotiation Committee reported ceasefire violations by Syrian government troops and RuAF. Several videos of airstrikes in North-Western Syria and their aftermath have been posted to YouTube.
For instance, several airstrikes were reported on Ter Maela in Northern Homs governorate. We have compiled a playlist of videos showing the February 28 Ter Maela airstrikes:
Video # 1 and video # 2 from this playlist were filmed in Talbiseh.
Videos three to eight were filmed from Al-Ghantu.
Videos nine to twelve were filmed from Ter Maala, the cameraman being closest to airstrike sites.
By matching the camera directions resulting from the geolocations above, we get the following picture: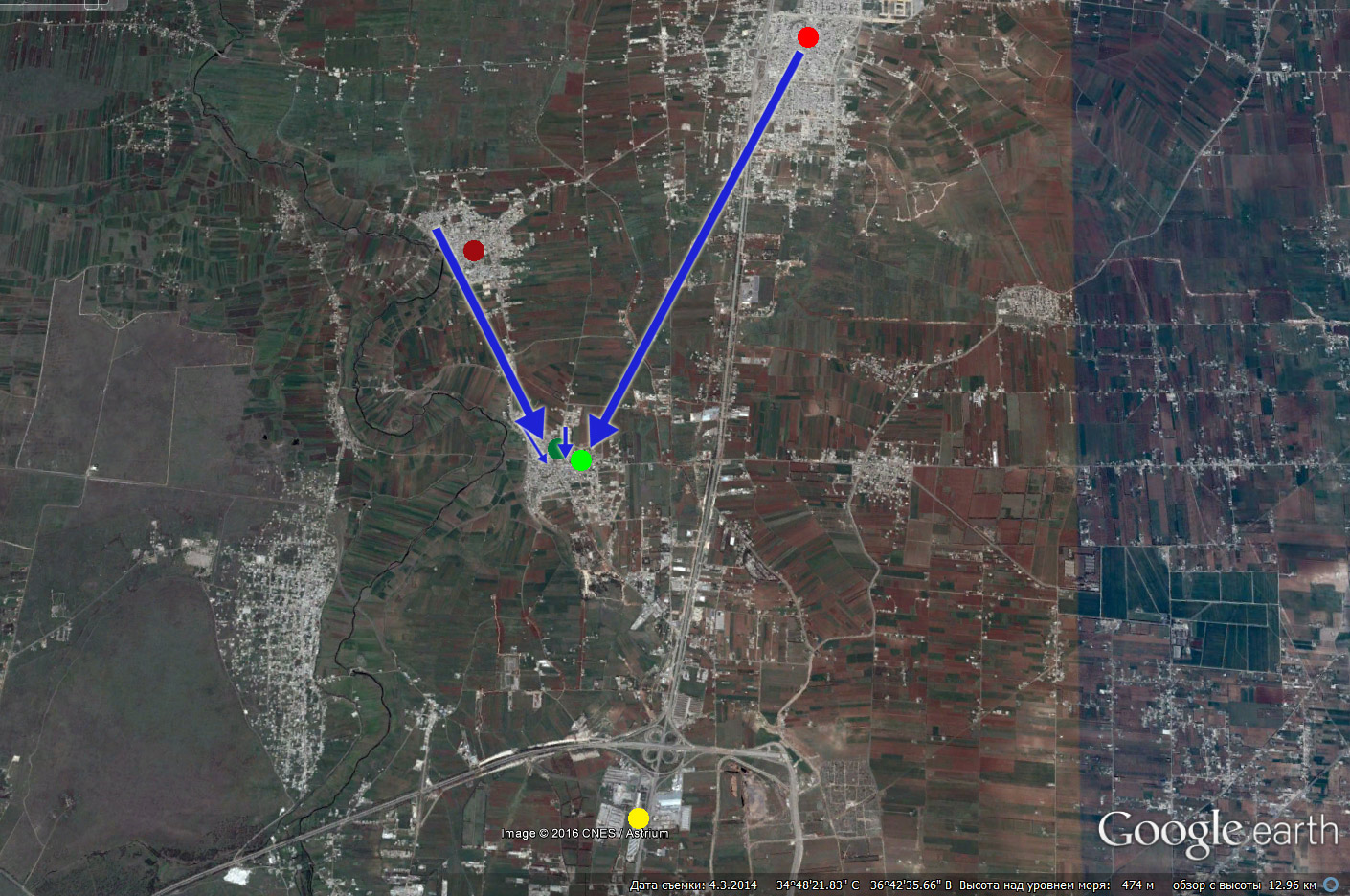 As you can see, the airstrikes mostly targeted South-Western Ter Maela.
One of the videos posted on February 27 shows a "helicopter dropping a barrel bomb on Ter-Maela, Homs governorate". The bomb in the video indeed resembles a barrel bomb, а while the helicopter is a Mi-25, fielded by Syrian government air force and frequently used to drop barrel bombs.
Two other videos uploaded on February 28 to Talbiseh's YouTube channel show a RuAF Su-24 flyover. We can see that the jet indeed belongs to RuAF, not Syrian government airforce (SyAAF), by the placement of underwing emblems:
Apparently RuAF and SyAAF bombed Ter Maela together on February 28.
However, according to maps published by the Russian MoD during briefings on February 24 and 27, Ter Maela is within an area where RuAF and other pro-Assad forces are to observe ceasefire:
The Talbisah YouTube channel published another video [graphic] on February 28 showing wounded civilians being rushed into a hospital. Apparently they were brought in from the neighboring Ter Maela which was hit by airstrikes through the day.
According to the ceasefire agreement, all pro-Assad forces (including Russians) are to observe UN Security Council resolution 2254.
Resolution 2254, in turn, demands, inter alia, "that all parties immediately cease any attacks against civilians and civilian objects":

Thus, death or injuries sustained by civilians due to bombings mean a breach of the ceasefire by RuAF and SyAAF.
According to Youtube Data Viewer, 5 hours passed between the upload of the first and the last video of February 25 Ter Maela airstrikes. This suggests the ceasefire breach was not accidental but repeated and systematic.
Despite the MoD widely advertising their ceasefire monitoring center, the Syrian Opposition High Negotiation Committee says they received neither ceasefire maps nor an explanation of monitoring mechanisms. This was reported by AFP's Middle East correspondent:
#SYRIA: Super worrying: HNC says it has not received any maps outlining ceasefire areas or documents explaining the monitoring mechanism.

— Maya Gebeily (@GebeilyM) February 28, 2016
This also violates the ceasefire agreement which provides for "effective communications and procedures necessary for preventing parties participating in the cessation of hostilities from being attacked":

While Russian MoD makes unsubstantiated accusations of ceasefire violations toward Syrian opposition and Turkey, the actions of RuAF and Assad's Air Force are ignored by Russia's military officials. This volates the provision of the ceasefire agreement on "impartial and transparent" monitoring of ceasefire violations:
Afterword
The aforementioned facts make Russian authorities' intents to achieve peace in Syria doubtful to say the least.
On February 26, we published an analysis of an MoD briefng held 3 days before the ceasefire which, we believed, contained evidence that RuAF would not observe it. Unfortunately, our prediction proved to be true.
Given all of the above, we demand that the command of Russian armed forces stop the ceasefire violations in Syria, give substantiated explanations to the violations already committed, perform a thorough investigation and punish those responsible. We call on Russian and foreign journalists to try to get a full response to our article, not an excuse for a response given by the MoD to the investigation by our colleagues at Bellingcat.
If the Russian Armed Forces command remains unaccountable before the Russian nation and the world, civilian deaths in Syria will continue while international pressure on our country will grow, potentially leading to even higher economic and reputational losses than the failure to obsever the Minsk agreements settling the Russia-Ukraine conflict.
Acknowledgements
We thank Twitter user ETKMKAO for his help in preparing this report.