This post is also available in:

Русский
On December 2, representatives of Russia's Ministry of Defense held a press briefing "Russia's armed forces in the fight against international terrorism. New data", where they allegedly presented part of the proof of Erdogan's family's involvement in ISIS oil trade.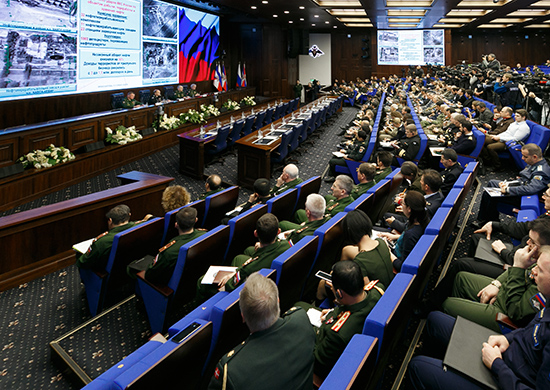 As it is often the case with Russian MoD's claims, a significant part of the facts presented turned out to be contradictory to open source data as well as independent investigations and ISIS's own documents related to oil trade.
Conflict Intelligence Team has gathered and expanded on the available information related to Russian MoD's claims stated at the briefing.
Oil production figures
At the Briefing, Russia's General Staff Main Operative Directorate head Leutenant General Sergey Rudskoi said:
According to the most conservative estimates, the terrorist group's revenues from its illegal oil operations amiunted to at least $3 million a day. Multiply that figure by 4 years.

Currently the illegal oil business involves at least 8,500 fuel tanker trucks transporting up to 200,000 barrels of oil per day.
This data contradicts an investigation by Financial Times: according to locals, the oil production in Syria's Deir-ez-Zawr governorate, where the bulk of ISIS oil resources are located, is at most 40,000 barrels per day. MoD data also contradicts Islamic State documents, published in October this year. According to the documents, monthly oil revenue in Deir-ez-Zawe from December 23, 2014 to January 22, 2015, amounted to 1.993 million USD. The oil business accounted for only 27.7% of the province's incomed, while the largest source (44.7%) was confiscations from locals.
The suggestion to "multiply that number by 4 years" is puzzling. Although Islamis State of Iraq emissaries arrived to Syria in August 2011, the organization was renamed to "Islamic State of Iraq and Levant" only in april 2013. By that time, the oil-producing Deir-ez-Zawr governorate was controlled by Syrian rebels and was captured by ISIS only in April-July 2014. Thus, the main Syrian oil fields have been controlled by ISIS for mere 1.5 years.
To prove the scale of the operation, Russia's MoD shows photos of large numbers of trucks near ISIS-controlled oil fields:
The region near Deir ez-Zor is one of the largest oil extracting and oil refining centers that is currently under the ISIS control.

A large number of oil refining facilities is located here, one of them can been seen at the screen.

In this region, a concentration of petrol tank vehicles awaiting shipment is constantly registered. Photos of automobile columns with little distance between each other are presented.
These large numbers of tanker trucks are confirmed by Financial Times investigation:
On the outskirts of al-Omar oilfield in eastern Syria, with warplanes flying overhead, a line of trucks stretches for 6km. Some drivers wait for a month to fill up with crude.

Falafel stalls and tea shops have sprung up to cater to the drivers, such is the demand for oil Traders sometimes leave their trucks unguarded for weeks, waiting for their turn
Such huge, slow-moving queues should form if the demand for oil is significantly higher than supply, which is several times lower than the data given by Russian MoD.
It should also be noted that according to a Russian blogger one of the images shows not an "oil extraction facility", but a gas refinery; gas, according to the blogger, can't be transported by ordinary tank trucks.
Preliminary conclusions:
According to journalists' investigations and published ISIS documents, Russian MoD has overestimated the terrorists' oil business by several times;
The huge queues shown at Russian MoD's photos are explained by low production and the oil merchants having to wait for weeks.
Smuggling
According to the aforementioned Financial Times investigation, oil and oil products are taken from ISIS-controlled fields and refineries by middlemen who resell it on black markets in Syria and Iraq. Some of these markets are in rebel-controlled territory. The mazout derived from oil production is required to fuel the generators powering bakeries, olive presses and vehicles working on the rubble left after bombings. The gasoline and diesel fuel are used by the jihadis' own vehicles. The situation may become absurd, when rebels fighting ISIS have to buy fuel from middlemen who bought it from ISIS in the first place.
Thus, the terrorists' main income stems from controlling a resource which is strategically important for Iraq's and Syria's population. The bulk of the oil is sold on the internal market, while much less goes into Turkey. The smuggling routes on the FT map are marked in North-Western Syria. They are adjacent to the oil black markets and pass through rebel- and ISIS-controlled territories.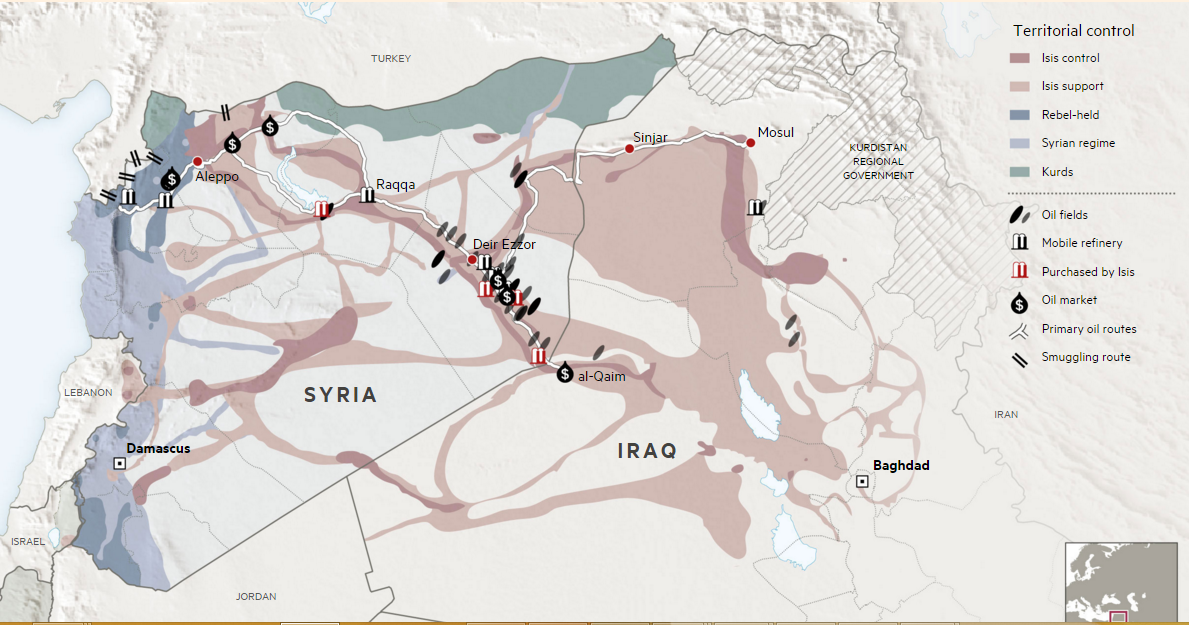 According to FT, the oil is smuggled in 25-liter drums or pumped through makeshift underground pipes across the Turkish border. This smuggling business, which started many years before the Syrian civil war, is described in an investigation by Buzzfeed News reporter Mike Giglio.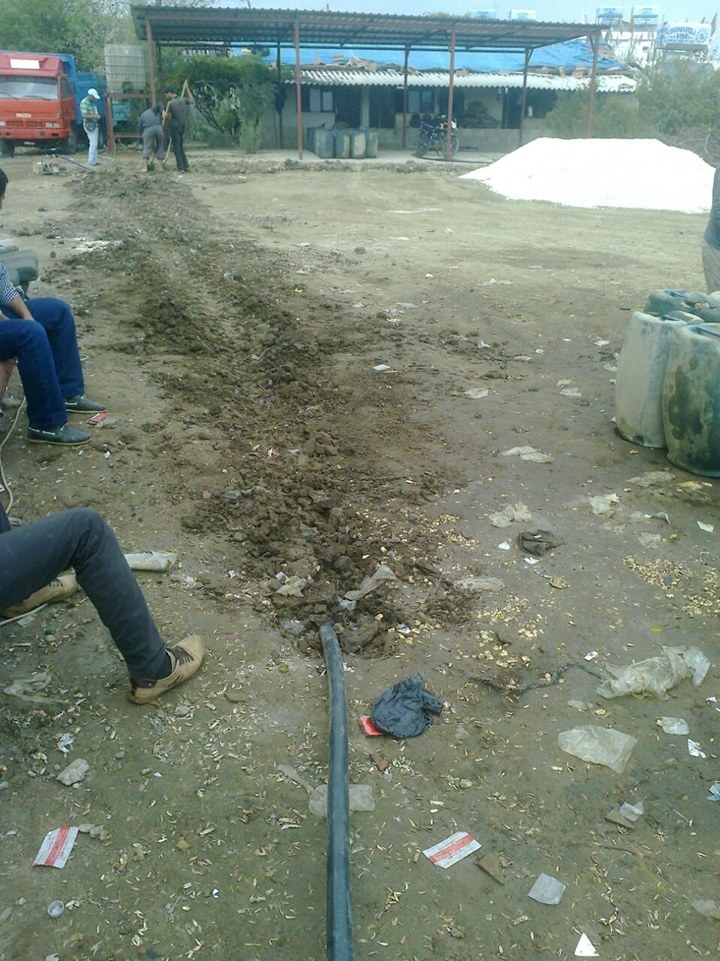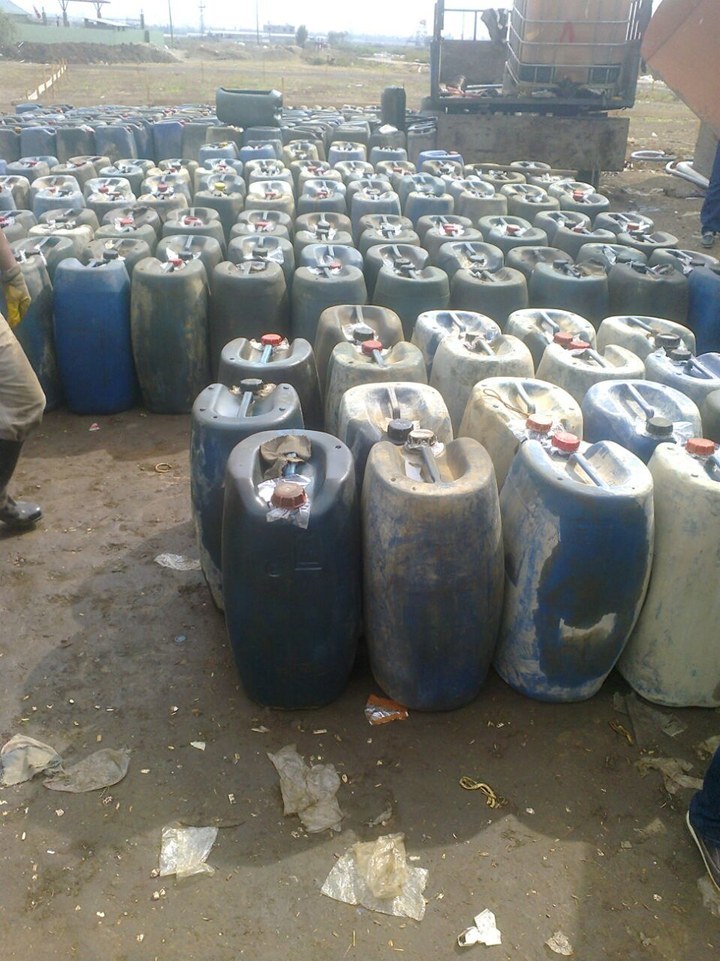 Pipes and oil drums at the Syrian-Turkish border Photo by: Mike Giglio, Buzzfeed News
On November 26 2014, soon after the Buzzfeed investigation was published, Turkish police raided the border town of Beaslan, destroying 12.8 kilometers of illegal pipelines, detaining 37 smuggling suspects and seizing 20 vehicles. Since 2014, according to independent media, Turkish law enforcement has been actively fighting ISIS oil smuggling.
This is probably what was meant by a US Stated Department source that claimed that the smuggled oil is supplied to Turkey in insignificant amounts which have recently been decreasing.
Smuggling: MoD version
According to Russian MoD, the oil is smuggled on trucks through the Turkish-Syrian border passes via 3 main routes: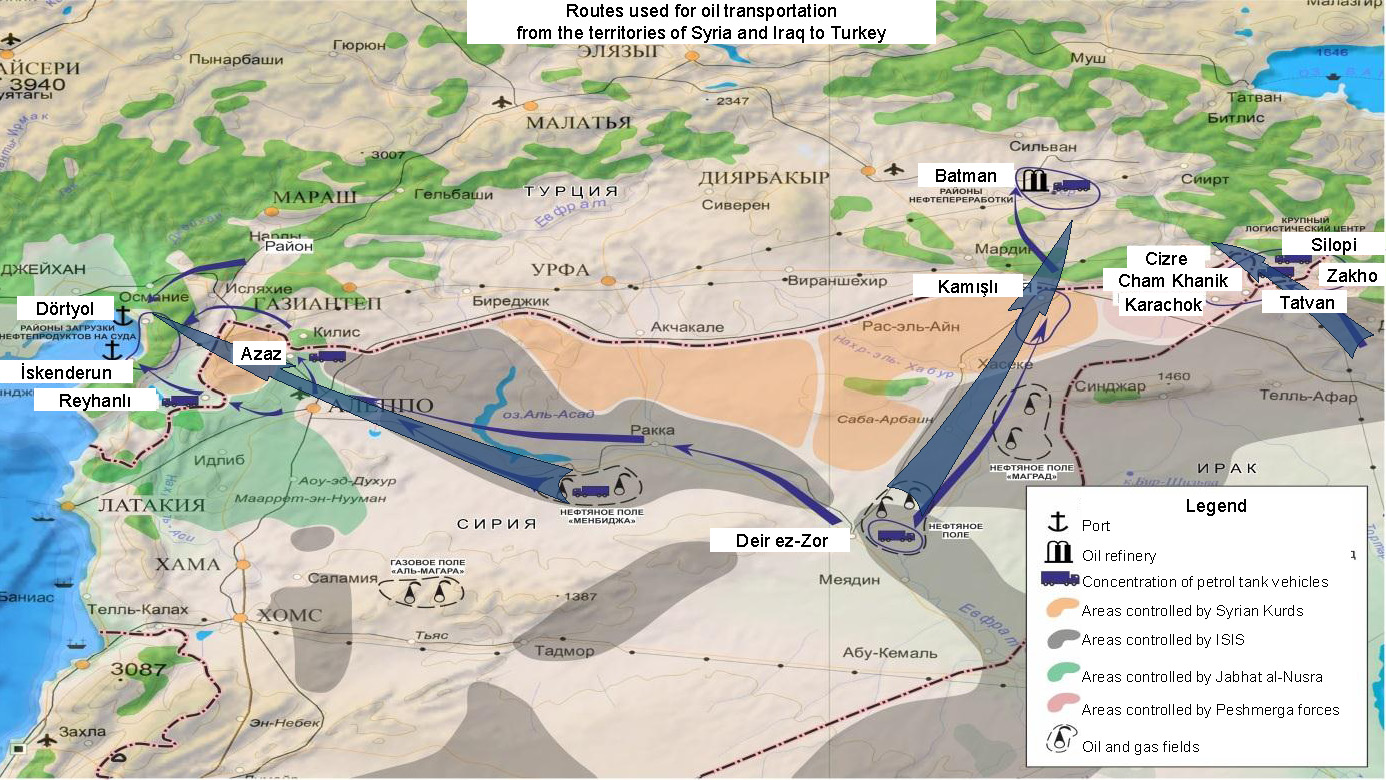 As any available Syrian conflict map can show, two of the routes passing through Syria go through Kurdish-controlled areas, and in the case of Hasakah and Qamishli — trough Assad-controlled towns.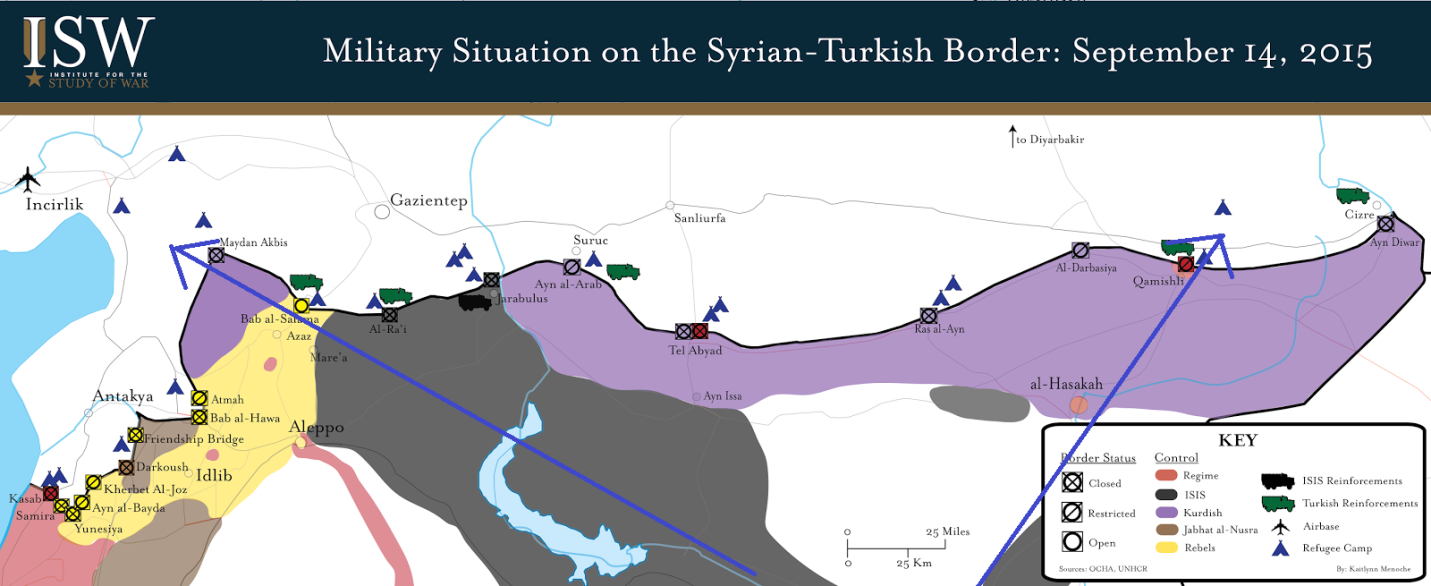 Map by Institute for the Study of War
According to another Instutute for the Study of War map, North-Western Iraq, where the third MoD route runs, is also Kurd-controlled.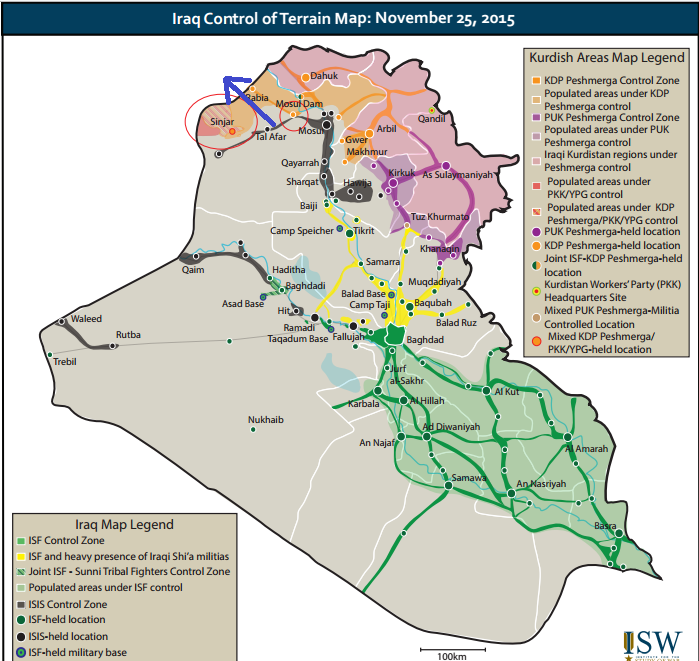 Map by Institute for the Study of War
It should be noted that the Kurds are one of the most active anti-Isis groups; in particular, they've been advancing at Hasakah in Northern Syria and recently liberated the town of Sinjar in North-Western Iraq — i.e. they have been fighting exactly in the areas, where, according to the MoD, the main smuggling routes run.
To back up the claims on unabated passage of oil trucks into Turkey, the Russian MoD presented satellite and aerial imagery showing large numbers of trucks at border passes around Azaaz in Syria and Reihanly in Turkey: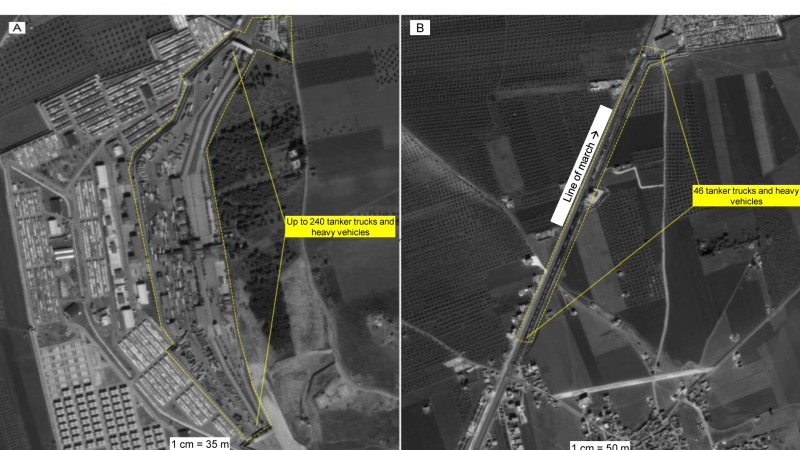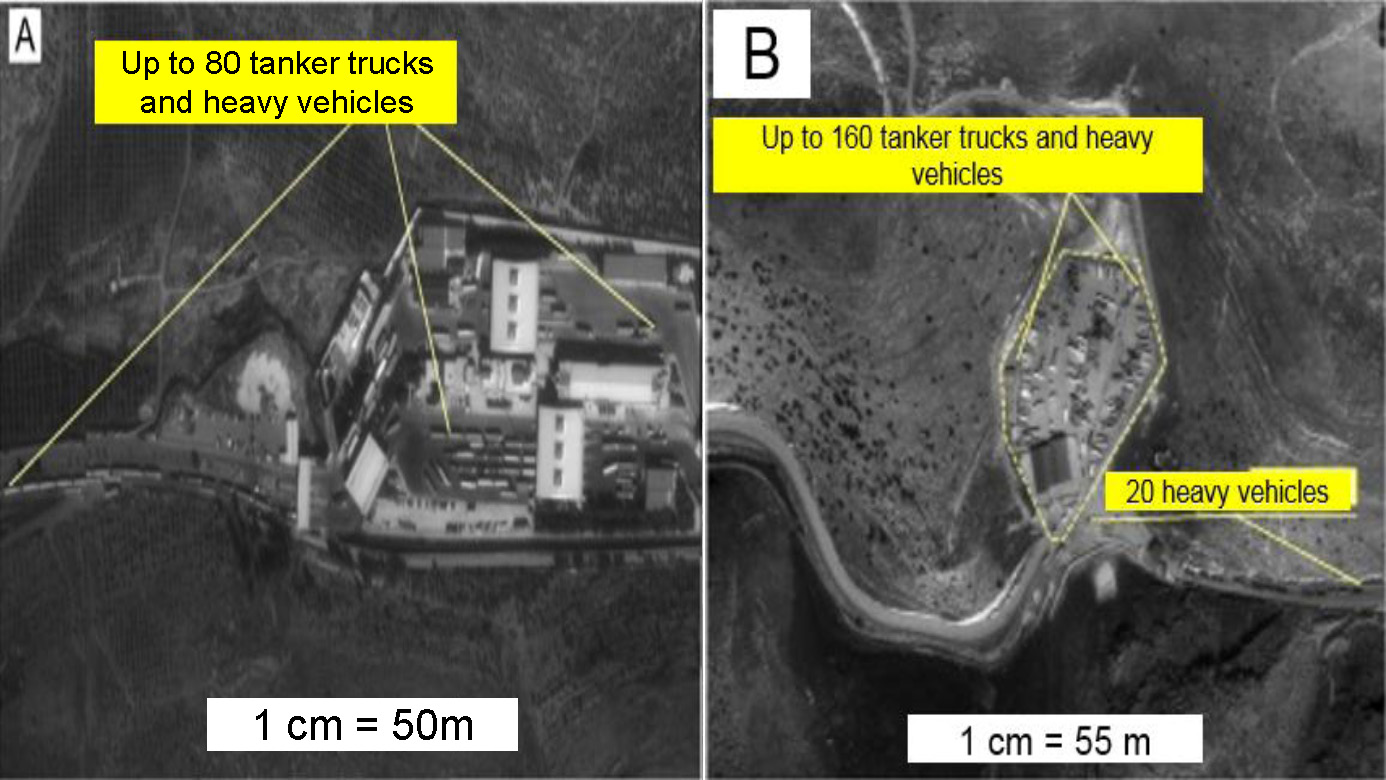 Unlike Qamishli, the Azaz and Reihanly border posts are controlled by rebels. Since oil merchants are said to be selling oil in rebel territory, these cases should be examined more carefully.
It should be noted that it can't be determined whether Russian MoD imagery shows actual fuel trucks. At the briefing, MoD representatives claimed part of the fuel trucks were disguised as ordinary ones, but this information couldn't be confirmed or disproven. It is also unclear how MoD would distinguish a disguised fuel truck from other trucks or why would the fuel truck be disguised if it could freely go across the border.
Large numbers of trucks can also be seen in Google Earth satellite imagery dated as 2011, before the Syrian rebellion deteriorated into a civil war.
Border post near Azaaz, Syrian side of the border: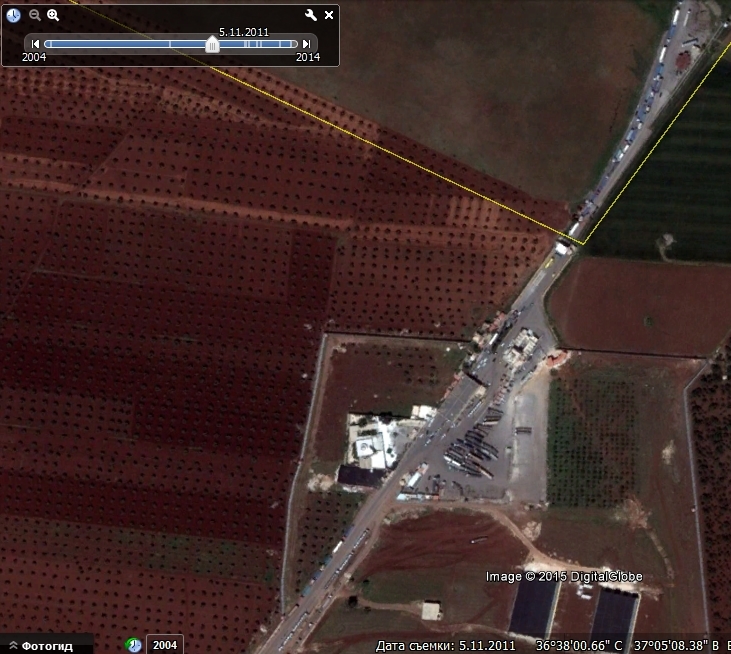 Turkish side of the border: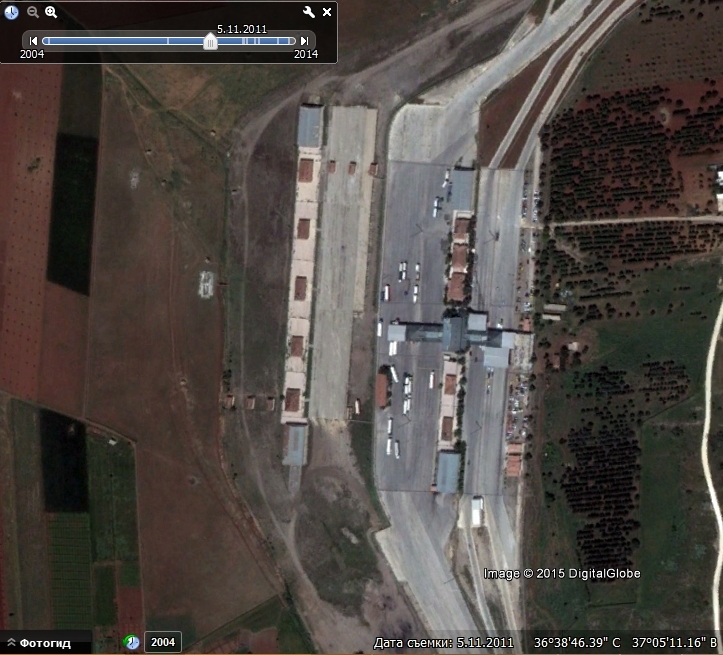 Border post near Reihanly (queue heading towards Turkey):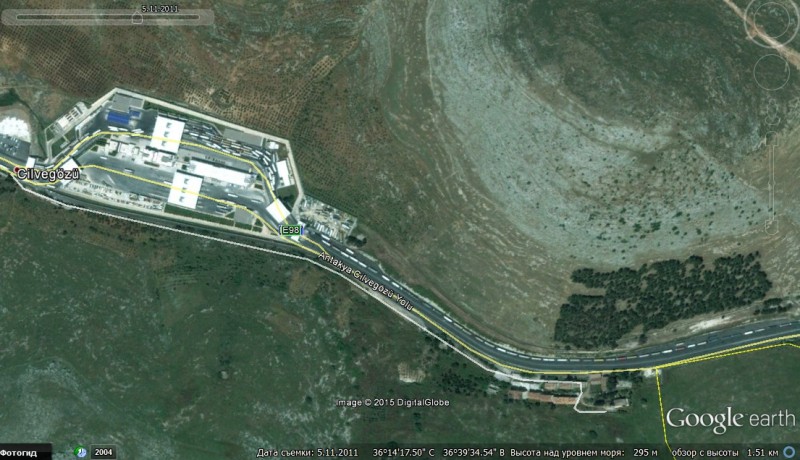 Such queues could be related to strictened border control measures due to the conflict in Syria.
The Russian MoD also published a video of "Heavy vehicles crossing Syrian-Turkish border with no restrictions near Reyhanli".
In the video (starting at 0:09) trucks indeed can be seen crossing the Syrian-Turkish border. However, analysis of the video shows that in fact the trucks are being checked at the border.
During the last few seconds of the video, trucks can be seen leaving parking grounds on the Turkish side of the border, heading into Turkey.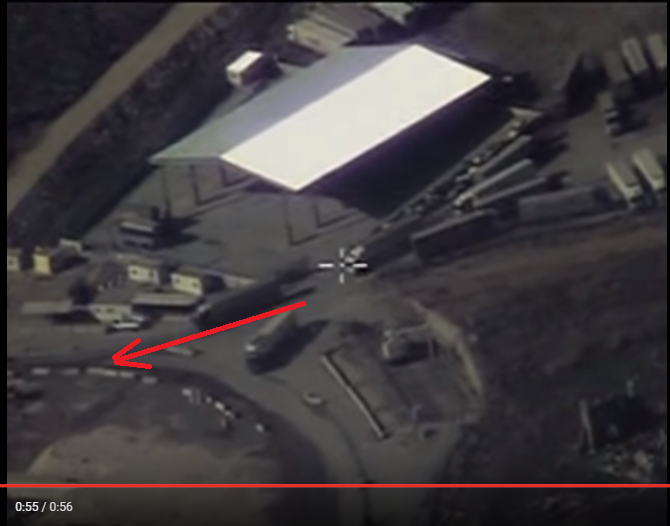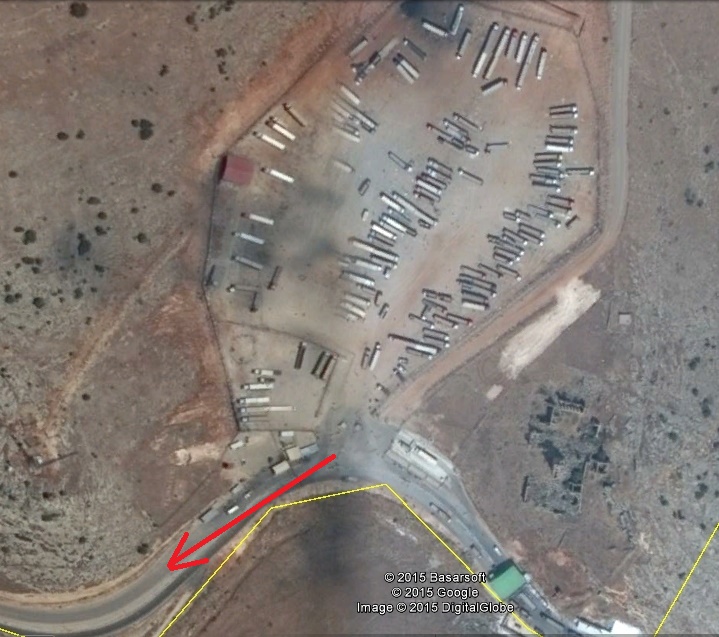 Google Maps link to the parking, also see video starting at 0:46
Moving further into Turkey, the trucks reach the Turkish border checkpoint: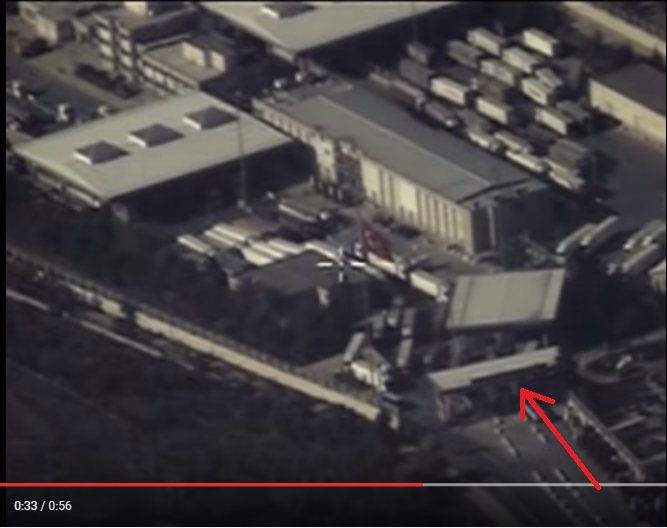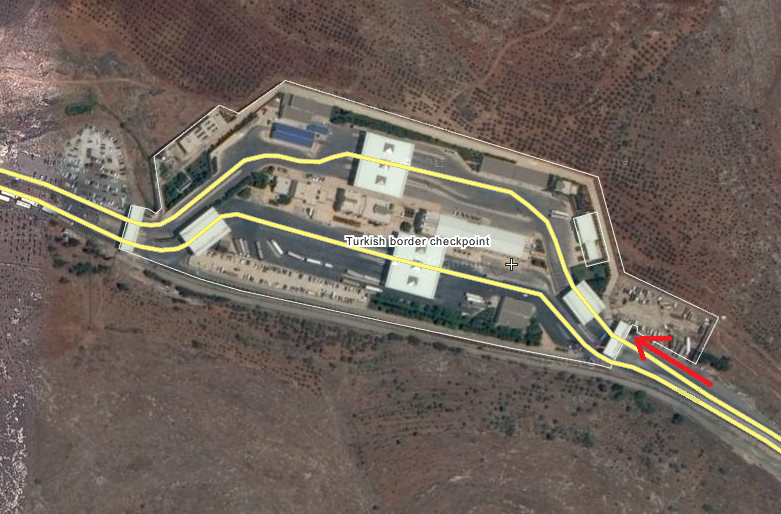 At 0:25 in the video, you can see a truck moving through the checkpoint towards Turkey: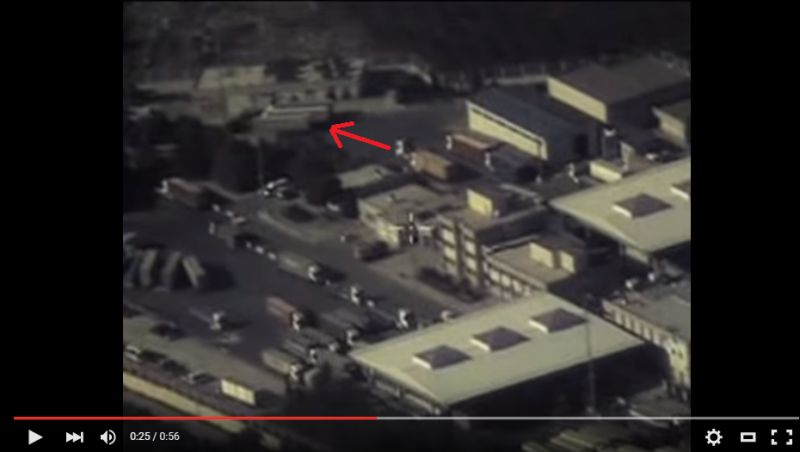 At 0:29, another truck moves under the roof where, presumably, border checks are performed: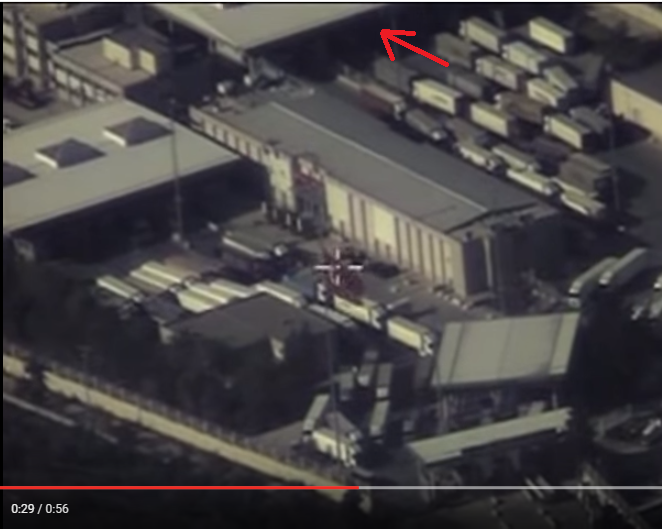 We do not know the details of the border checking procedure, but, given that the queue is very long, it is moving quite slowly, which contradicts MoD claims of "passing the border without restrictions".
We also found out that during the war new structures appeared at the border pass near Azaz, which can also be seen on Russian MoD's images.
Turkish side of the border, 2012: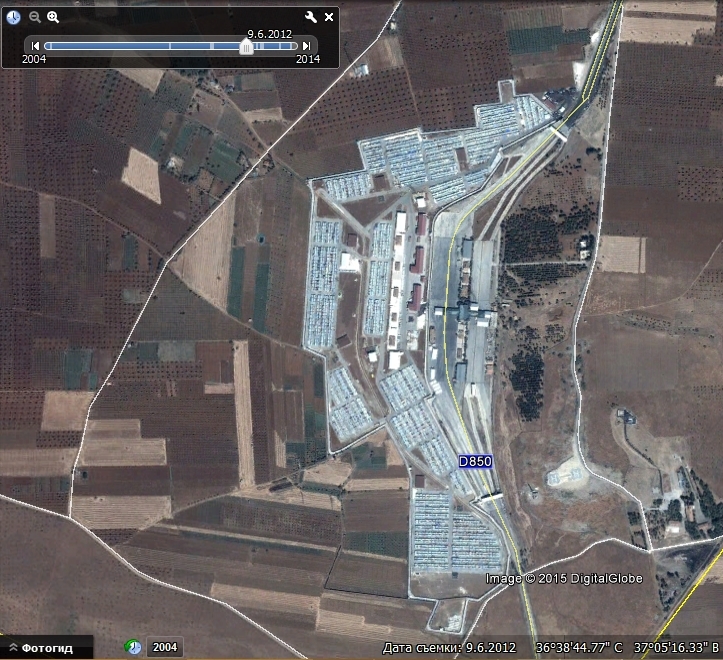 Syrian side of the border, 2013: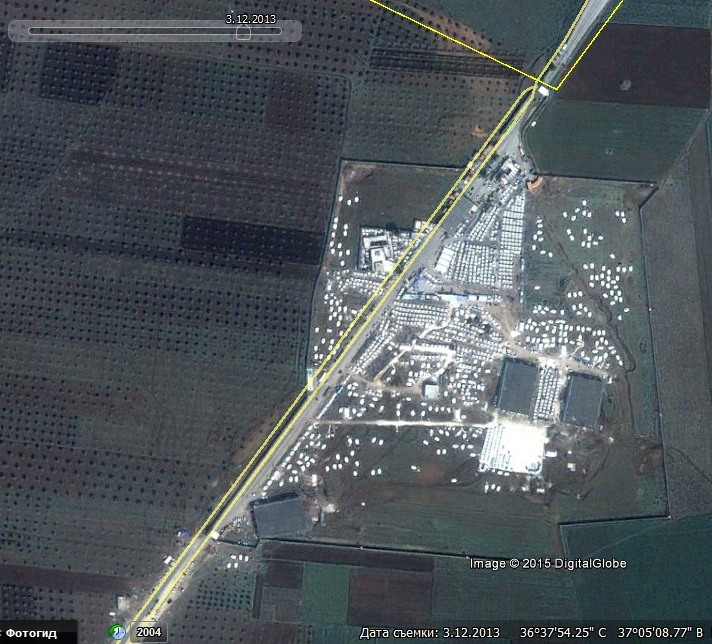 In an article on the MoD's claims, The New Yorker's journalist notes that in 2013, when he was at that border pass, he witnessed two refugeee camps on both sides of the border, with a lot of trucks supplying them.
The refugee camp can be seen in an Instagram video geotagged near the border pass: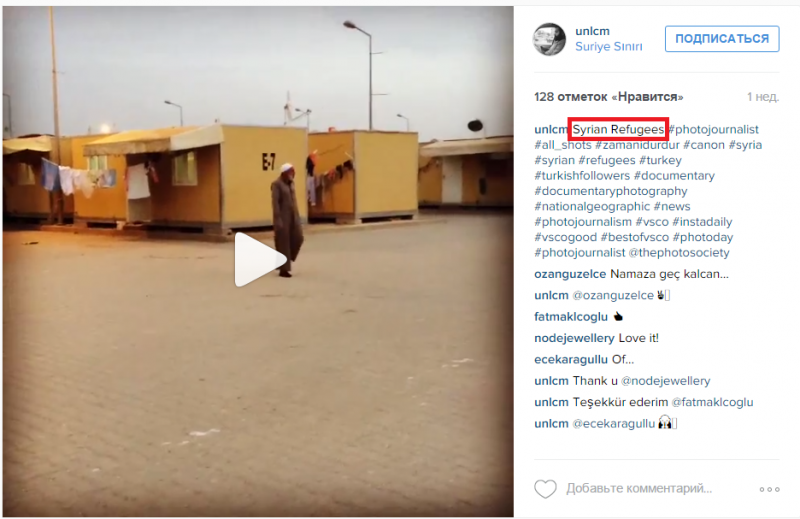 The camp appears on news reports from Syria rather frequently. These reports can be found on YouTube. Besides, the website of a Turkish charity IHH features photos with trucks of humanitarian aid being sent to Syrian refugee camps, including the aforementioned Bab-al-Salam camp.
IHH has earlier been accused of smuggling weapons under guise of humanitarian aid into Syria, but other sources say the weapons were smuggled by Turkish intelligence service.
Another article on IHH's website features photos from Bab-al-Salam camp itself, which show humanitarian aid trucks and truck-based mobile kitchens: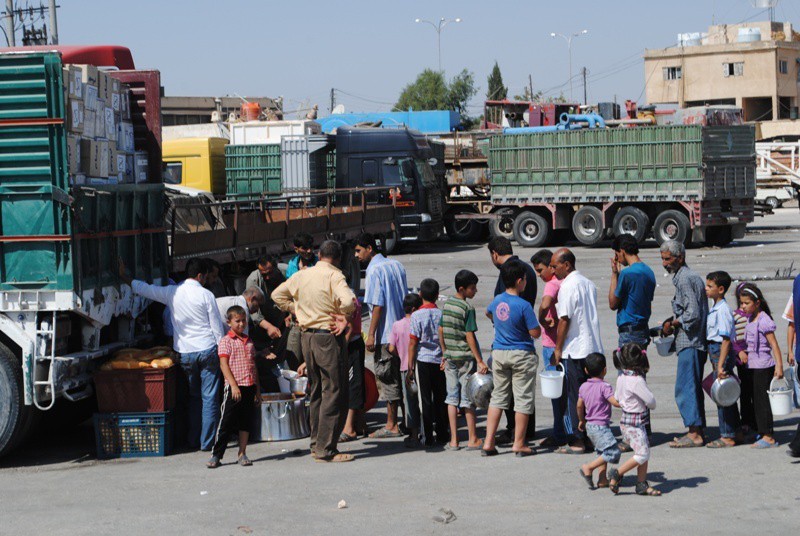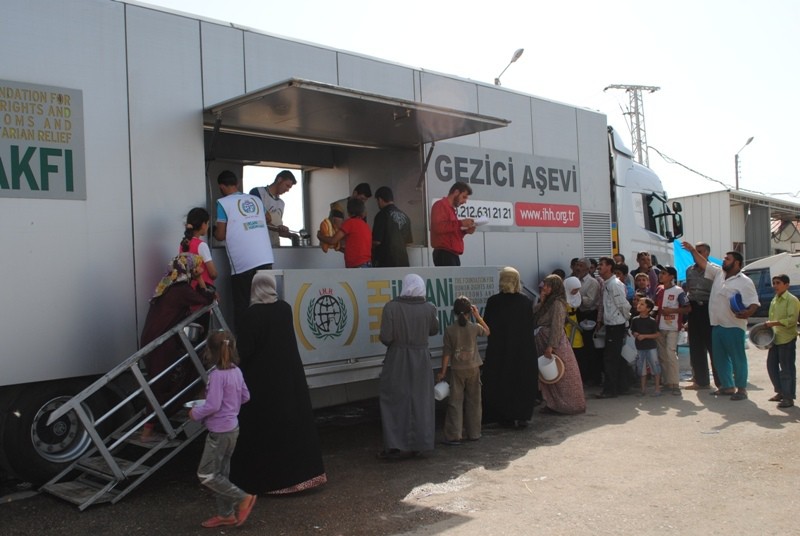 Other border crossings mentioned by the MoD are in Kurdish territory. On the day after the briefing,the government of Iraqi Kurdistan claimed the trucks shown by the MoD indeed belonged to the Kurds and had long been used for oil trade. Kurd-controlled territory in Syria and Iraq indeed contains oil fields: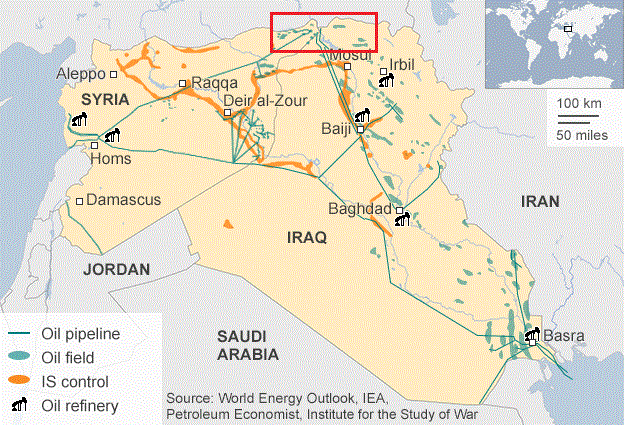 According to Russian MoD, a significant part of ISIS oil ends uo at a refinery in Batman in Southern Turkey: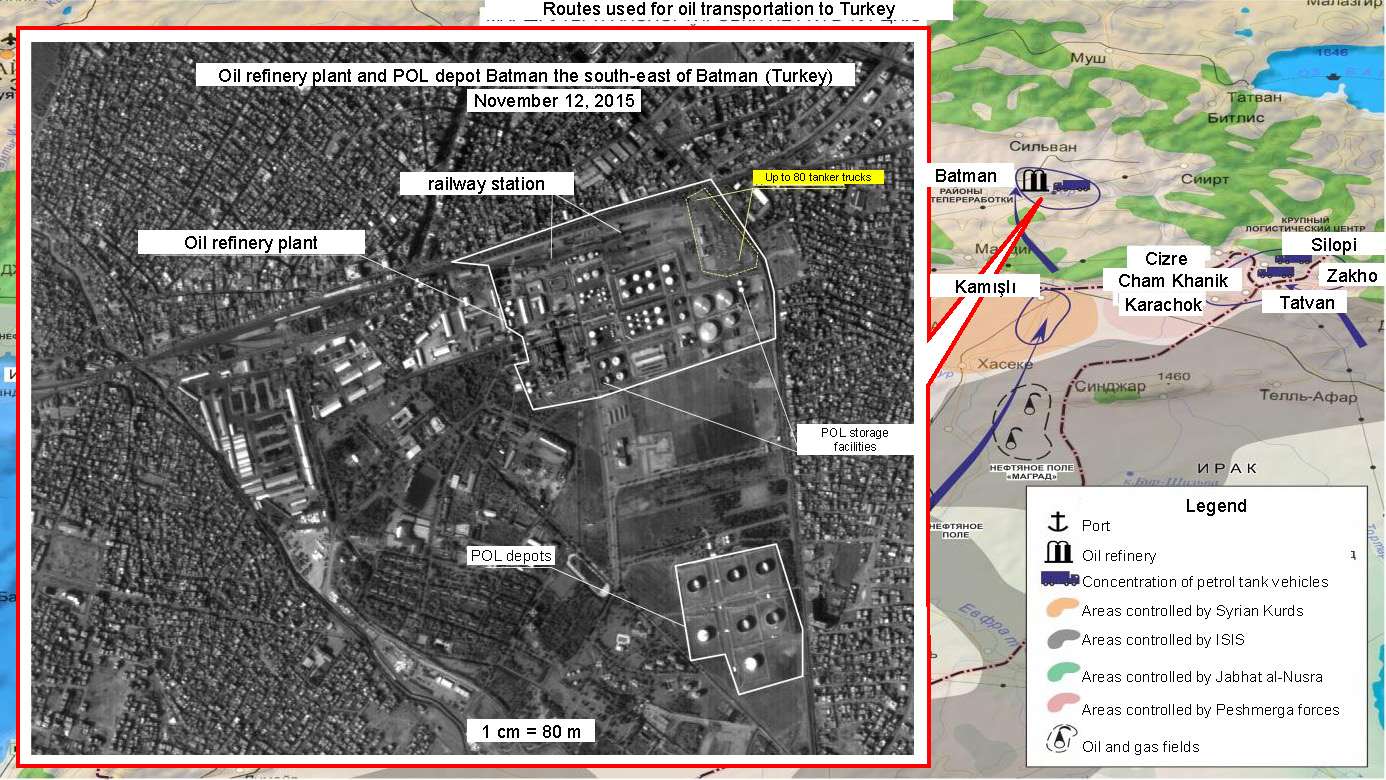 Google Earth historical imagery shows large numbers of trucks near the oil refinery as early as 2009, long before the Syrian civil war: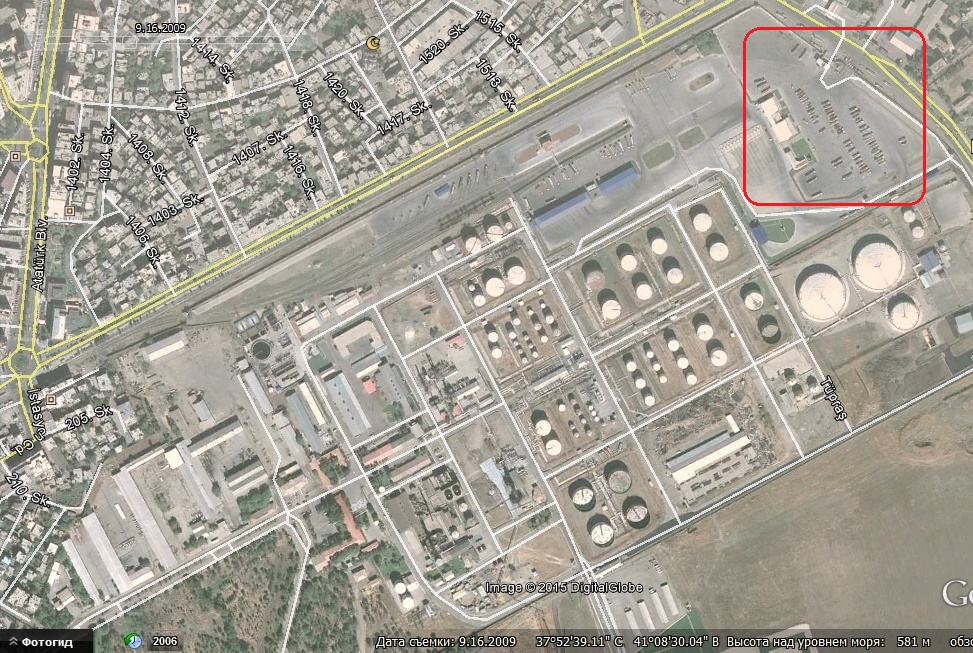 The website of a Turkish oil company that owns the Batman refinery lists its daily capacity as 3,500 cubic meters, or 22,000 barels of oil. At the same time, oil production in Batman province amounts too 15,000 barrels per day. This leaves 7,000 barrels per day to process imported oil. This amount is just 3.5% of the 200,000 barrel figure given by the Russian MoD and can't be called a "significant part".
Preliminary conclusions:
the smuggling routes and techniques named by the MoD do not match those uncovered by investigations on the ground;
the Turkish-Syrian border traffic shown by the Russian MoD has been present for many years, before the civil war in Syria;
trucks pass border checks at the crossing near Reyhanli, not "cross the border with no restrictions";
in one of the cases, the trucks shown by MoD may be used for supplying a large refugee camp at the border;
the Batman oil refinery's capacity does not allow processing the amounts of oil given by the Russian MoD.
Claims of Rusian Air Force actions against ISIS oil business
The Russian MoD claimed it had been bombing ISIS oil facilities. In November this year, videos of airstrikes on oil facilities near Raqqa indeed were published on the MoD's YouTube account. The targets claimed by MoD were verified by the Bellingcat investigation team:
Verified video of Russian airstrikes on ISIS oil facilities southeast of Raqqa https://t.co/REcAo1OoQa pic.twitter.com/YySv47URQY

— bellingcat (@bellingcat) November 27, 2015
Many of the Russian MoD's recent airstrike videos show them targeting oil facilities in ISIS territory.

— bellingcat (@bellingcat) November 27, 2015
However, due to unknown reasons, none of the four airstrike targets presented by the MoD at the briefing matches the claims: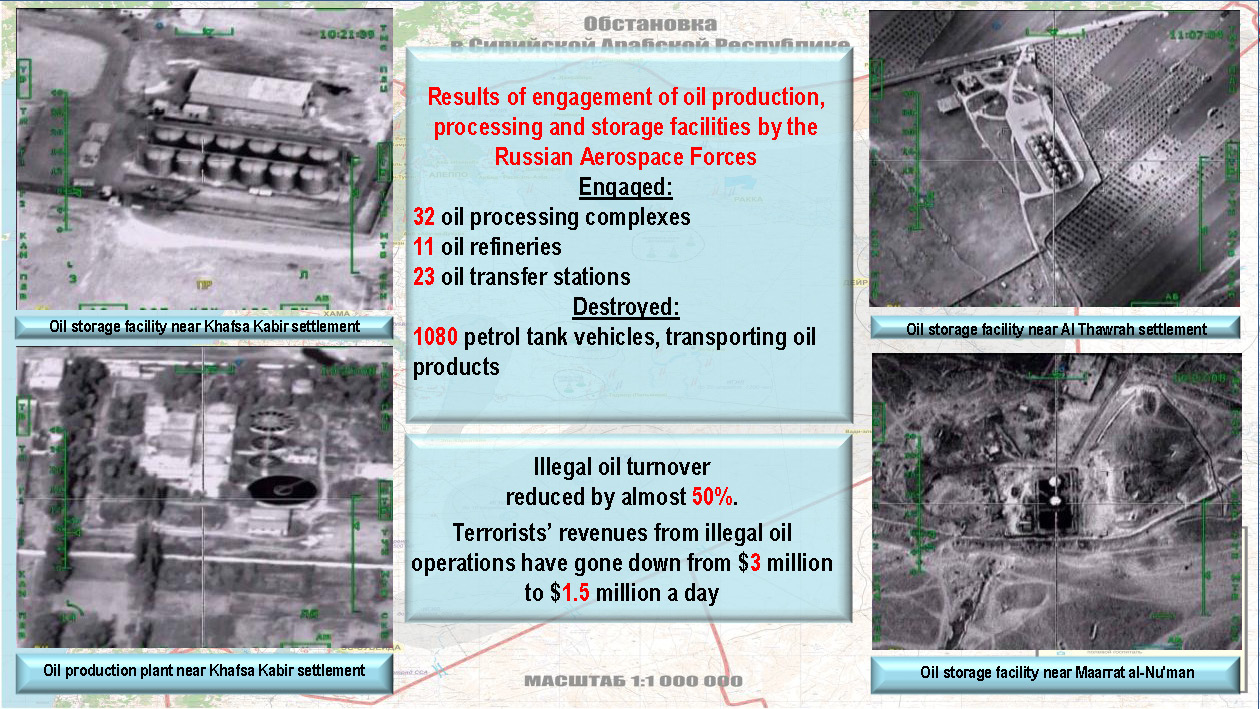 Links to videos, clockwise starting from top left: first, second, third, fourth.
The Interpreter magazine cited and expanded on the analysis of bloggers on three of the four airstrikes presented. The airstrike on an "oil refinery" near Khafsa Kabir turned out to have hit a water treatment facility on the bank of a water reservoir.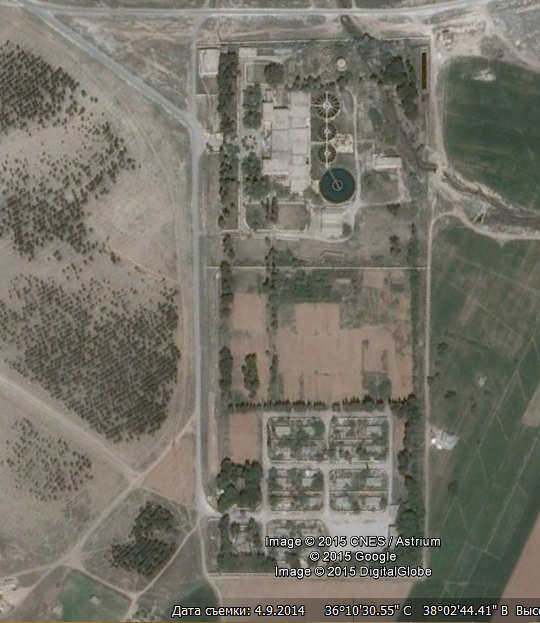 Airstrike target on Google Earth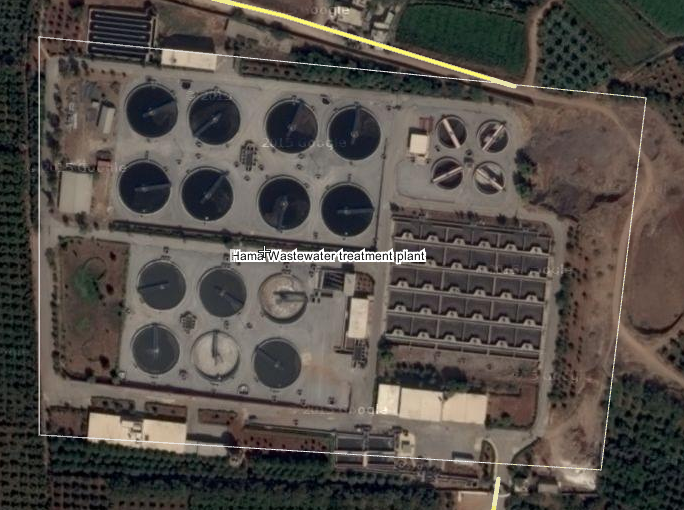 A similar water treatment facility near Hama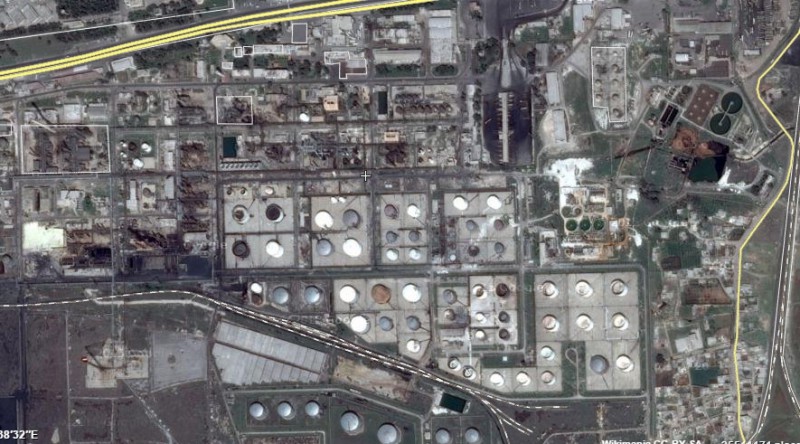 Cf.: oil refinery in Homs
Investigator Christian Triebert determined the actual target on the video showing an "oil storage facility near Khafsa Kabir" — it turned out to be a grain silo near Tuweisan, 50 kilometers from Khafsa Kabir:
#Syria | New @mod_russia vid shows #RuAF airstrike on alleged IS oil storage near Tuwayzan. https://t.co/95mbGM6OXq pic.twitter.com/Mcf6FsYpsX

— Christiaan Triebert (@trbrtc) December 2, 2015
On the day of the airstrike (November 27), activists from an anti-ISIS monitoring group "Raqqa is being slaughtered silently" who have informers in ISIS-controlled Raqqa, confirmed the airstrike on a grain silo:
#Raqqa one of the places that got hit by Russian Warplanes (3) #Syria #ISIL #ISIS pic.twitter.com/cMxtSIUauv

— الرقة تذبح بصمت (@Raqqa_SL) November 27, 2015
The video of an airstrike on a "oil storage facility near As-Sawra" was geolocated by Storyful journalists. It was another grain silo near Surman in Idlib governorate, 150 kilometers from As-Sawra.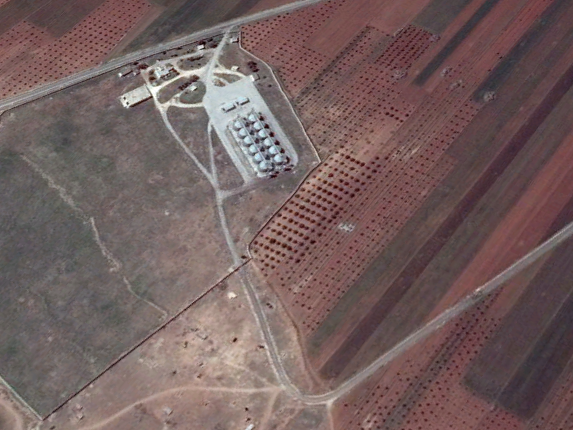 Grain silo on Google Earth
Photos showing the aftermath of an airstrike on a similar grain silo in ISIS-controlled territory have been published on Twitter:
Airstrikes on Raqqa hit grain storage – bad news for 500K civilians trapped there. pic.twitter.com/BLmlSxZVVv

— Capitol24 (@random_capitol) November 25, 2015
To see how a real oil refinery looks like, one should watch the fourth MoD video. It indeed shows an airstrike on an ISIS oil facility, but near Ukayrishah, over 200 kilometers from Maarret-an-Nuuman (this city is not ISIS-controlled and is situated in Idlib province, which has no oil fields):
220km from where @mod_russia claimed RuAF hit Ukayrishah ref again https://t.co/6Cn9yDcArU https://t.co/IGGRCFB1ud https://t.co/48UydZGqwU

— Samir (@obretix) December 3, 2015

Oil refinery near Ukayrishah
Preliminary conclusions:
RuAF indeed occasionally bombs ISIS oil infrastructure;
only one video shown by the MoD at the briefing shows an airstrike on an actual oil facility. However, the video's description puts the facility into a non-ISIS area, 220 kilometers from the actual target.
Conclusion
the Russian MoD's briefing did not present proof of Islamic State oil smuggling to Syria and Erdogan's family's involvement in it. Even though the smuggling does take place, its techniques and scale don't match MoD's claims;
contrary to MoD claims, trucks cannot be seen "passing the border without restrictions" from Syria into Turkey. The border traffic matches the situation observed prior to the conflict in Syria, and in some cases may be explained by supplies being brought to refugee camps at the border;
the MoD briefing shows only one RuAF airstrike on an ISIS oil facility (while giving a wrong location for the airstrike). All other airstrikes hit civilian facilities unrelated to oil production, refining and transporting.
Thus, the December 2 Russian MoD briefing presented a variety of unsubstantiated and, in some cases, outright false claims, presumbaly to misinform Russian and foreign audiences and paint a false image of Turkey's policy on ISIS.
We would like to thank Twitter users mr.kennedy and AEJ for preparing this report.
Support Conflict Intelligence Team
We continue our fundraising to support our work. The fundraising campaign is nearing a month and, unfortunately, it has been going at a slow pace: currently we have raised 154,277 rubles (2,233 USD), 5% of the required amount. This means we will have to be significantly late with the payments to our team members. However, we continue the campaign. On Tuesday, December 7, we will publish another fundraising report. Here's how you can support our team: