This post is also available in:

Русский
Читать русскоязычную версию публикации
In August and September, as Russian-backed pro-Assad forces advanced on IS-held territories in Eastern Syria, reports of Russian mercenaries killed in action emerged in social networks and local Russian media. The following is a list of Kremlin-aligned "Wagner Private Military Company" known losses in Syria for the past two months.
Vitaliy Ivanovich Belyaev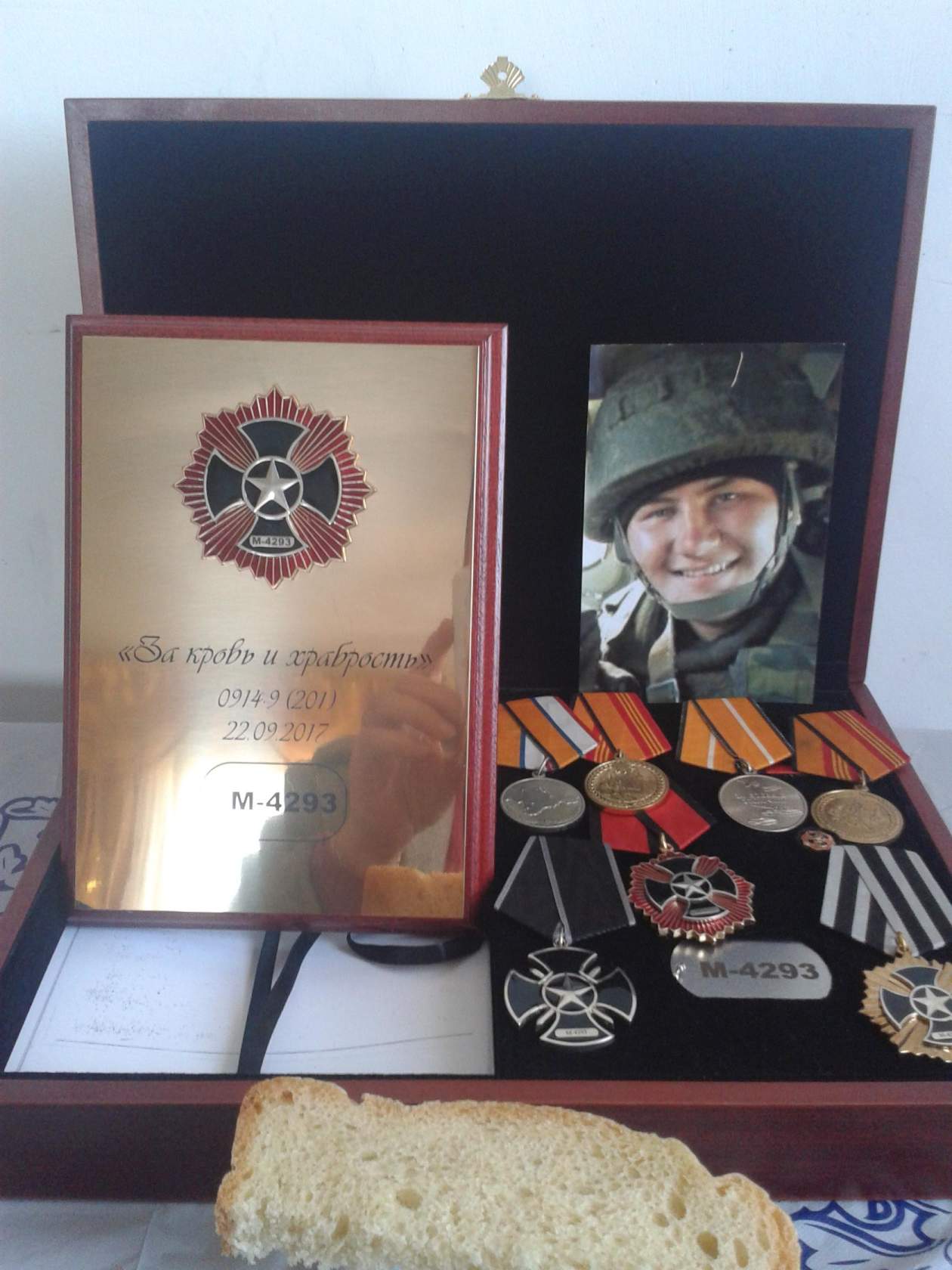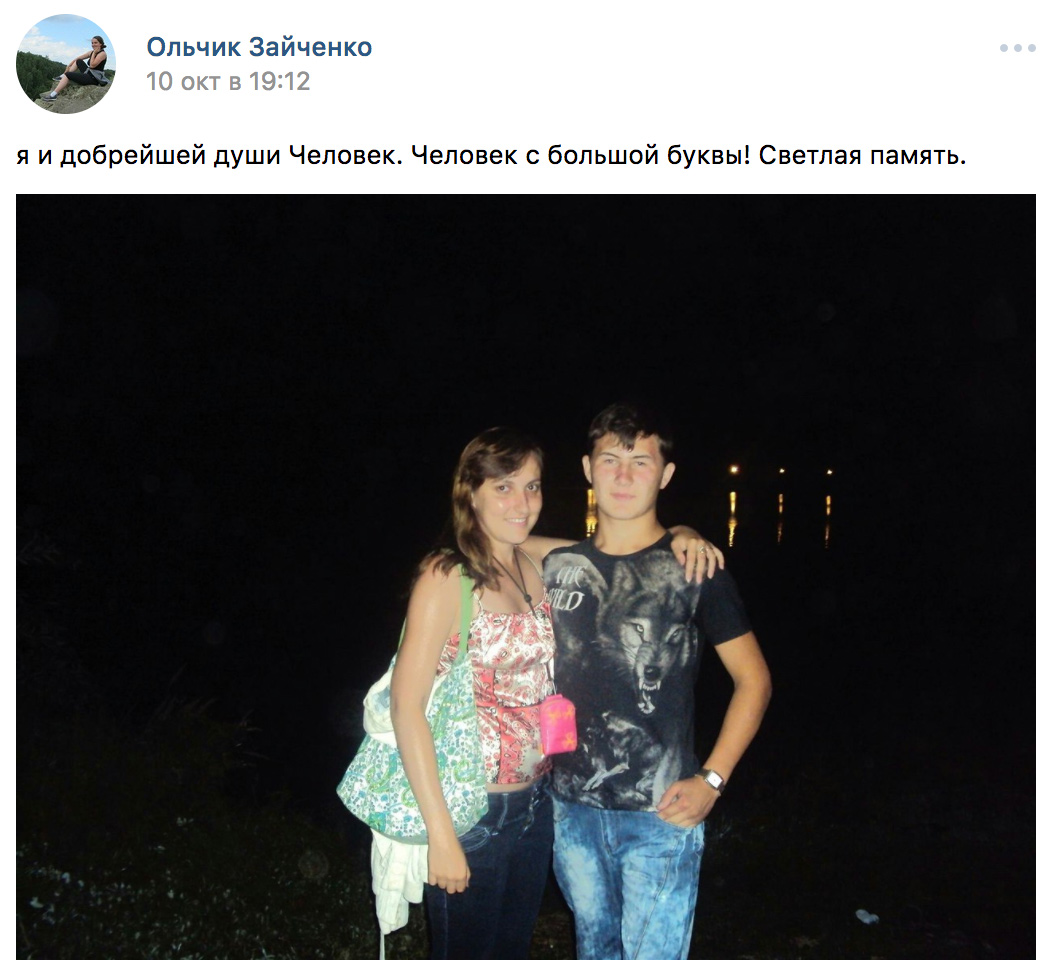 24 years old, born in the town of Troitsk, killed on September 22. A photo attached to a post about his death shows several medals unique to "Wagner PMC" as well as a Russian Ministry of Defence medal "For the return of Crimea".
Azat Rafisovich Nurullin
NB: Originally, this post included a photo of another man, Azat Raisovich Nurullin, who is alive. His photo was originally posted in the VK.com group that announced the death of his almost complete namesake Azat RaFisovich Nurullin. Below are photos of the latter, who was indeed killed in Syria.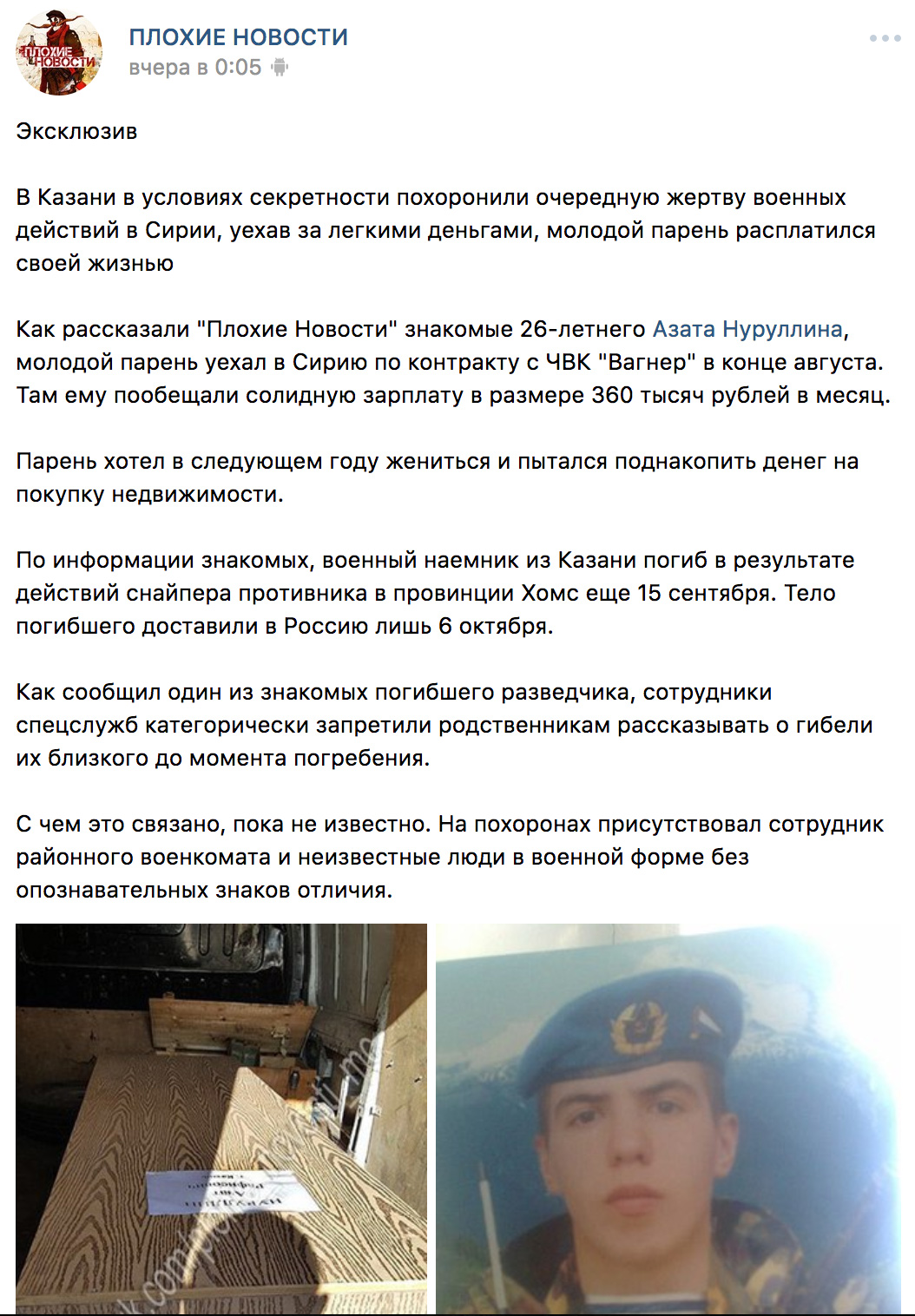 Nurullin lived in Kazan and reportedly was killed in Syria's Homs governorate by a sniper on September 15.
Alexey Gladyshev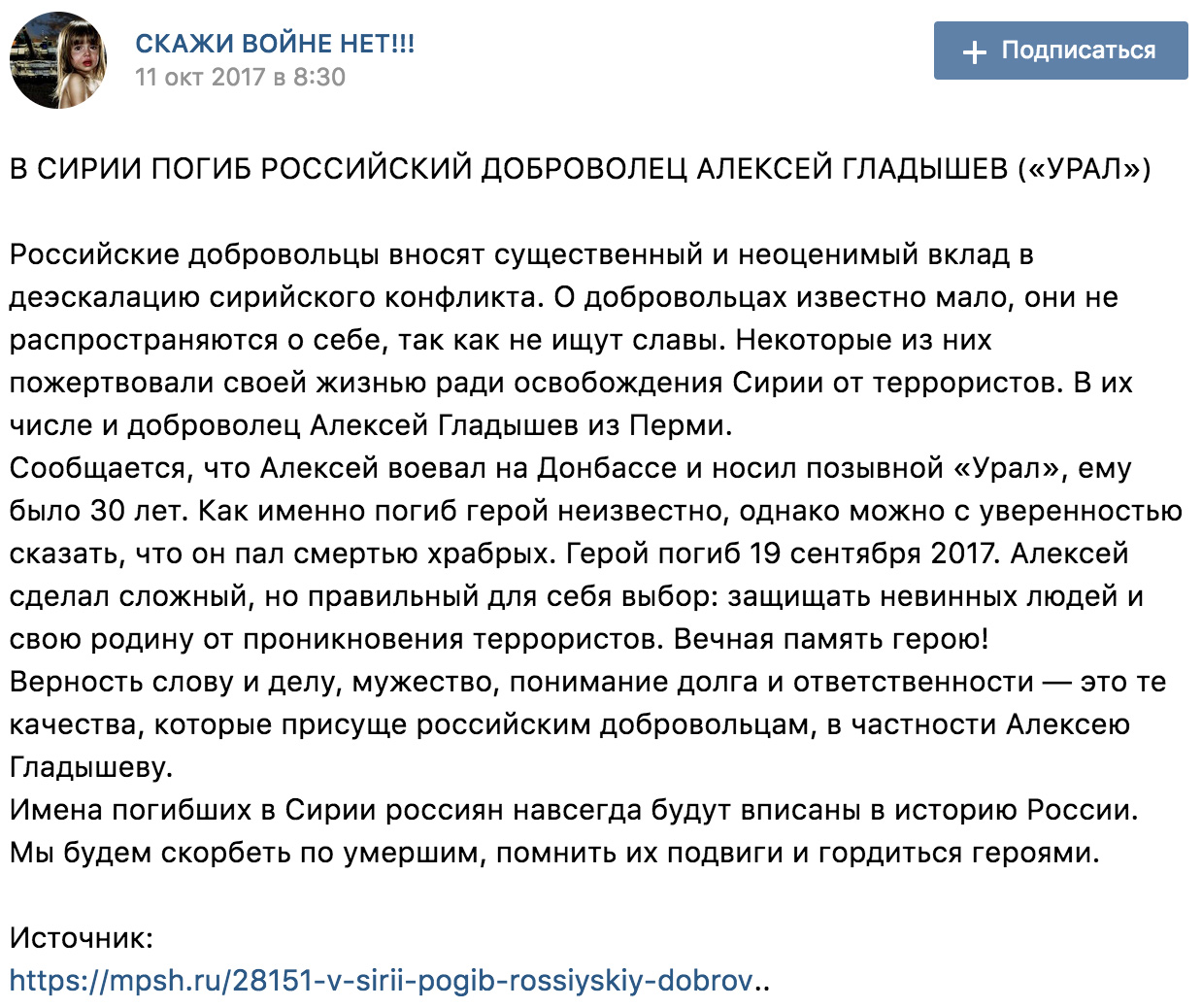 Gladyshev was born in Perm. Like many other "Wagner" mercenaries, he used to fight in Eastern Ukraine before joining the company. Circumstances of death currently unknown. Death confirmed by Gladyshev's relatives who now run his social media profile.
Ivan Alexeyevich Ilchevskiy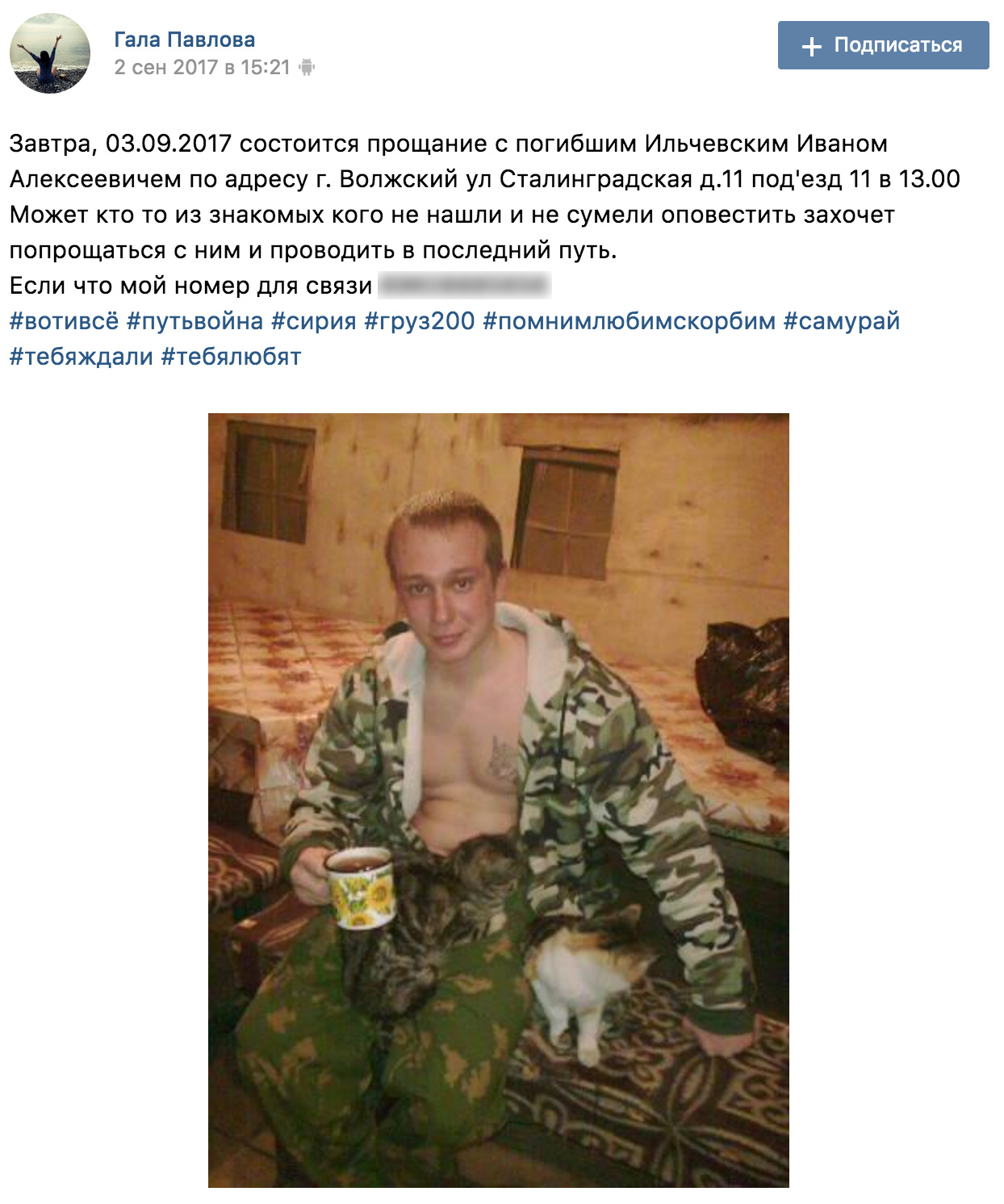 Born in the town of Volzhsky. Date and circumstances of death unknown, buried on September 3.
Igor Krizhanovskiy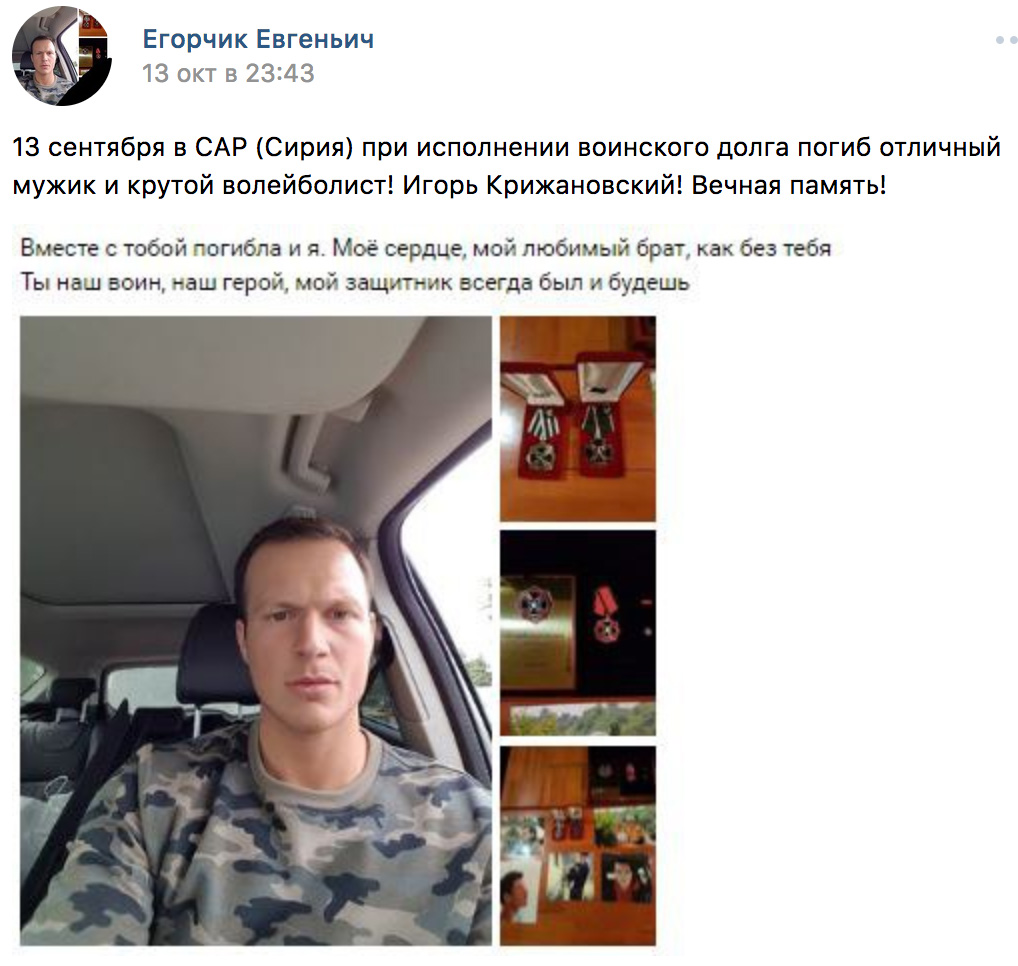 Kryzhanovskiy lived in Nizhny Novgorod. Just like in case of Vitaliy Belyaev, photos published alongside a post on Krizhanovskiy's death show his "Wagner" medals. He was killed on September 13.
Solnyshkov Roman Viktorovich
NB: originally this post stated the name of the deceased as Saveliy Sukhov. His name is in fact Roman Viktorovich Solnyshkov.
Like several other "Wagner" mercenaries, Sukhov fought in Eastern Ukraine in Russian-backed rebel battalion "Sparta" in 2014-2015. Circumstances and date of death currently unknown.
Aleksey Aleksandrovich Yaroshevich
Yaroshevich was born in Gomel, Belarus. He was a member of a pro-Putin biker club "Night Wolves". Killed in Syria on September 19.
There is also information on several other Russians killed in Syria, whose names are currently unknown:
A member of a Cossack paramilitary from Magnitogorsk, born in 1989, callsign "Kalych", likely fought in Eastern Ukraine.
Dmitry from the town of Michurinsk.
The names listed above are those killed "Wagner" mercenaries on whose deaths information is available in open sources. There are few estimates of total Wagner losses. The former Minister of Defense of the so-called Donetsk People's Republic Igor Girkin (Strelkov) puts the death toll to at least 60 in two weeks.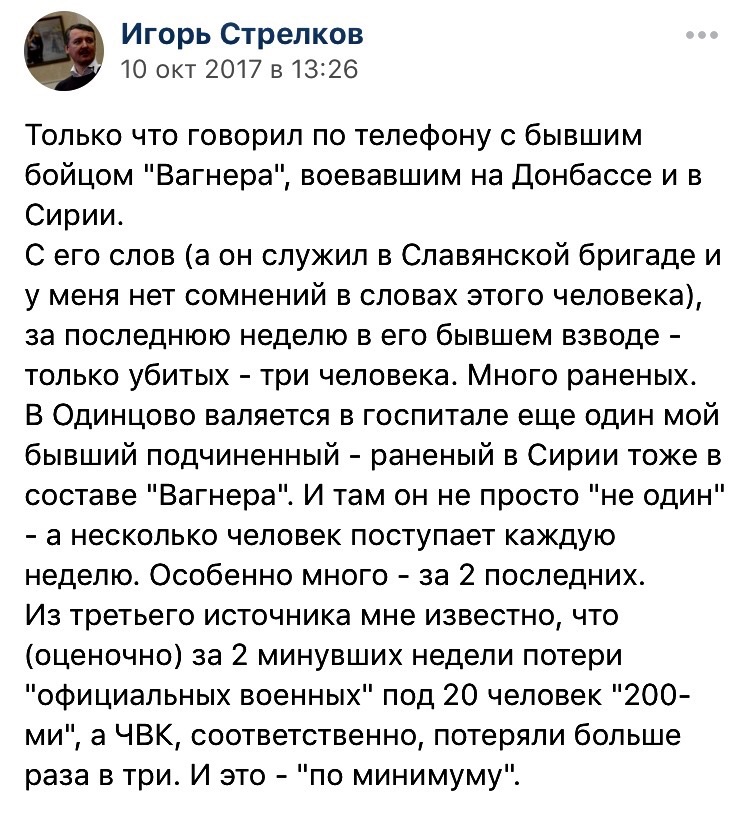 Unlike Russian regular soldiers killed in Syria, Wagner mercenaries are usually buried 2-4 weeks after their deaths. The relatives shun the media, social media profiles of those killed are often deleted.
The Russian Ministry of Defense denies these losses as well as the very existence of "Wagner PMC".
UPDATE: While preparing this post, we have made two grave mistakes.
A man named Azat Rafisovich Nurullin indeed was killed in Syria. However, the man whose photos we originally used in our post is not him but his almost complete namesake – Azat Raisovich (not Rafisovich) Nurullin. They are both from Kazan and used to serve in the Airborne Forces. We apologize to Azat Raisovich Nurullin.
The man whose photo we identified as Saveliy Sukhov was in fact Roman Viktorovich Solnyshkov (nom-de-guerre "Solnce" [Sun]). Saveliy Sukhov, who is alive, posted a photo of Roman Solnyshkov, who was indeed killed in Syria. We apologize to Saveliy Sukhov and all our readers.
Special thanks to Twitter user https://twitter.com/666_mancer for pointing out our mistakes and providing the correct data.