This post is also available in:

Русский
As the media's attention was centered on Russia's "Wagner private military company", our team looked into a new unit called the "Turan PMC". Information about a "new private military company" first appeared in April. However, for a long time no conclusive proof of its existence had been published.
According to first posts, the group's fighters came from ex-Soviet Central Asian and Caucasus states. According to an article on a pro-Kremlin blog "Russkaya Vesna", the unit would conduct "anti-guerilla operations".
The Hollywood image of a professional mercenary, the mysterious "Wagner PMC" who assassinated unruly commanders in Eastern Ukrainian Kremlin-backed "Luhansk republic", as well as partial freezing of the Donbas war which made lots of separatist fighters lose their "jobs", led to new "private military companies" allegedly sprouting since 2015, as posts on social media claimed. "MAR PMC", "E.N.O.T. Corp", "Cossacks" etc. were mostly formed by former fighters who failed to adapt to civilian life. A closer look showed that those groups mostly were security firms or training centers, not full-fledged "private military companies". None of them took part in actual fighting on anyone's payroll. While at first the "Turan PMC" seemed to be one of those "dud groups", photos have been surfacing since November 2017 which warrant closer attention: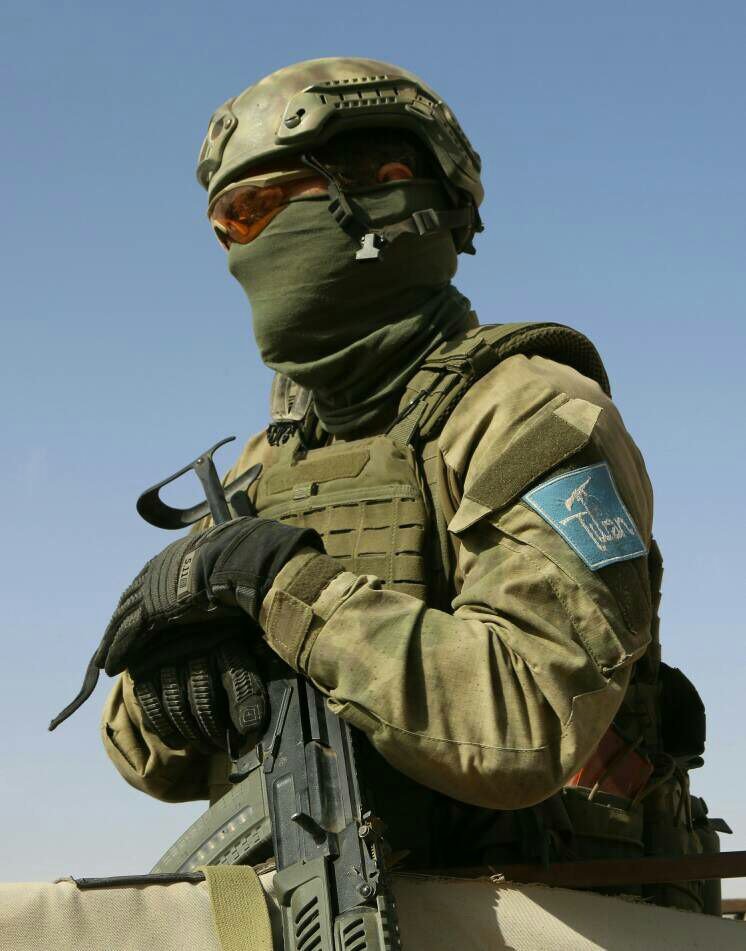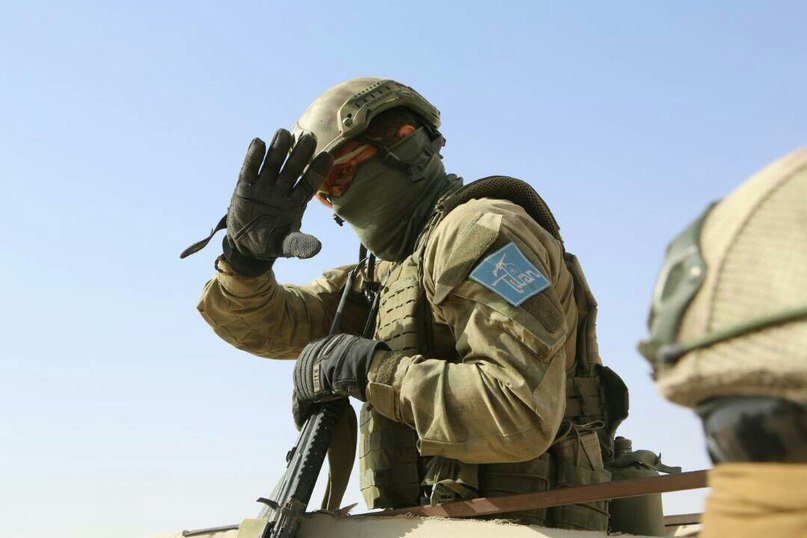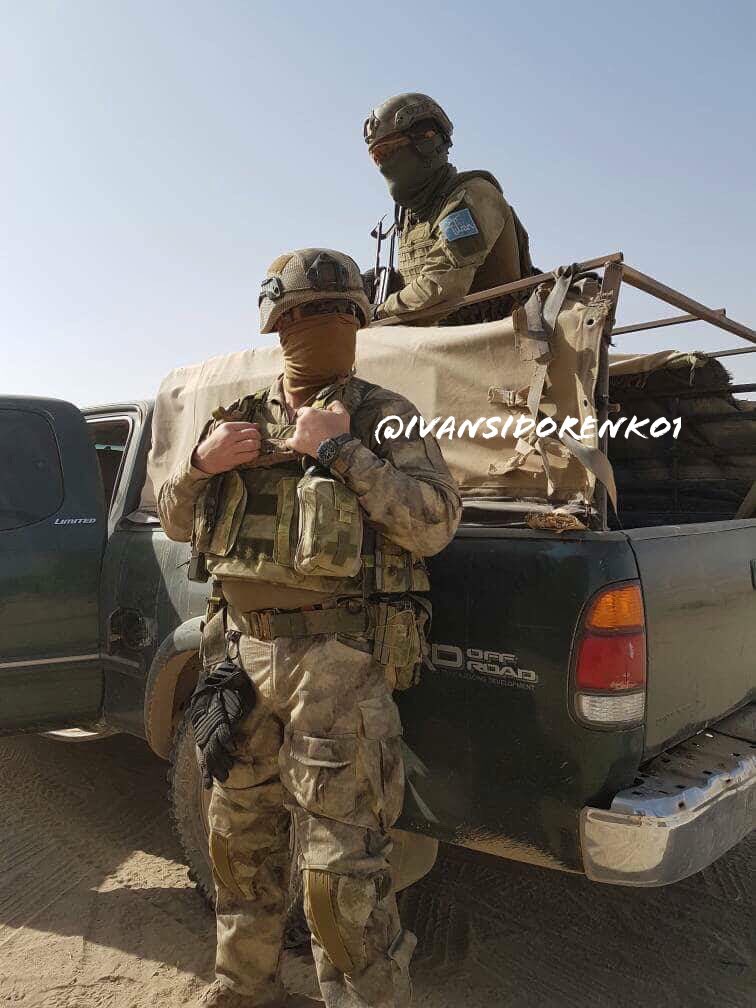 Former and active combatants can easily take photos in military gear in a warzone — as long as it's Eastern Ukraine. It is way harder to produce similar photos from Syria: to fight for the Syrian government, a person from Russia needs to enroll in the Russian army or the "Wagner PMC". Other pro-Assad combatants are from the Middle East.
Many Internet users noted that those photos resemble those of Russia's Special Operation Forces (SOF) in Syria: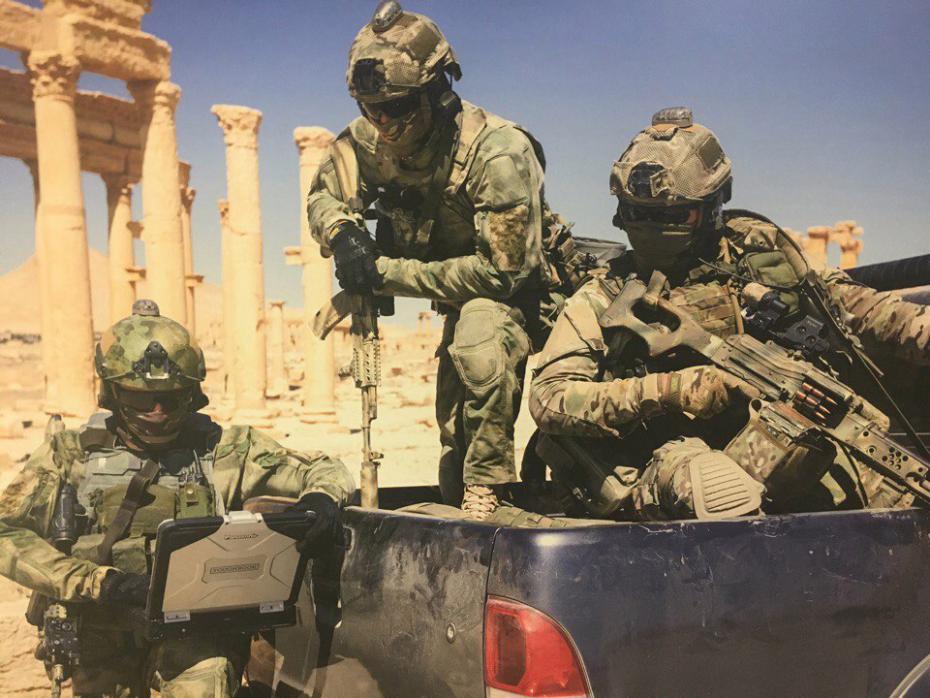 Such a resemblance made an impression of Turan as an elite and well-armed Special Forces unit. However, the photos could also show actual Russian SOF operatives who were asked to wear a patch of a "friendly unit". SOF operatives have previously worn their allies' patches: for instance, in late 2016 they were spotted near Aleppo with Hezbollah patches: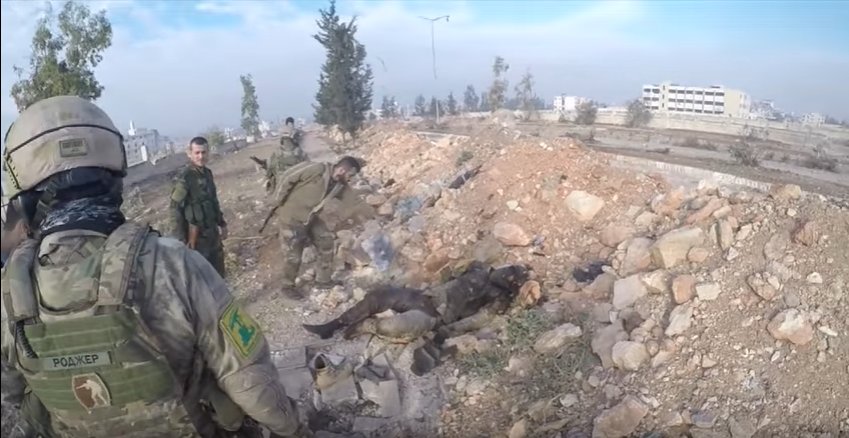 Who were the soldiers in the Turan photos?
While looking into Turan photos, we noticed they were similar to those of a pro-Kremlin "ANNA News" reporter Oleg Blokhin. A pro-Assad Twitter user IvanSidorenko1 published several "Turan PMC" photos. One of those in fact was taken by Blokhin: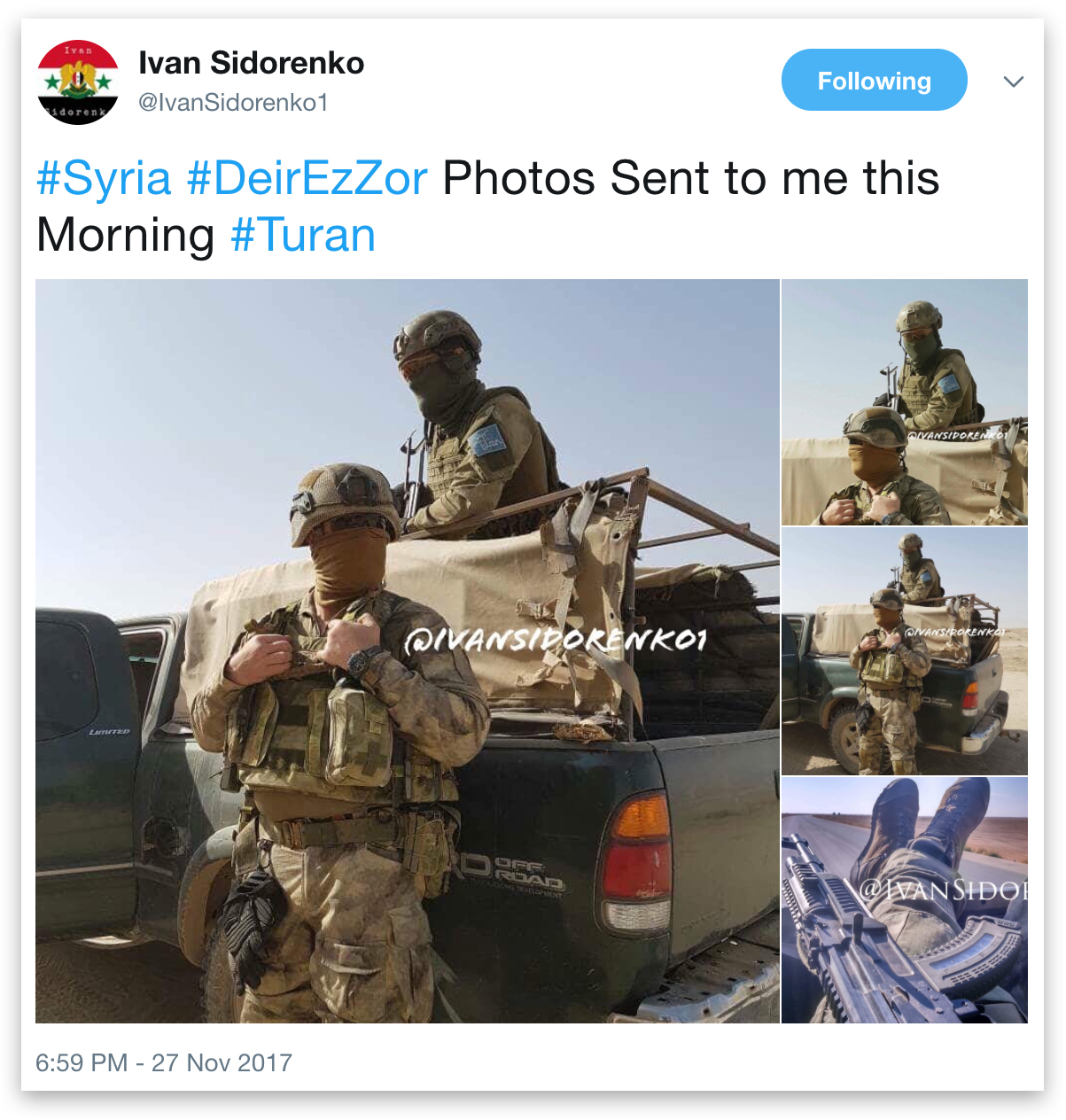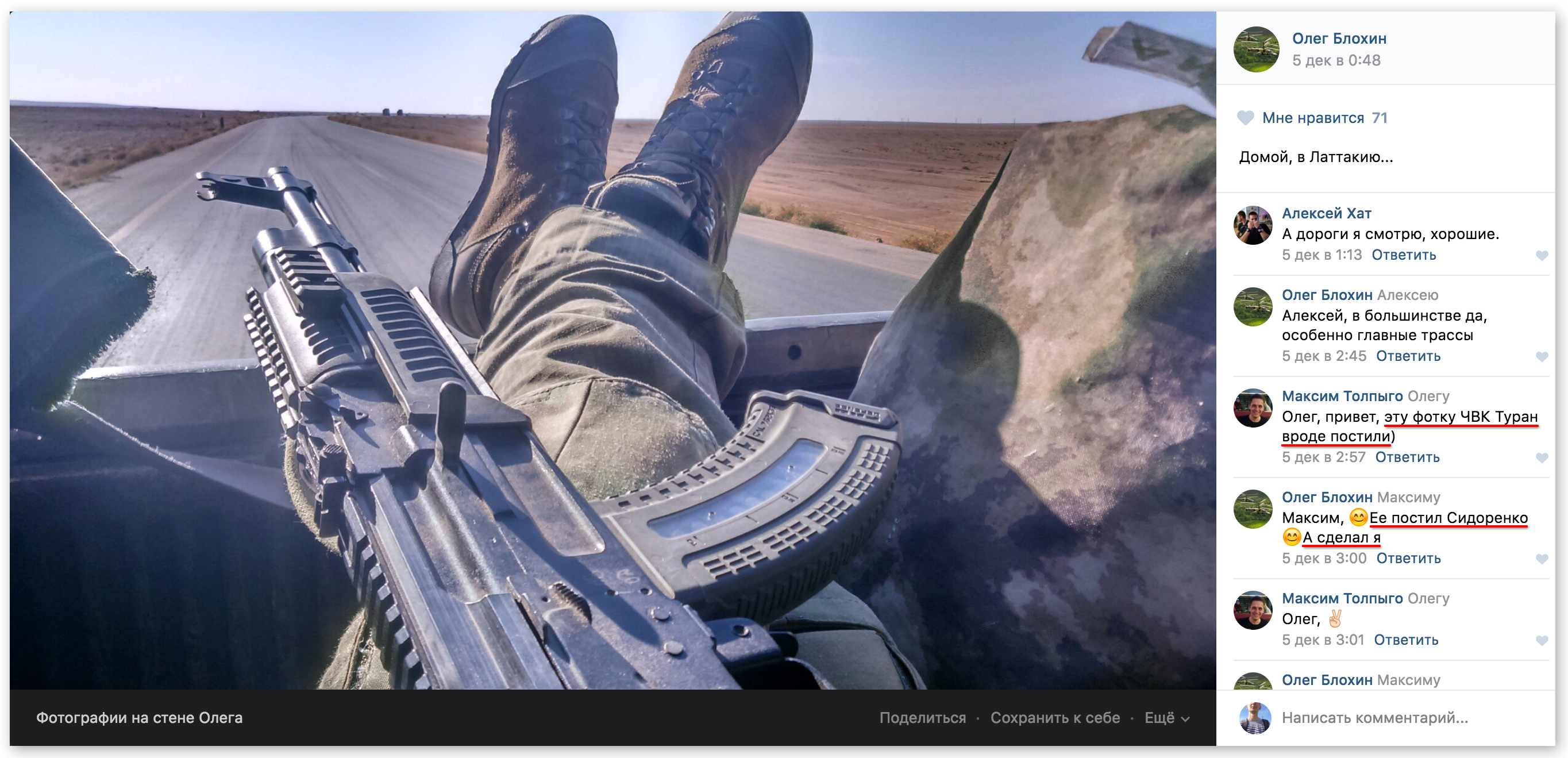 Oleg Blokhin himself confirmed he indeed took that photo. His photo could have gotten into a "Turan PMC" collection by mistake. However, there are facts that disprove this hypothesis. For example, Blokhin's photo shows a heavily modded Kalashnikov assault rifle (AK) with a machined receiver, which is identical to an assault rifle in the photo of a "Turan PMC" mercenary: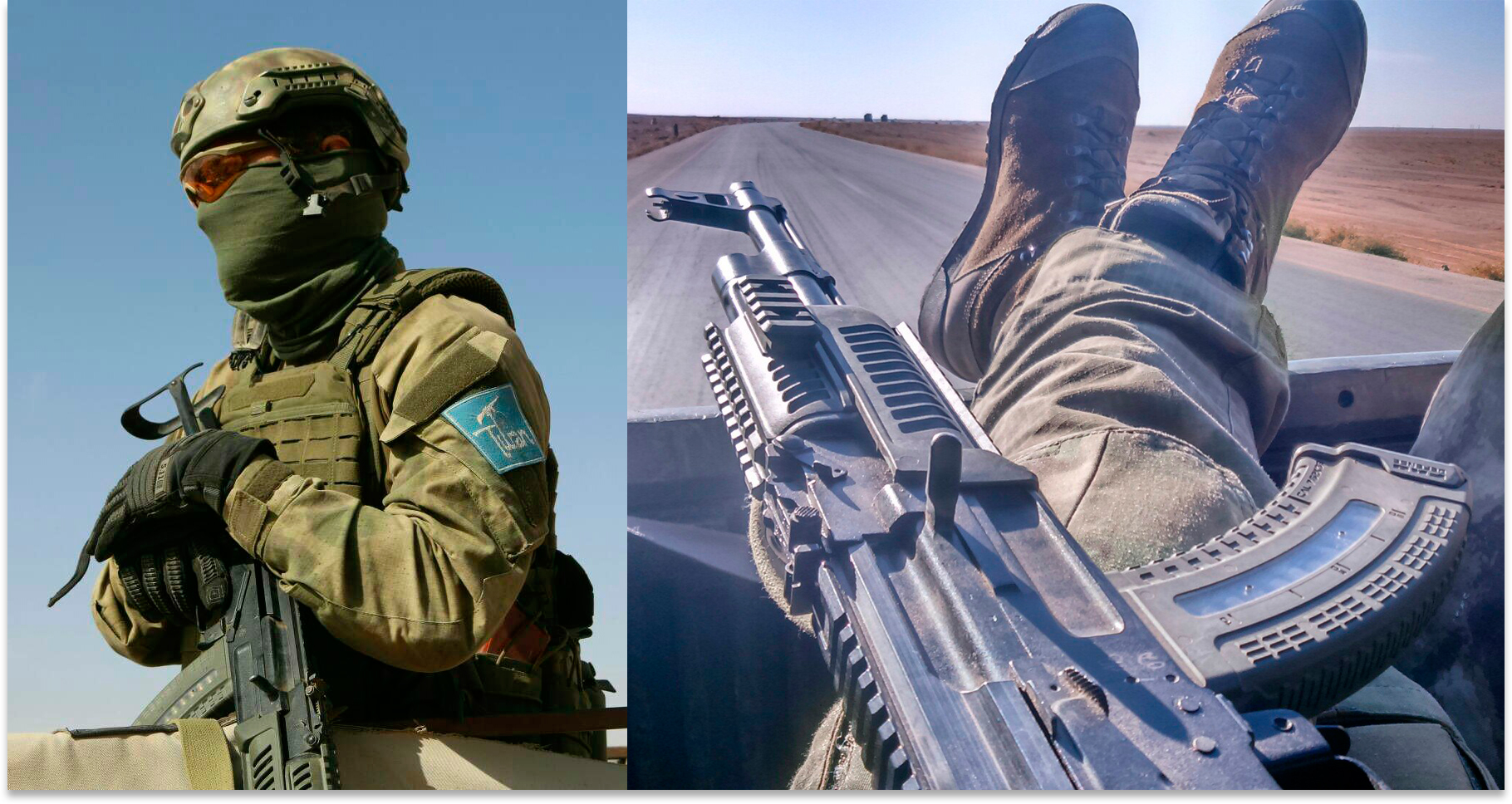 The photo of the "mercenaries" show a 1st generation (2000—2002) Toyota Tundra pickup truck with a metal pipe structure over the trunk covered with a light-colored tarp: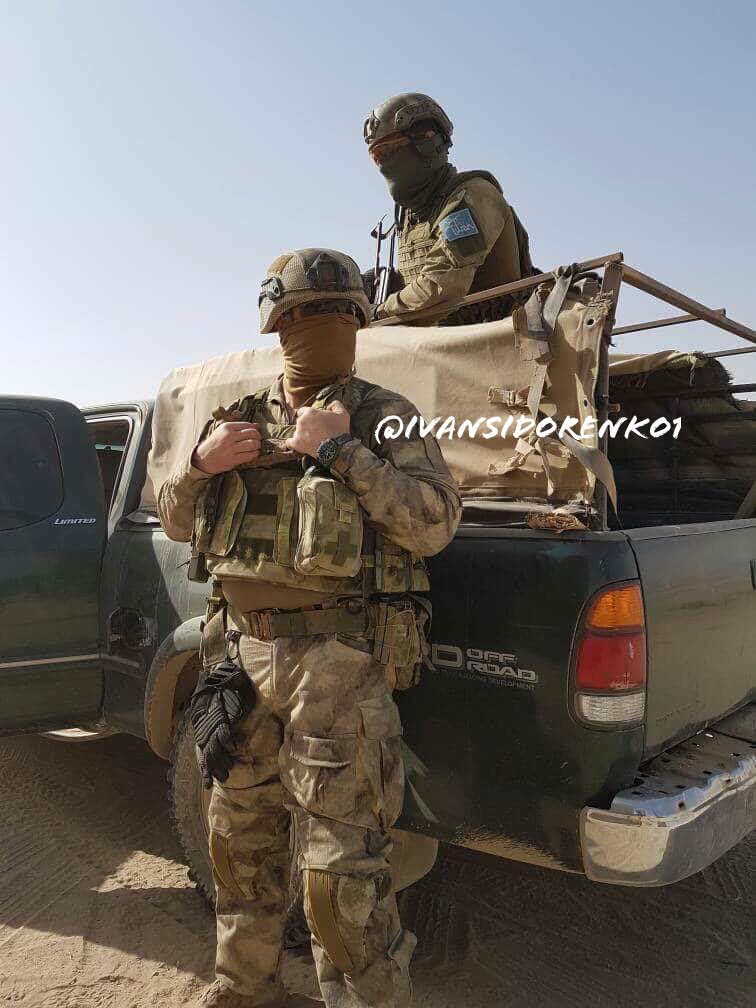 In early December, Blokhin posted photos from his trip to Deir-ez-Zor. The photos show local children. Some of the photos were taken from the trunk of a pickup truck with a similar metal pipe structure covered with a similar tarp: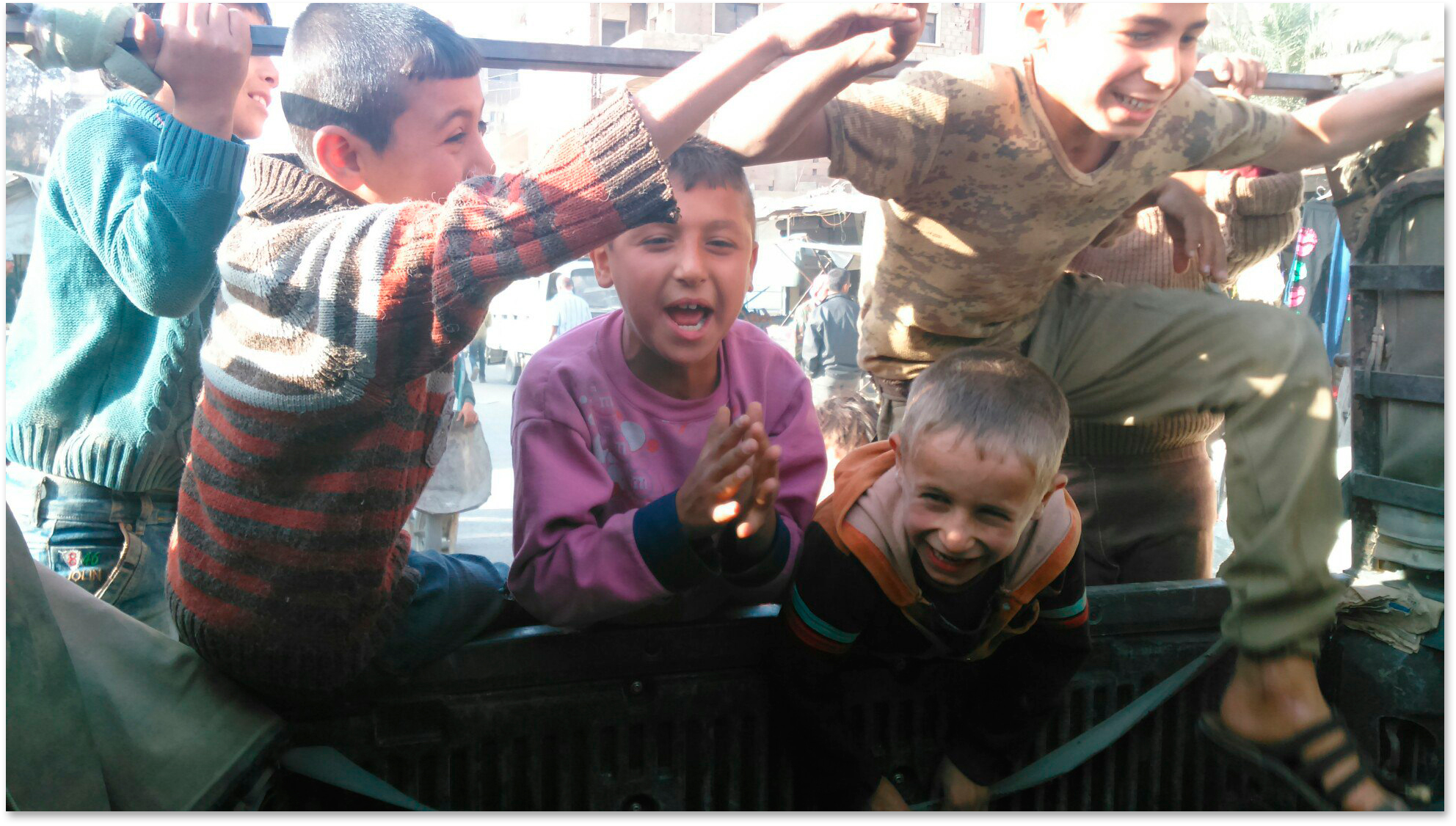 The position and shape of a belt running into the trunk is identical in both photos: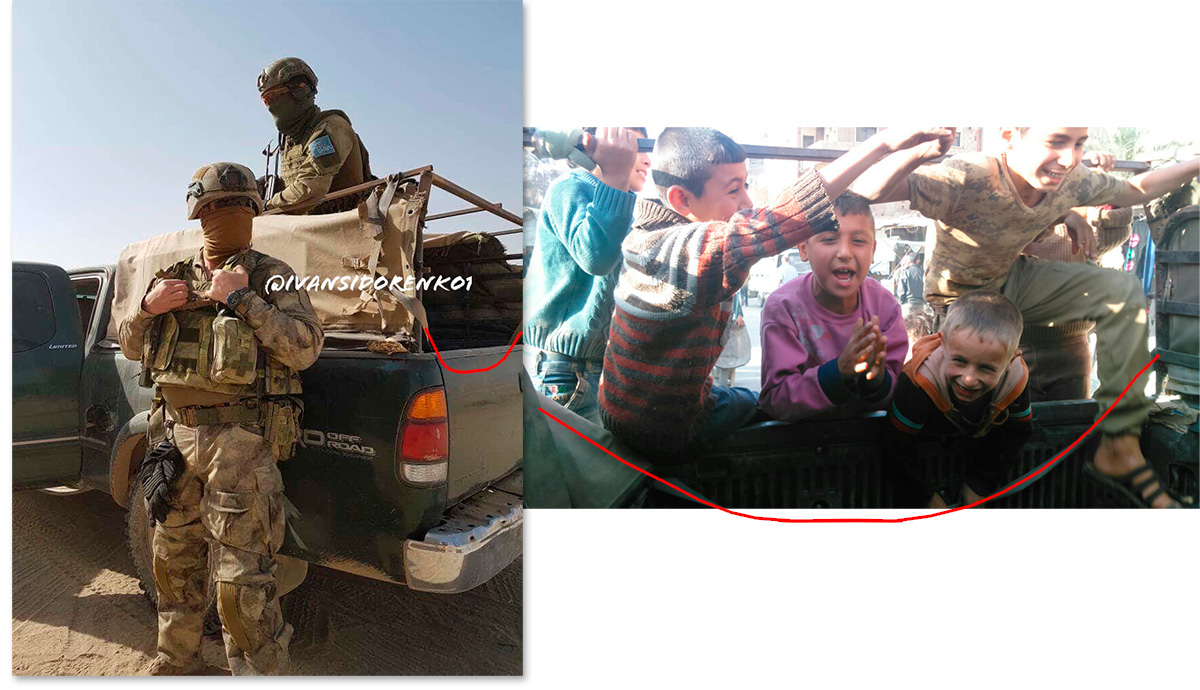 The texture of the internal cover of the rear flap from Blokhin's photo is that of a 1st gen Toyota Tundra: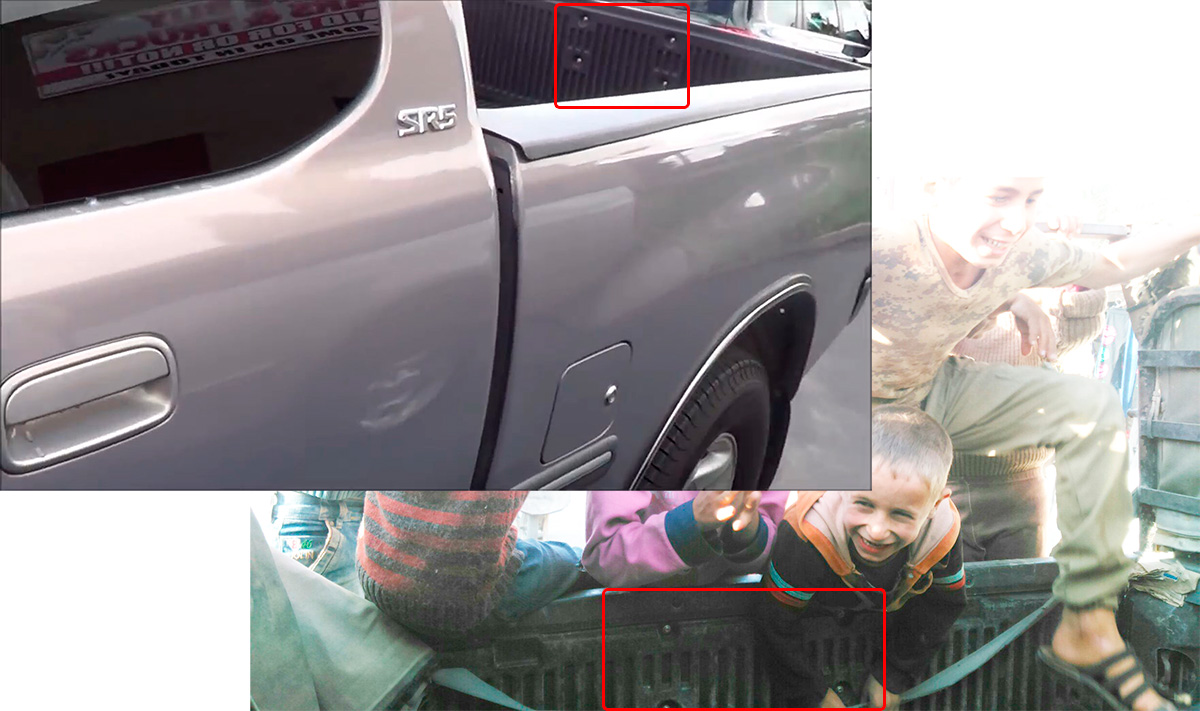 Moreover, a similar dark green Toyota Tundra with a similar structure over the trunk and even the same position and shape of the belt can be seen in a November 7 ANNA News report from Deir-ez-Zor: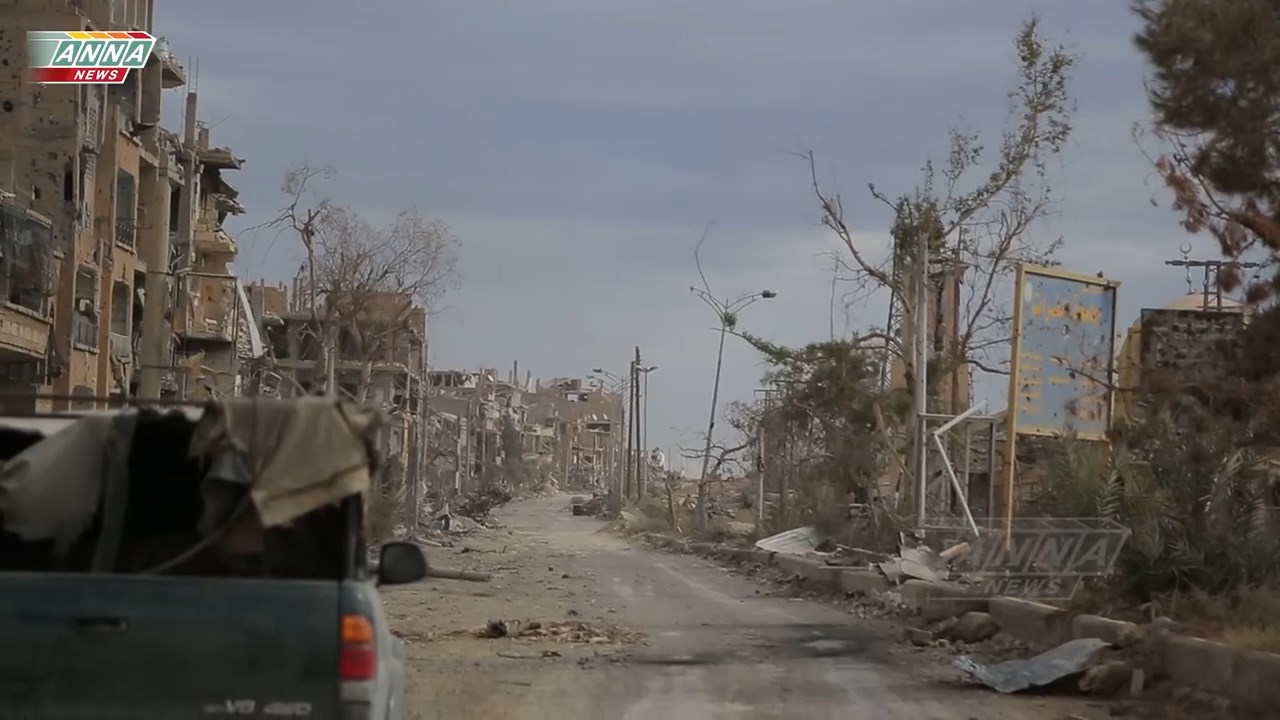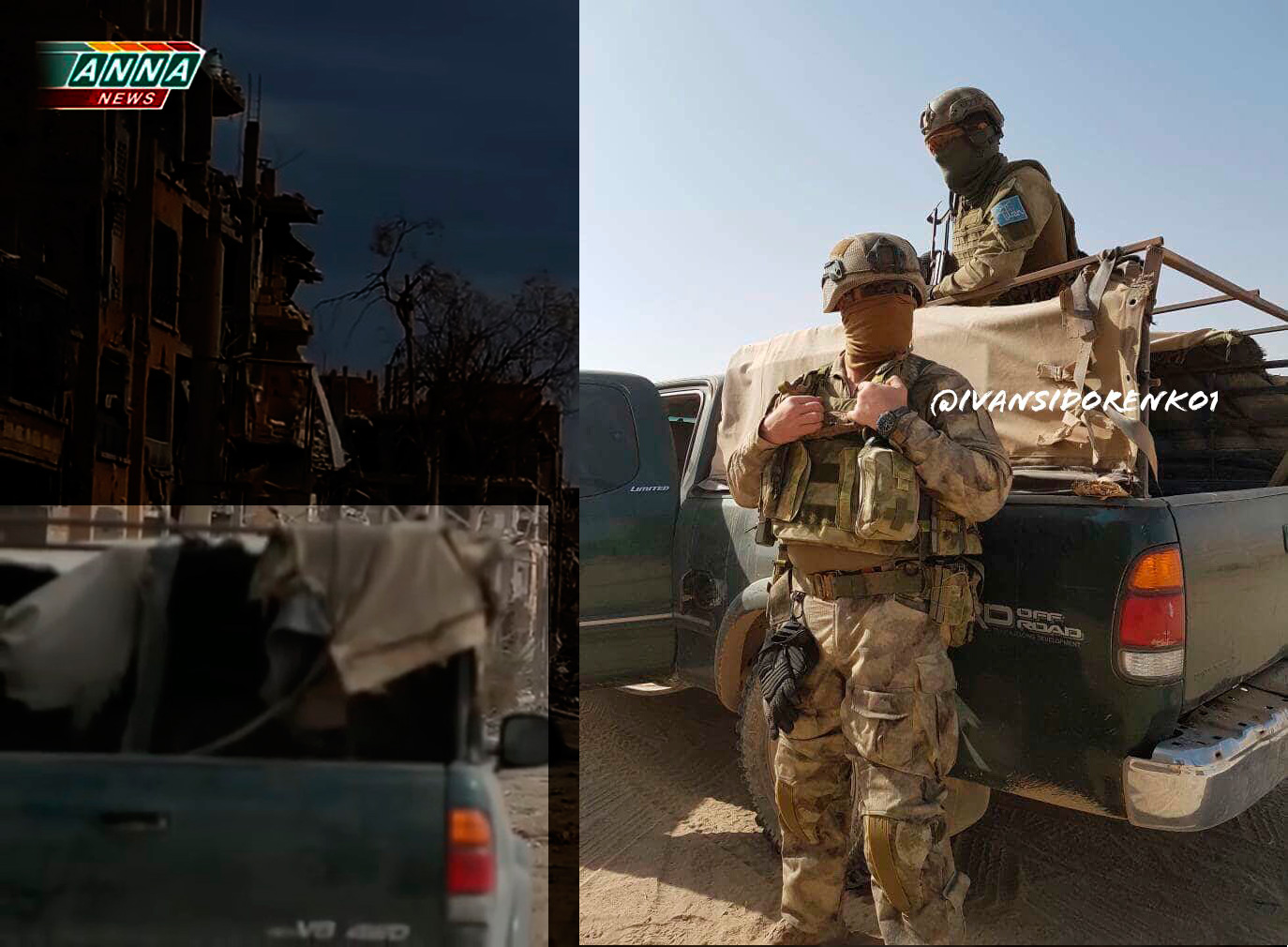 However, the similarities between "Turan" and Blokhin photos don't end with the rifle and the car. Let's take a closer look at the equipment of the "Turan mercenary" standing in the trunk. We've marked the helmet (1), tactical goggles (2), vest (3) and jacket with a sleeve pocket (4):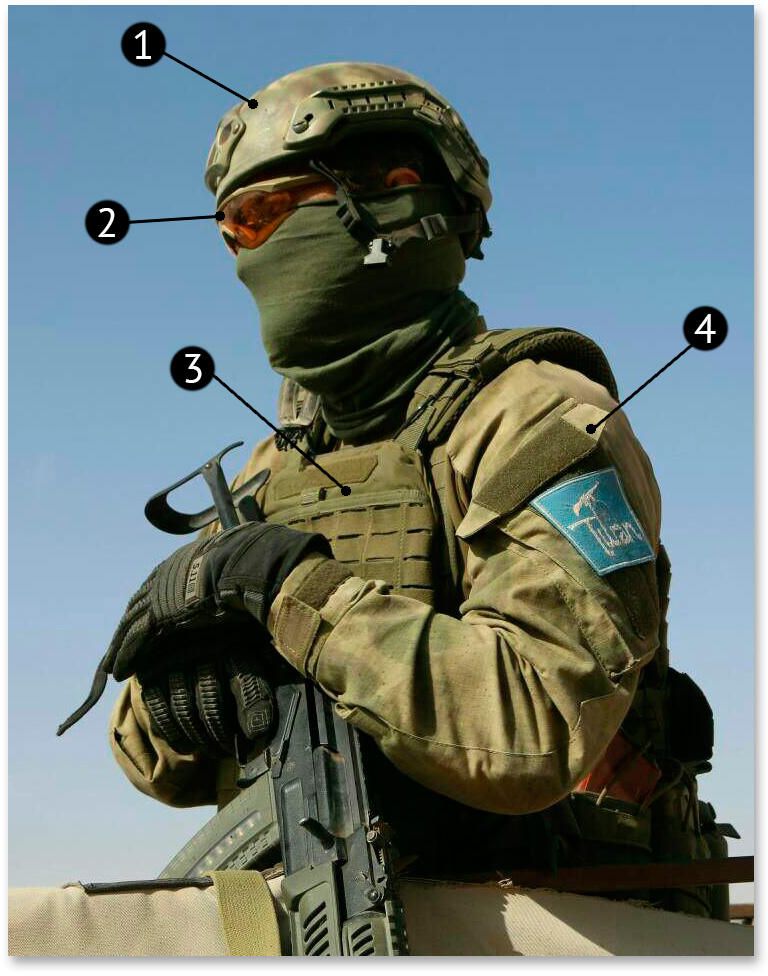 Oleg Blokhin's profile has photos of Blokhin himself wearing the same helmet (1), tactical goggles (2), vest (3) and jacket with a sleeve pocket (4):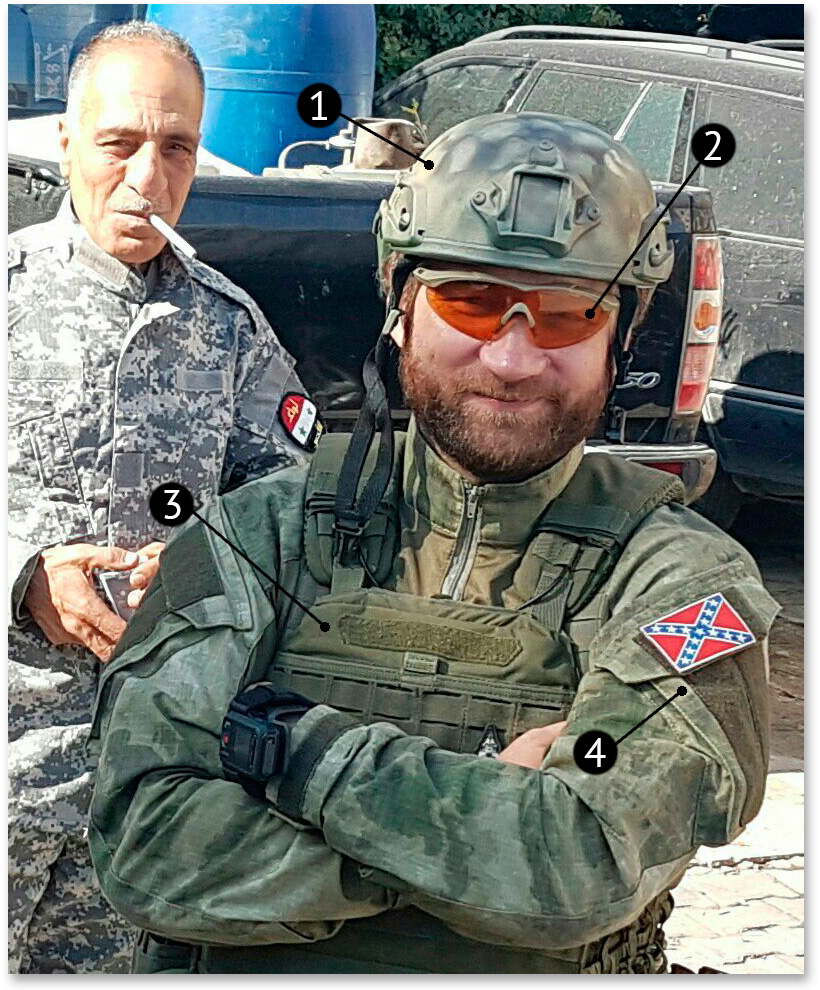 Note: Blokhin consciously chooses to wear a patch with the US Civil War Confederate flag, saying that he would welcome "a territory in the US with a state flag like that" because it "would be a country of normal people with normal values".
All of the above shows that the alleged "Turan PMC fighter" in the pickup truck is in fact ANNA News war reporter Oleg Blokhin. Moreover, in November (when the "Turan" photos surfaced) Blokhin posted a video of himself riding in a pickup truck wearing the same gear: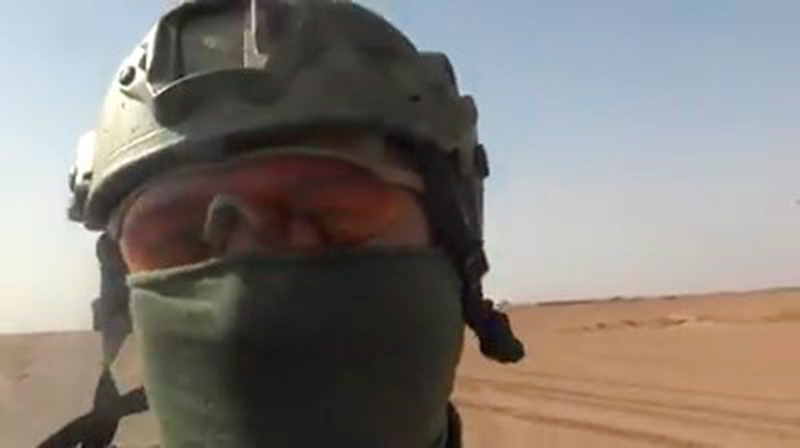 Who modeled for the second "Turan fighter"?
We have shown that the pickup truck seen in Blokhin's photos from Deir-ez-Zor is likely the same truck as in the "Turan PMC" photos. We believe that the other "Turan fighter" could in fact be Blokhin's friend and colleague, Russian pro-Kremlin "REN-TV" channel ex-cameraman Aleksandr Rychkov, who also appears in the photos taken by Blokhin in Deir-ez-Zor: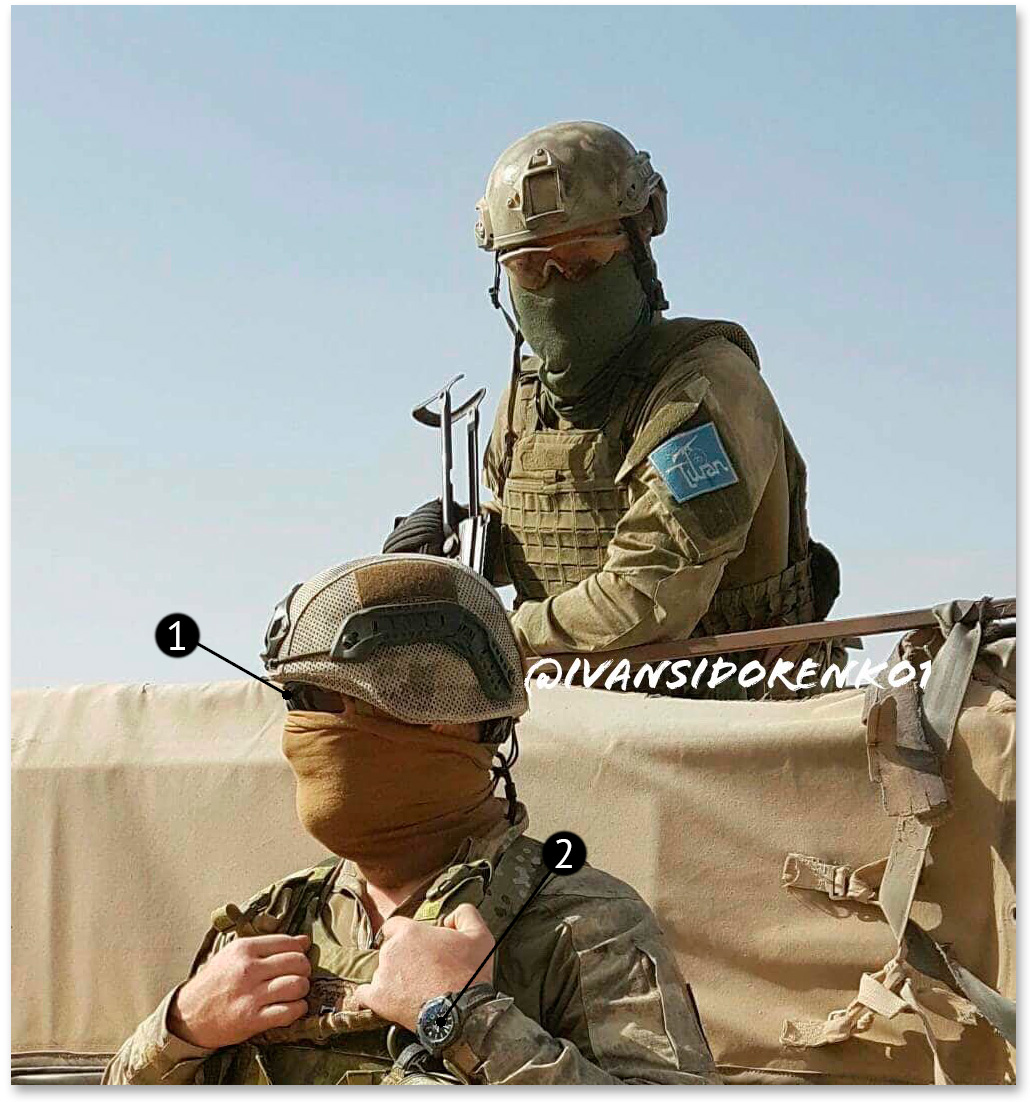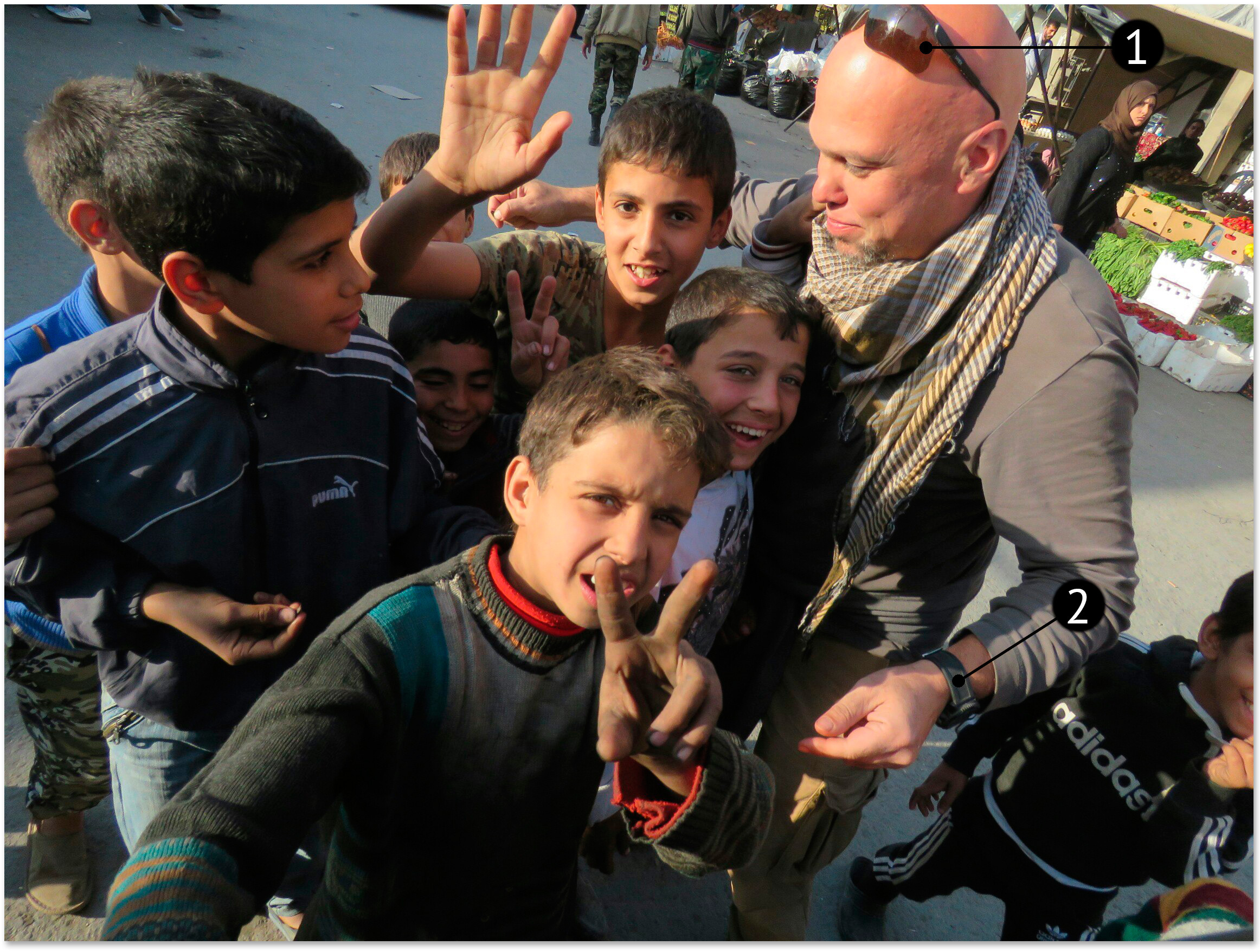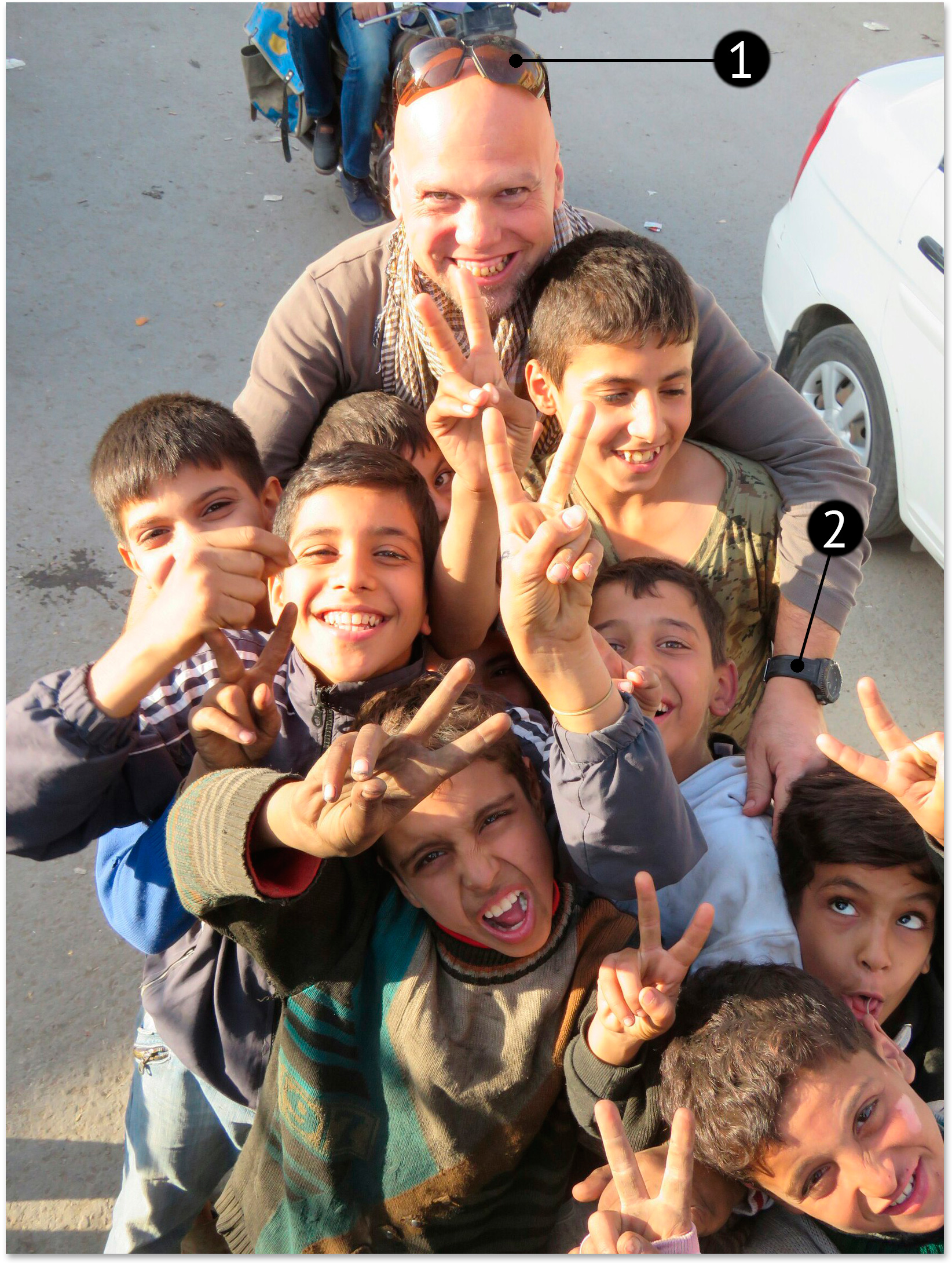 At this point, the Turan case may seem closed. However, there are other materials, including combat footage, that are ascribed to "Turan PMC".
How "Turan" entered the media
Less than a month after the first mention of Turan, a video surfaced allegedly of "Turan's first combat operation in Hama governorate against Hayat Tahrir al-Sham". The video does not show any "elite anti-guerilla special forces", only little human silhouettes in the distance. No background talking can be heard either. Such a video could be attributed to any group.
The video's credits suggest it was authored by a little-known media SyriaFreeNews. The credits also give its website address: syriafreenews.info. As of the time of the publication, the website is no longer active. The domain's WHOIS data show it was registered with a Russian registrar REG.ru: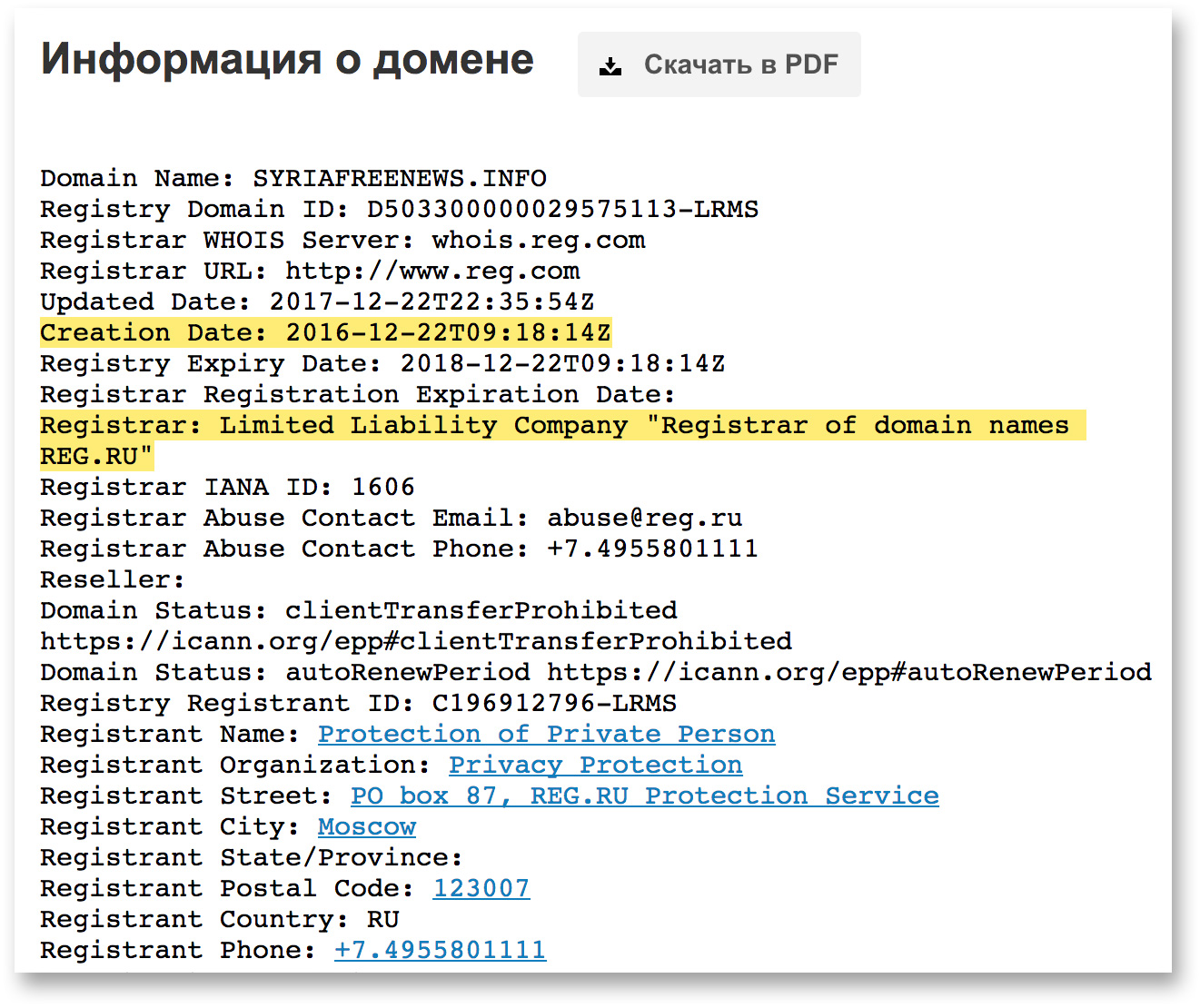 This suggests SyriaFreeNews's Russian background. Even though the media appears no longer active (probably because its YouTube channel was blocked), its social media groups and profiles remain on Russian social network VK.com, Facebook and another Russian network Odnoklassniki. The groups' admin accounts are obviously fake. However, Oleg Blokhin is among the Facebook group's members: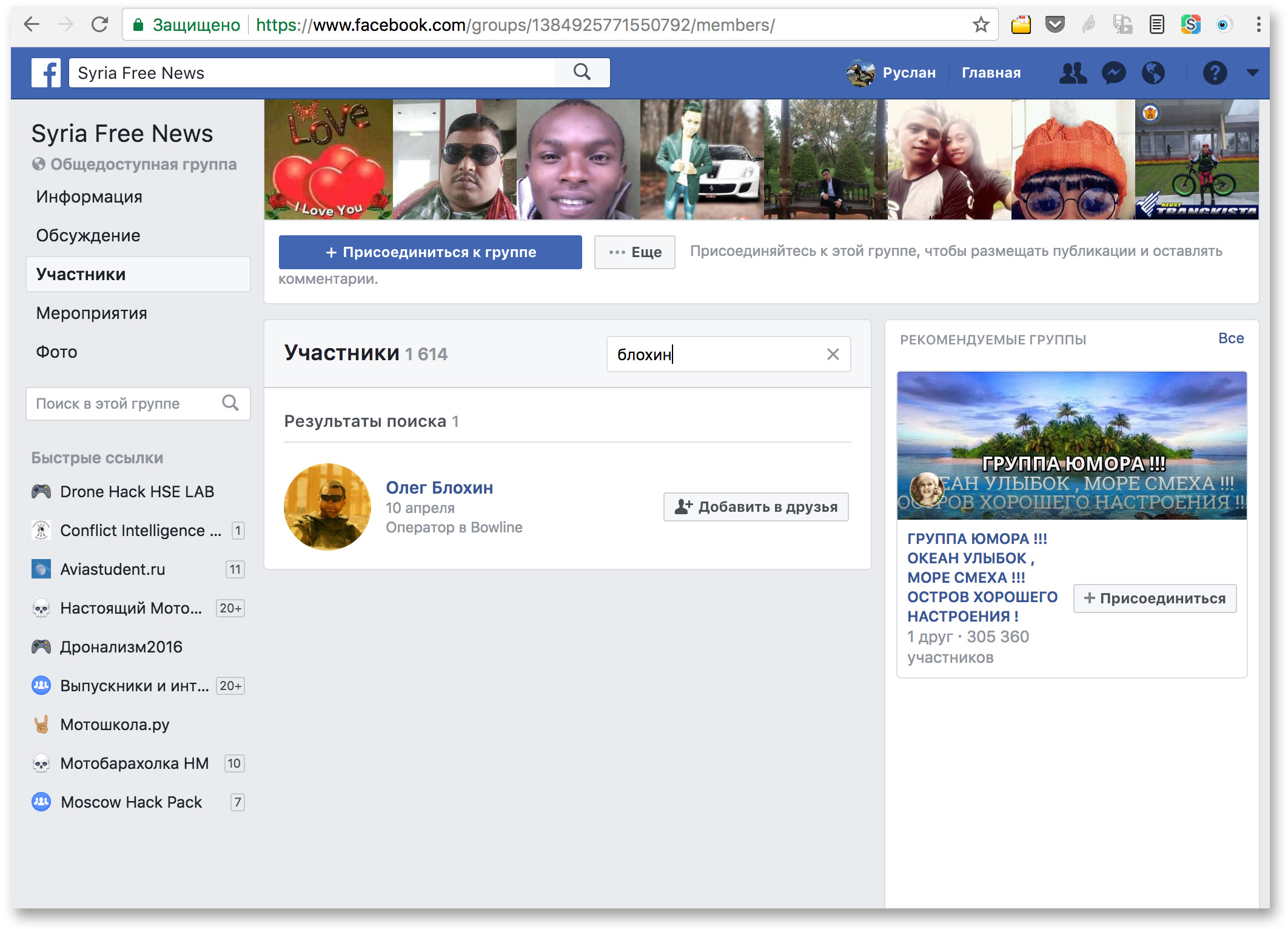 Shooting a staged "Turan" photo-op even with weapons is quite easy. Actual combat footage is another matter. One could follow the example of Russia's Ministry of Defence: take someone else's video and pass it off as your own. However, such fakes can be easily busted by finding a source video. The alleged "Turan PMC" footage appears to be original. Blokhin, being a reporter and cameraman, could have easily shot a video of some other group's fighting. His ANNA News dispatches and social media posts show that in Syria he is often embedded with an elite autonomous pro-Assad group "Tiger Forces" ("Quwat al-Nimr").
A video of "Turan" first combat operation appeared on the internet in early May. It is unknown when it was published by its author (SyriaFreeNews YouTube channel), because it is blocked. However, on May 1 it appeared on RusWariors Twitter, and on May 2 a Russkaya Vesna article with the video was published. Two days before that, a Lebanese pro-Assad blog "Al-Masdar News" posted a half-an-hour long video of "Tiger Forces" fighting in Hama. The footage quality, fighting conditions and camera angles are very similar to the "Turan" video. The alleged "Turan" combat op took place at the same time, in the same governorate and against the same enemy.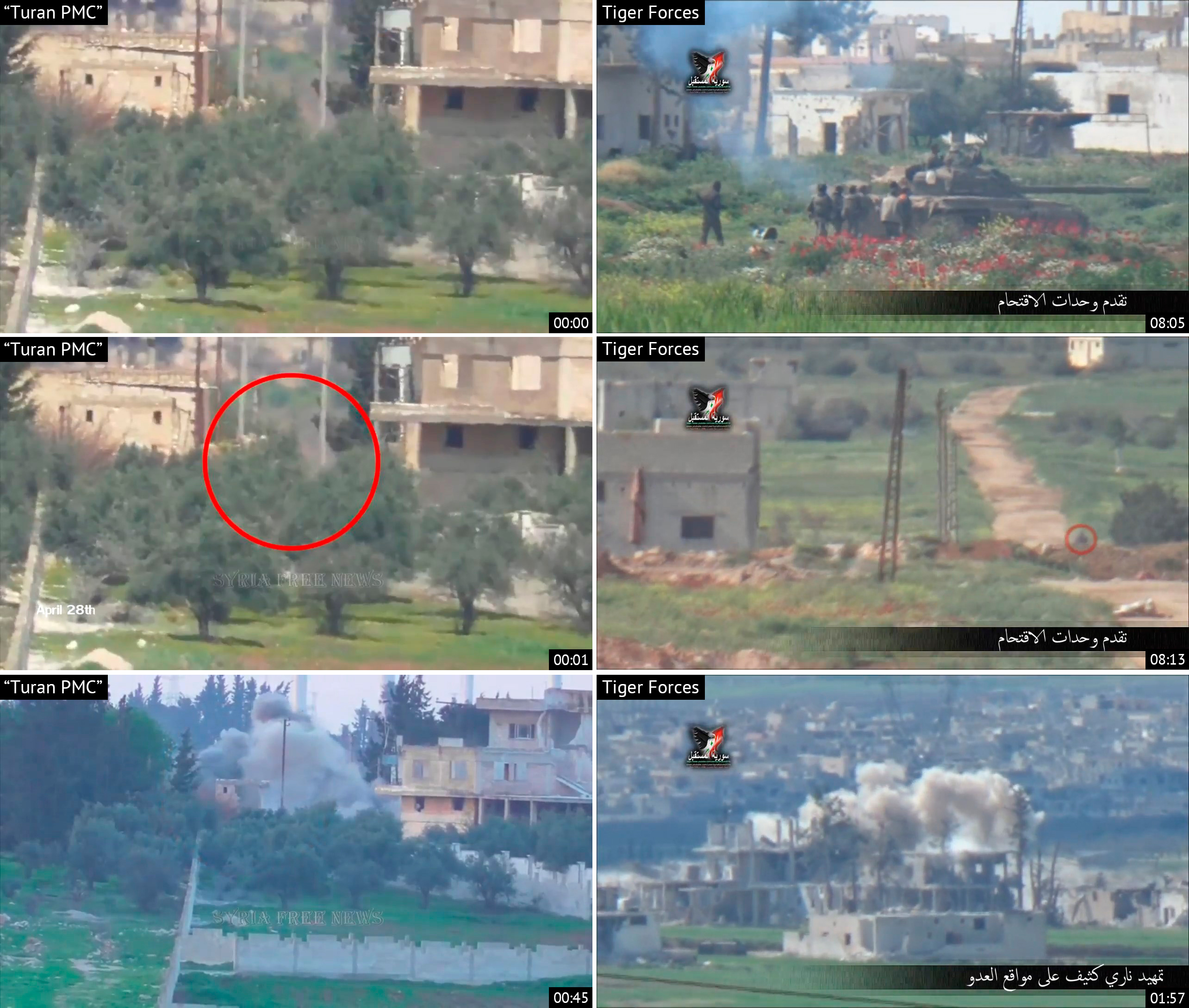 "Turan" in Palmyra
On May 9, "Russkaya Vesna" published an article "Ex-USSR special forces strike fear in ISIS near Palmyra", showing photos of killed militants. A week later, another article was published, featuring a video of "Hunting ISIS at night near Palmyra" (note: the video was deleted by YouTube, but a copy remains on VK.com social network). And yet again, miraculously Oleg Blokhin was at the same place where "Turan" allegedly operated, at the same time: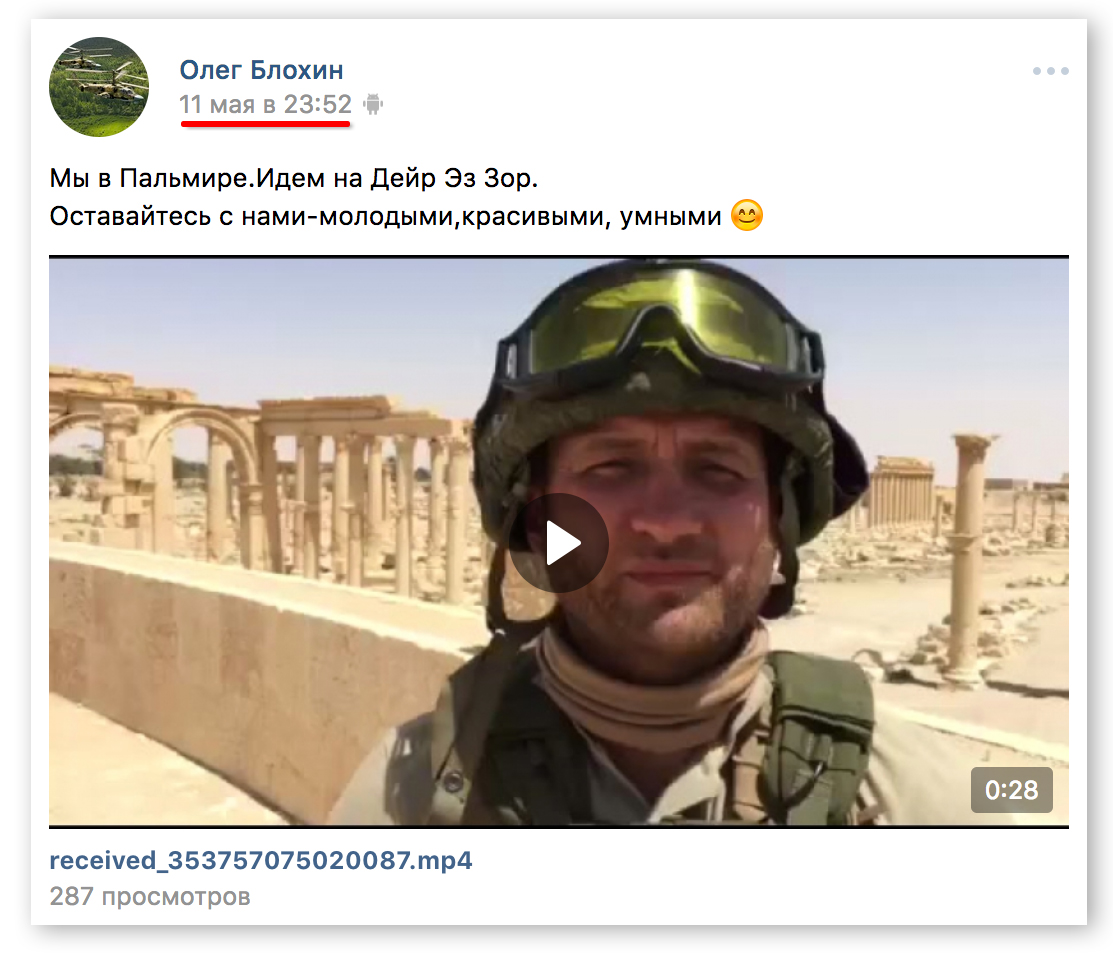 "Turan" near Khanasser
On December 21, more "Turan" photos appeared. This time, they were allegedly taken near the town of Khanasser.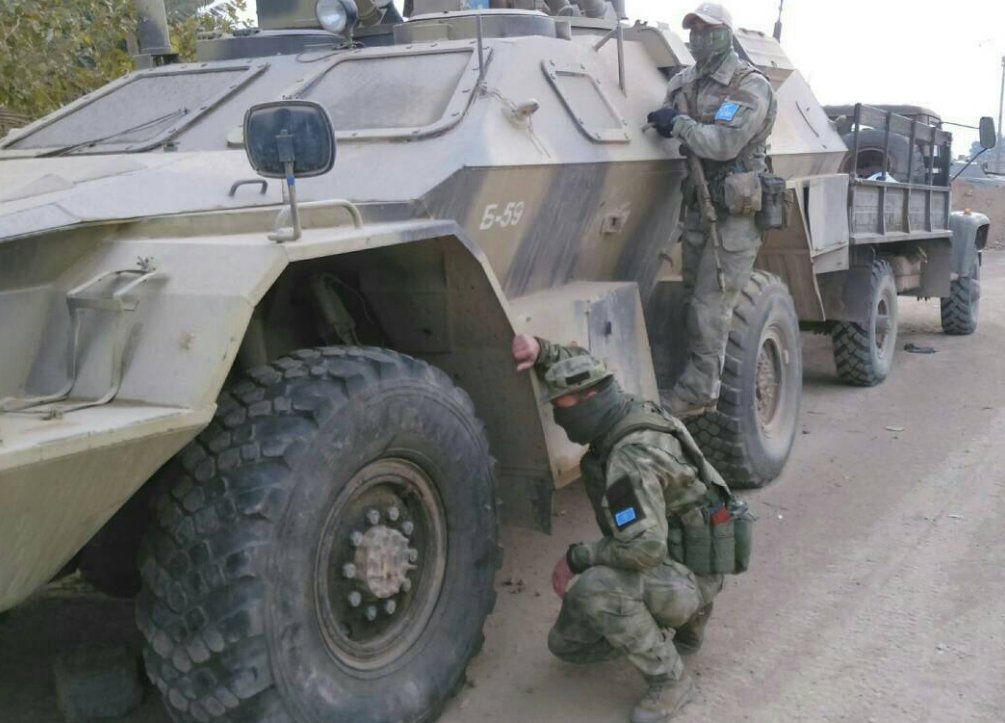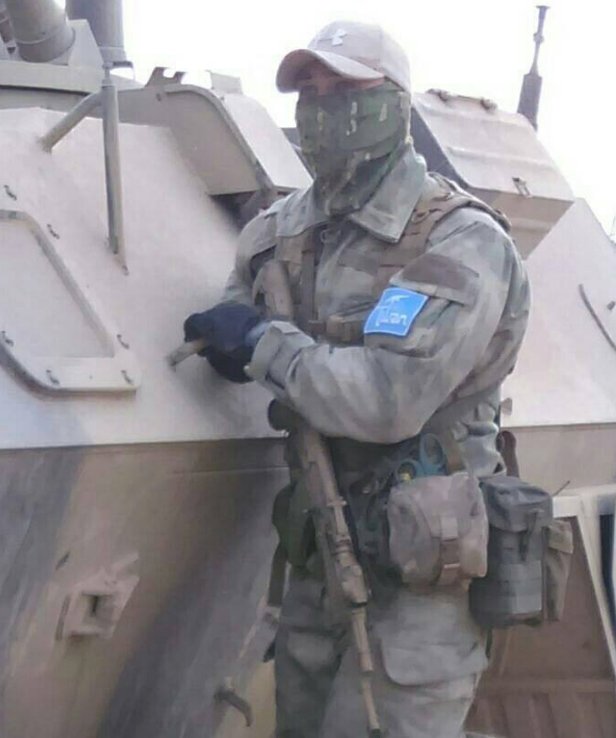 According to a December 15 article in a pro-Kremlin blog SouthFront, different pro-Assad groups operated near Khanasser — including "Tiger Forces".
A striking detail is that the second "mercenary" for some reason does not have a complete "Turan" patch. This is probably because Oleg Blokhin only had two "Turan" patches with him: a larger and a smaller. Blokhin posted photos of this set of patches on his VK.com profile on June 26: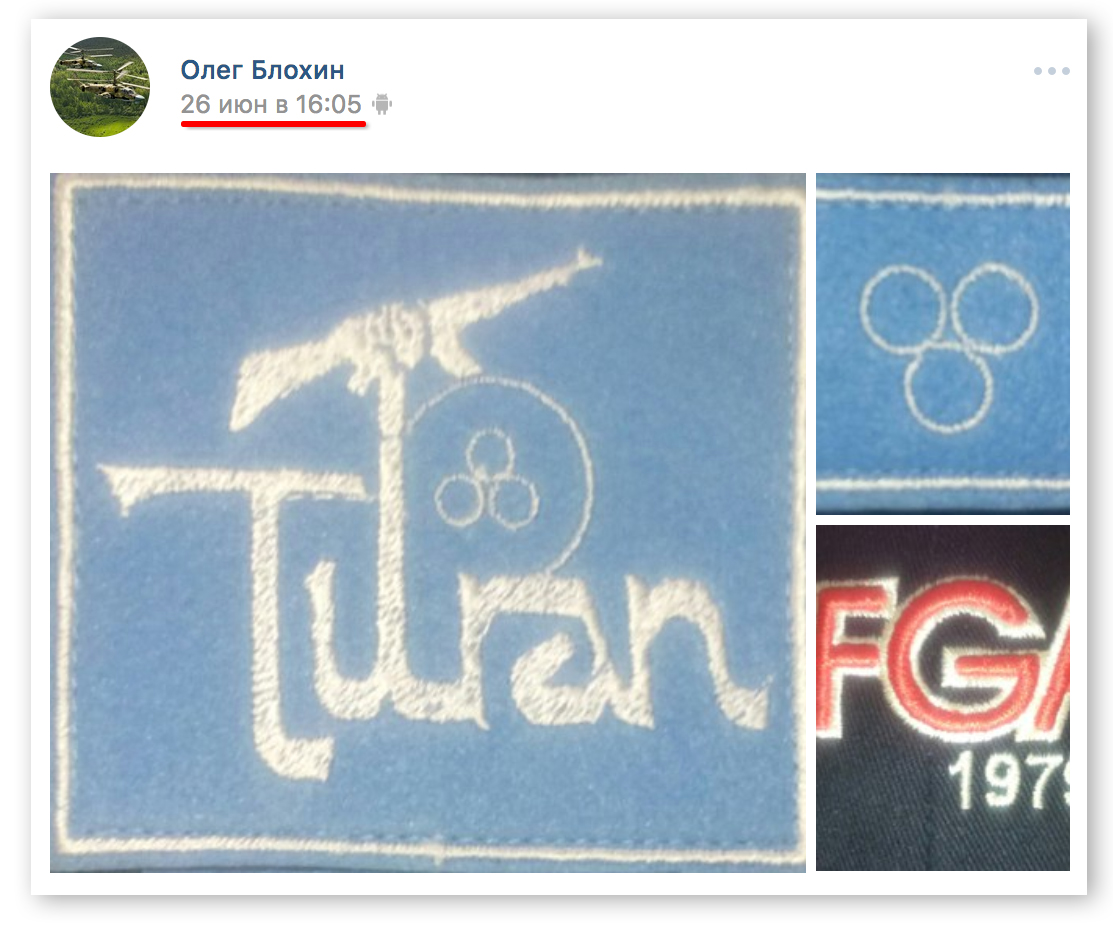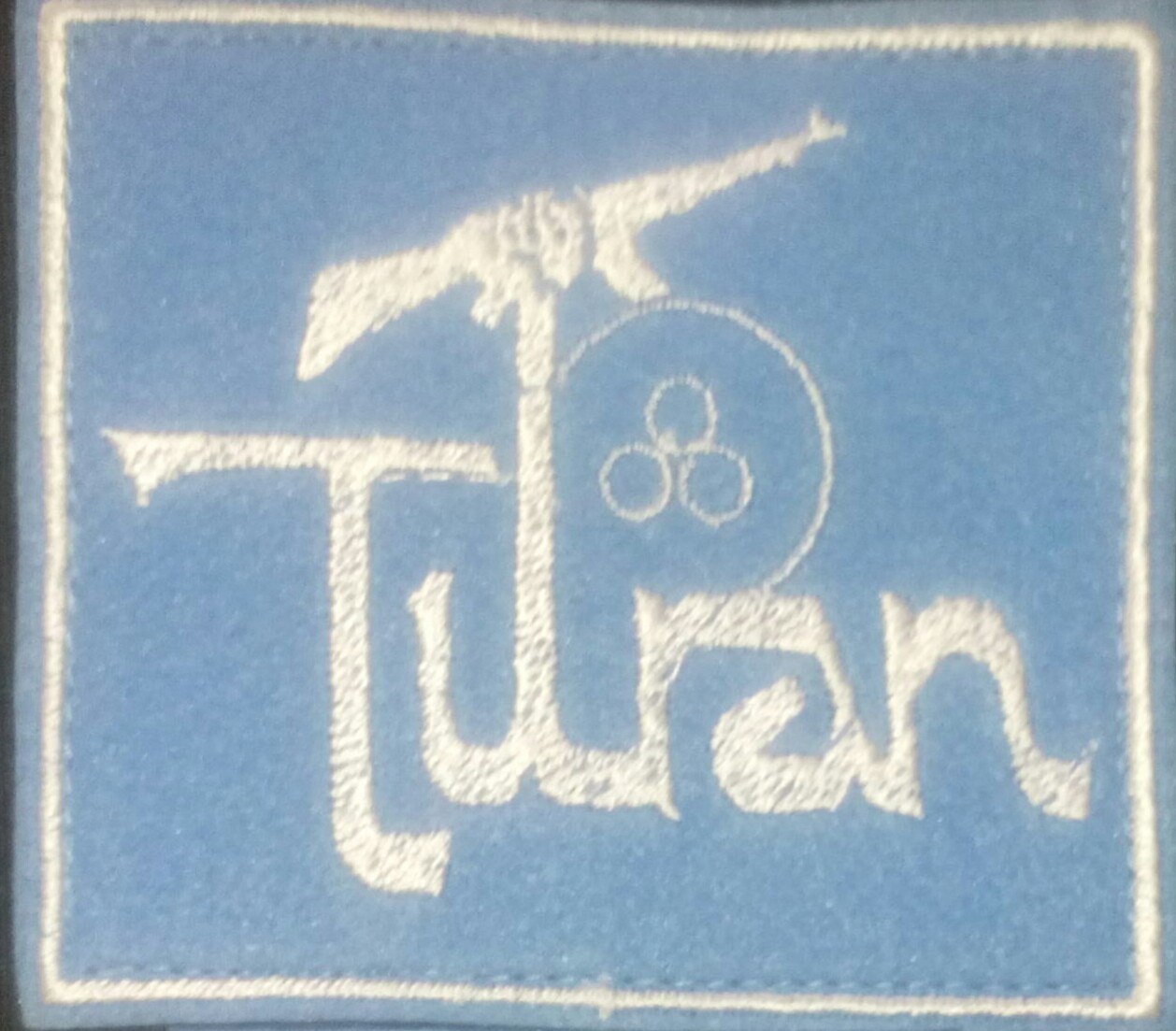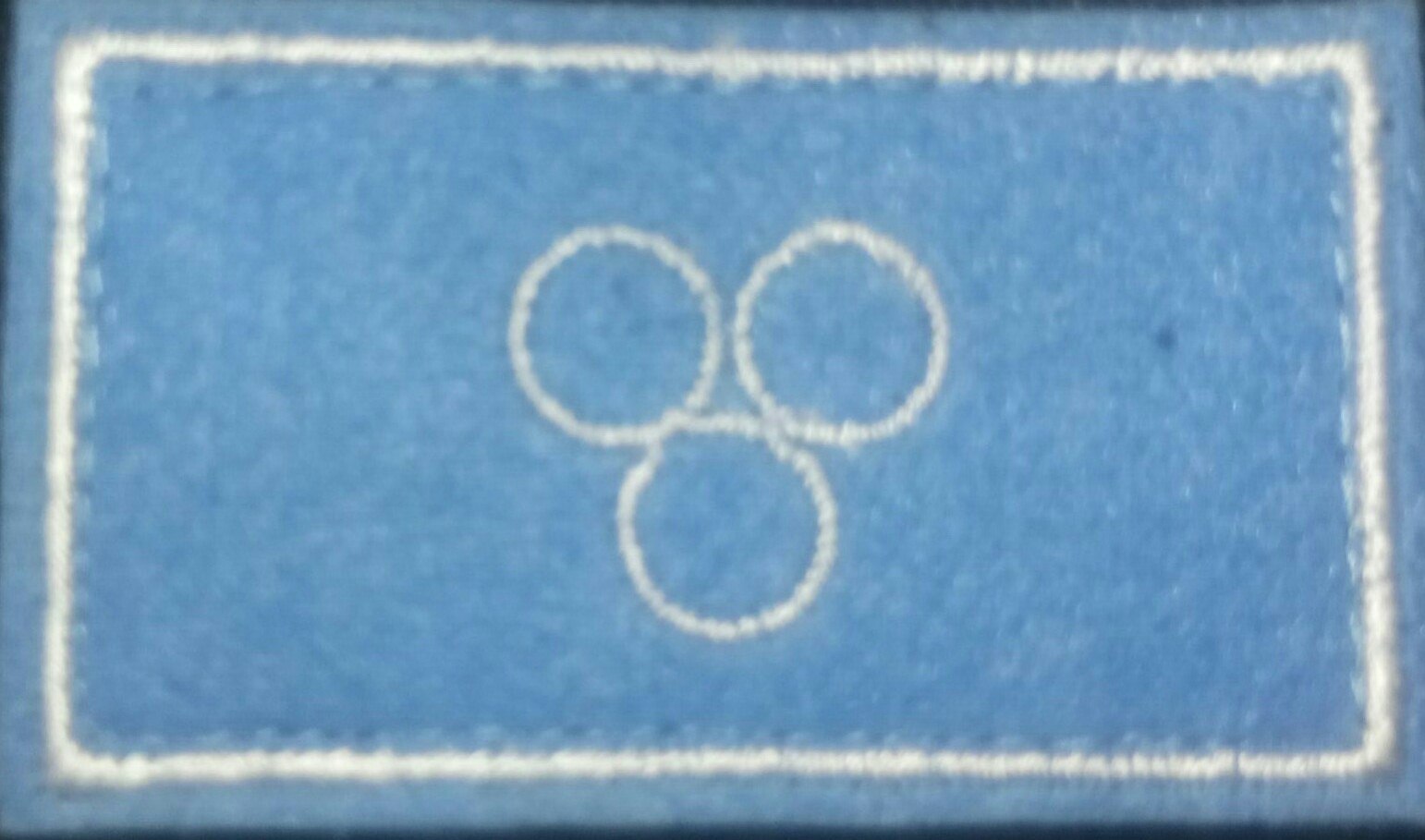 By the way, together with the "Turan" patch photos, Blokhin posted a photo of what looks like an Afghan war patch: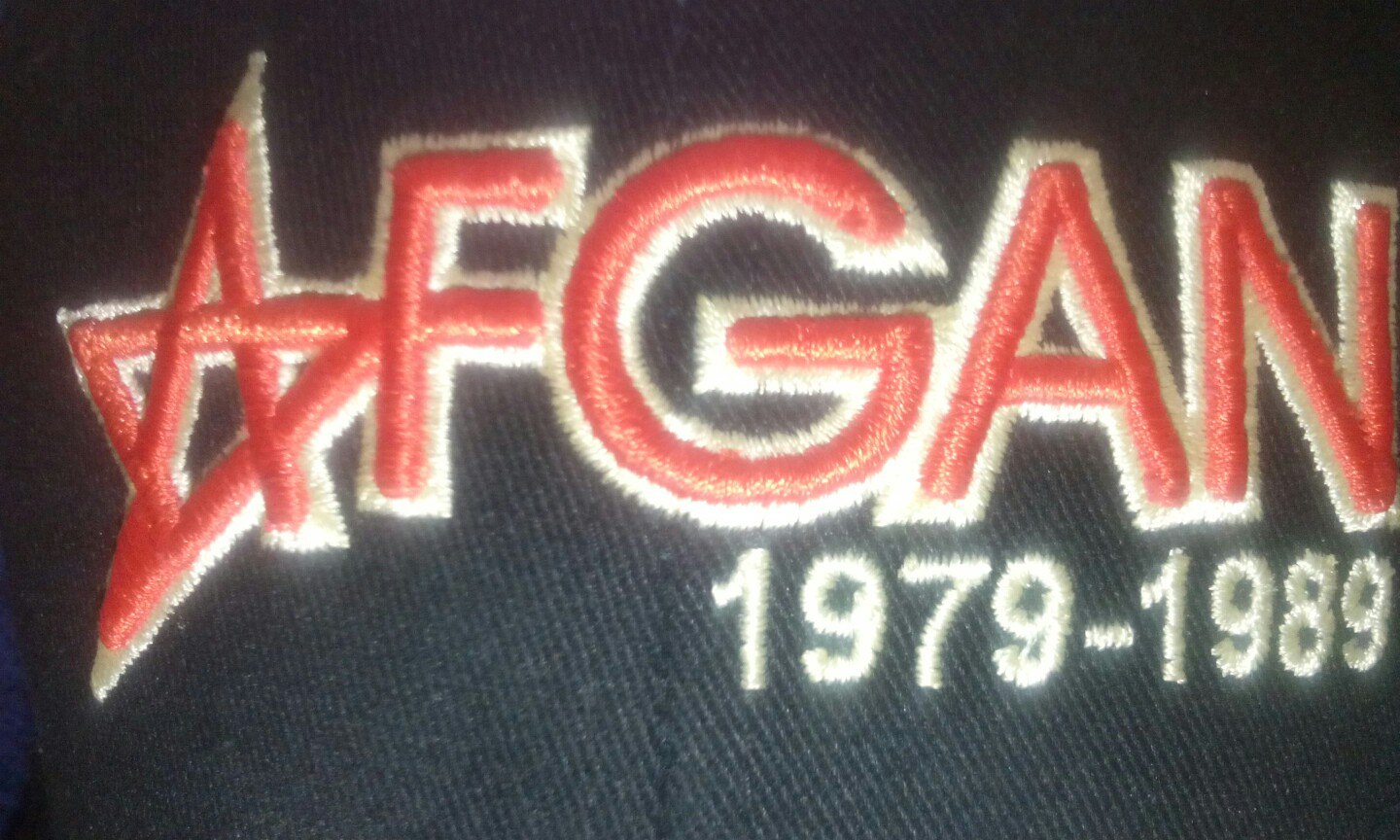 This is actually a photo of his cap: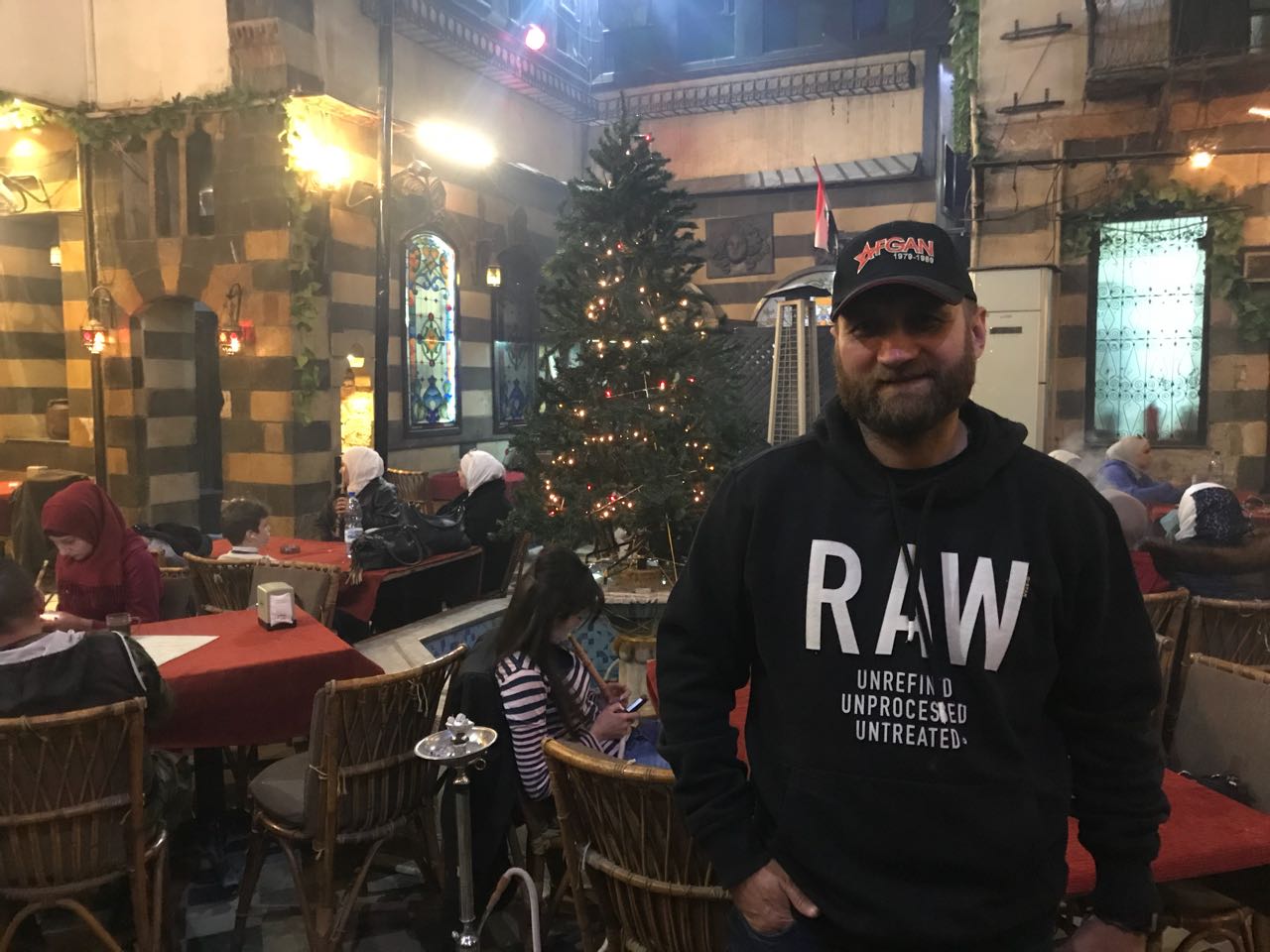 It should be noted that the story of "ex-USSR elite spetsnaz fighters" was likely invented by Blokhin based on the "Muslim battalions" — Soviet elite special forces in the Afghan war. These battalions were staffed with soldiers from Soviet Central Asian historically Muslim republics.
We believe the latest photos attributed to "Turan PMC" in fact show a Syrian militia unit fighting near Khanasser. There is the issue of a KAMAZ-43269 Vystrel APC seen in the photos: such vehicles are generally found in Syria only with "Wagner PMC" fighters. However, photos exist showing Syrian pro-Assad fighters posing in front of this type of APC: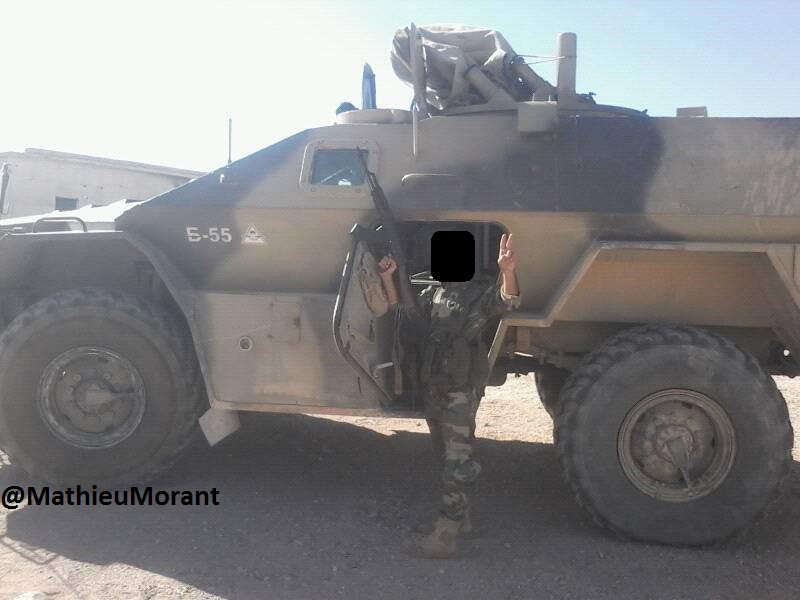 It should be noted that the latest photo which was posted back in July 2016 shows a Vystrel APC with a similar color scheme and side number font (B-55 vs B-59 in the "Turan" photos).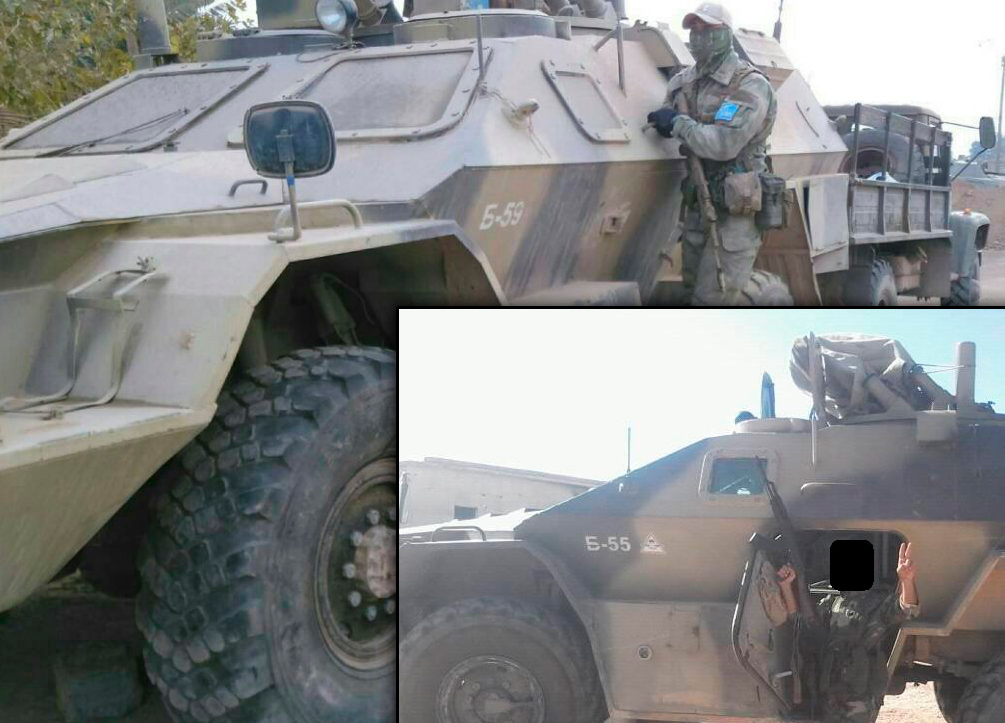 Afghan war vet meets "Turan"
The explanation of Blokhin posting a photo of an Afghan war cap together with "Turan" patches may lie in an article published before the photos. 4 days before Oleg Blokhin posted a photo of the patches and the "Afghan" cap, "Argumenty Nedeli" published an article by Aleksandr Kondrashov. In the article, the author talks about meeting an Afghan war veteran, colonel Artem Borisovich Novikov, and his nephew who'd recently come back from Syria. The meeting allegedly takes place in a martial arts club where they meet dark-skinned "bearded" newcomers. The colonel explains to his nephew that they are reinforcements for "Turan PMC", his "future colleagues". After that, the colonel compares various special forces units. At the end of the article, Novikov recalls a Soviet assault on the palace of Afghanistan's president Hafizullah Amin, an operation in which a "Muslim battalion" took part. He adds that "our Afghan experience would be of much use to you in Syria".
The article looks like a fabrication made up after reading the book "Afghanistan. The Unfinished War", written by a real Afghan war vet — Major General Aleksandr Lyakhovsky. An excerpt from the book, available on the internet, mentions A. Novikov, who took part in storming the Amin palace in a KGB spetsnaz group "Zenit". The same excerpt also mentions "Muslim battalions".
Interestingly, 1.5 years before the "Muslim battalion" article came out, the author had already met the same colonel: Kondrashov's interview with Artem Novikov was published on December 17, 2015. It should be noted that in the December 2015 article Colonel Novikov is described as an active Russian serviceman, who himself (not his nephew) had recently come back from Syria. Apparently the article's author noted the obvious mistake, and by June 2017 Novikov turned into a "retired colonel, Afghan war veteran", and a new character was introduced — the colonel's nephew who'd recently come back from Syria. An Afghan war vet who'd been a colonel back then would be too old to take part in the 2015—2017 Russian operation in Syria.
Moreover, in the 2015 and 2017 article the part with Colonel Novikov comparing different Spetsnaz units is repeated verbatim: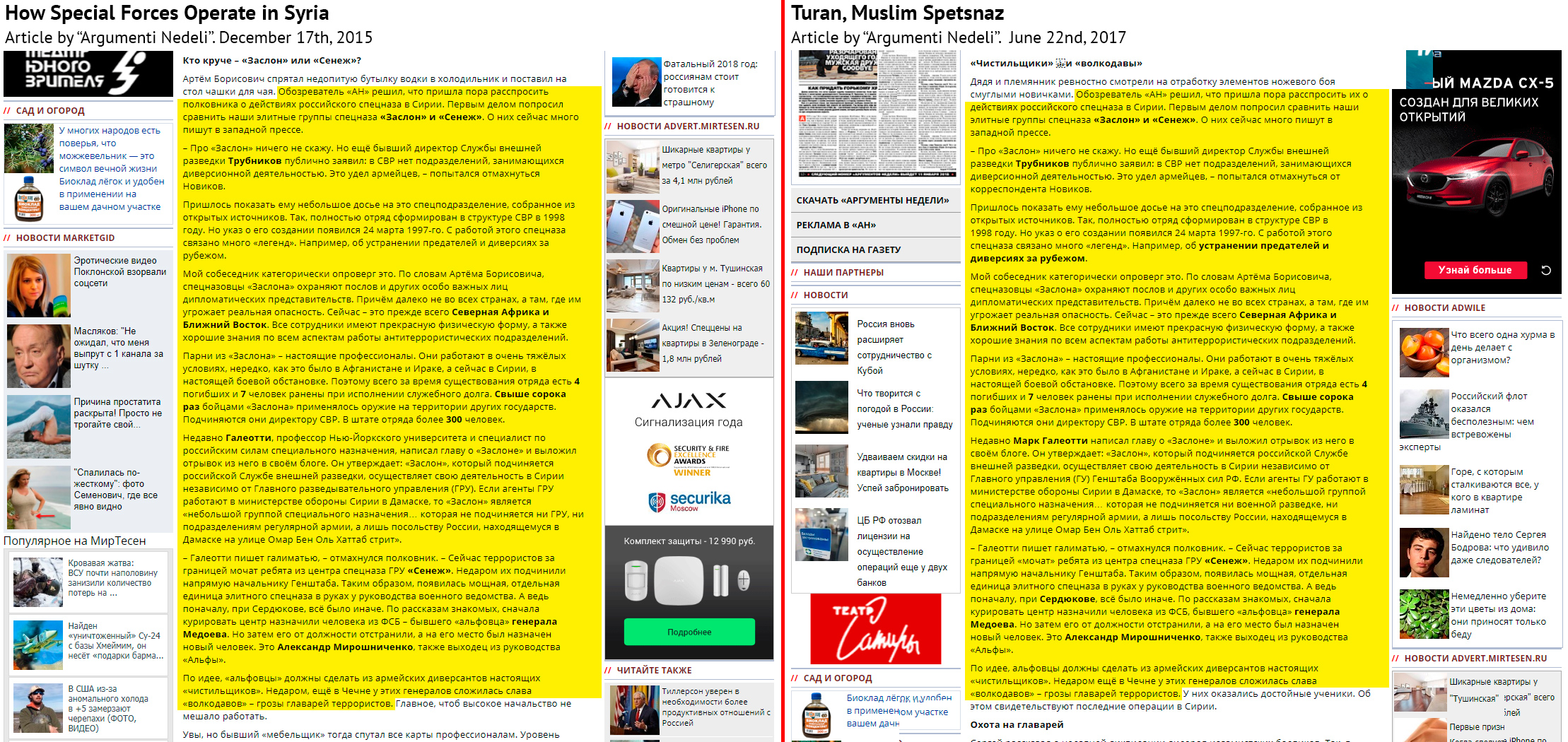 Blokhin could have been influenced by the 2017 article. However, it is also possible that "Aleksandr Kondrashov" is in fact Blokhin's pen name for "Argumenty Nedeli". There is no Aleksandr Kondrashov in the paper's many social media groups (while we found some profiles belonging to the publication's actual journalists).
Oleg Blokhin does not only produce videos, but also collaborates with "text" publications: for example, he is repeatedly mentioned at "Russkaya Vesna" — the website that was the first to publish all "Turan"-related photos and videos. The materials were attributed to a "Russkaya Vesna reporter in Syria" or a "military source". We believe Oleg Blokhin was both the reporter and the military source. For some reason, he avoids publishing "Turan"-related material under his name.
Despite Blokhin posing as a "Turan mercenary", appearing in places where the group allegedly fought and publishing photos of their patches on his VK.com profile, he denies he ever met "Turan" fighters. Blokhin denied meeting Turan after being asked a direct question in the comments to a December 5 post: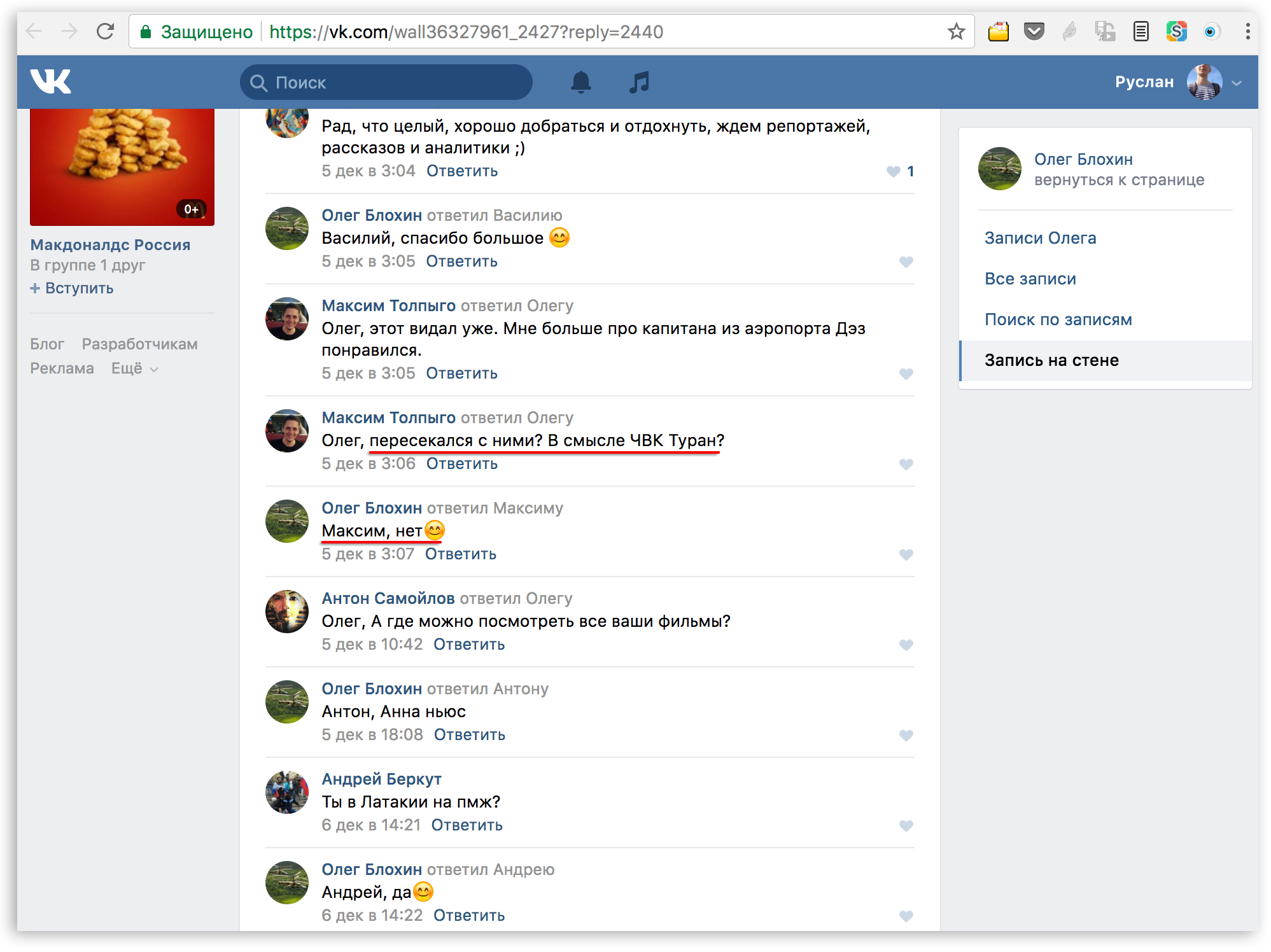 An Estonian in "Turan"
On November 28 a publication baltnews.lv (earlier Re:Baltica established that publication's affiliation to Russia's state-owned media conglomerate "Rossiya Segodnya") published an interview with an "Estonian" from the "Turan unit", the interviewer being a certain Riyad Farid-Hijab. The top photo was an image of Blokhin posing for a "Turan" photo-op.
The article tells the story of a man named Ivan who was born in Estonia but moved to St. Petersburg after the USSR's breakup. He says he joined Turan via Hezbollah representatives he met in Moscow. Those representatives allegedly sent him to Lebanon where he got his uniform and was sent along to Syria. Ivan mentions that his Estonian background is unusual for the unit: it is mostly staffed by Kyrgyzs, Kazakhs, Uzbeks, Tajiks, Turkmens and Azerbaijanis.
It should be noted that the designer of "Turan's" logo obviously was inspired by the Hezbollah logo:

Interestingly, Blokhin's presence in the baltnews.lv article is not limited to the "Turan mercenary" staged photo. All the other photos in the article were taken by him as well: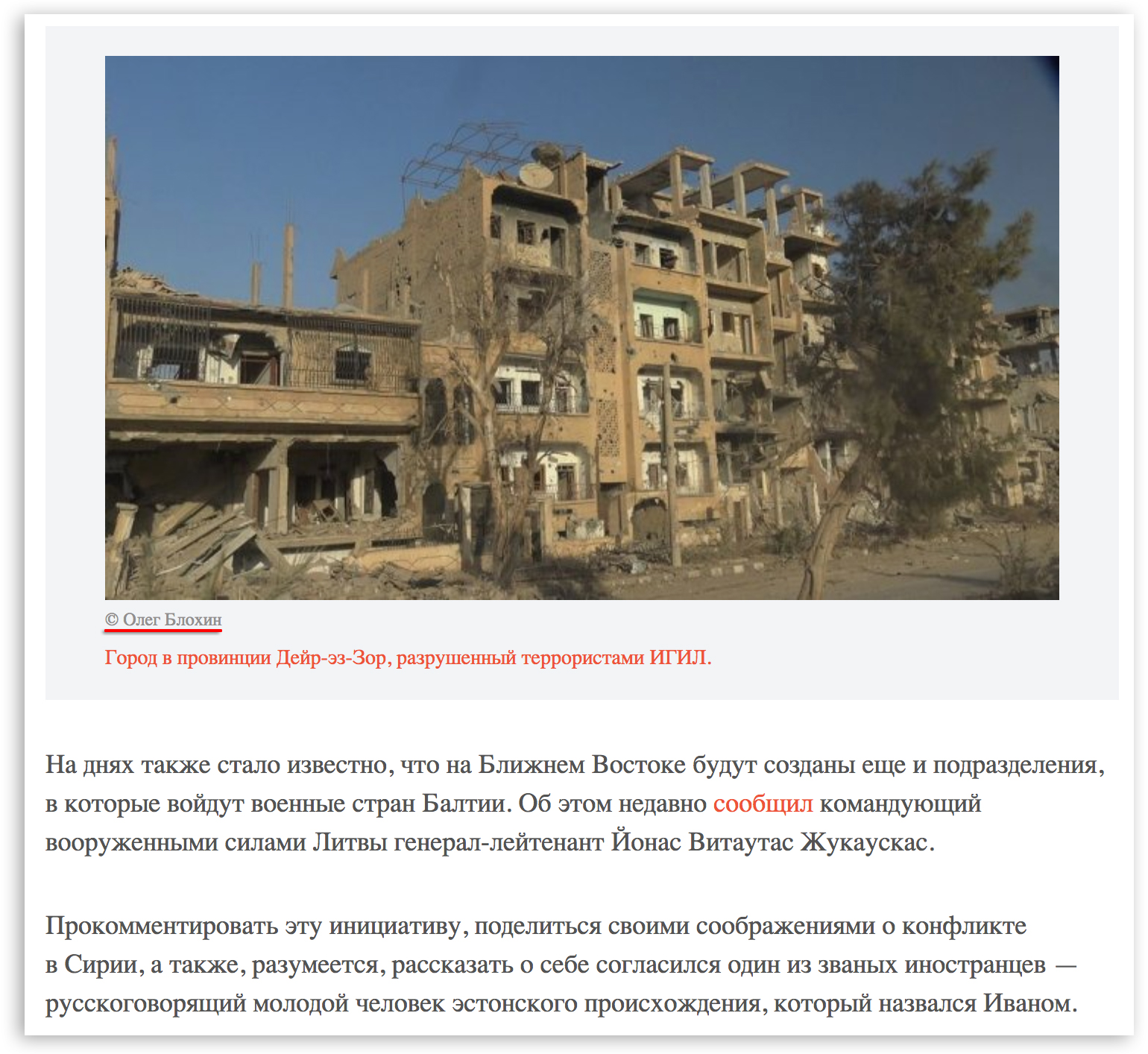 Another interesting fact is the name of the interviewer: Riyad Farid-Hijab. This is the name of Syria's ex-prime minister who in 2012 defected to Jordan and joined the opposition. The interviewer has a VK.com social network account, where he is a member of the ANNA News group, and Blokhin, who is an ANNA News reporter, is listed among his friends.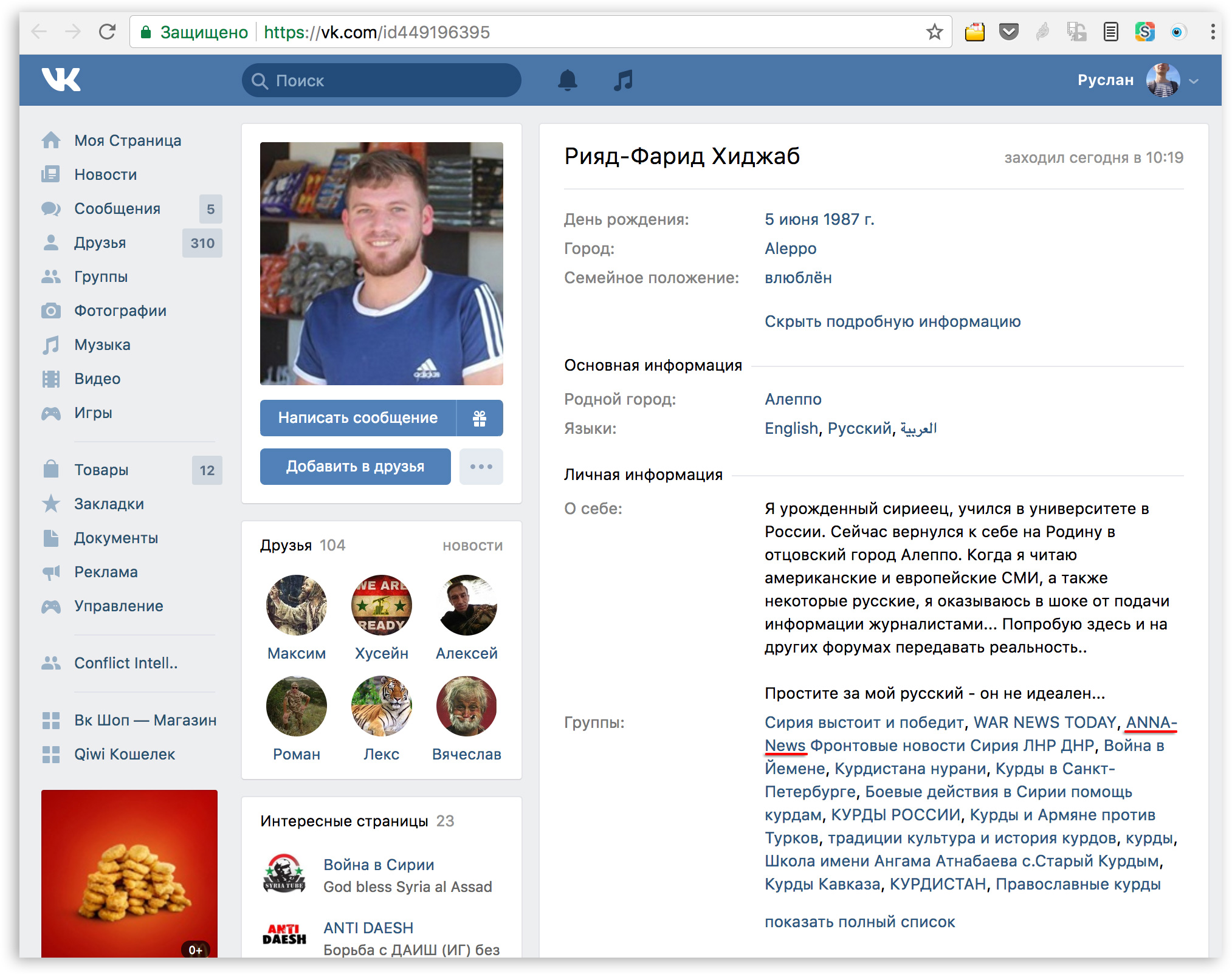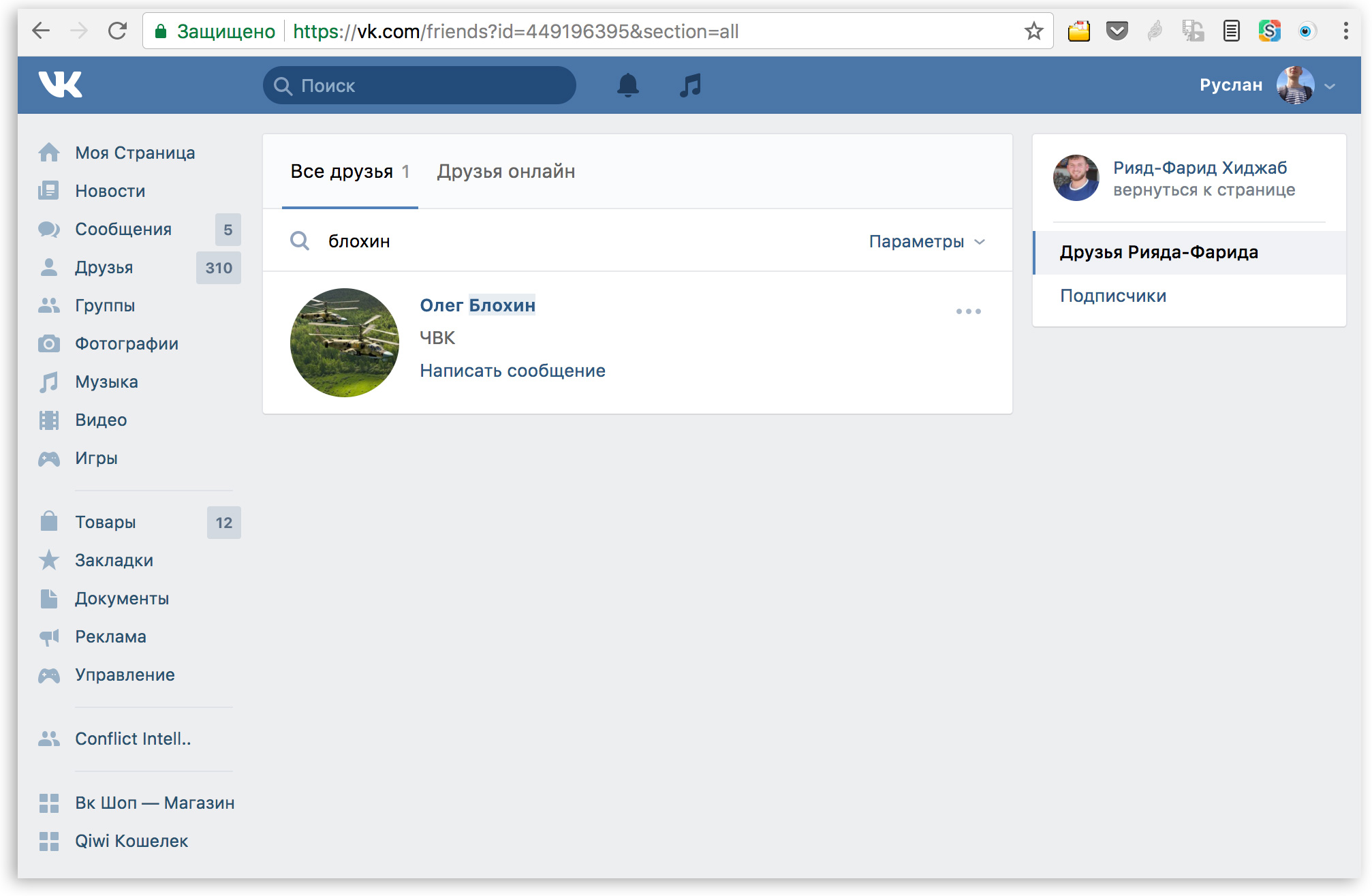 Riyad's account is generally very suspicious and resembles one of Blokhin's "sock puppets" he used to manage SyriaFreeNews groups: Zhenya Gusev on VK.com, KostyaSerykh on Twitter (login later switched to Syria_FreeNews) and Odnoklassniki.
Why invent an Estonian character if the "Turan" unit is allegedly staffed with ex-Soviet Muslims?
According to a 2014 Estonian Internal Security Service (KAPO) report, Baltnews is headed by people who actively take part in Russia's influence operations in the "near abroad". This explains why after a question on sending Baltic soldiers to Iraq, "Ivan" suddenly recalls Syria and mentions that the Russians are there on an official Syrian government invitation. "Ivan" says he is sure that among Middle Easterners in the Baltic countries "there are some who are somehow connected to terrorists", "Ivan" warns the citizens of the Baltics against "reckless actions" of the local governments which he claims may lead to acts of terror back home: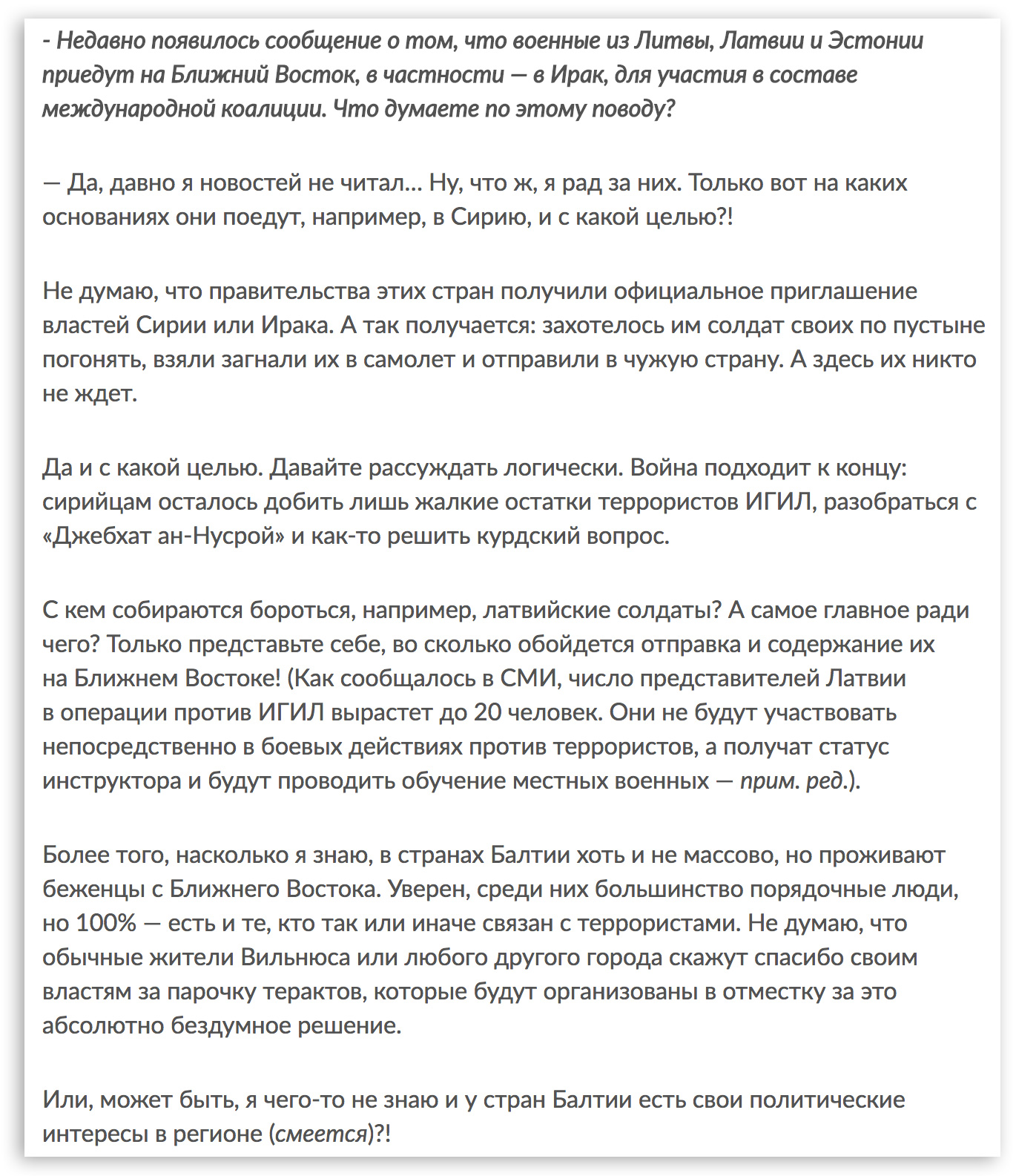 It's no surprise that he also mentions "fascists marching in the streets" in Estonia and "ban of the Russian language" in the country — these are some of the main Kremlin propaganda talking points on the Baltics:

Conclusion
The information presented above is sufficient to be sure that the so-called "Turan private military company" is not an actual military unit but an elaborate hoax created mostly by one person: "ANNA News" and "Russkaya Vesna" reporter Oleg Blokhin. The story of this "virtual" PMC is most likely based on Soviet Afghan war "Muslim battalions" while the models for alleged "Turan" photos were Blokhin himself and his friend, cameraman Aleksandr Rychkov. There is no information on the PMC's command structure, home base, killed fighters or their relatives — in other words, none of the data widely available on the "Wagner PMC", which has been proven to be real. Open source research, sadly, can't tell who ordered this hoax and why. We hope journalists can answer this question.